Best Oscar Jewelry of All Time
It doesn't get any more brilliant than Oscar night! As we get ready for the 2014 Academy Awards red carpet, let's look back on the twelve best Oscar Jewelry looks of all time. Will any of the 2014 Oscar jewelry make this list? To find out, follow along as the jewelry world live tweets the Oscars at #OscarJewelry. And check back here on Monday to see my picks for the best Oscar jewelry of 2014!
To see even more favorite jewelry from the Academy Awards, see my posts on the Best Earrings at the 2013 Oscars, 2013 Oscar Jewelry Trend: The Backlace, Best 2012 Oscar Jewelry, and the Top Five Oscar Jewels of 2010.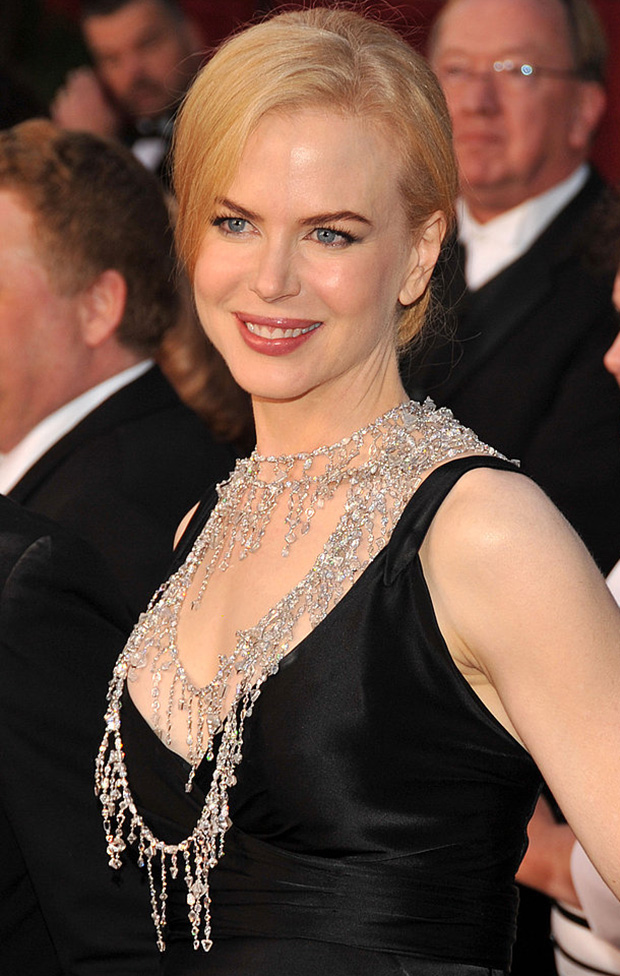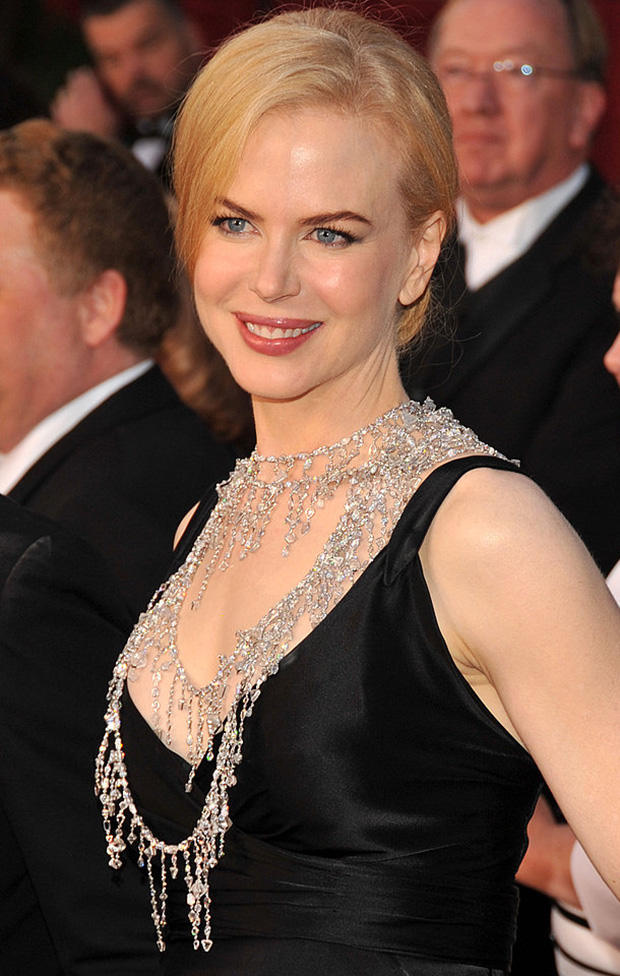 Nicole Kidman in L'Wren Scott at the 2008 Oscars
This awe-inspiring statement necklace by L'Wren Scott is 1,399 carats but still manages to look a bit bohemian and ethereal. Nicole Kidman has worn many wonderful jewels to the Oscars, including two amazing rough diamond cuffs, also by L'Wren in 2007.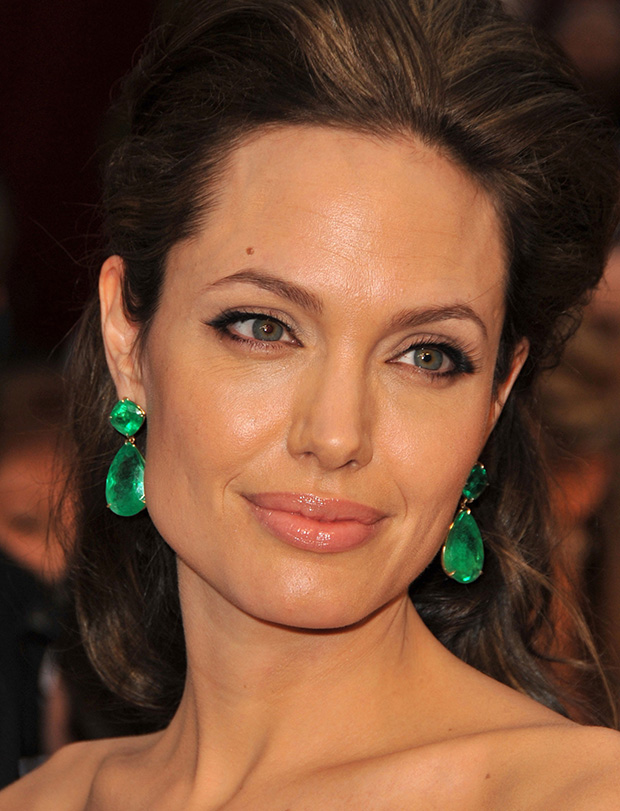 Angelina Jolie in Lorraine Schwartz at the 2009 Oscars
So simple. Yet so mesmerizing. The Lorraine Schwartz Colombian emerald earrings and matching ring that Angelina Jolie wore to the 2009 Oscars transformed the emerald market. I remember interviewing emerald dealers about the resulting surge in sales, and also remembered how disdainful they were about the quality of the stones, which were noticeably included (as emeralds often are.) it didn't matter what the dealers thought: suddenly everyone realized that emeralds didn't have to be clean to be beautiful. In fact, one reason these gems glow is the way their inclusions hold the light.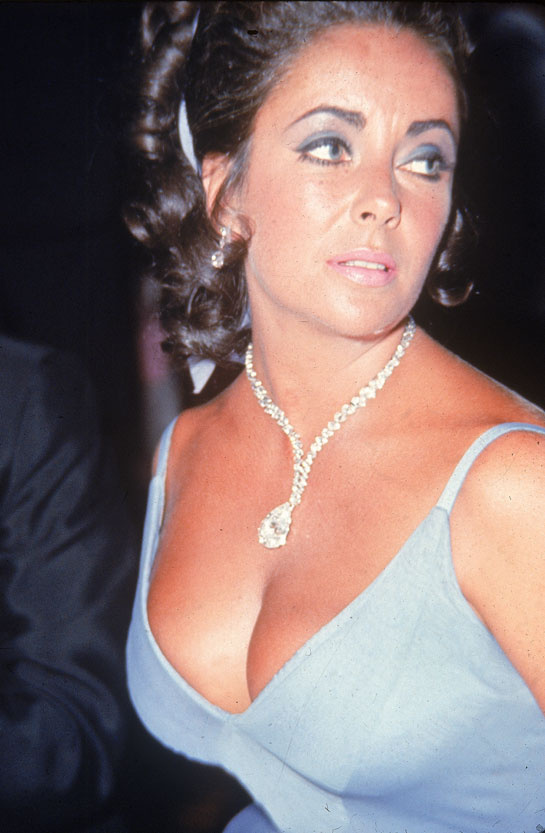 Elizabeth Taylor in the Taylor-Burton at the 1970 Oscars
How can anyone else compete? Elizabeth Taylor had one of the world's best jewelry collections and she loved to wear her jewels. The Taylor Burton Diamond was originally a ring but even for Elizabeth it was a little too big to wear on a finger. It makes quite a statement as a necklace don't you think?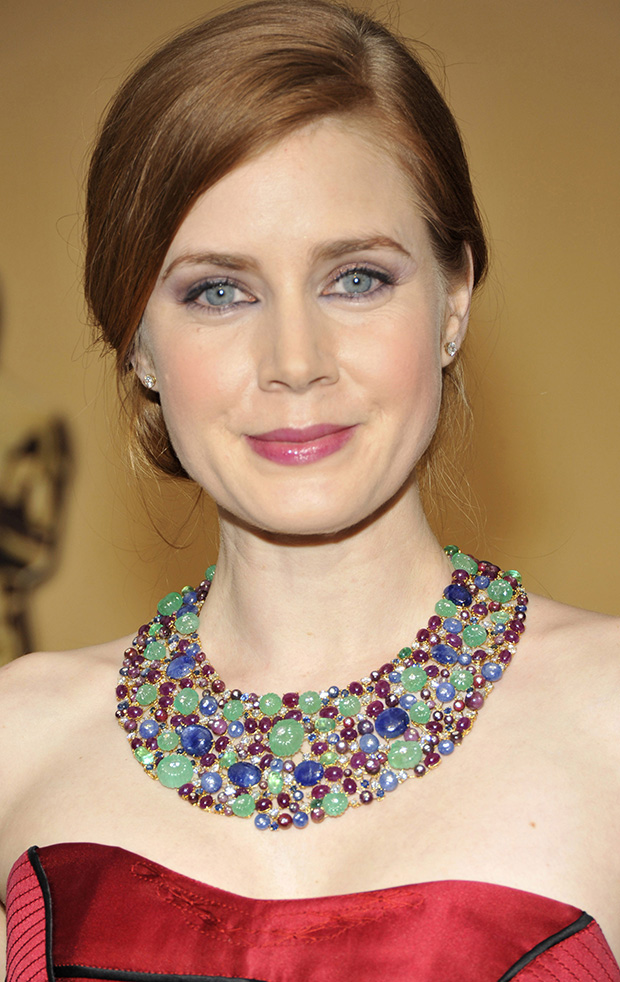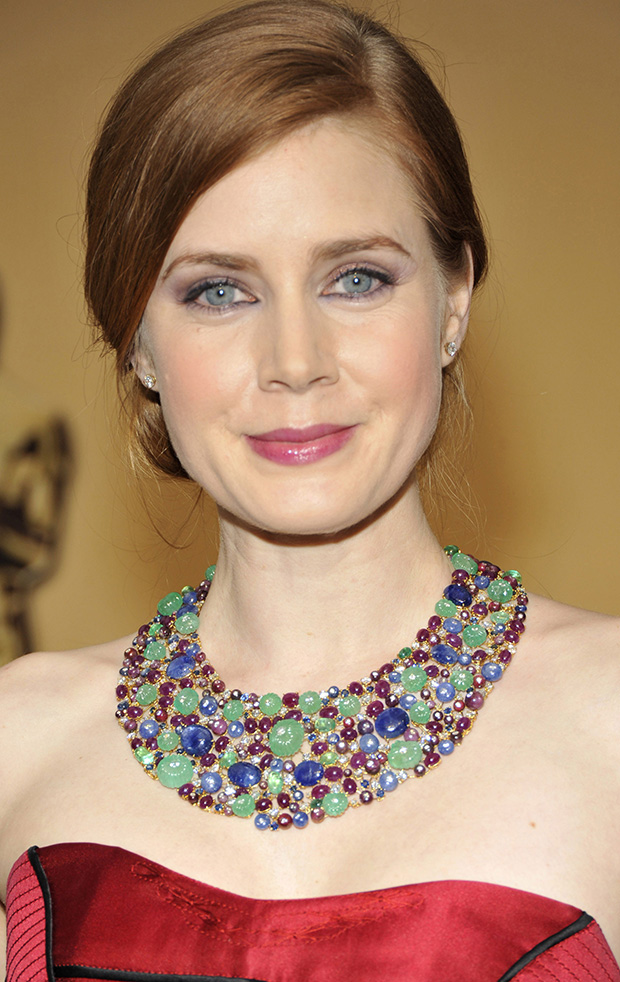 Amy Adams in Fred Leighton at the 2009 Oscars
I love the way this boldly hued necklace pairs with Amy's red Carolina Herrera dress. The 1950s bib necklace from Fred Leighton has 630 carats of emeralds, rubies, and sapphires. The style of the necklace echoes the fabulous tutti-frutti necklaces by Cartier in the twenties and thirties.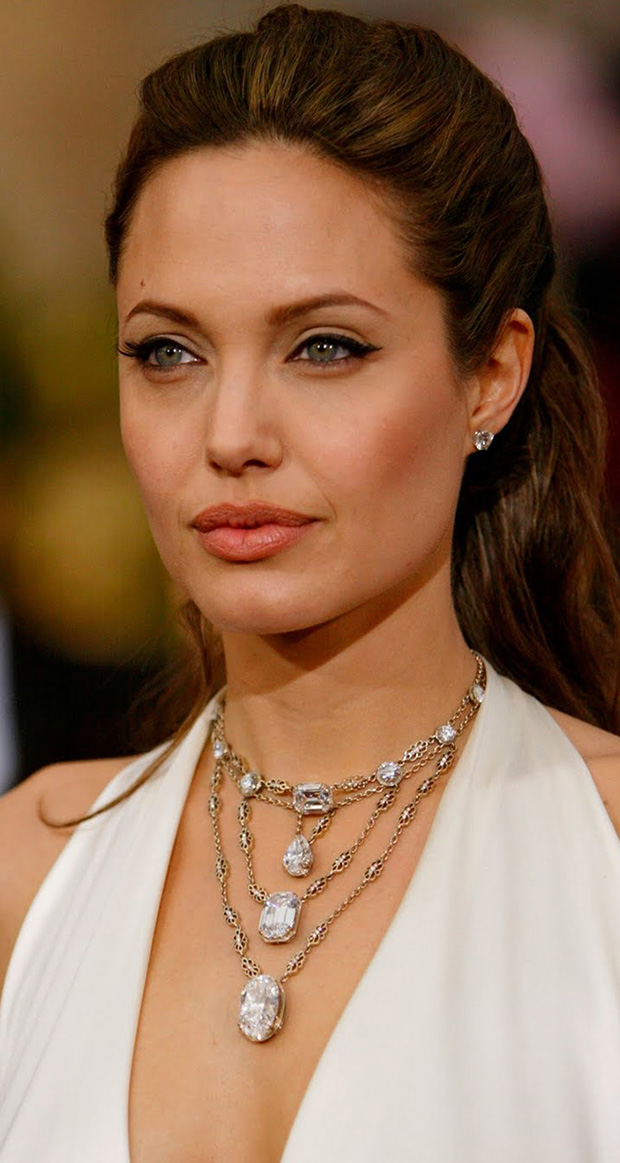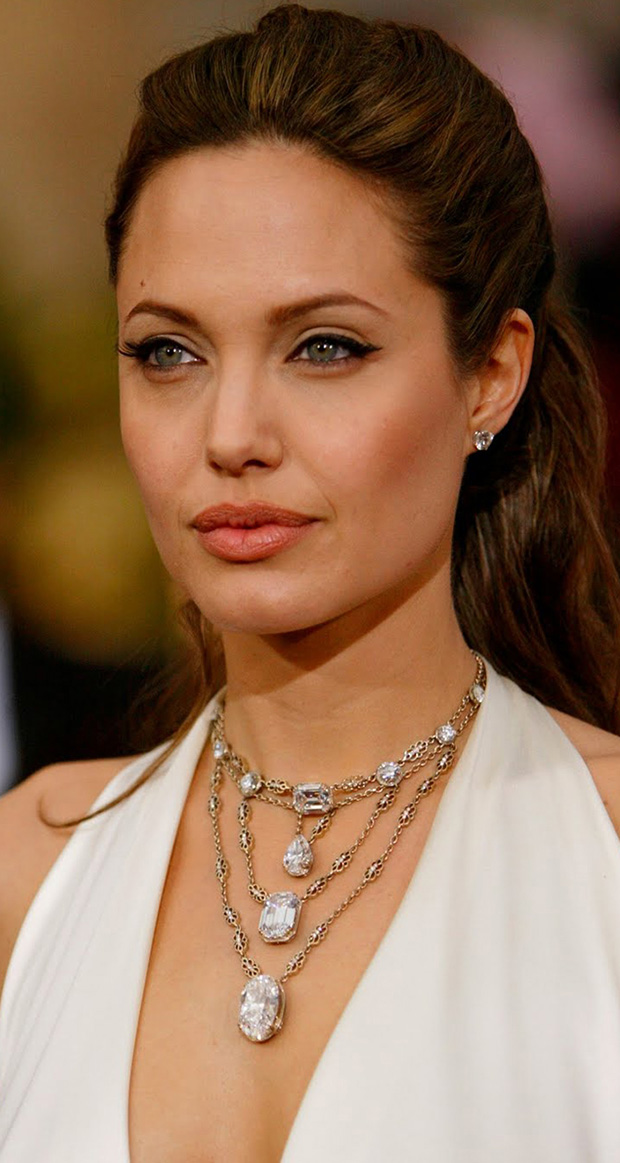 Angelina Jolie in H. Stern at the 2004 Oscars
More proof that Angelina has an unerring eye for jewels. This necklace by H Stern is serious stuff: $10 million in important diamonds in a graceful waterfall that emphasizes the plunging neckline of her gown.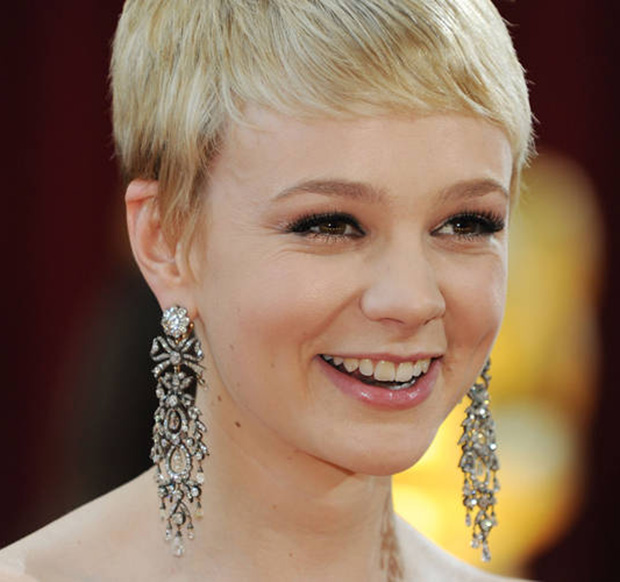 Carey Mulligan in Fred Leighton at the 2010 Oscars
The most dramatic jewelry look of the 2010 Oscars, these beautiful diamond chandelier earrings are bold in scale but delicately detailed. This look is a textbook example of how to accessorize a strapless black dress. Although chandeliers are more often worn with long locks, these earrings make Carey's pixie haircut look sophisticated and red-carpet glamorous.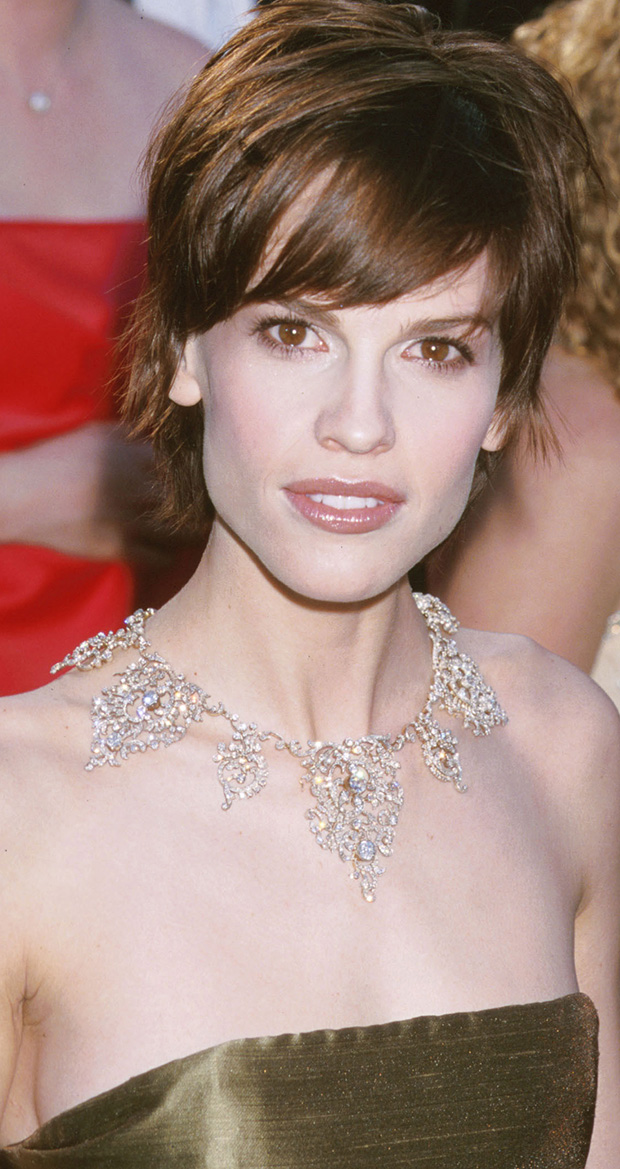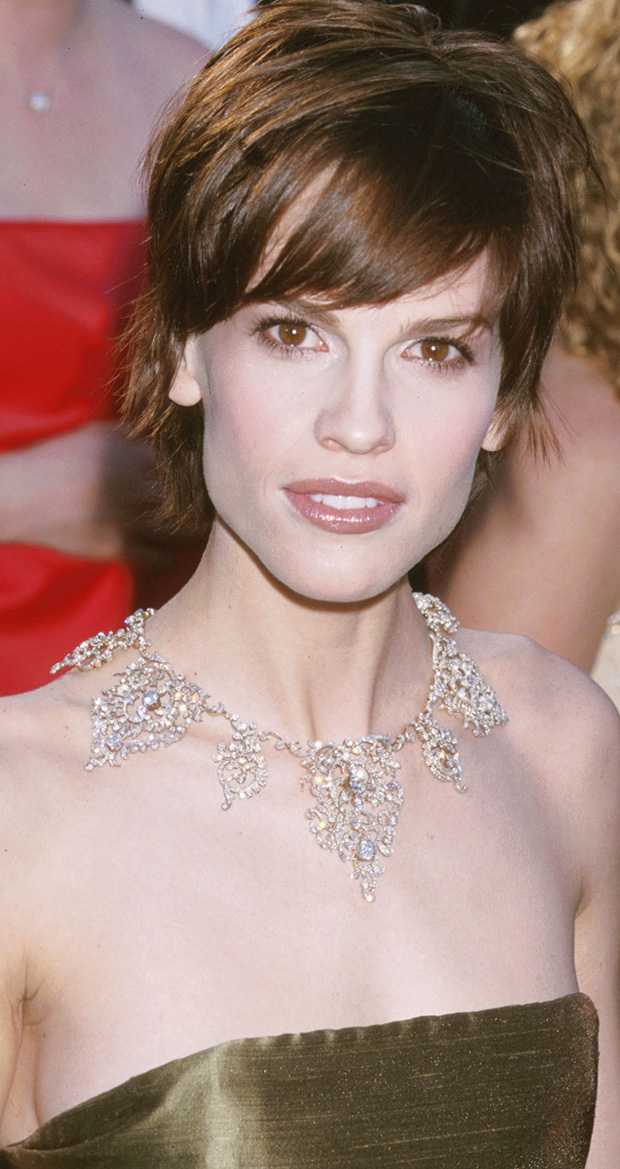 Hilary Swank in Asprey & Garrard at the 2000 Oscars
I just love the delicate lacy silhouette of this necklace and the way it continues all the way around the neck.  This may be my personal favorite of these amazing pieces.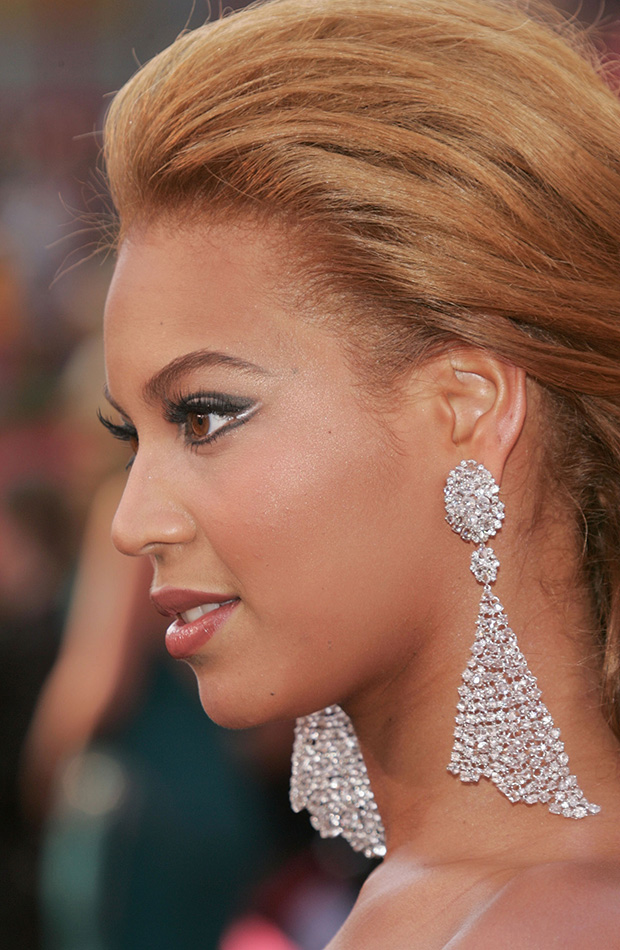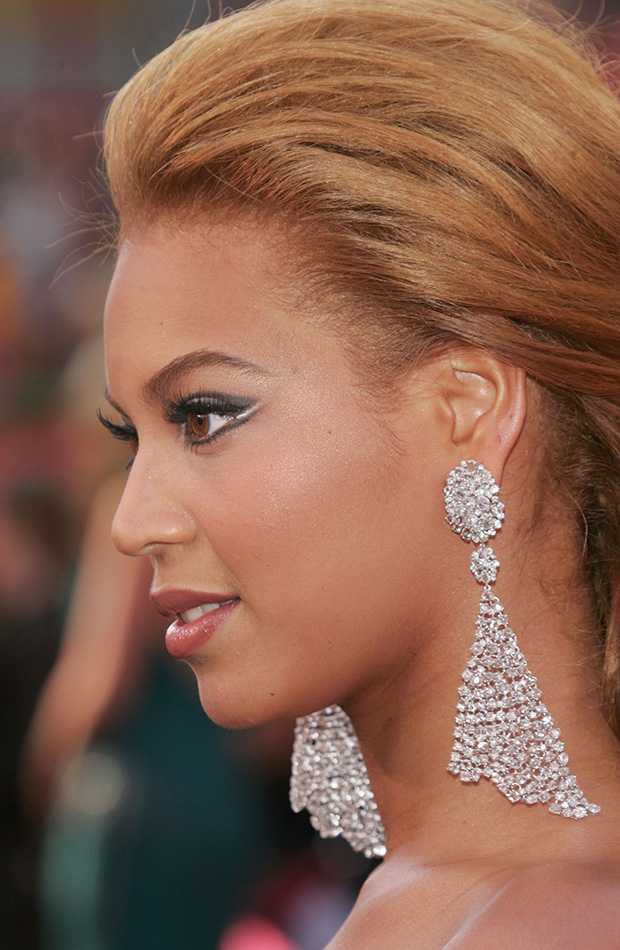 Beyonce in Lorraine Schwartz at the 2005 Oscars
This was the debut of Lorraine Schwartz as the ultimate red carpet jeweler. These earrings are even more amazing up close.  I visited Lorraine in Basel the next year and felt her diamond handkerchief mesh: it's soft as silk and incredibly flexible.  The craftsmanship is impeccable and she continues to break new design ground.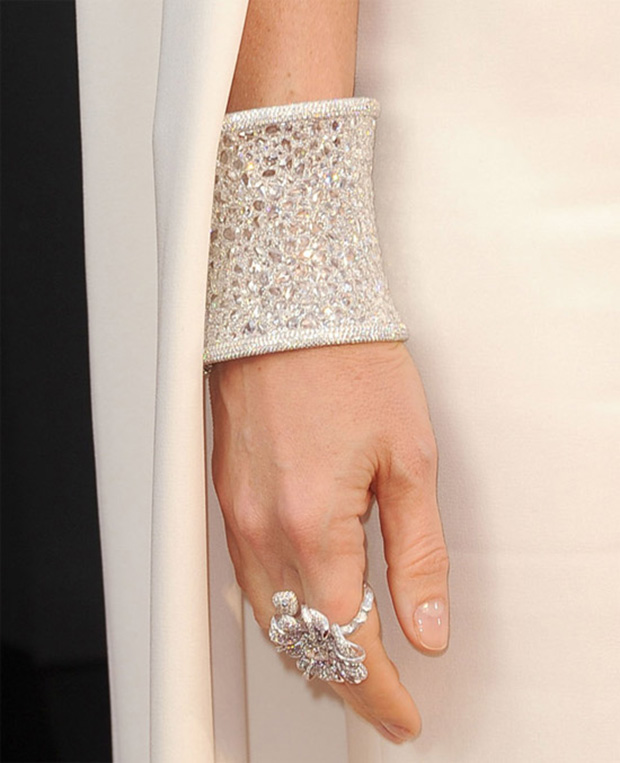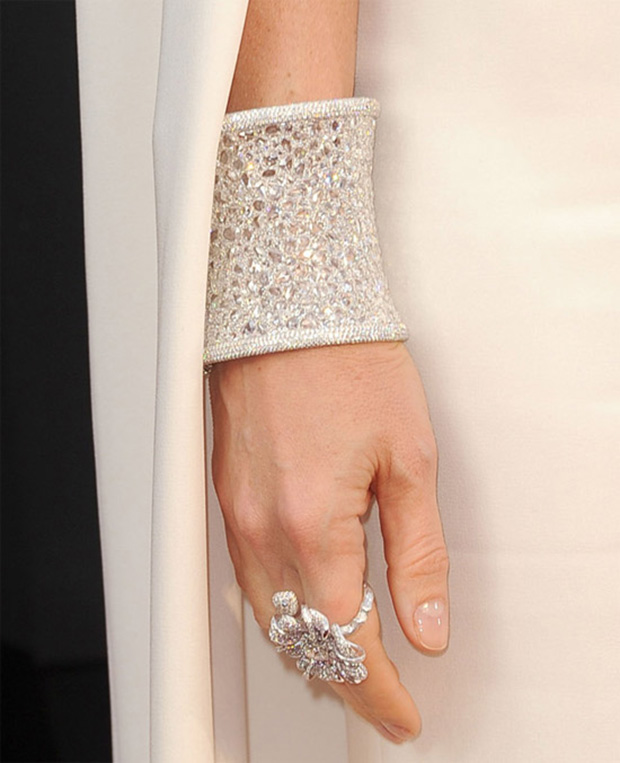 Gwyneth Paltrow in Anna Hu at the 2012 Oscars
Gwyneth Paltrow is a jewelry connoisseur and collector.  She owns the Harry Winston diamond choker she wore when winning her Oscar in 1999. Her lovely diamond thread choker by Joel A Rosenthal is part of the Jewels by JAR exhibit at the Metropolitan Museum of Art.  (It's not too late: go!) And then there is this cuff and ring by Anna Hu, worn with a cape dress by Tom Ford.  Inspired by the Snow Queen in The Nutcracker, the cuff is set with  2,368 icy D VVS quality diamonds: 163 carats in total. Perfection.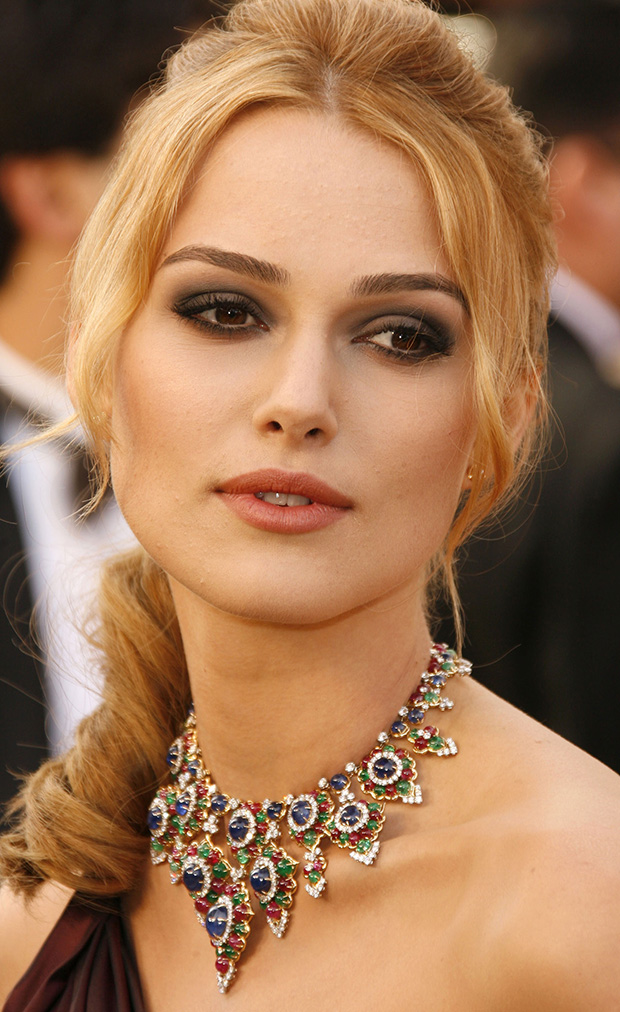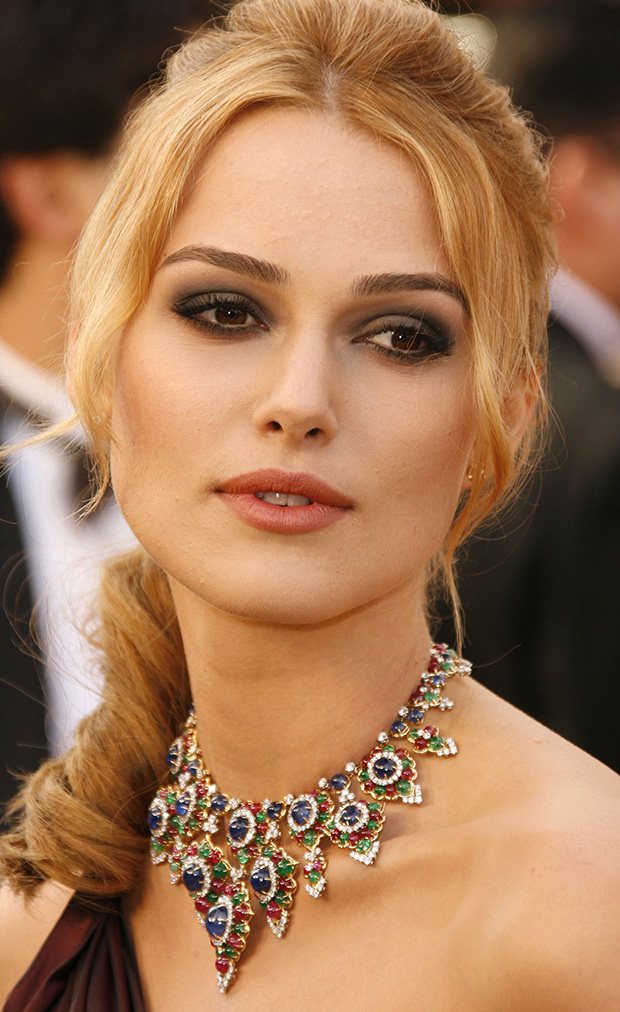 Keira Knightly in Bulgari at the 2006 Oscars
This multicolor Bulgari bib necklace has a great Gina Lollobrigida vibe.  And it is such a bold choice with her aubergine one-shoulder Vera Wang dress that I just can't help but love it.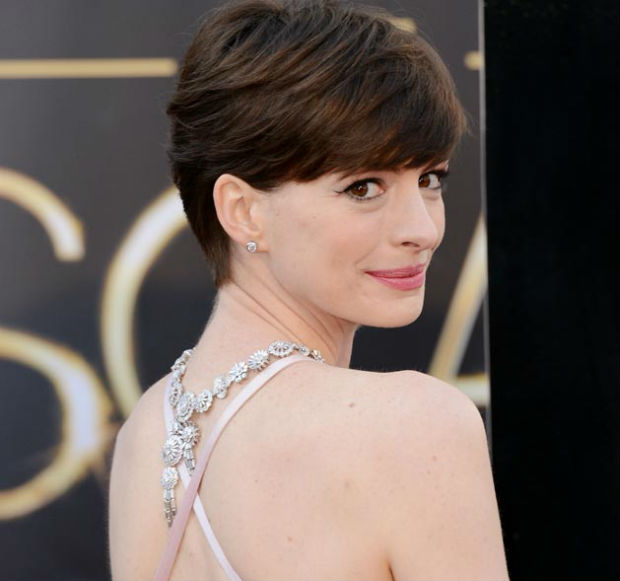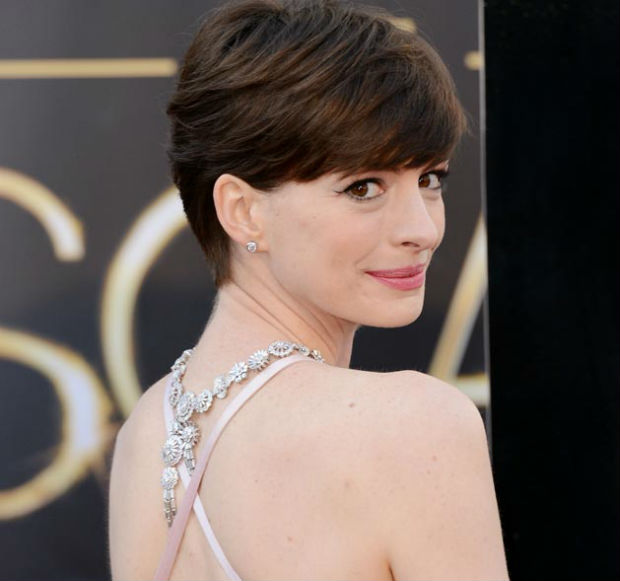 Anne Hathaway in Tiffany & Co at the 2013 Oscars
Love her or hate her there is no doubt that Anne Hathaway nailed it with this Tiffany & Co lariat worn backwards.  It looked great from the front too.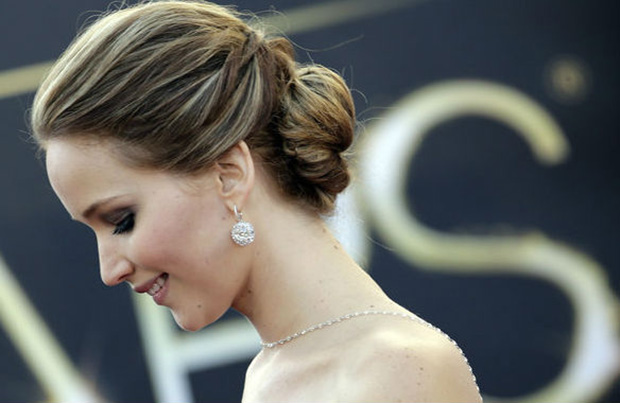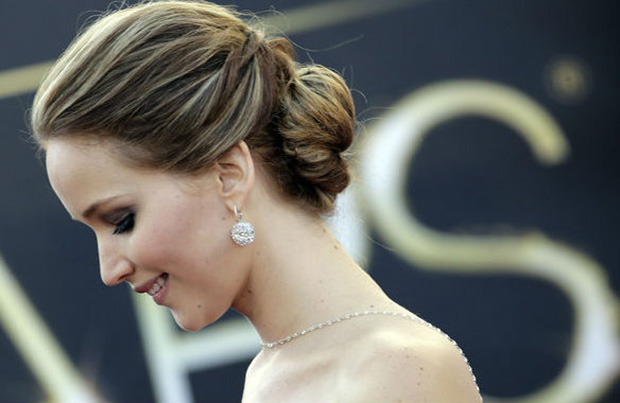 Jennifer Lawrence in Chopard at the 2013 Oscars
The fact that Anne and Jennifer Lawrence both wore backwards necklaces and both won definitely launched the backlace trend at the 2013 Oscars. Jennifer's back bling is a delicate 74-carats strand of diamond beads by Chopard.