Top Five Oscar Jewels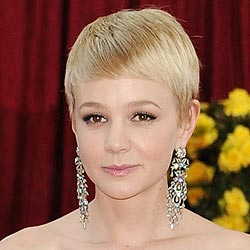 In a year when red carpet dresses shined in silver and gold, jewelry looks from the 2010 Academy Awards are oddly subued. But nothing can take away from these five brilliant examples of why the Oscars are the Superbowl of jewelry.
Carey Mulligan: Fred Leighton Earrings
The most dramatic jewelry look of the 2010 Oscars, these beautiful diamond chandelier earrings are bold in scale but delicately detailed. This look is a textbook example of how to accessorize a strapless black dress. Although chandeliers are more often worn with long locks, these earrings make Carey's pixie haircut look sophisticated and red-carpet glamorous.
Amanda Seyfried: Lorraine Schwartz Bracelets
There are bracelets and then there are bracelets.  Amanda Seyfried's chic stack of boldly patterned Lorraine Schwartz bracelets are lavish and funky at the same time.  Lavish because they are set with hundreds of carats of fancy colored diamonds in each of the three bracelets: any one of the three would have been red-carpet worthy. Funky because the colors of the diamonds are carmel brown, cream, and mint green, colors more more often seen in ice cream than in red carpet diamond jewelry. Let's face it, her dress is a bit Disney princess (although better than the similar style worn by J-Lo) but those fabulous bracelets keep it young and hip.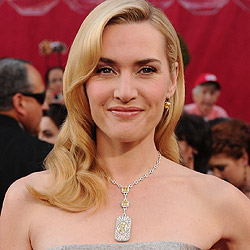 Kate Winslet: Tiffany & Co Necklace
The only serious museum quality jewelry of the night, Kate Winslet's $2.5 million fancy-yellow diamond necklace isn't at all over the top, despite the price tag. The exquisite necklace, which was made just for the occasion, has an Art-Deco timelessness. The three sizable fancy-yellow diamonds are set in platinum paved with colorless diamonds. (Winslet accessorized with 10-carat fancy yellow earrings and a fancy yellow bracelet too.) This sounds like too much but the necklace does exactly what jewelry is supposed to do: accent the woman, not call attention to itself.  It is restrained, elegant and tasteful and the perfect complement to the gown, which would have been boring without it.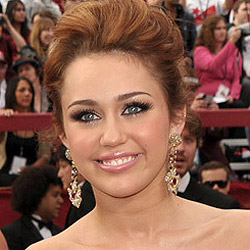 Miley Cyrus: Lorraine Schwartz Earrings
When you are wearing something that looks like you forgot to actually put your dress on over your skin-tone slip, you'd better accessorize with some really interesting jewelry to fend off the fashion police.  Miley Cyrus saves her red carpet look with fabulous earrings and cuff by Lorraine Schwartz.  Although the cuff with its interesting corset detailing is a witty comment on the style of her dress, the earrings are even better. Each ear has a lavish pansy with a ruby in the center, suspended from delicately adorned chain from a pave button.  Feminine and drop-dead gorgeous, they also made Miley look almost sophisticated, despite the Tammy Faye fake eyelashes.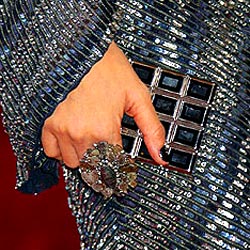 Nicole Richie: Lorraine Schwartz Ring
Say what you wish about Nicole Richie's striped dress, one look at her hand explains it.  Surely she fould that fabulous Lorraine Schwartz ring first and told her stylist to find something that would go with it?  More than 100 carats of fancy-colored diamonds in interesting shades of black, gray and brown: how cool is that?  Schwartz shows why she is the go-to jeweler for those who don't want their mother's diamonds.