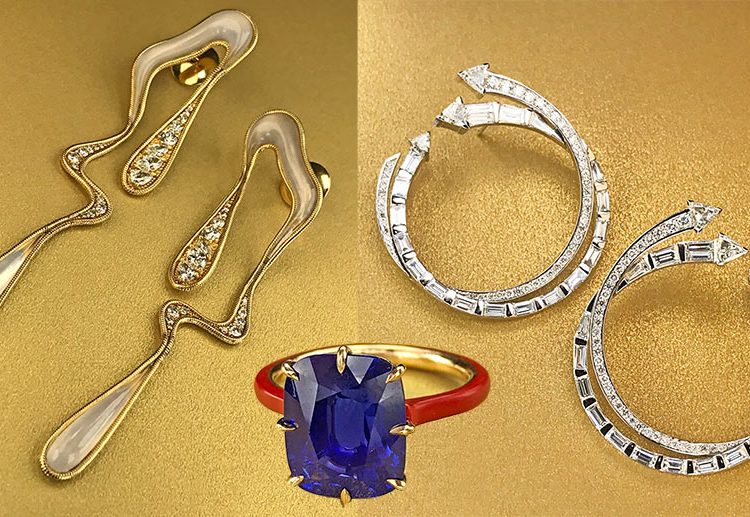 The Jewelry Designers of the Decade
It's been a great decade of jewelry design. Color, form, materials, and even classic diamond designs have been reimagined for modern life. Even serious jewelry has lightened up to become more wearable and personal.
After JCK published a list of their editor picks for the designers of the decade, it got me thinking about the jewelry I've seen over the past ten years. Which designers have been most influential? What criteria are most important? Should I include the perennially influential like JAR, Hemmerle, and Suzanne Belperron? (I didn't but they could always be included!)  When I sat down to make my own list of the most important designers of the decade, I concentrated on the ones who have changed the way that we see jewelry today the most.
Enjoy more photos of jewelry from these designers on my Jewelry Designers of the Decade Pinterest board: choosing just one photo for each was almost impossible. And let me know your picks for designers of the decade in the comments!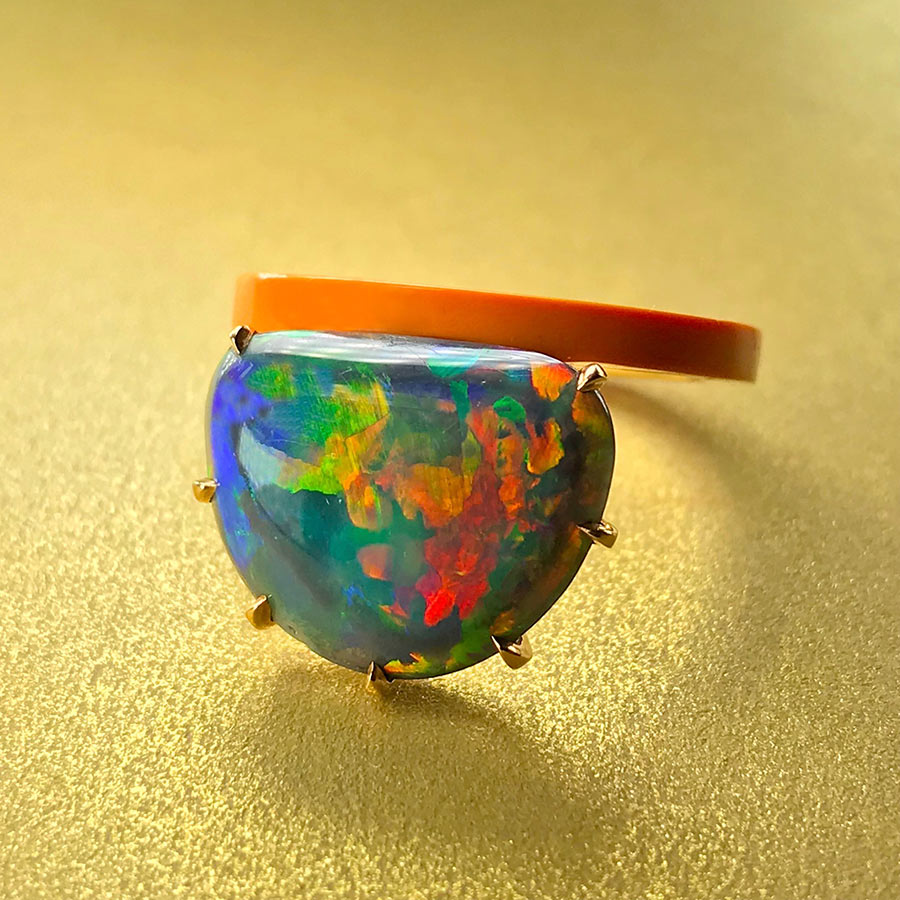 THE COLORIST
James de Givenchy for Taffin
Fine jewelry has never been more colorful and that's certainly due in part to the inspiring designs of James de Givenchy for Taffin, the company he founded in New York in 1996. A 16-carat antique cut sapphire of exceptional color sits in a frame of robin's egg, mustard and ultramarine ceramic. A kite shaped fancy yellow diamond is set off with chili colored ceramic. Fire opal is set in wood and strung on a cord or surrounded by a cloud of moonstones. Rings have a private surprise of color inside for the secret pleasure of the wearer. This is haute joallerie transformed by the sensibilities of modern art.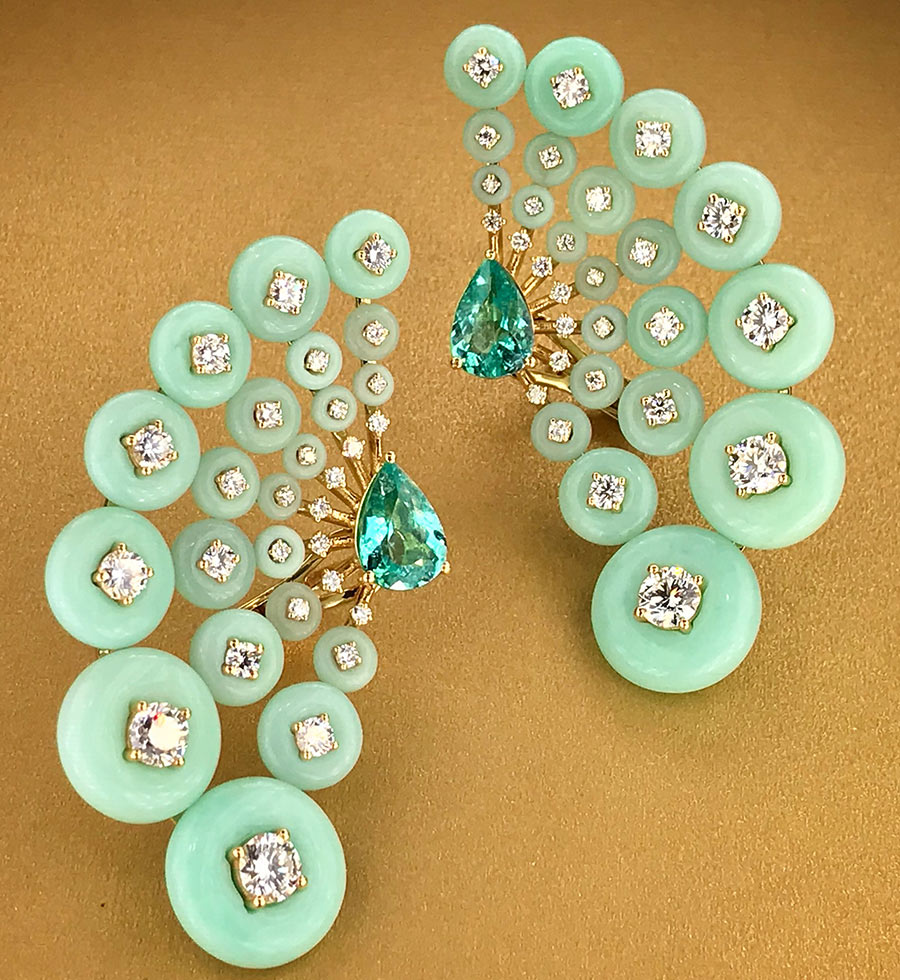 THE SENSUALIST
Fernando Jorge
At the beginning of the decade, Fernando Jorge was known for colored gemstones with a fresh energy. The Electric, Fusion and Stream collections were unlike anything we'd ever seen before with unique cuts, and fluid, sensual shapes. But what really launched Jorge into the top ranks of the decade's designers was his 2017 Brilliant Collection, kinetic sculptures in diamonds and gold. Delicate and bold, with modern red-carpet ready silhouettes, the Brilliant Collection established Jorge as a serial innovator with an impressive range.
THE MATERIALIST
Nikos Koulis
A master of modern geometry inspired by Art Deco, Nikos Koulis has proved to be much more. His flair for drama, with serious gemstones framed in black and clear enamel, is now complemented by curves and softness, with flexible chains, fringe and pearls. The 2017 Lingerie Collection and the 2019 Feelings Collection are no longer Deco, they are something else: distinctive, original, and sophisticated.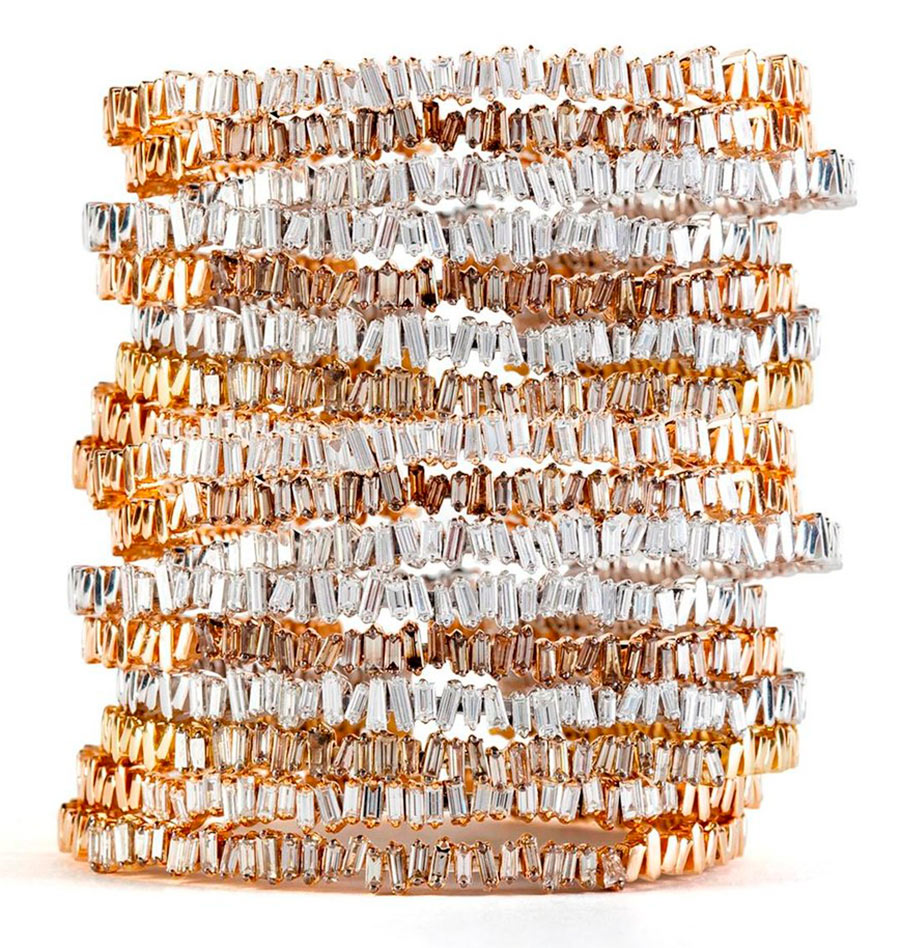 THE CHANGE AGENT
Suzanne Kalan
Suzanne Kalan's Fireworks is the collection of the decade. It's not even her most long-lived hit collection (yet: that would be Vitrine, which features gemstone windows with diamonds set behind them.) But Fireworks changed everything, making baguettes the coolest cut and chaos the new black. Fireworks began as explosions of off-kilter diamond baguettes, eventually adding a rainbow of sapphires too. But it's the pieces that reimagine the classics of diamond jewelry that are the most compelling. In Fireworks, Kalan created irresistibly cool and modern version of diamond stud earrings, band rings, bangles, pendants. Wearable and distinctive at the same time, they are the new diamond essentials of a jewelry wardrobe.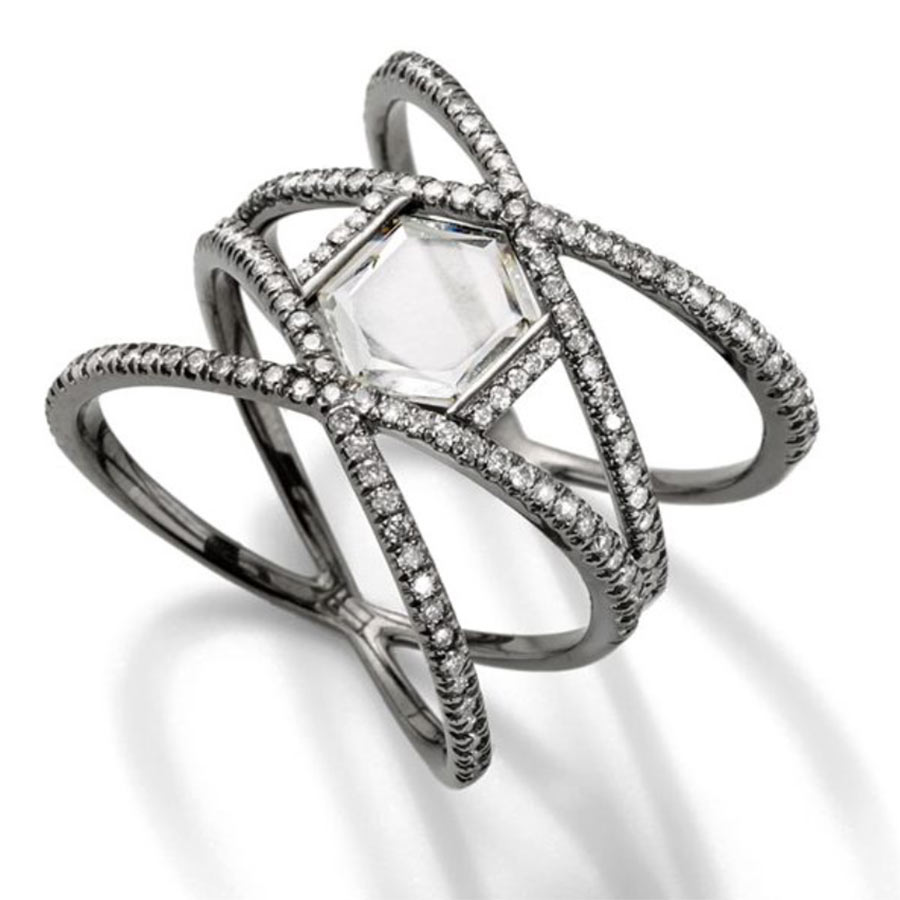 THE MINIMALIST
Eva Fehren
The X-Ring by Eva Fehren is one of those designs that you can't believe you've never seen before, it's so obviously right. Of course, that feeling didn't last, because almost immediately, this iconic design and its variations were copied in a thousand different diamond fashion collections. In fact, these designs actually became an entire new category of diamond fashion jewelry, diamond line rings. Eva Fehren designer Eva Zuckerman herself moved into bridal versions, adding hexagonal diamonds and generally showing how cool wedding rings could be. Whether the million women wearing jewelry based on the original X Ring know the Eva Fehren brand, she is undoubtedly one of the most important jewelry designers of the decade.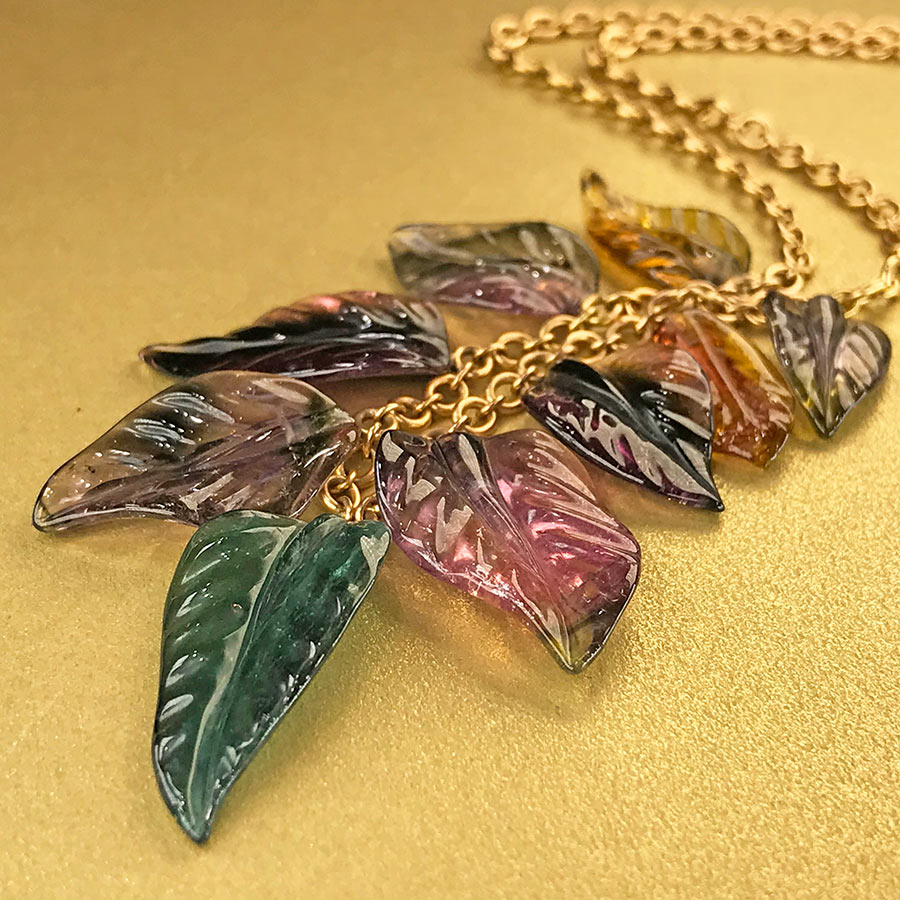 THE MAXIMALIST
Irene Neuwirth
Exuberant colors, lavish shapes, asymmetry and playful silhouettes make Irene Neuwirth's designs a young and fun way to wear gemstones. It's no surprise that her jewelry is a red carpet favorite: it's a fresh take on statement jewelry that feels very individual and personal. Her latest collection features large carved blossoms that are like luxurious corsages. Expect more gemstone botanical inspiration for the year ahead.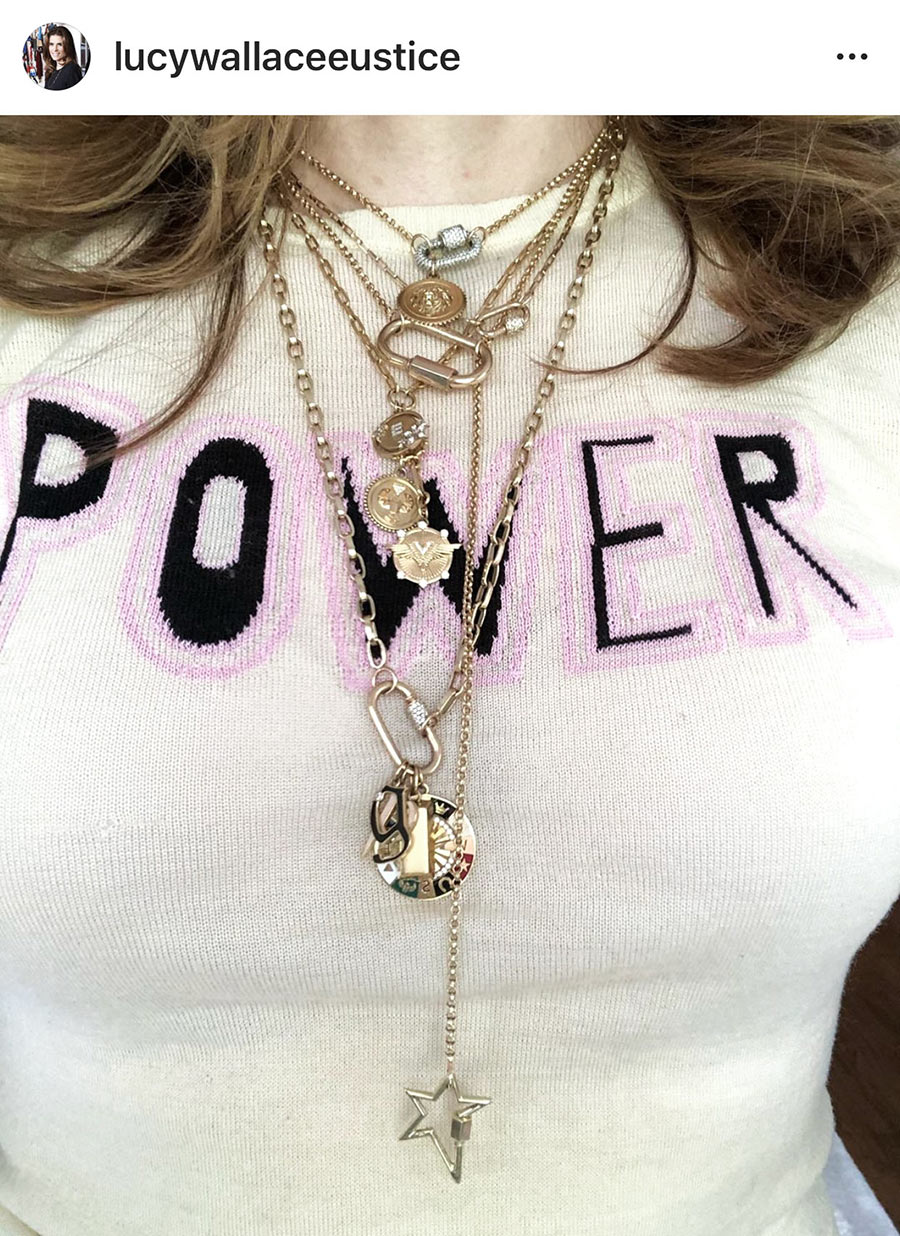 THE PERSONALISTS
Foundrae and Marla Aaron
The strongest jewelry trend of the decade is jewelry as personal expression. Two new brands launched in the decade exemplify empowering the wearer to express herself through collections of customizable jewelry that can be worn many different ways. Above, Lucy Wallace Eustace wears both of them in an Instagram post.
Foundrae specializes in evocative symbolic medallions that represent strength, wisdom, karma, resilience, direction and the elements. But the secret of the collection is the brand's chains, links that open, extenders and clips that allow you to wear a cascade of medallions like chapters of your story. Instagram inspires wearers to create their own unique compositions and change them up every day.
Marla Aaron is known for her locks, which started out as simple carabiners in precious metal but have blossomed into a huge selection of sizes, proportions, shapes, gemstones,  inlays, engraving and even letter locks. They are designed to hold charms, link with each other, swag chains, and become part of your own personal combinations. (And Marla has gone beyond the locks to create interchangeable earrings and gimme rings and bracelets.)
Both Foundrae and Marla Aaron also have gorgeous bold chains and these brands are great examples of how to layer and personalize bold chains in a modern way.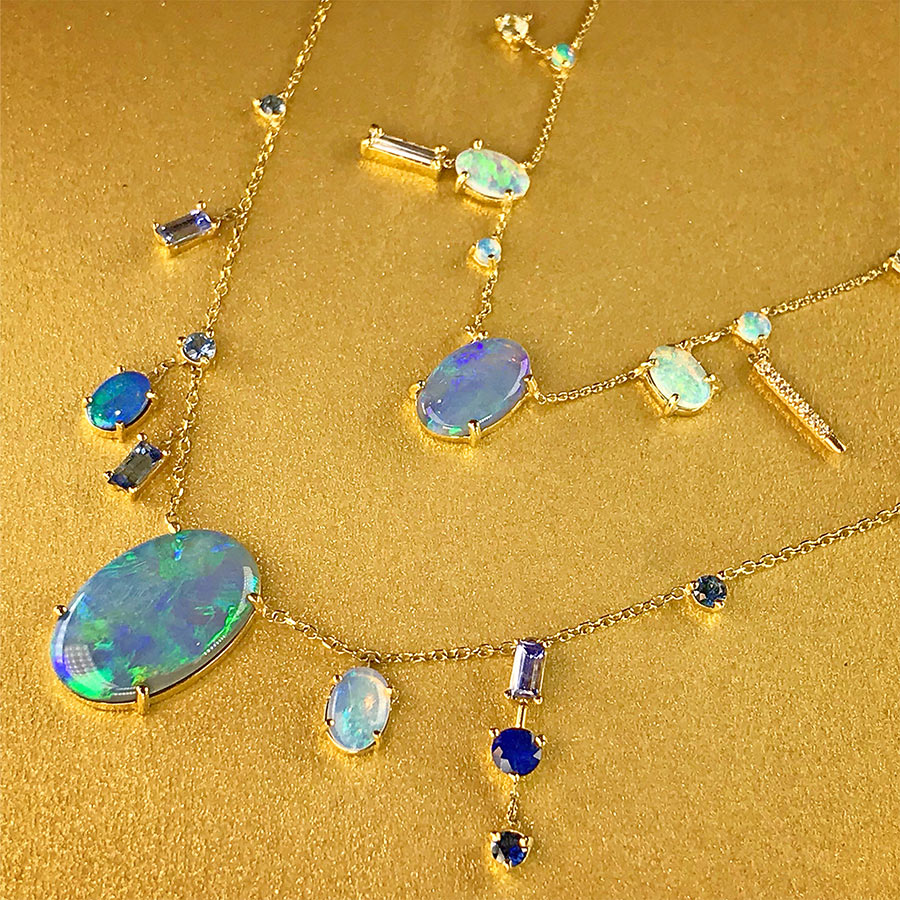 THE MINIATURISTS
Catbird and Wwake and Kataoka
One of the iconic designs of the decade is the Threadbare Ring, a barely there whisper of metal from Catbird, worn by none other than Meghan Markle. Catbird began as a ridiculously tiny retail jewelry store in Williamsburg with a huge online following but the company is now also a large jewelry manufacturer, creating the delicate jewelry designs its followers crave.
Wwake and Kataoka are designers carried by Catbird and they share its less-is-more aesthetic in different ways. Wwake is known for delicate opal designs, with tiny gems poised like raindrops on threads of gold (the necklace above is probably the boldest design the company has ever produced.)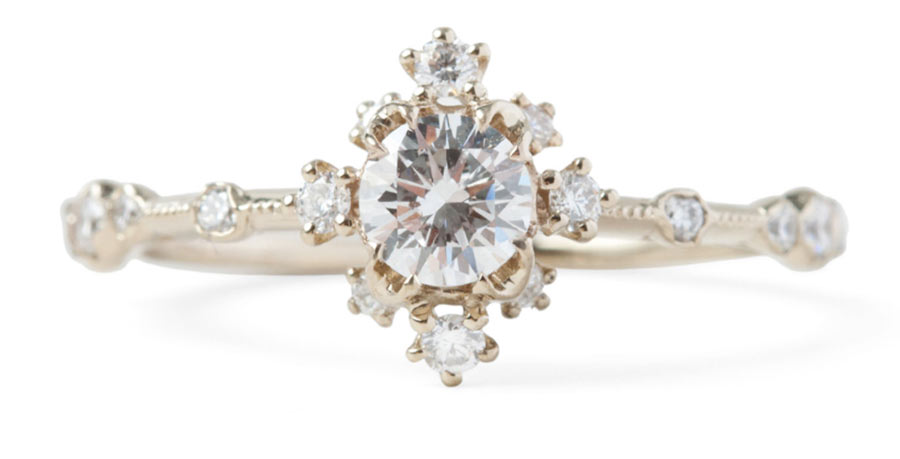 Kataoka creates ethereal rings with delicate snowflake flourishes picked out in diamonds. Its popularity soared recently when Emma Stone got engaged with its pearl ring. Kataoka recently opened a flagship store in Soho, New York to present its whole collection in a minimalist environment that expresses the brand's aesthetic.
These three brands are a reminder that Millennials and Gen Y love jewelry too, just not the same jewelry as previous generations. Catbird's designs, sustainably made in Brooklyn, are just what jewelry lovers of these generations admire.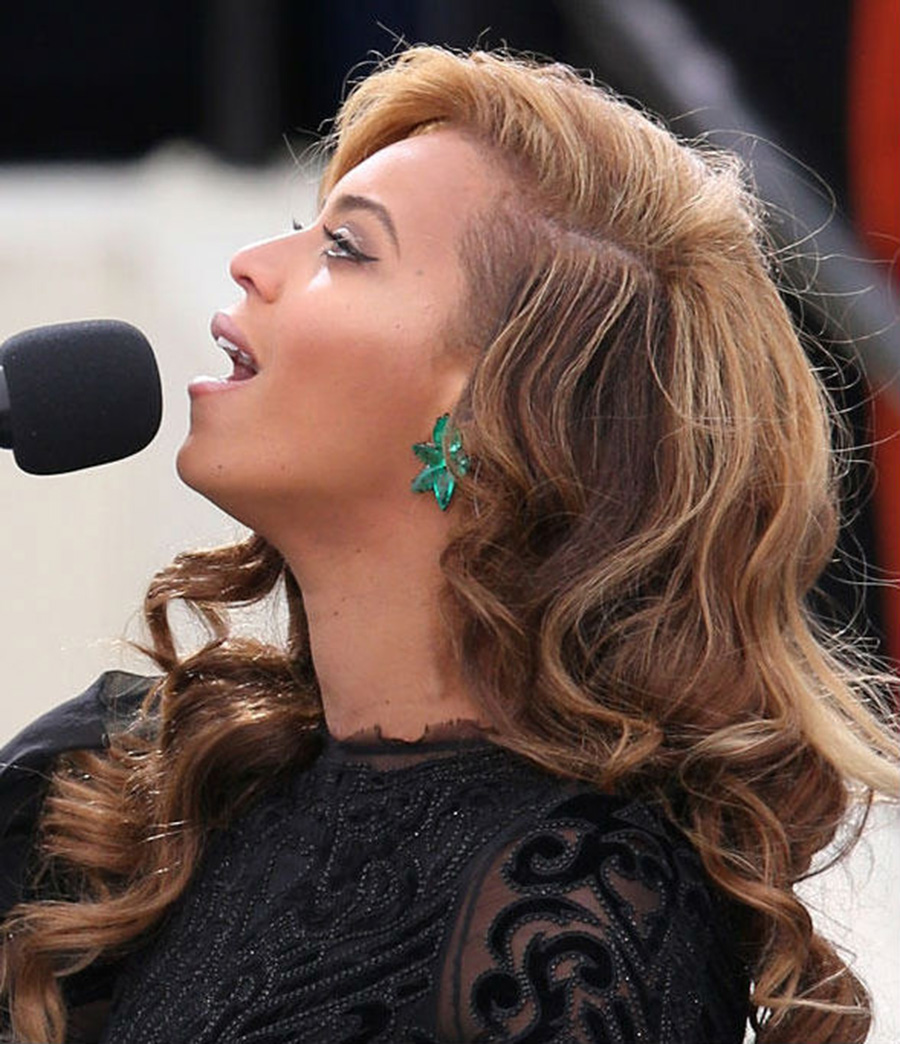 THE RED CARPET QUEEN
Lorraine Schwartz
When it comes to show-stopping designs for the red carpet, there's no one who can rival Lorraine Schwartz. Every single awards show during this decade proved this point. Her fans include none other than Beyonce, who wears her designs exclusively on the red carpet and also on her ring finger. When Meghan Markle decided to remake her engagement ring to give it a more delicate silhouette, she called Lorraine. Other fans include Taylor Swift, Blake Lively, and Angelina Jolie (who wore her own stunning Schwartz emerald earrings to the Oscars in 2009.)