Spectrum Award Earrings to Covet
Earrings are the best category of the annual American Gem Trade Association Spectrum Awards. Lavishly bejeweled dangles galore! I've already shown you the best of the 2015 Spectrum Award winning jewelry.  Here are ten fabulous pairs of earrings that did not win one of the top awards but deserve to be celebrated anyway.
The images here that I took with my phone at the Spectrum viewing don't really do these designs justice. If I can get better photos in the future, I'll definitely post and pin them to my epic earring board on Pinterest.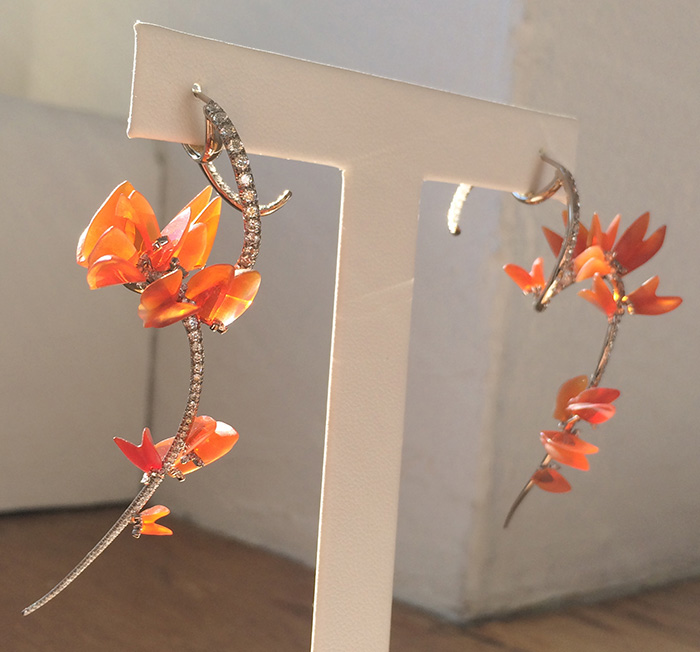 The Sometime This Spring fire opal earrings by Gregore Morin of Gregore Joailliers are breathtaking in person: the vivid color of the 68.88 carats of fire opal and muscular sweeping curve gives them a dangerous girl-on-fire edge.  They actually won the Spectrum Editor's Choice Award, which is voted on by all the editors and bloggers who attend the viewing each year. They got my vote.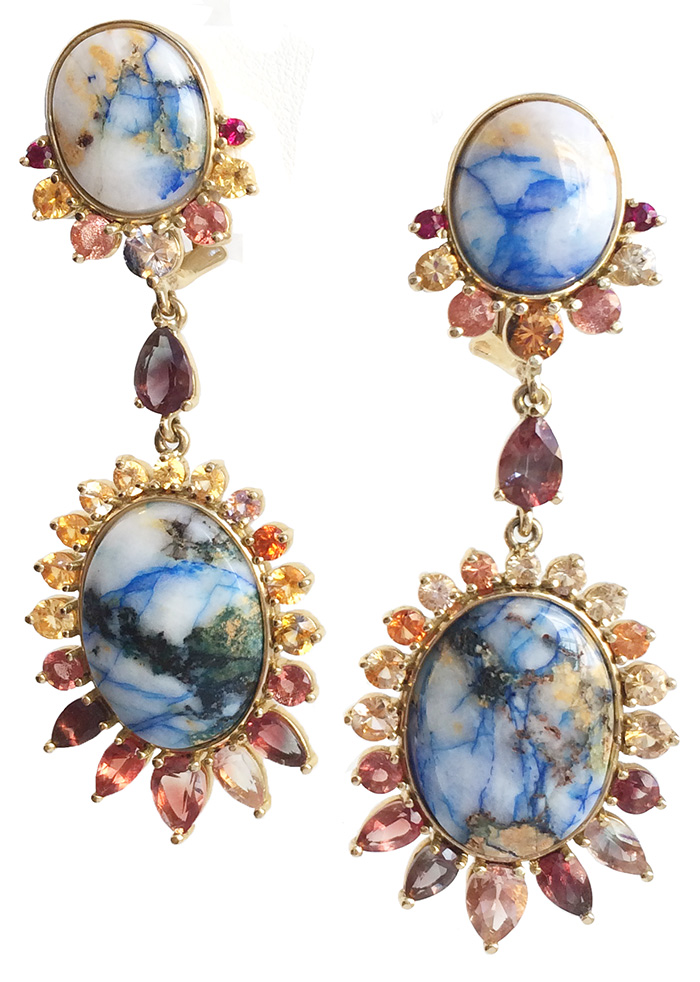 These earrings are only one of many fabulous entries by Caitlin Mociun of Mociun. They are positively planetary. The colors are amazing, aren't they? The gems are quartz, sunstone, ruby, and sapphire.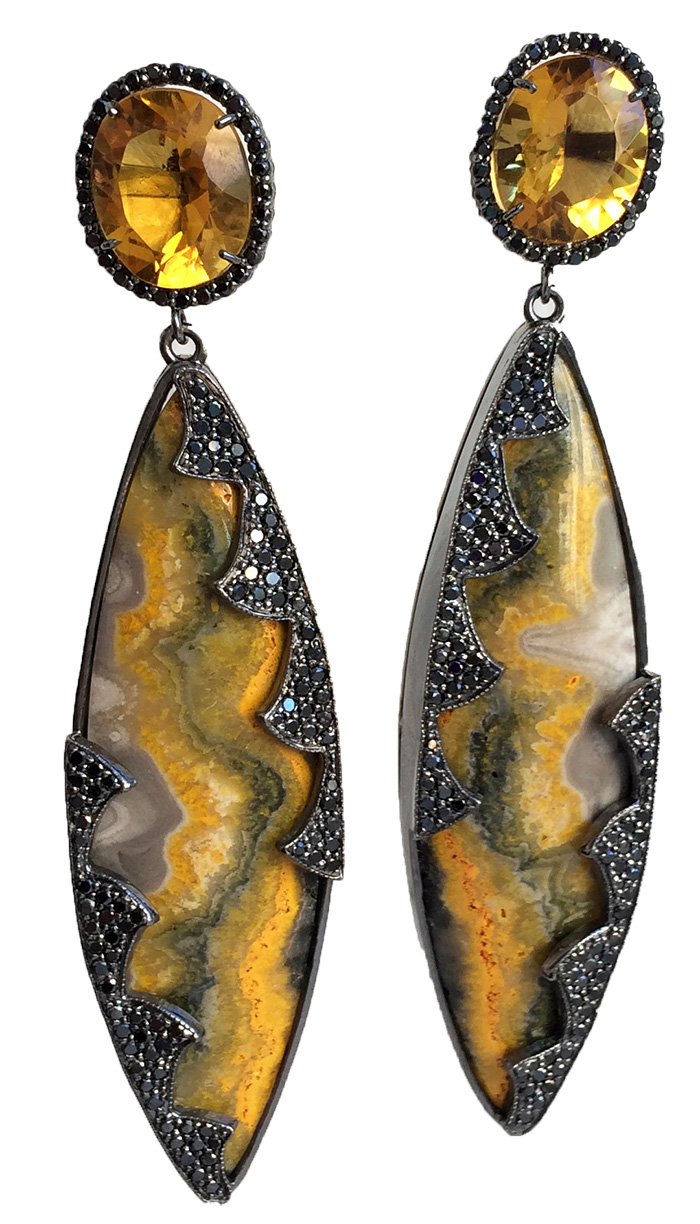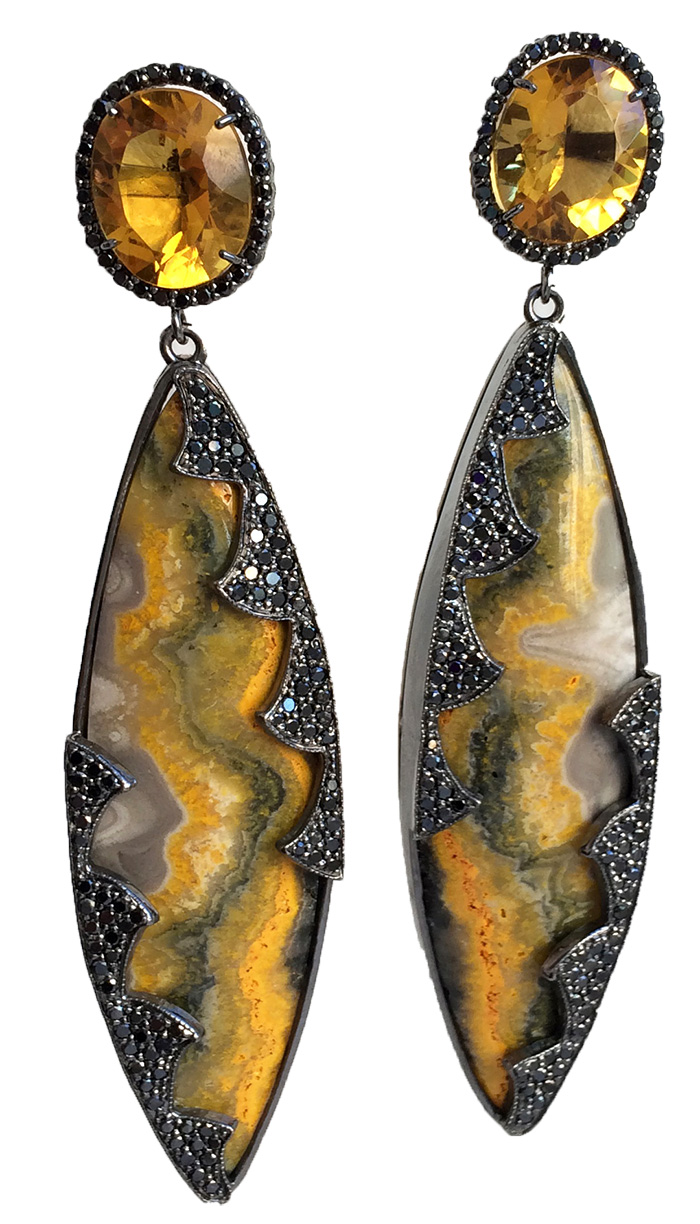 I love the colors and pattern of the bumble bee jasper in these dramatic earrings by Colette Steckle of Colette Jewelry. Citrine, black diamonds, and blackened 18k gold complete the design.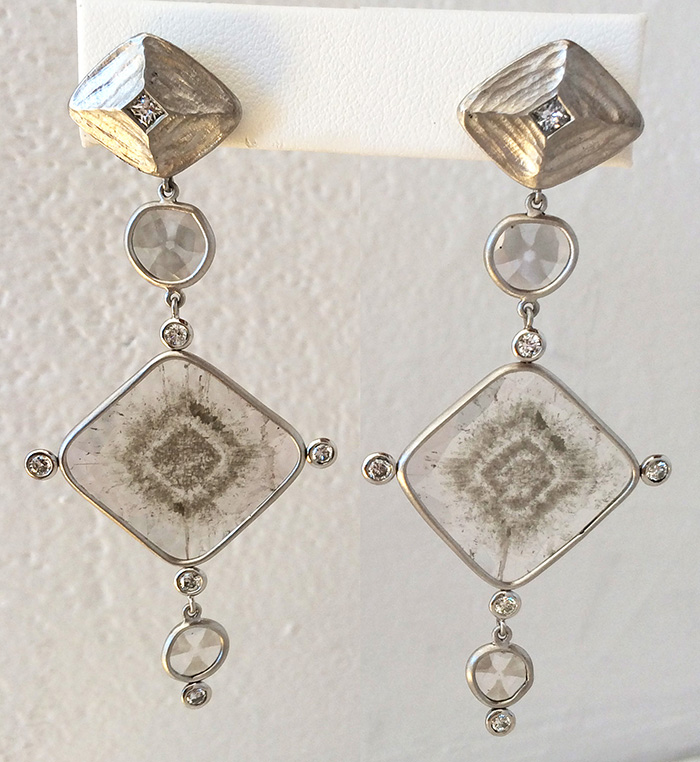 Did you ever weave a God's Eye at summer camp?  These diamond slice earrings by Michael Endlich are like the world's most glamorous version.  The slices are 7.07 carats.  These earrings won third place in the Bridal category of Spectrum.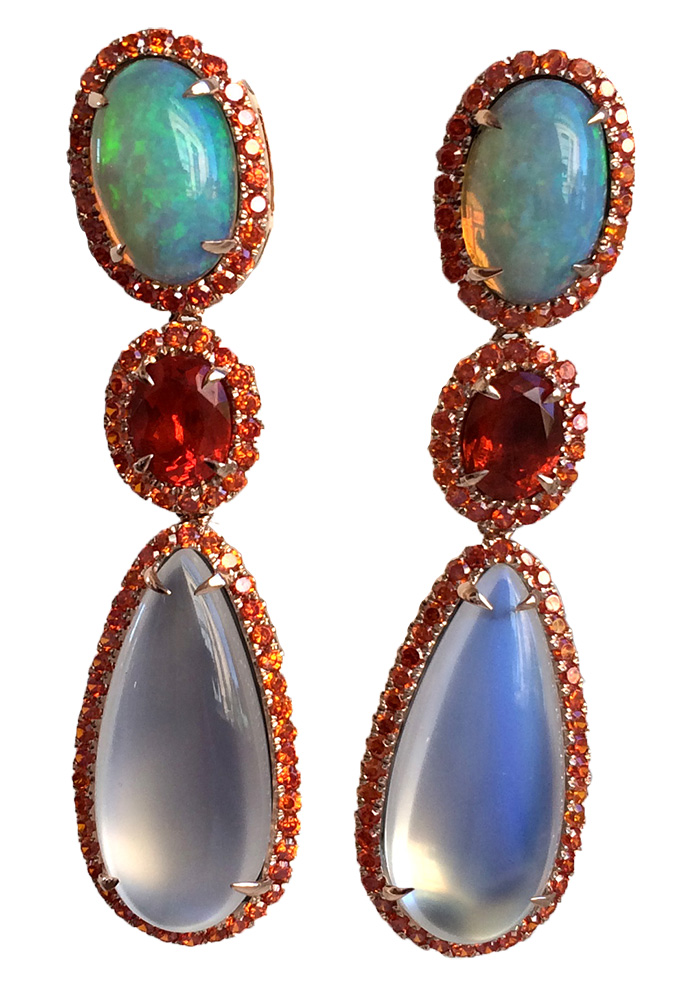 You know how much I love moonstones, so of course I love these earrings designed by Yehouda Saketkhou of Yael Designs.  The vivid fire opal and spessartite accents are the perfect way to bring out the color.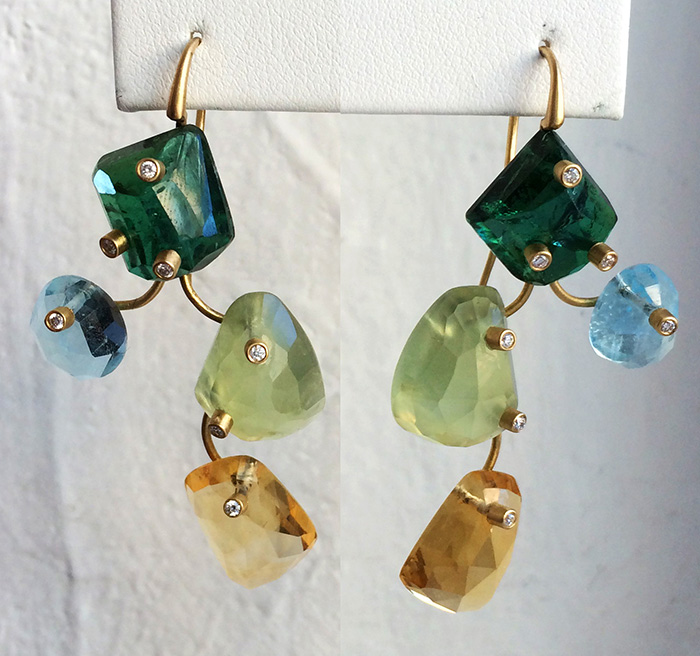 I like the way these earrings by Caroline Palermo Schulze of CPS Jewels evoke a mobile. The unusually cut and pierced gems are tourmaline, aquamarine, citrine, and chalcedony.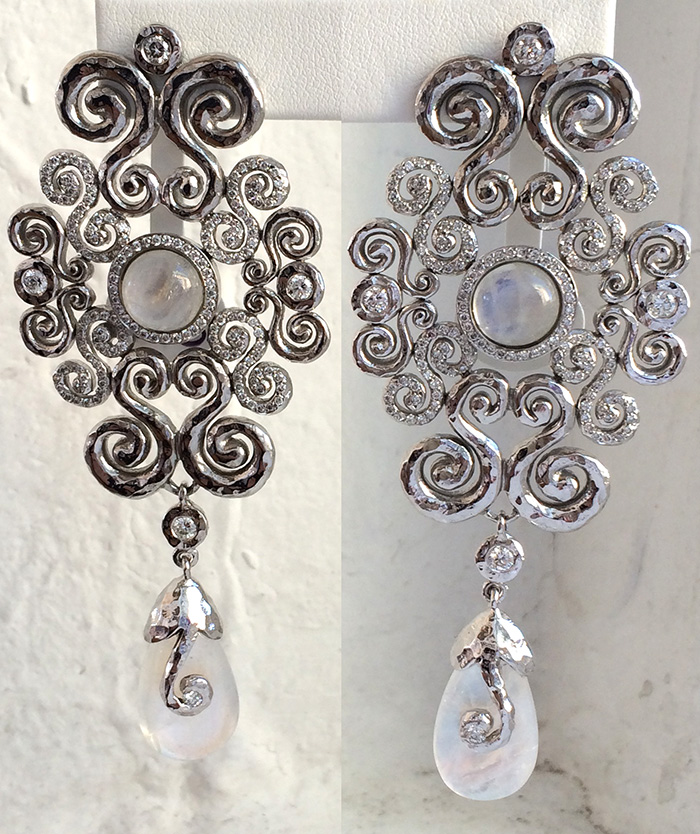 You might recognize these earrings as the work of Pamela Froman, with her distinctive shapes and "crushed" texture.  They are palladium and moonstone with almost three carats of diamonds.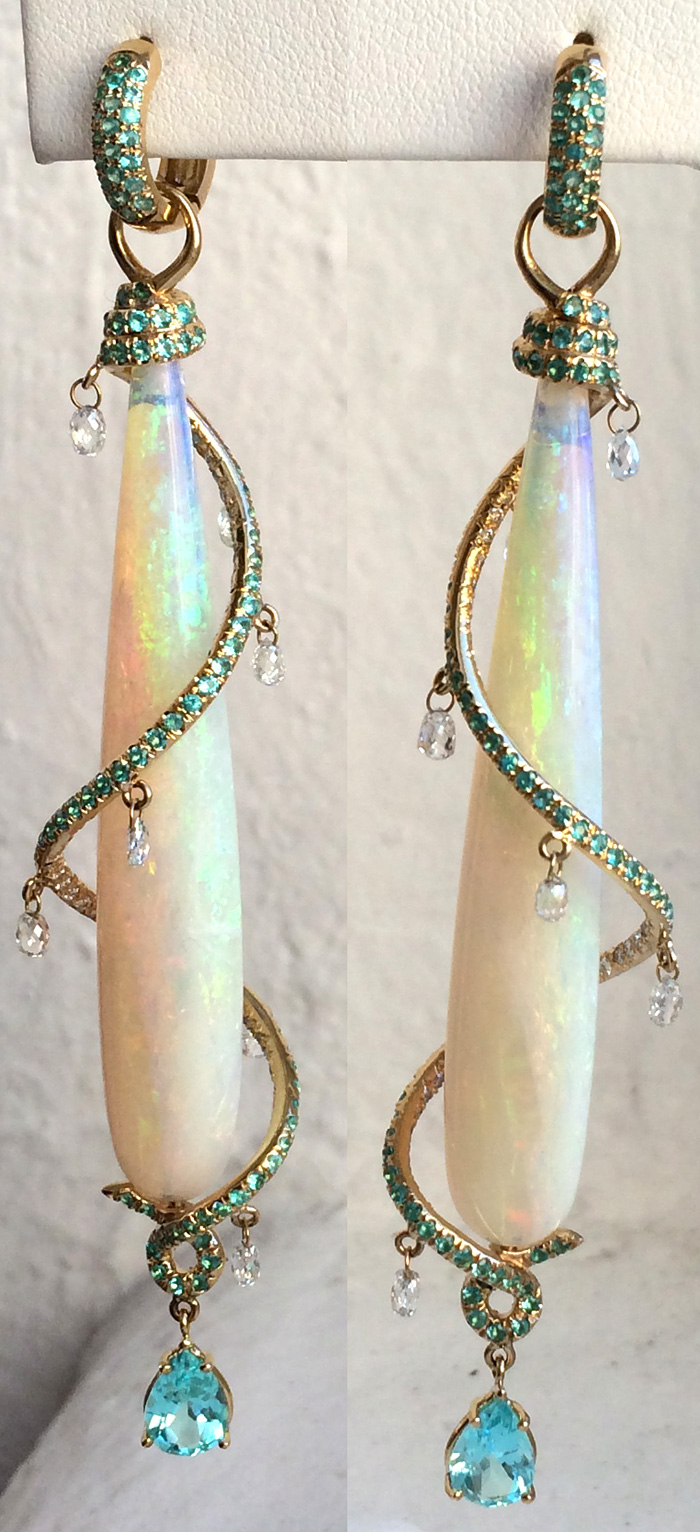 These opal briolette earrings by Erica Courtney won second place in the Evening Wear category.  The opals are pretty spectacular, aren't they?  Love that one diamond briolette, on the side.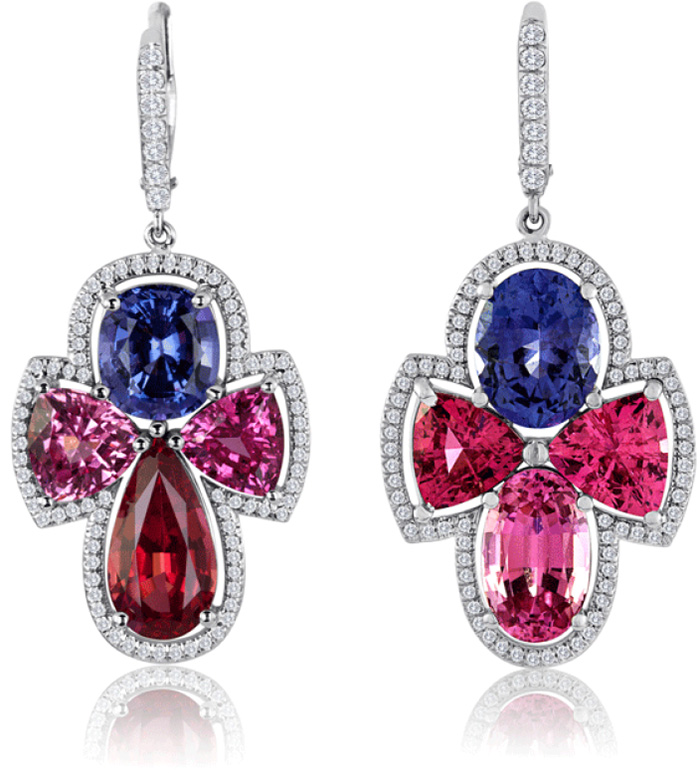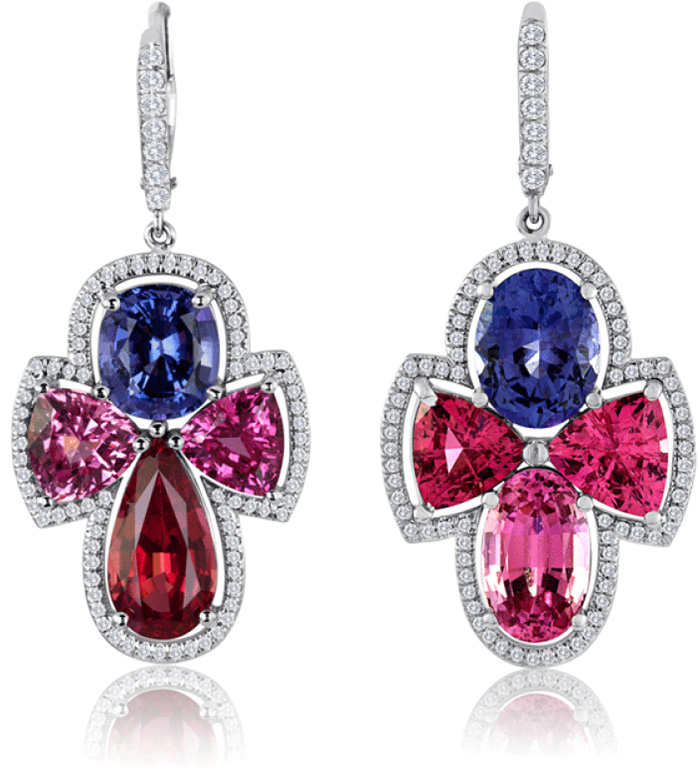 These earrings by Bella Campbell of the Campbellian Collection feature blue, pink, and red spinels. The asymmetry makes them much better (and emphasizes just how rare these spectacular gems are.)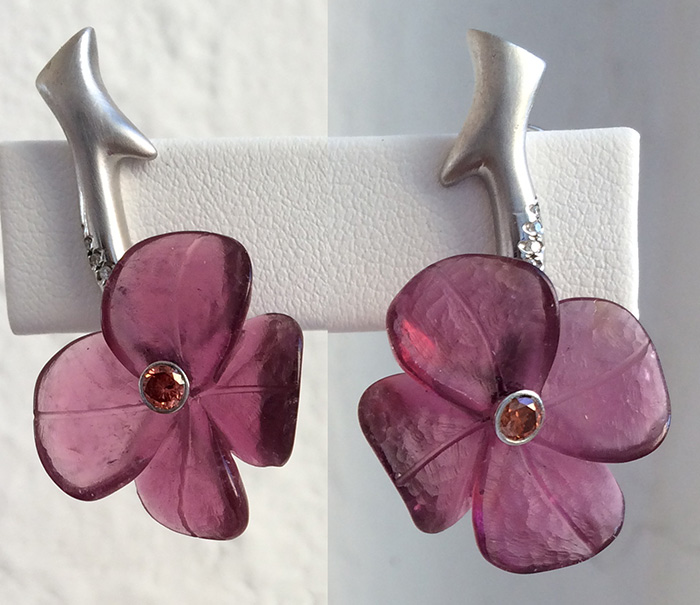 These tourmaline and platinum petal earrings by Babette Shennan are a nice take on the flower earring trend. The stem extends nicely a bit up the ear.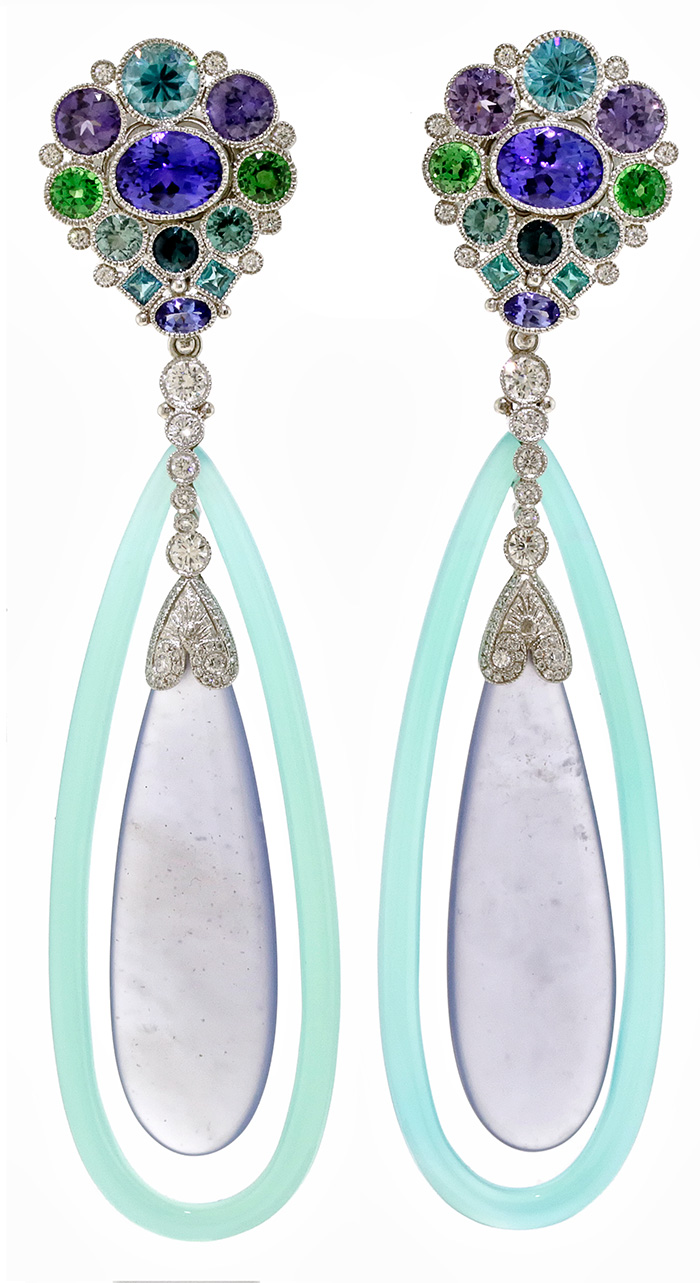 In closing, a shout out to these Spectrum Award winning earrings by Dierdre Featherstone of Featherstone Design because you don't mind seeing them again, right?  Of course not.