Bibi van der Velden in Wonderland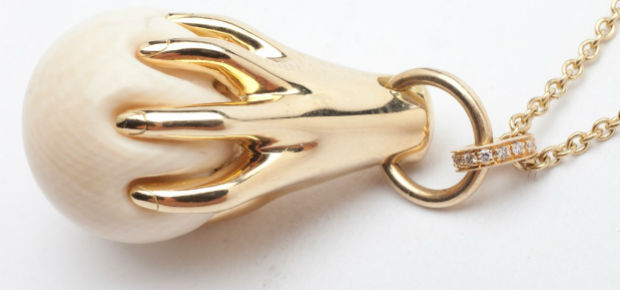 Disembodied hands. A baby-doll leg dangling from an egg. Finely wrought foliage in delicate diamond with a serpent in the leaves. The Alice-in-Wonderland world of Bibi van der Velden's jewelry is charged with hidden stories.
A sculptor by training and owner of the gallery White Space in Amsterdam, Bibi creates original jewelry designs in a surprising variety of styles. Bold and graphic. Clever and symbolic. Surreal. Romantic. Charitable.
Her Polky Diamond collection is inspired by ancient Indian jewelry design. The Mammoth Collection is just that: carved pieces of 40,000-year old mammoth tusk from Siberia. The Cloud Collection has puffy cumulous-shaped gems, some with dangling briolette rain. A line of sign language initial pendants supports sign language education for deaf children. The Solidaridad bracelet benefits fair gold mining (and Bibi uses the gold in her pieces).
Picking up each piece at her booth at the JCK show last June, I was impressed with the details. A silver hand makes carved dimpled indentations in an ivory egg. Forms are adorned with tiny engraved stars.  Everything is sculpted in three dimensions, making it as interesting to look at from the side as from the top.
Her work wasn't just my favorite discovery at this year's JCK show, I told everyone I ran into to go see it.  If you missed it, bibivandervelden.com is the next best thing: the sampling of designs below is just the beginning: see how deep the rabbit hole goes.