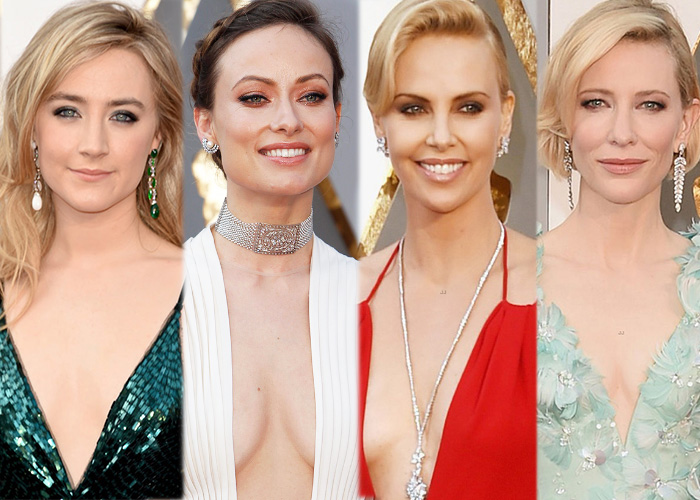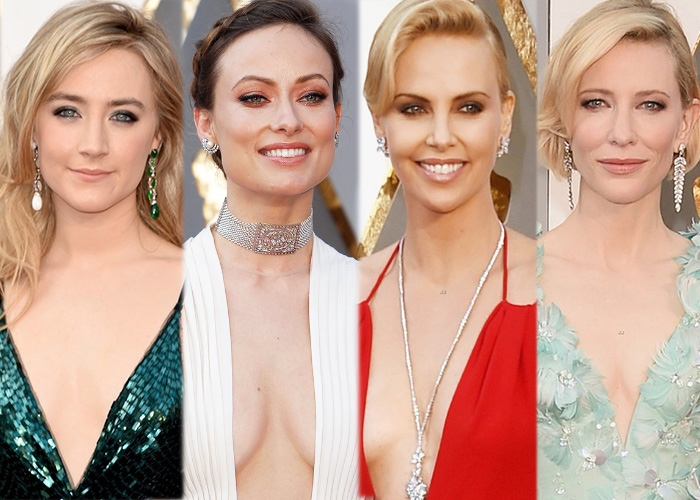 The Best Oscar Jewelry of 2016
White diamonds in white metal sparkled on the red carpet in 2016, with drop earrings and statement necklaces marking a return to old Hollywood glamour. #DiamondsSoWhite? The entertaining jewelry connoisseurs live tweeting the red carpet at #OscarJewelry certainly thought so.
Who should be awarded best Oscar jewelry of 2016? To find out, I asked a dream team of 15 jewelry style experts—editors, bloggers, and red carpet experts— to give me their top picks. They ferreted out some surprising gems you may not have noticed. The resulting selection of jewelry is surprising, interesting, varied, and much more diverse than you might expect.
The winners? Olivia Wilde's daring pairing of a delicate Edwardian choker with a sleek plunging Valentino gown and Saoirse Ronan's perfectly mismatched earrings. And all of us too, of course!
 
Olivia Wilde in Neil Lane
In one of the most dramatic jewelry looks of the night, Olivia wore an Edwardian choker from Neil Lane.
"I'm obsessed with Olivia Wilde's red carpet look," says Tanya Dukes of InDesign. "Awards circuit dressing has become so predictable but she broke the mold. It's a daring move to wear a pearl Edwardian choker to the Oscars, and pairing with a sexy, backless dress had a chic, modern effect."
"Olivia Wilde wins my votes for best jewels (and overall look) because while there were a few mock chokers (or short necklaces) on the Oscars' red carpet, Wilde drove me wild with her full on pearl and diamond Neil Lane choker to go with her stunning, pleated Valentino haute couture gown in ivory white," says Barbara Palumbo of Adornmentality.
"It was bold and unique," agrees Liz Kantner of Stay Gold. "I especially loved it paired with her pearl and diamond earrings (also antique Neil Lane, I believe). Olivia took a risk and for that reason she stood out!"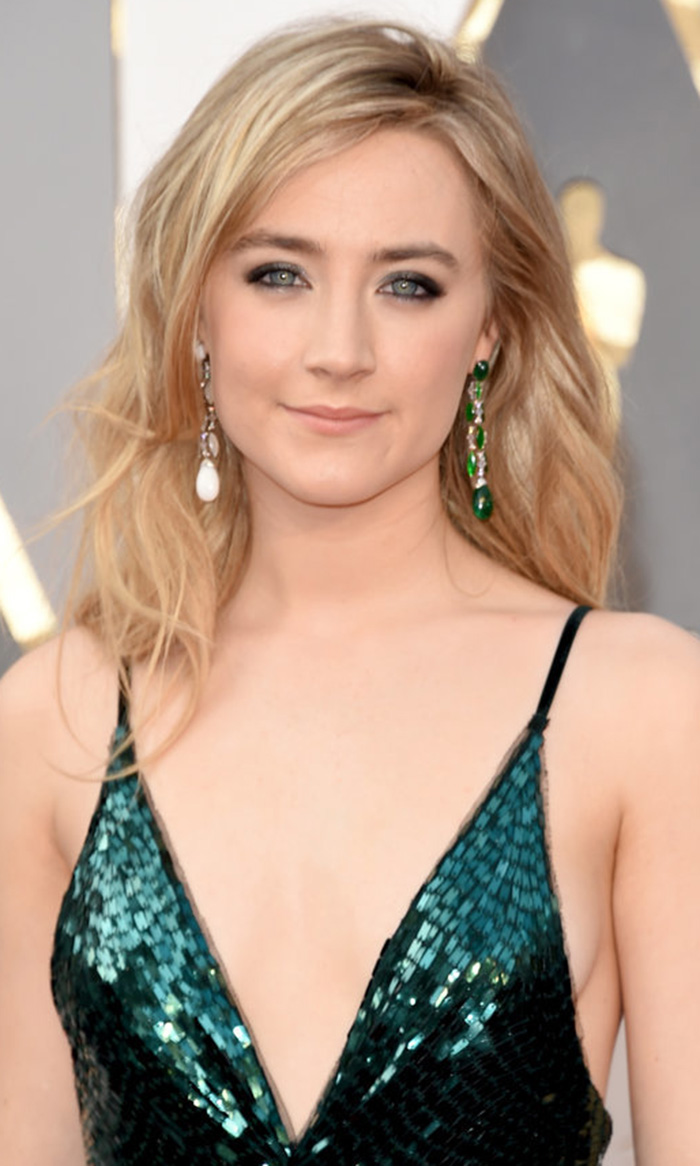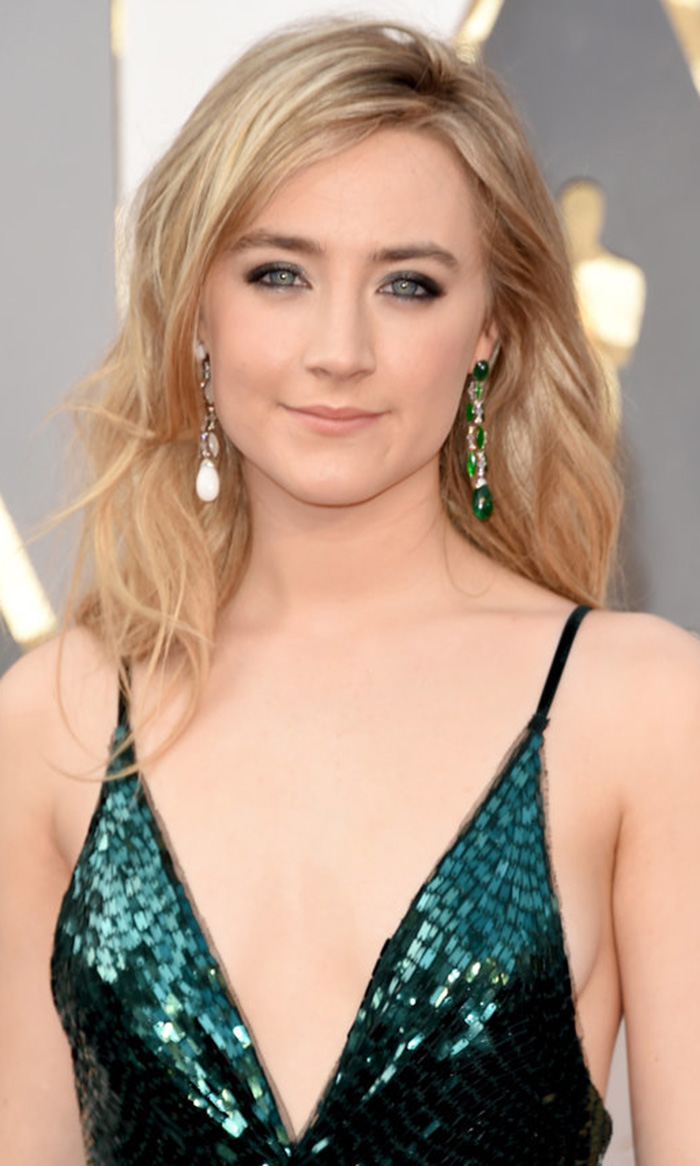 Saoirse Ronan in Chopard
This is the trendiest jewelry look of the night: lovely emerald, jadeite, diamond, and pearl mismatched earrings by Chopard.  This is my favorite look of the night: I thought the color play was fresh and young.
"There were some stunning necklaces last night on Charlize Theron, Tina Fey and Naomi Watts, but if I have to pick one look that really lingers in my mind it's Saoirse Ronan's Chopard earrings," says jewelry maven and author Marion Fasel of The Adventurine.  "The fact that one was emerald and the other pearl pushed the style envelope."
"Simple, elegant and willing to break the rules of jewelry, while also picking up on a fashion-forward trend," Peggy Jo Donahue says. "That's my Irish woman!" As she tweeted: "Yeats for Saoirse: 'how many loved your moments of glad grace' and your mismatched earrings, too.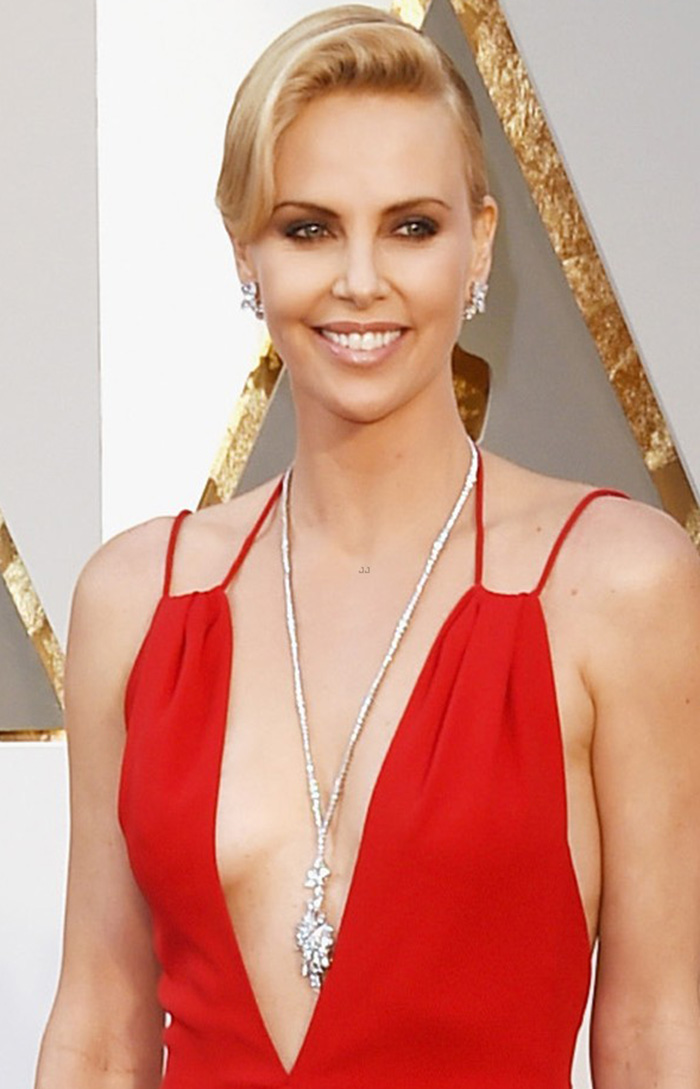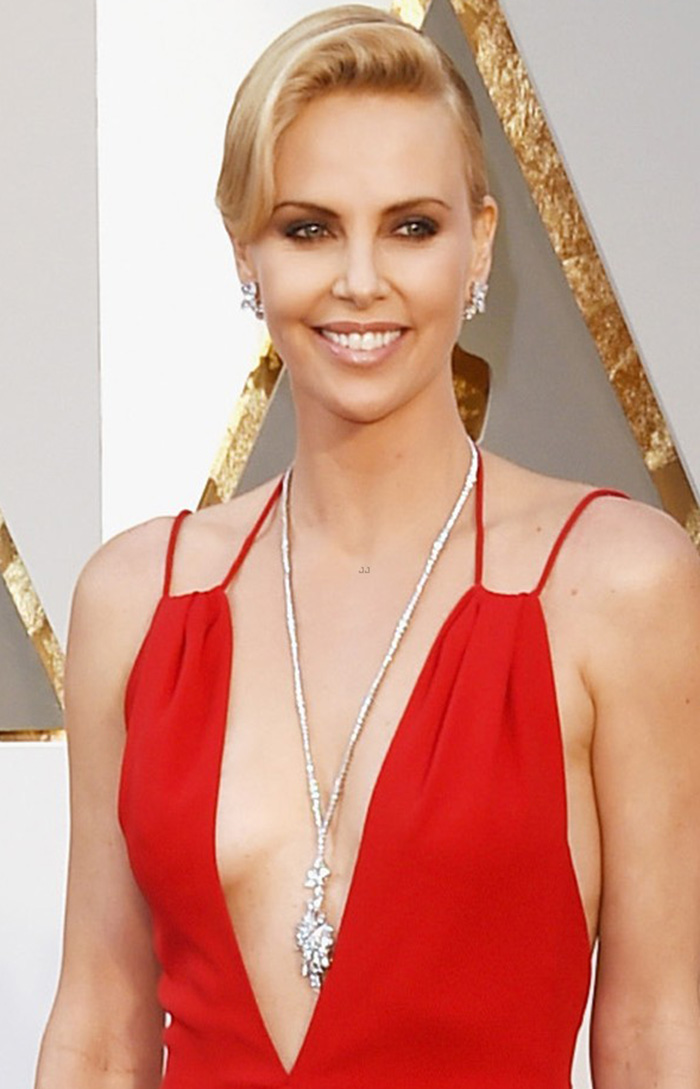 Charlize Theron in Harry Winston
Charlize wore $3.7 million in diamond jewelry by Harry Winston, including a 48-carat necklace in her dramatic neckline.
"I love Charlize Theron's long diamond necklace and short diamond cluster earrings from Harry Winston," says Jennifer Heebner of JCK's Style 360. I think they balance each other perfectly, look ideal with that dress, and help enhance Charlize's naturally elegant look of modern Hollywood glamour.
"I think Charlize Theron perfectly captured the grace and glamour of the Oscars with her red plunging Dior Haute Couture gown," says Amy Roseveare of Jewelry Fashion Tips. The Harry Winston Secret Cluster Diamond Necklace was the ideal complement to the look. She appeared confident yet comfortable, and what could be better than that?"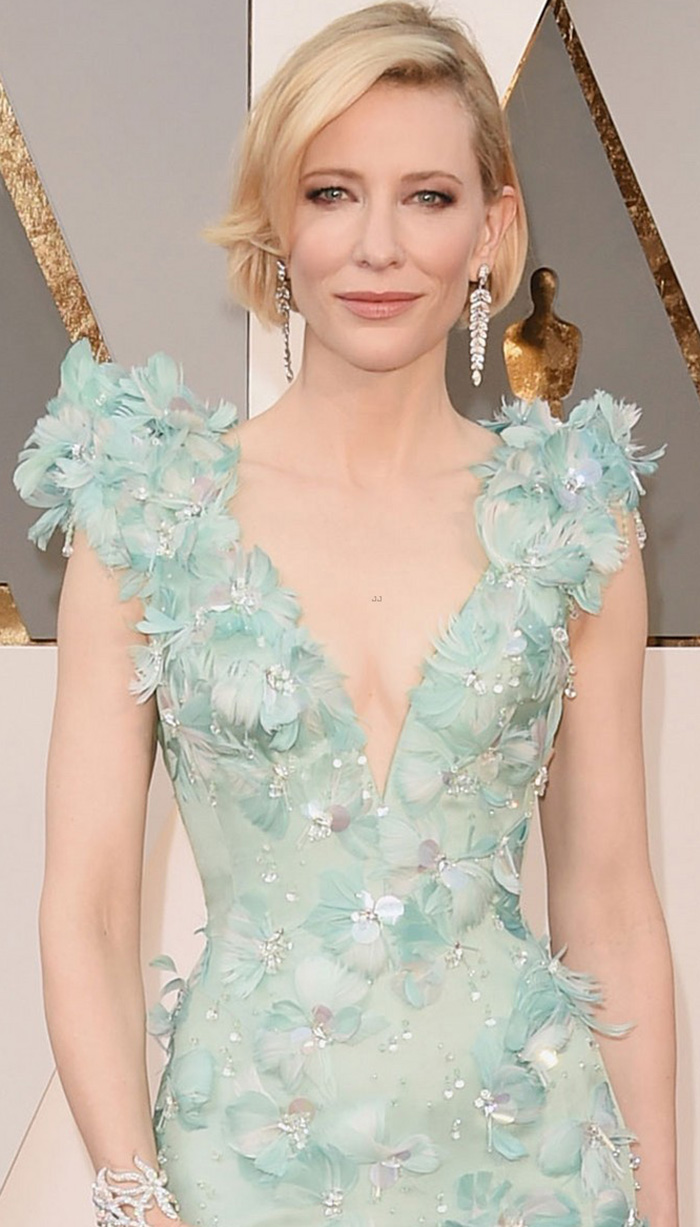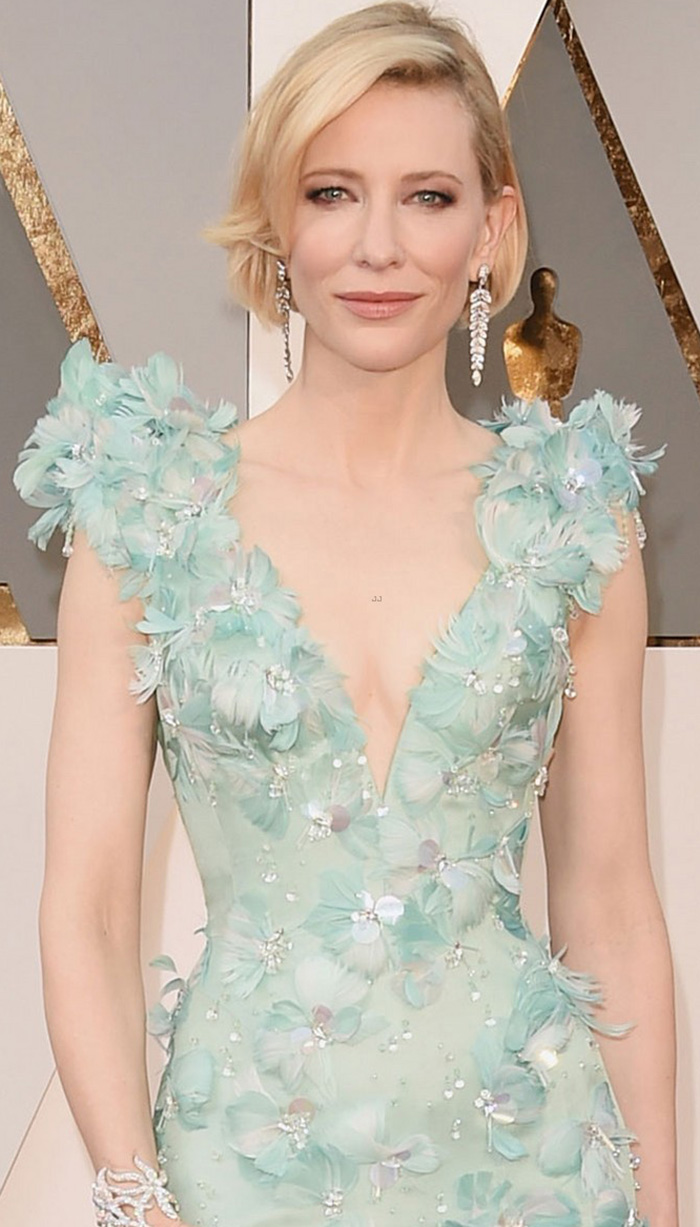 Cate Blanchett in Tiffany & Co
Cate never disappoints and this year was no exception. Her sinuous diamond drops and cuff from Tiffany felt modern and magical at the same time.
"She never disappoints, from head to toe—everything works," says Beth Bernstein of InDesign. "Her jewels are always so well accessorized with the gown, whether she is taking more of a risk or going for a more classic look. In a season of white hot diamonds on the red carpet, she was the picture of true elegance and wore the right amount of jewelry without overdoing it."
Brittany Siminitz of JCK's On Your Market blog agrees: "Cate Blanchett's Queen Elsa-like look had me totally frozen in awe. Between the Tiffany Blue dress and the actual Tiffany & Co. jewels, she was (and always is) the whole package for me. Her killer jewels should have had to compete with her bonkers-but-beautiful gown, and yet, they didn't—a testament to both her statuesque beauty and the power of those incredible, incredible jewels. Granted, Cate could make a potato sack look good, but that's beside the point."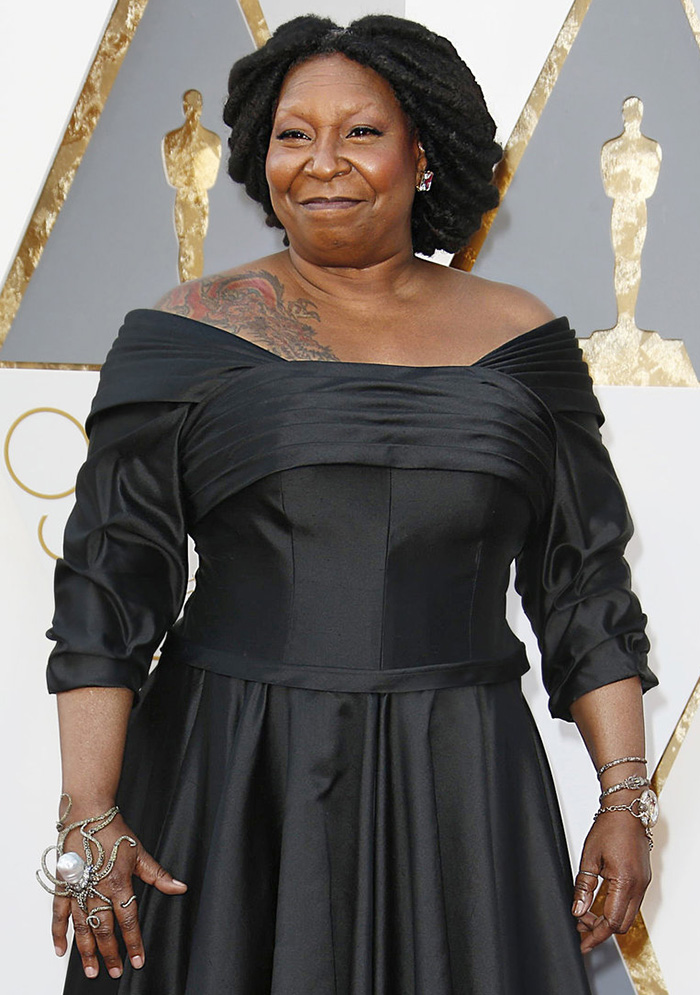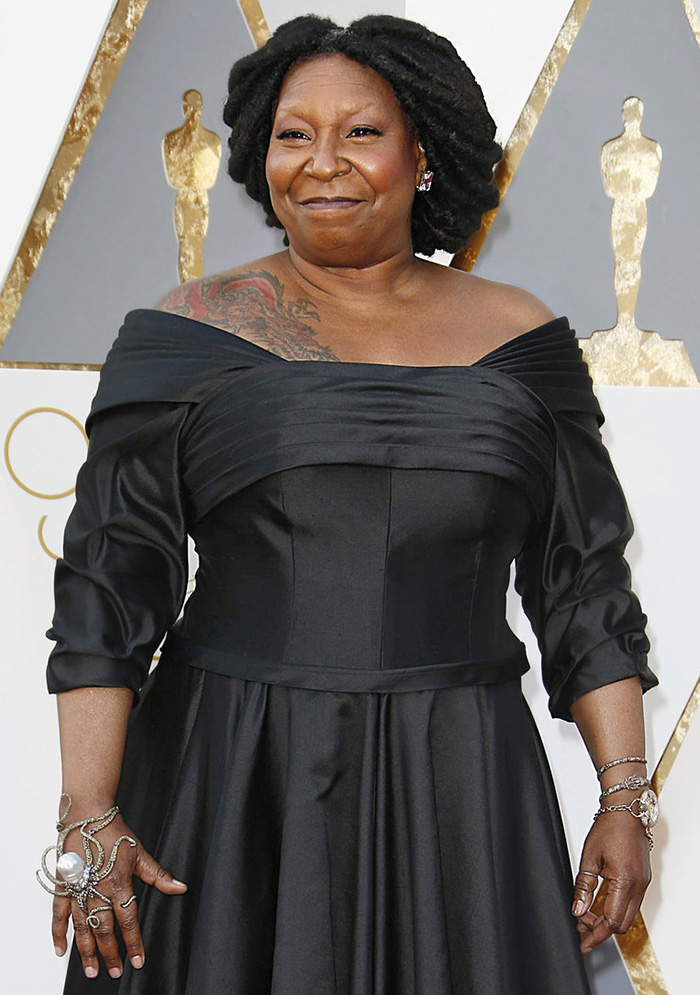 Whoopi Goldberg in Sevan Bicakci
In a glorious ode to what Oscar jewelry could be if celebrities were let loose at the Couture show and actually loved and cared about jewelry design, Whoopi Goldberg wore the most interesting jewelry of the night two bracelets by mad genius of jewelry Sevan Bicakci.
"I gasped out loud when I saw Whoopi Goldberg wearing two wrists' worth of Sevan Bicakci on the Oscars red carpet," says Becky Stone of Diamonds in the Library. "I've loved that particular octopus bracelet for years (see my 2013 blog post as proof) and to see someone wearing it out in world made my night. Such a refreshingly joyful, unexpected choice."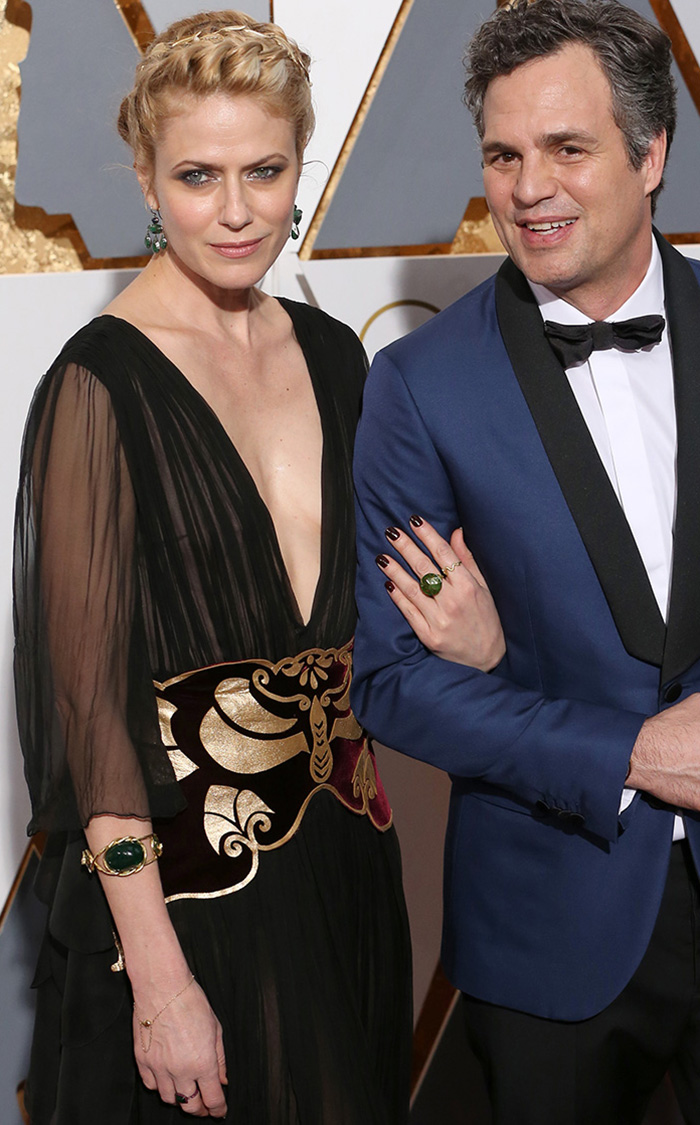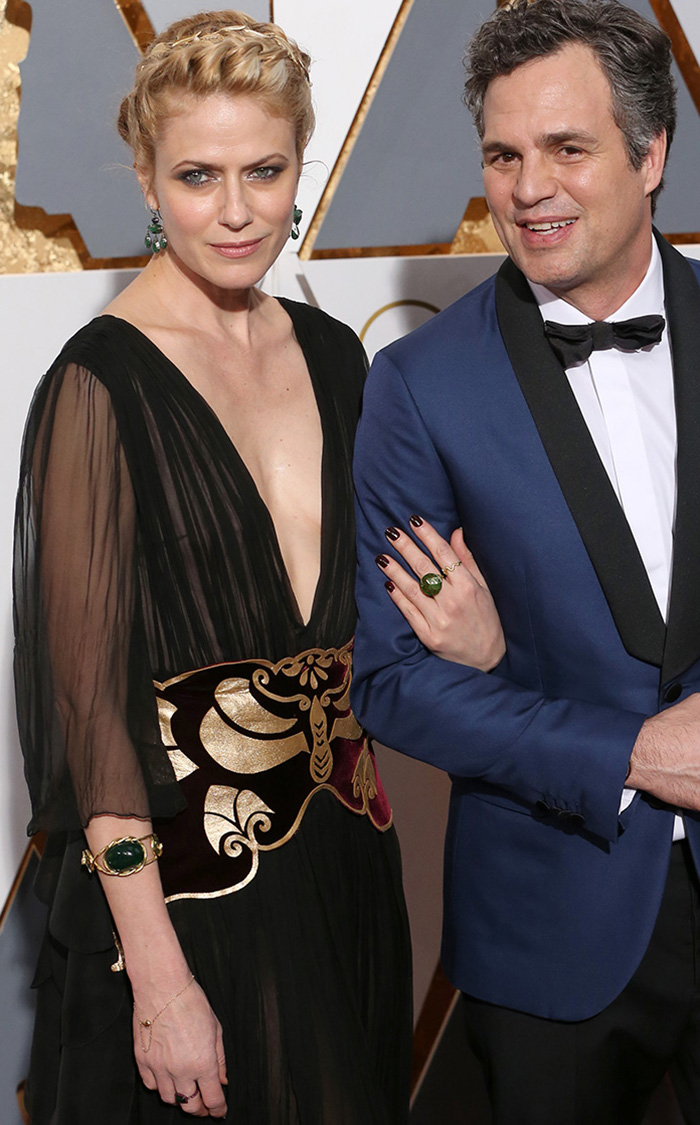 Sunrise Coigney in Solange Azagury-Partridge
Seven and Solange in one Oscars red carpet? Incredible! (I hope she actually owns these pieces.)
"I think not only #OscarsSoWhite, so is #OscarJewelry, with too many white diamonds and not enough colored gemstones, so many all diamond looks from big name jewelry houses and not enough unique designers (although that is no surprise)," says Danielle Miele of Gem Gossip. "I love seeing a London-based jewelry designer's designs on the red carpet, especially her quirky and intriguing pieces."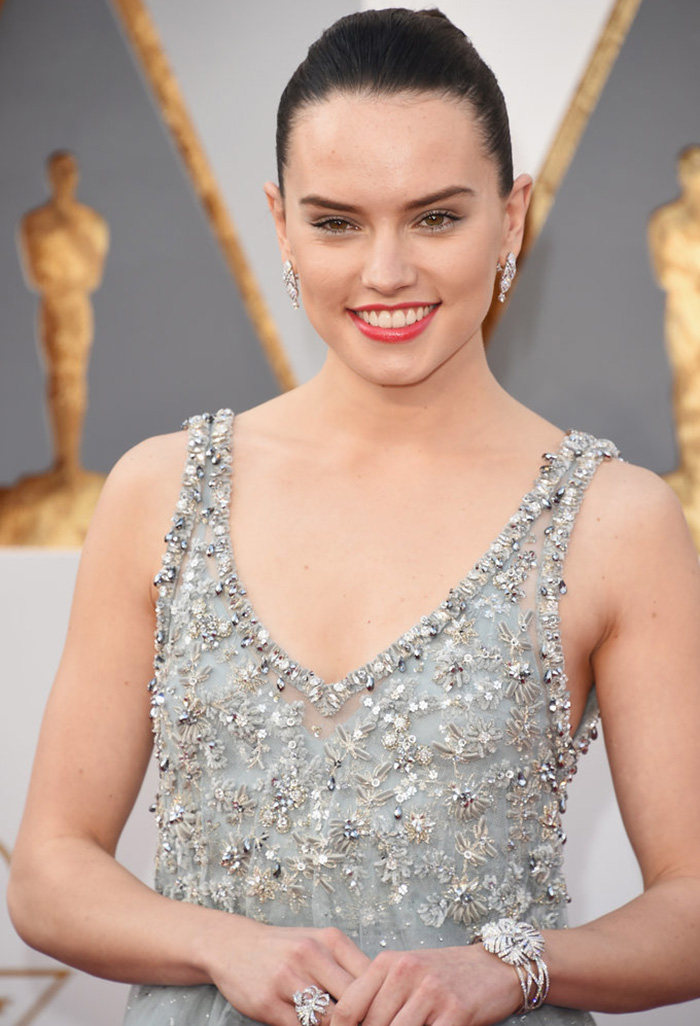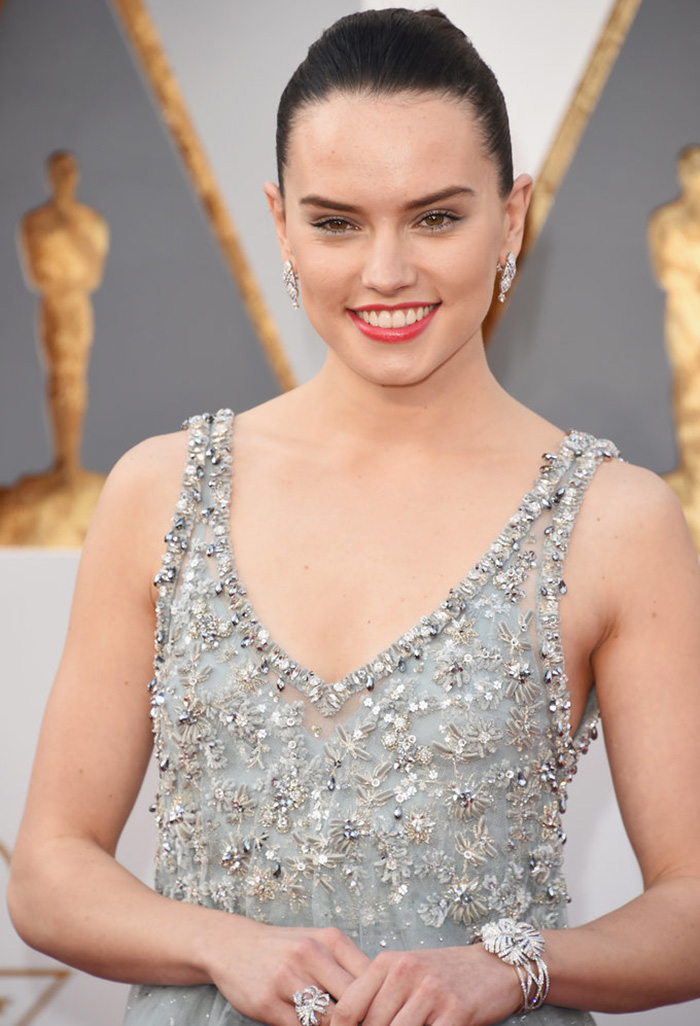 Daisy Ridley in Chanel Fine Jewelry
"For me, Daisy Ridley is the stand out look without question.  I think she looks fresh, modern, and appropriate: tea length dress, soft dove grey, and major jewelry that felt like it should be there," says red carpet veteran Sally Morrison of the Diamond Producers Association.  "I feel that the Oscars carpet is when you should be the best most glamourous version of your dream self, and she nails it."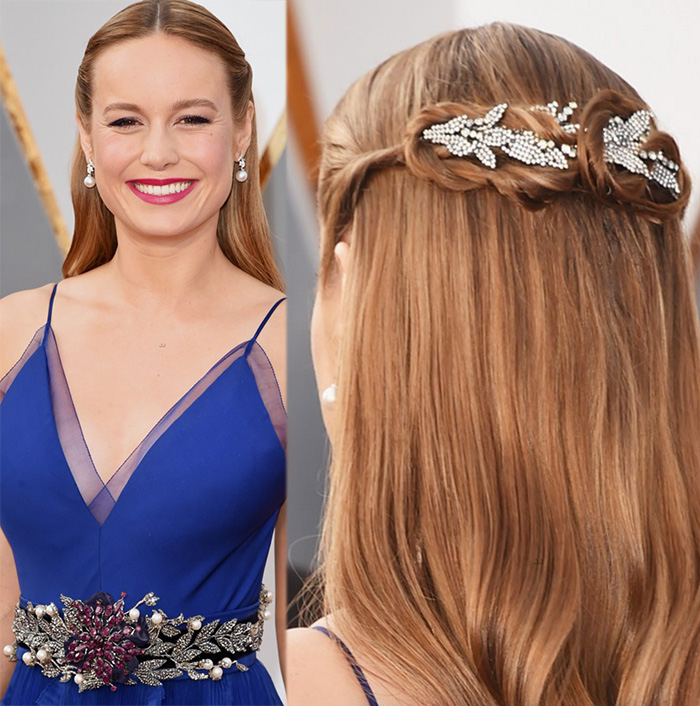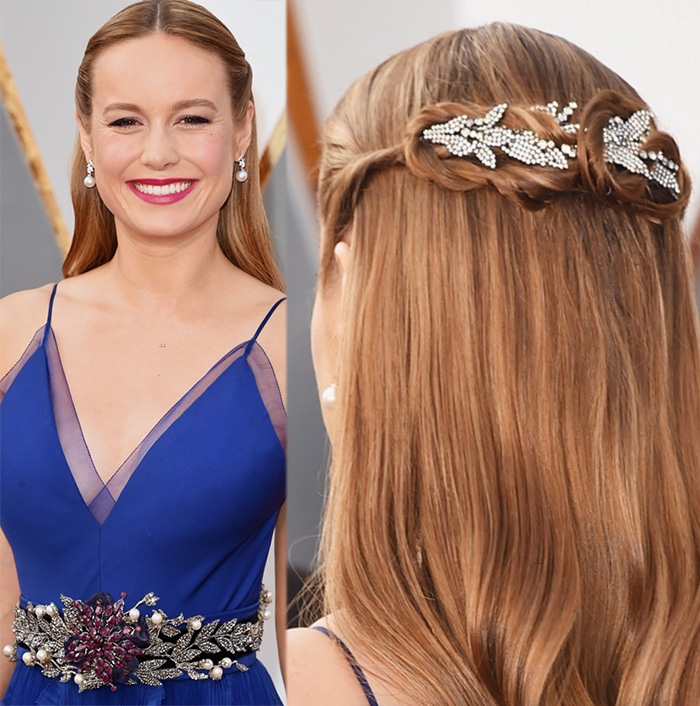 Brie Larson in Niwaka
Brie's simple pearl earrings are restrained but they are only the beginning of the story: her jeweled hair and clingy belt adds plenty of sparkle to her simple blue gown.
"I love Charlize's longer necklace with plunging neckline, but in the end she looks a little uncomfortable," explained Monica Stephenson of iDazzle.  "By contrast, I LOVE how serene Brie looks in this gorgeous gown and jewels at the waist and HAIR!  I am a sucker for good hair jewels."

Naomi Watts in Bulgari
Naomi Watts once again demonstrates how a statement necklace can look young and fresh. Better yet, she pairs major diamonds with sequins and lives to make the best-dressed lists.
"She rocks Bulgari like the the glamorous stars of the Dolce Vita era," says Beth Bernstein. "This may have even surpassed the Serpentine necklace she wore to the Golden Globes."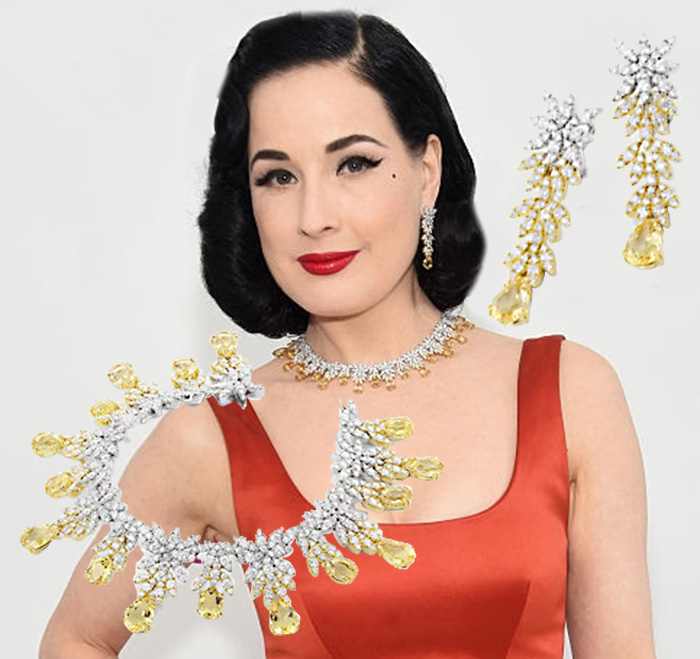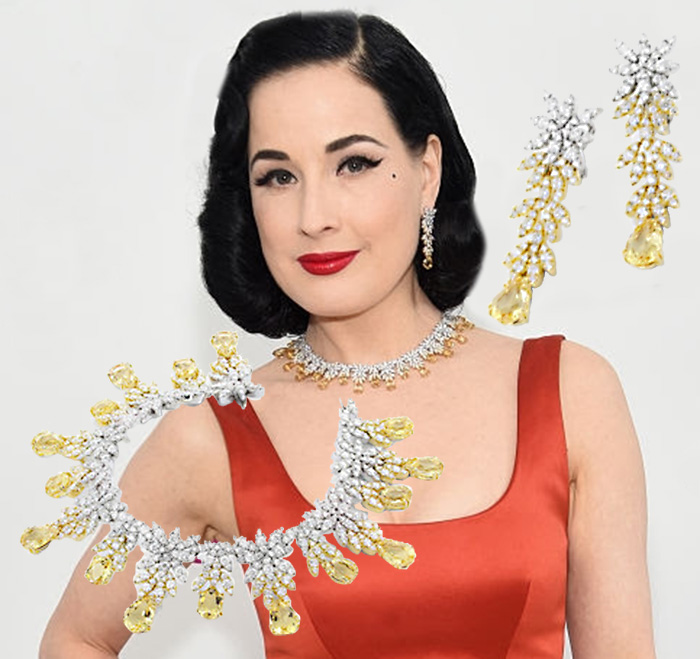 Dita Von Teese in Pasquale Bruni
The stylish Italian yellow beryl necklace that Dita wore to the Elton John AIDS Foundation's viewing party was a lovely change of pace.
"I'm not really blown away by any of the jewels at last night's Oscars. It is lots of white diamonds and that's really not my thing," Michelle Graff of National Jeweler said. "My favorite all-around Oscar events look (counting the after-parties and pre-parties, along with the ceremony itself) is actually Dita Von Teese. I love her look in general – the hair and makeup—and I think this is a great color on her. It's something different and the jewelry goes with it perfectly. Also, I've seen this Pasquale Bruni collar in person before; it is beautifully made."
Who is Your Favorite?
Now it's your turn to join the #OscarJewelry Style Council. What do you think is the best jewelry moment of the 2016 Oscars? Want more Oscars eye candy? Check out my post on Oscar's best earrings too.