Why I Returned My Ringly
You are finally seeing your friends in person and yet everyone has one eye on their phones. There has to be a better way, right? That's why I love the idea of Ringly: a smart ring that connects to your phone and flashes to let you know when you're receiving a call, email or text from someone important.
I ordered one immediately when they became available for pre-order for $145. A bonus: the first 1000 orders would receive a small diamond accent. Of the available gem options at the time, pink sapphire, emerald, onyx, and rainbow moonstone, I obviously picked rainbow moonstone. (I am mad about moonstone.) The company is now offering a tourmalated quartz that's pretty cool too.
Then I waited. Months. So there was a lot of anticipation: almost an Apple-level build-up of expectations. It was pretty exciting when the package arrived, straight from the manufacturer in China.
The package didn't disappoint: lovely origami-folded wrapping paper.  A cool outer sleeve. A nice jewelry box. But when I opened the box…..hmmm.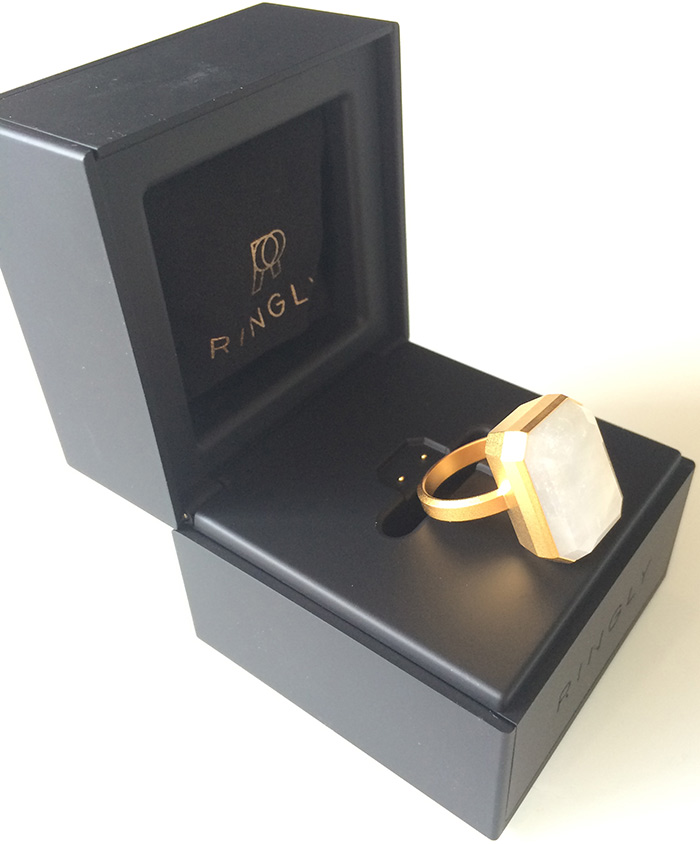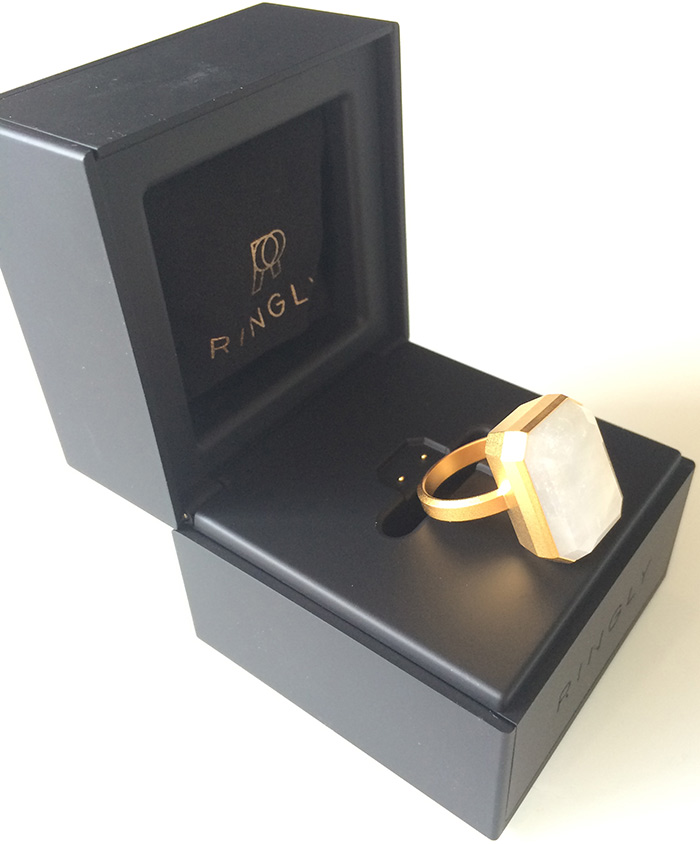 First, the good. The Ringly App was easy to set up and pair with my iPhone and the Ringly charging box is wonderfully conceived and executed. The ring slips into the ring slot and automatically charges when the box is plugged in. It's the best device charger I've ever used. My Ringly was up and running almost immediately.
Getting alerts is easy but telling them apart wasn't as clear as I had hoped. The ring vibrates to indicate an alert and that feedback works well.  But the small size of the indicator light means the patterns of numbers of flashes in five colors are a bit too cryptic to interpret easily if you aren't constantly looking at your Ringly. Was that three flashes or two? Green or blue?  The same five colors mean a lot of different things and I couldn't always keep them straight. Here's what the alerts look like.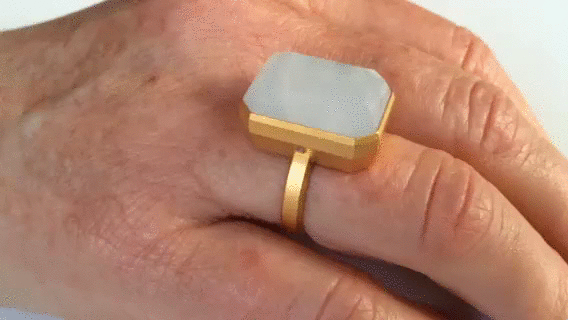 I think the interface works well if you are looking to track something simple like calls and texts from one person and not as well if you are tracking lots of things from different people.  Two yellow followed by one red.  Hmm. Is that a text from my sister or an email from my client? Maybe I'm a bit forgetful but it just didn't seem worth distinguishing after a while. I ended up saying, OK, I got something from someone important, guess I'll look at my phone. I didn't find myself looking less at my phone, sadly.
So, as technology, the Ringly gets good, perhaps excellent, marks, depending on your expectations (and patience.)  If you want more information on the functionality, iDazzle has a great Ringly review you should read.
But as jewelry, I can't recommend the Ringly as highly.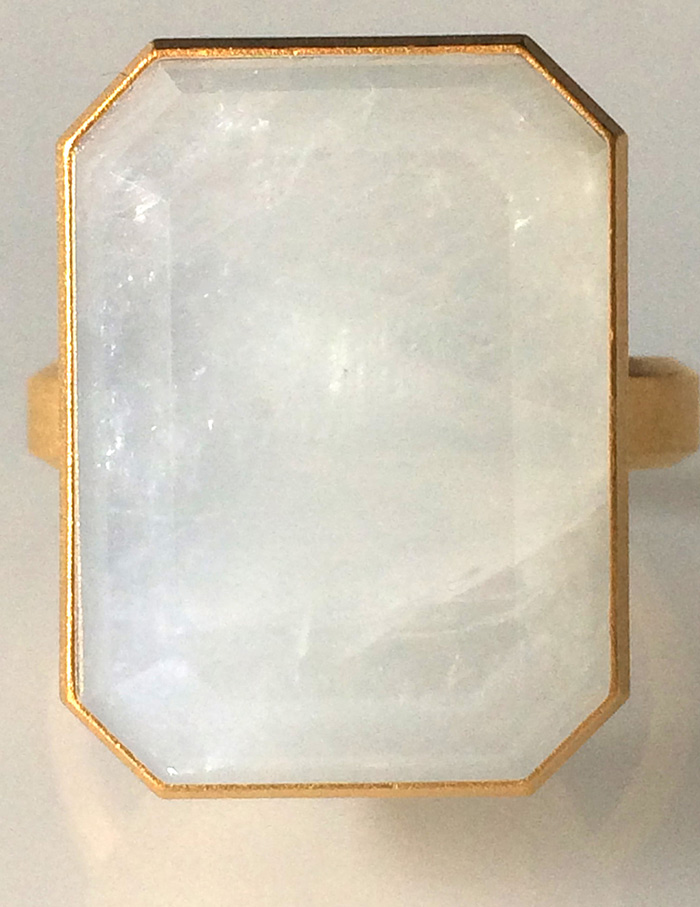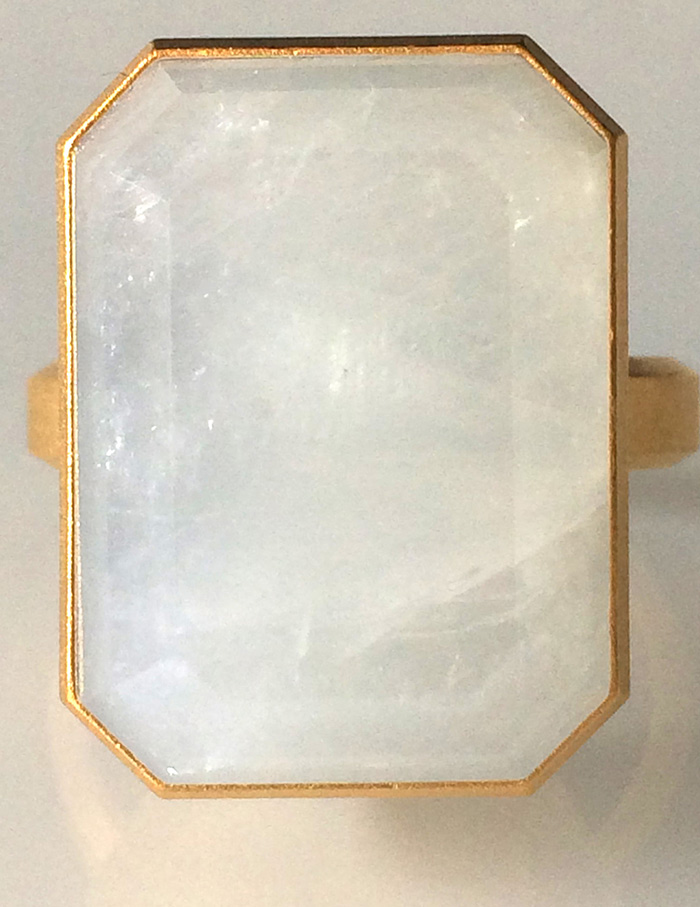 This is not a pretty ring. Calling the stone moonstone is a stretch. I'd call it white feldspar. I didn't see any noticeable sheen: it's more like milky quartz. This was very disappointing: I've shopped for low-end moonstone in Tucson and I know it's possible to get something that looks better for not very much so I had expectations that it would be more attractive. Milky and full of fractures is fine, I just expect a few flashes of color too. If that's what it takes, I would pay more to get a gem that's nicer. I just can't wear something I don't enjoy looking at. I'm a gem snob, basically. On the plus side: I like the emerald cut instead of the standard cabochon shape for opaque material.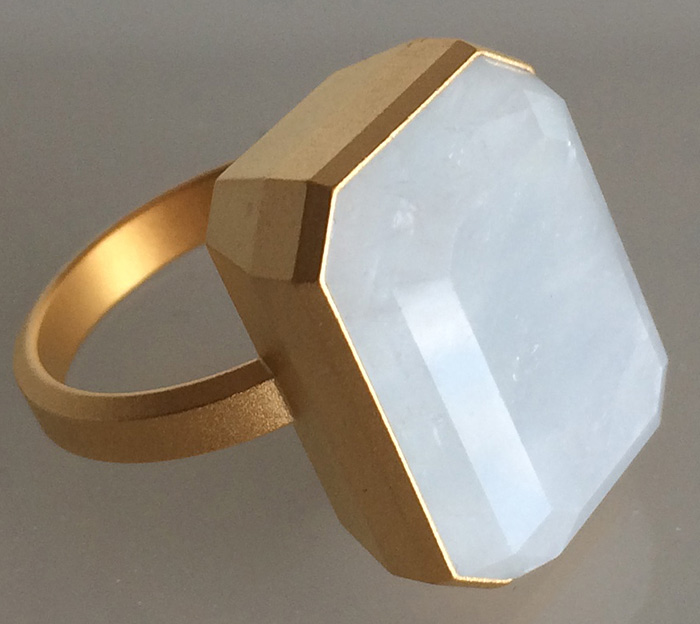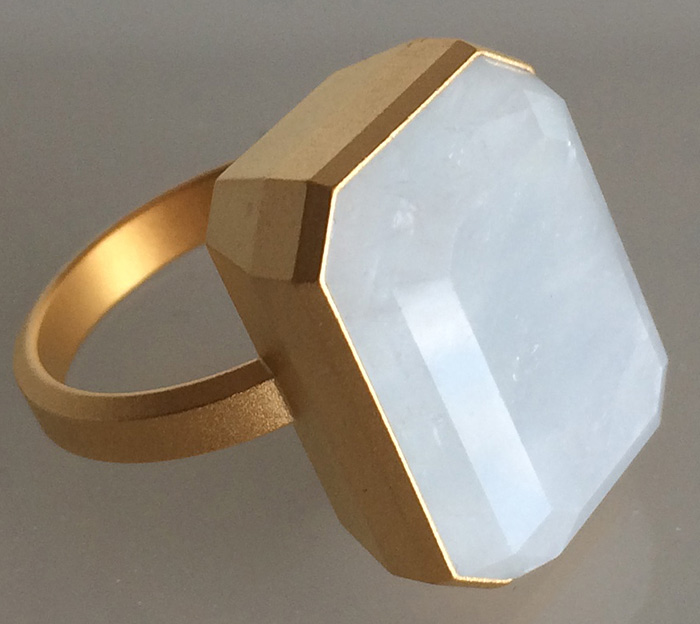 The verdict on the setting isn't much better. The scale is dramatic but the metal work is chunky and unrefined. The finish on the metal is a sandblasted texture that looks cheap. It's uncomfortable on the finger, flopping to the side.  And it was at least a half-size too big: I wear a size seven and it was at least a seven and a half. No half sizes are available either so there will be a lot of women out there with a Ringly that flops because it doesn't fit.
I found myself taking it off during the day.  Or not putting it on. While I didn't mind wearing it, I soon realized that it was totally crazy to think I would wear this ring all day every day.  It just didn't look as good as any of my other rings and it was so chunky, it didn't play well with the rest of my ring wardrobe.
But to be fair, I have another very large laboradorite ring that is much more beautiful. (Dumb but good looking?)  And more comfortable. And I don't wear that ring every day either. But I am happy when I put it on. Sadly, I just didn't feel that with the Ringly.
So I decided that until there is smart jewelry that is as good at being jewelry as it is at being technology, it's not right for me. I emailed Ringly for a return authorization and sent it back to their New York office. Ringly handled my return and refund smoothly so if the idea of a smart ring sounds appealing to you, give it a try. You may make a different decision if you like very large rings, if you have a real reason to be alerted to one or two communications on a phone that's usually in your bag, or you aren't a total gem snob like I am.