The Bracelet Gets Smart
Although I am curious about what Apple has planned for my wrist this fall, so far I haven't yet been tempted to try a smart watch. Mainly this is because I don't really wear watches anymore. Why wear something functional that I don't really need when there are so many more attractive things to wear on my wrist? As adornments go, I'll choose a bracelet over a watch any day.
That's why I was intrigued when I first heard about the new smart bracelet by Beacon & Lively. This attractive cuff has a discreet light that connects to your phone via Bluetooth to signal you when you've received an important phone call, email, or text.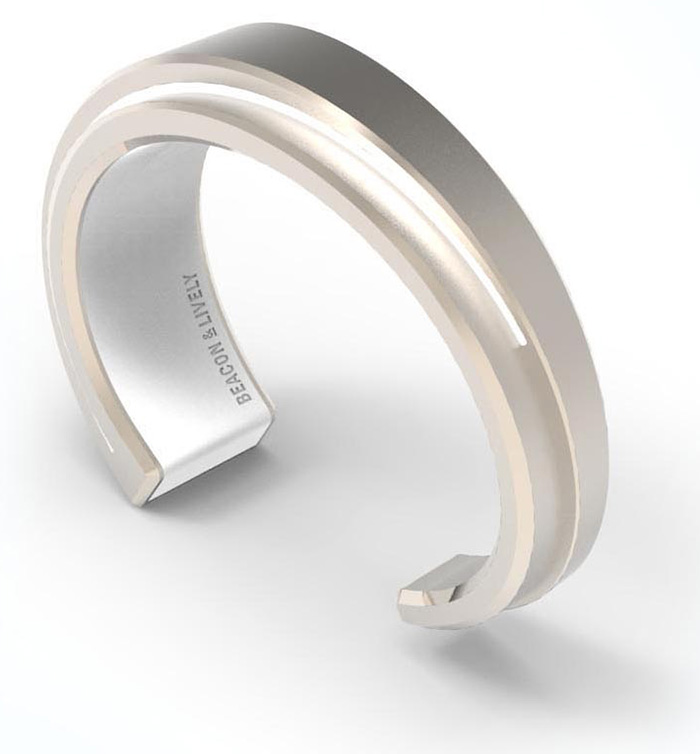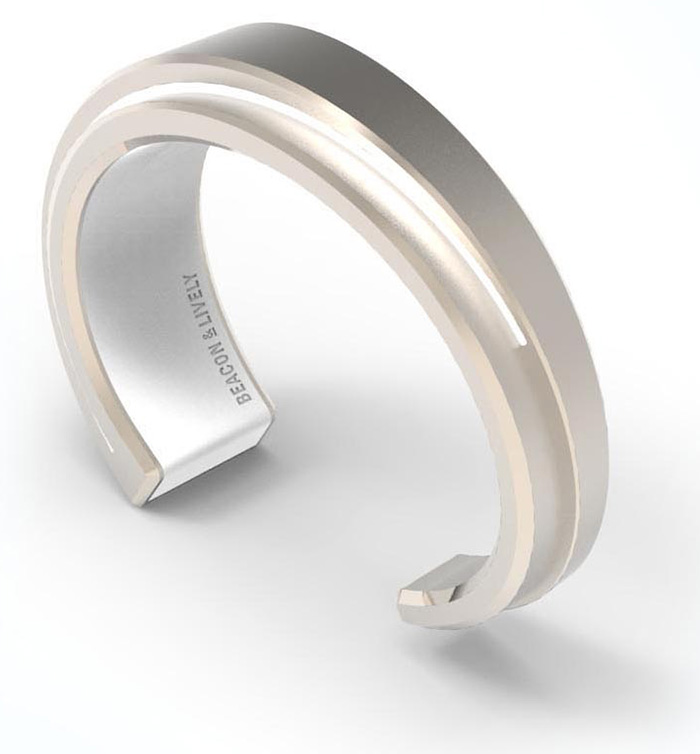 I'm sure I'm not alone in missing calls and messages because my phone is somewhere in the depths of my handbag. But a phone on the table at a restaurant or during an interview doesn't seem polite either. What appeals to me about the idea of smart jewelry isn't being even more available to every ping from my connected device but being able to put my phone away and not worry that I'll miss an important call or message.
I recently got a chance to meet Beacon & Lively founder Dave Becker and try on the prototype of the bracelet. After seeing its materials and finishes up close and talking to the team, I'm impressed.
First, the bracelet, designed by Anna Couturier, is actually a bracelet not a device in disguise. It's a dimensional open cuff that comes in four sizes for a snug fit. I tried stacking it with a stack of bangles and it was a nice addition to the arm party.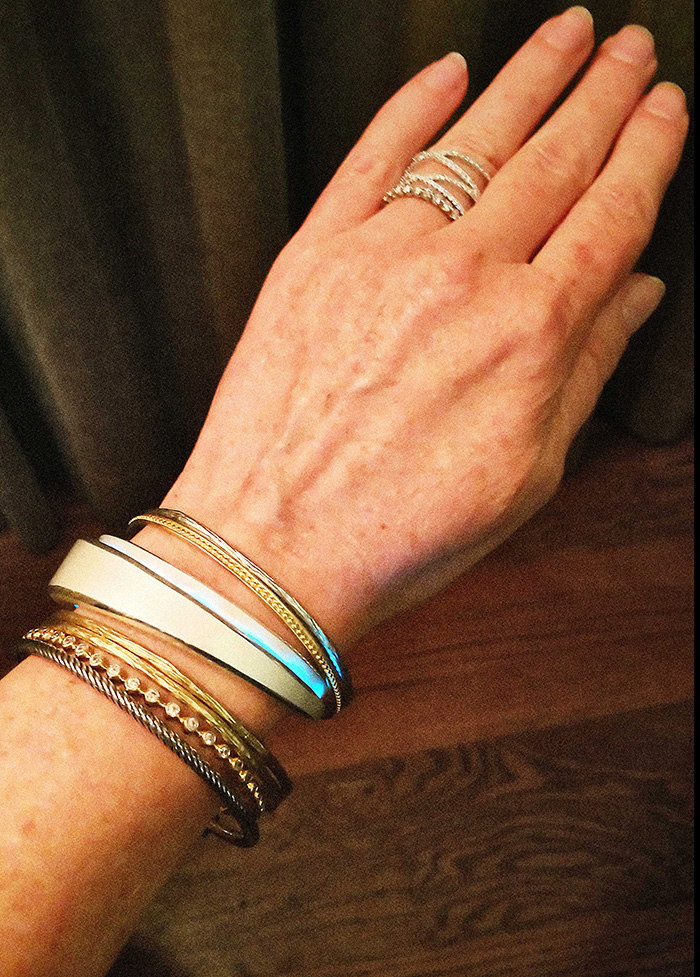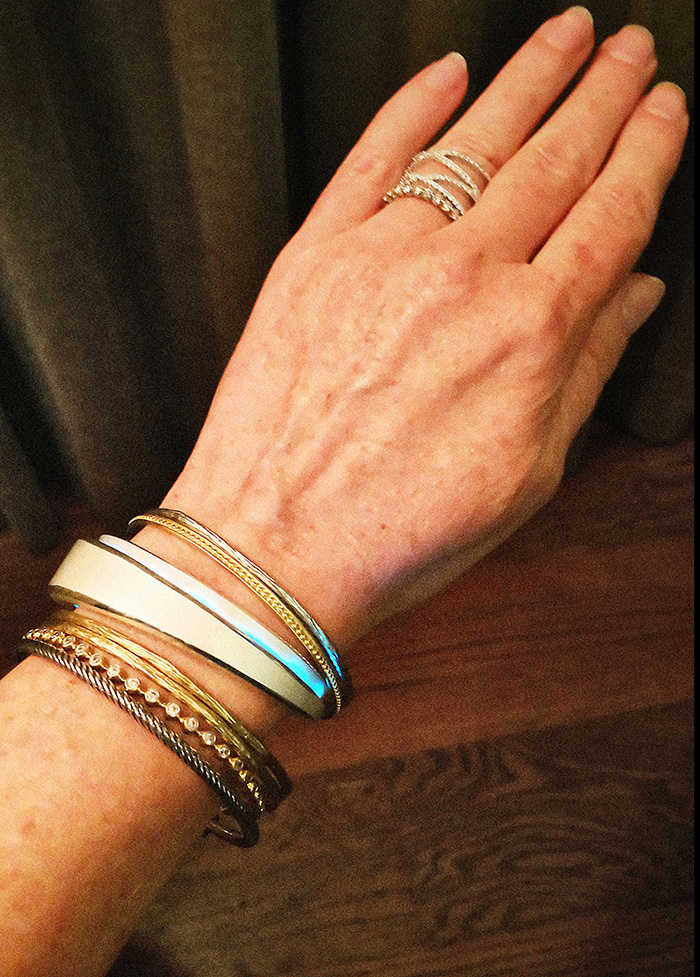 It comes in white metal, gold tone and a ruthenium-plated blackened metal. Although it's not final yet, it's likely that the white metal will be sterling silver.  The sterling version I tried on has a pleasant heft to it. The gold tone may or may not be gold plate: price points are still being worked out but there is no reason the bracelet couldn't be available in a gold plate (or solid gold for that matter) if there was demand for it, since it's a cast piece from a 3D model.
I'm hoping for sterling, since to my mind, that would make it real jewelry rather than costume and there's so much junky tech "jewelry" that isn't really worthy of the name: just awkward metal cages for plastic sensors.
The only indication that the Beacon & Lively bracelet's asymmetrical layered style is not just about fashion is its inner lining of plastic.  Inside that lining is a Bluetooth receiver and multicolor LED lights.
Here's how the bracelet works. You download the Beacon & Lively app on your iPhone or Android phone. You set up your VIP alerts for phone calls, for emails, and for text messages. You can choose a custom color and vibration for each person from the entire color wheel. (I'd like to be a warm citrine yellow-orange, OK? What color do you want to be?)
Then when you get a text from me, your bracelet lights up yellow-orange. An email from your boss might be turquoise blue. You decide. Tap to turn of the light.  You can put the lights on mute from the app also.
I especially liked the way the lights come from underneath the main body of the bracelet and reflect against the finish of the metal, like the wrist equivalent of a very elegant low rider.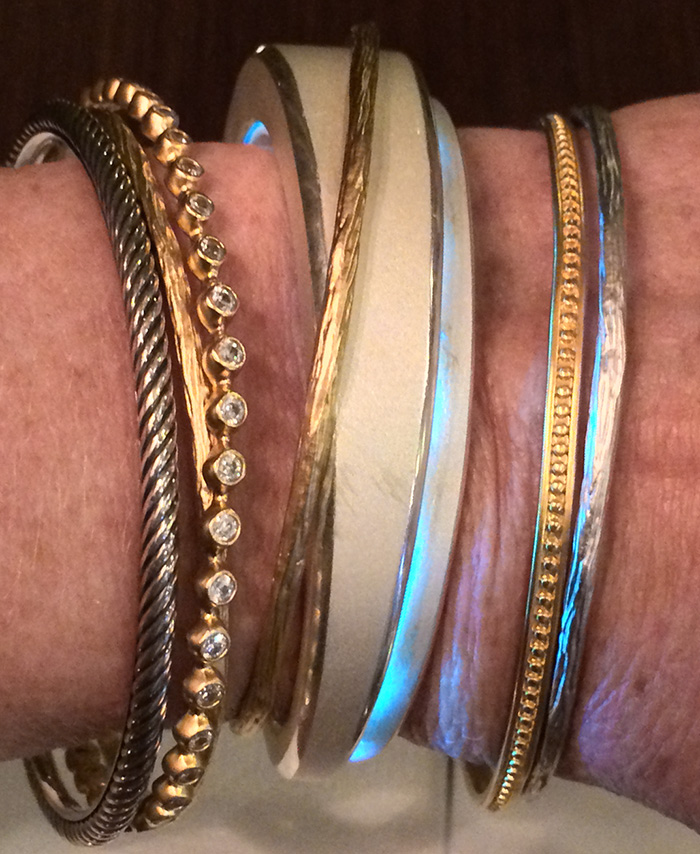 A lot of the details are still a bit squishy. How much? Probably under $200.  When?  They are aiming for January or February. How long will the charge last?  The prototype lasts about a day but they are aiming for 3-5 days by launch (which will obviously vary according to how many alerts you receive.) The charger itself is still being worked out but it will probably be a small plastic stand that connects to the contact in the open end of the cuff.
Where will it be sold? You can get on the list to preorder online now. Beacon & Lively is looking for retail partners that will position the cuff as fashion, not tech.  Retail outlets are likely to be department stores and jewelry stores rather than electronics stores.
Downsides? An alert-only device is a bit limited. With the iWatch on the way, the Beacon bracelet may have to get a bit smarter to make it: fitness rewards? Calendar alerts? Proximity reminders?
The closest competitor is probably Ringly, a ring that has a similar notification light in five colors (much smaller, obviously) with a successful Kickstarter campaign that will be available this fall.
What do you think of the styling of the Beacon & Lively cuff?  Would you wear one?  Would you prefer a smart bracelet or ring? Retailers out there, is this something you'd be interested in carrying?