Gems in Bloom: 2010 Spectrum Award Winners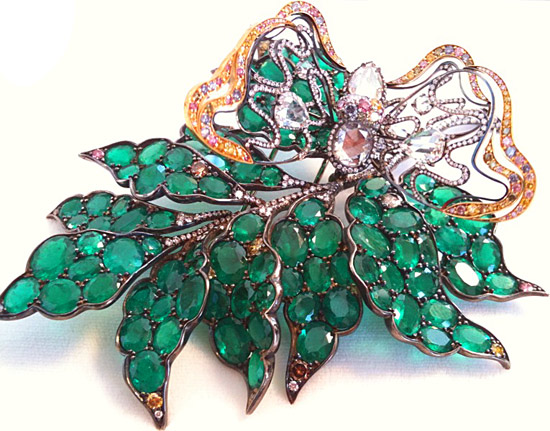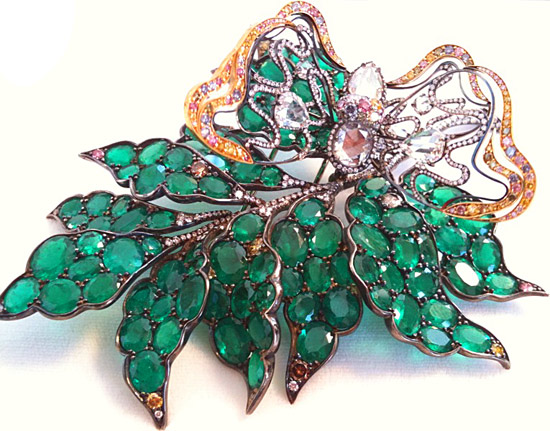 I just returned from the editor's preview of the 2010 AGTA Spectrum Awards, the annual design competition honoring the best in colored gemstone and pearl designs. Spectrum is organized by the American Gem Trade Association, the not-for-profit trade association for the gemstone industry.
I love the Spectrum competition because AGTA invited the media to see all the pieces that are in competition, not just the winners.  Every year I discover a few not-to-be-missed styles that didn't win.
This year's collection was particularly dazzling due to the quality of the gems in the pieces. It was also notable for the amazing display of work by one single designer, James Currens, who had two pieces that tied for Best of Show: a platinum and silver ring featuring a 15.58 pear-shaped moonstone, one of the best moonstones I have ever seen, surrounded by pave color-change garnets, and an leaf brooch set with 66 carats of emeralds and 17 carats of rose cut and fancy diamonds in a butterfly poised over the emerald leaf.  Quite different designs but both executed in top-quality gems and exquisite workmanship.
Currens also had a stunning 17-carat emerald ring, a sugarloaf cabochon emerald ring, and a sugarloaf cabochon ruby and pave yellow-diamond ring, South Sea pearl earrings with en tremblant bees, and a pink spinel and orange spessartite garnet ring, all breathtaking.  Several rings had detailing and rosettes of gemstones set underneath the stone.  I would happily take any of them home but the ruby ring was the hardest to take off.
There were several noticeable trends among the Spectrum entries this year.  A bountiful crop of flower rings bloomed in every color.  Many styles featured cabochon and carved gemstones: some even channeling the lavish scale and styling of the jewels of the Mogul period.
If I had to pick only one color of the year it would be green. More styles than in the past featured emeralds. Many designs also featured blackened metal to accentuate vividly colored  gems.  A ring by Leon Mege set off the electric blue of Paraiba tourmalines with a setting of platinum and blackened silver.
Echoing the trend in the market, there were more bracelets than in past competitions too.
I'll post the professional photos when they are available but for you gem junkies out here, I took some images of a few of my favorite designs at the preview.