Coincidence or Copy? When is a Design Too Close?
If you pay much attention to jewelry trends, you'll realize that there is a fine line between inspiration and knock off. There's a whole lot of sincere flattery in this business. Circle Pendants, inside-outside hoops, Journey pendants, initials, hearts. Almost every line has  standard styles that aren't original.
With classic designs like knots and snakes, designs go back to the ancient Greeks and Egyptians. And they were probably copying each other too.
I've been thinking about this lately because of all the press for Khai Khai Jewelry, a fashionable new jewelry collection launched by Haim Medine, brother of influential fashion blogger Leandre Medine, the Man Repeller.
It's a great looking line but it makes me a little uncomfortable because it's high concept. And I've seen the concepts before.
His Shockwave Collection sure does look like the Heartbeat Collection by Delphine Leymarie.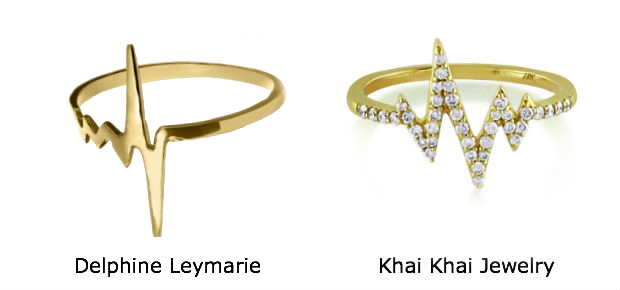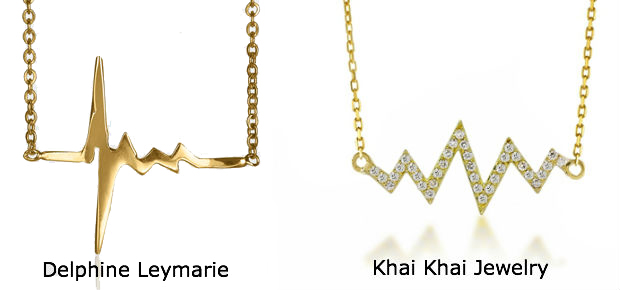 His Kharakter Kollection with hashtag, @ symbol and exclamation point rings is cute, but reminds me of Wendy Brandes. And she's been making designs like this since 2008.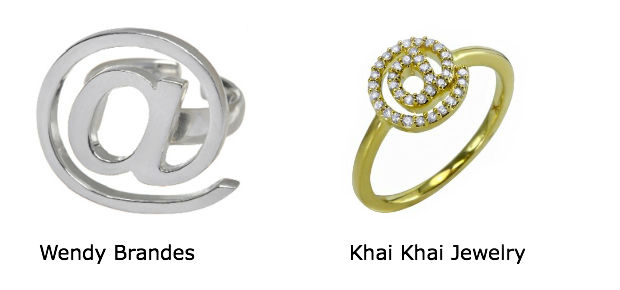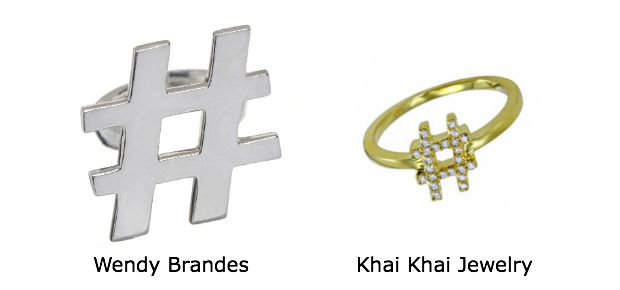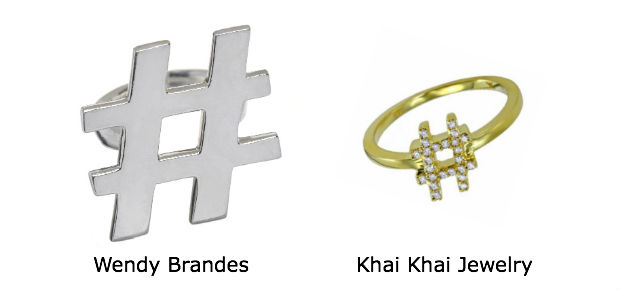 And the arrows, kites, moons and stars look kinda like collections from Finn. The starbursts remind me of H. Stern. Star rings are similar to Sydney Evan. Catbird's alphabet rings, including ampersands, another Khai Khai motif, have been popular since 2011. A lot of designs in the collection look familiar. I know I've seen the open geometric shape rings but can't remember where.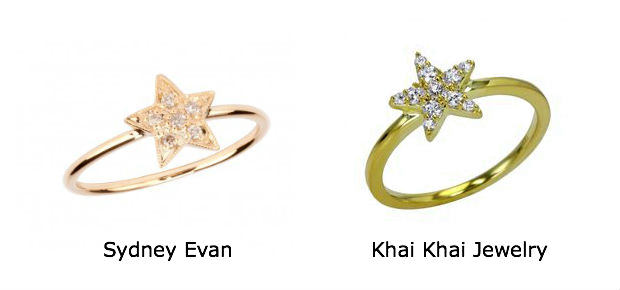 Are they direct line-for-line copies? Definitely not.  And clearly some ideas are just in the air and many interpretations arise independently. And I have to admit if it was just one piece that was similar, I wouldn't even think anything of it.  That's how trends work: everyone suddenly does evil eyes and who did it first isn't relevant.
But when Khai Khai's bio says he has "single-handedly dragged the jewelry industry into the wit and whimsy of the 21st century," I have to say, um, not so much.
Inspired by? Knock off? Homage?  Coincidence? What do you think? How close is too close?
(UPDATE: I removed a retailer name by request. There are plenty of nerves exposed here and I'm trying to talk about this stuff frankly without implying that this is an issue just for one company or one retailer.)