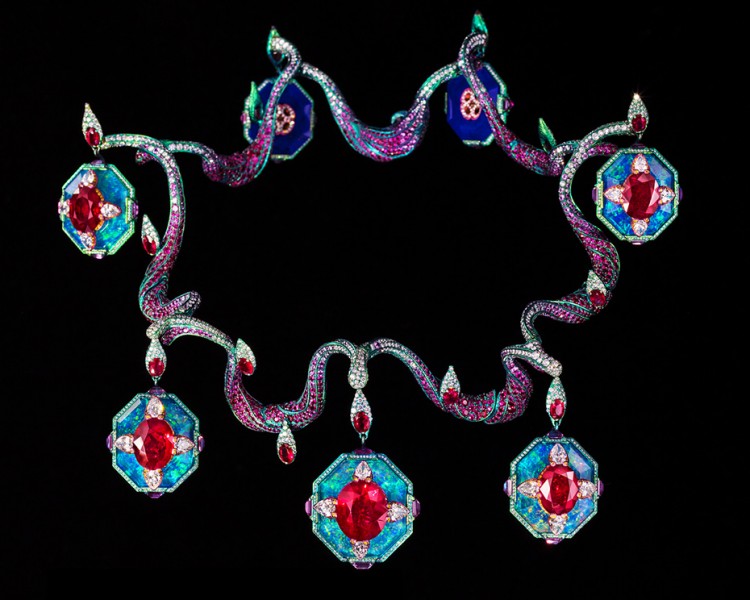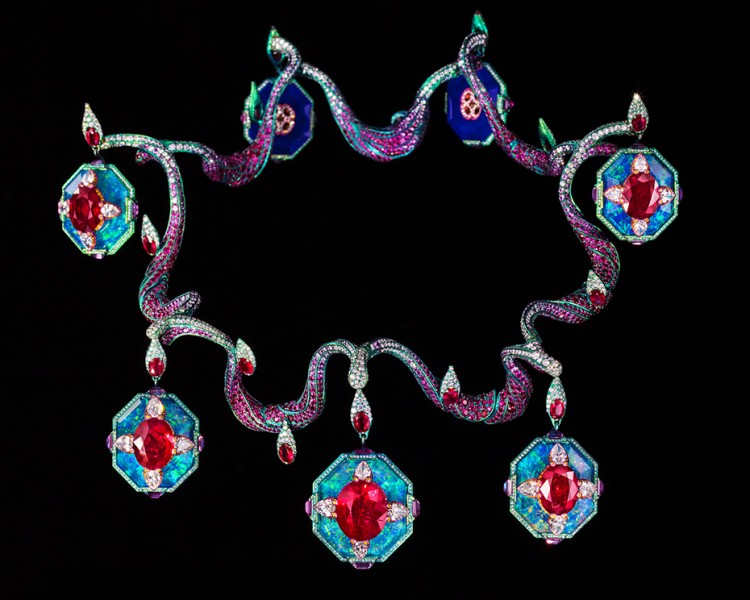 Top Ten: TEFAF New York
In only its third edition in New York, the TEFAF fair has arrived as a showcase for fine jewelry as well as art and antiques. In all the jewelry booths I visited, I saw jewelry collectors not just admiring the magnificence on display but shopping. Are you in the market for some JAR earrings or a Lalique necklace? Or looking to admire the work of some of the top contemporary jewelers from around the world? TEFAF has you covered.
Because the fair was so busy, I didn't get to photograph all the amazing jewels I saw at the fair. Here are my top ten TEFAF jewels.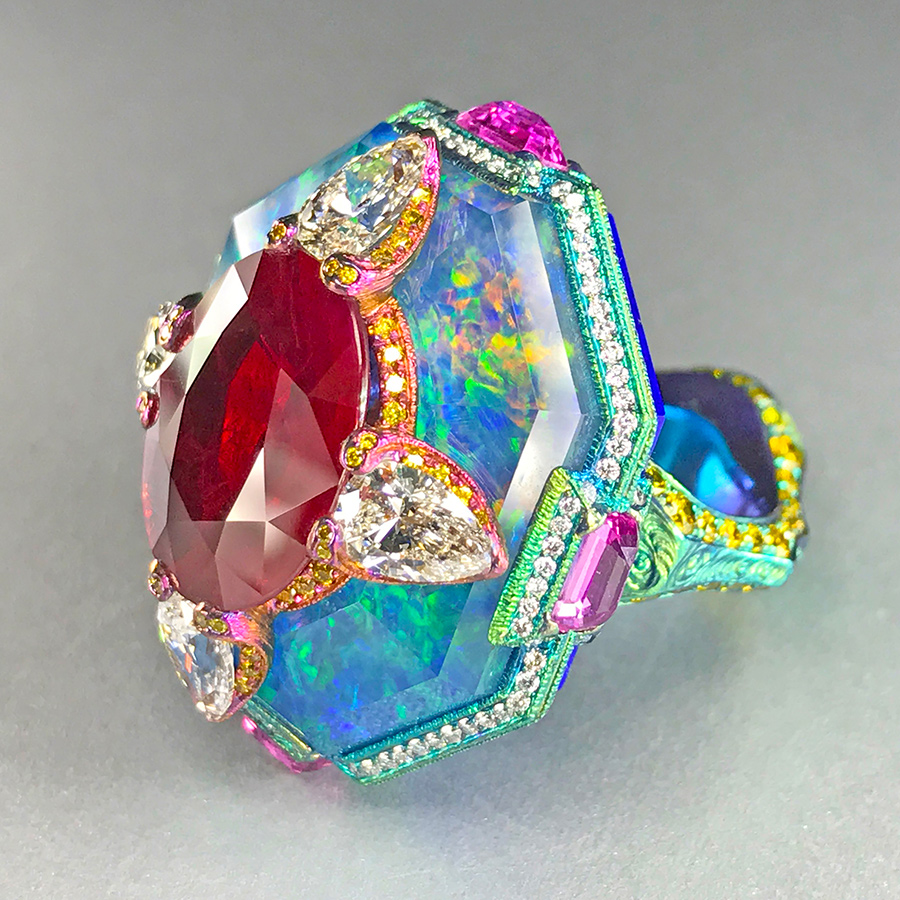 Wallace Chan Music on My Mind Parure
The highlight of a mind-blowing exhibition of 20 jewels, this spectacular ruby parure features an incredible suite of Burmese rubies from a private collector who commissioned Wallace Chan to create a design worthy of their magnificence. Chan was inspired by the blood red color of the rubies to design a necklace in a heartbeat form. He told me he paired the hot passion of the rubies with cool blue opals to provide balance. The necklace is designed to move on the body: each ruby is set on an opal plaque and suspended around the neck on a waveform collar that sits on the collarbone. A matching ring and earrings complete the parer. Every surface is inlaid and paved with gems. I'll publish a full interview with Chan on his process and inspirations in an upcoming post.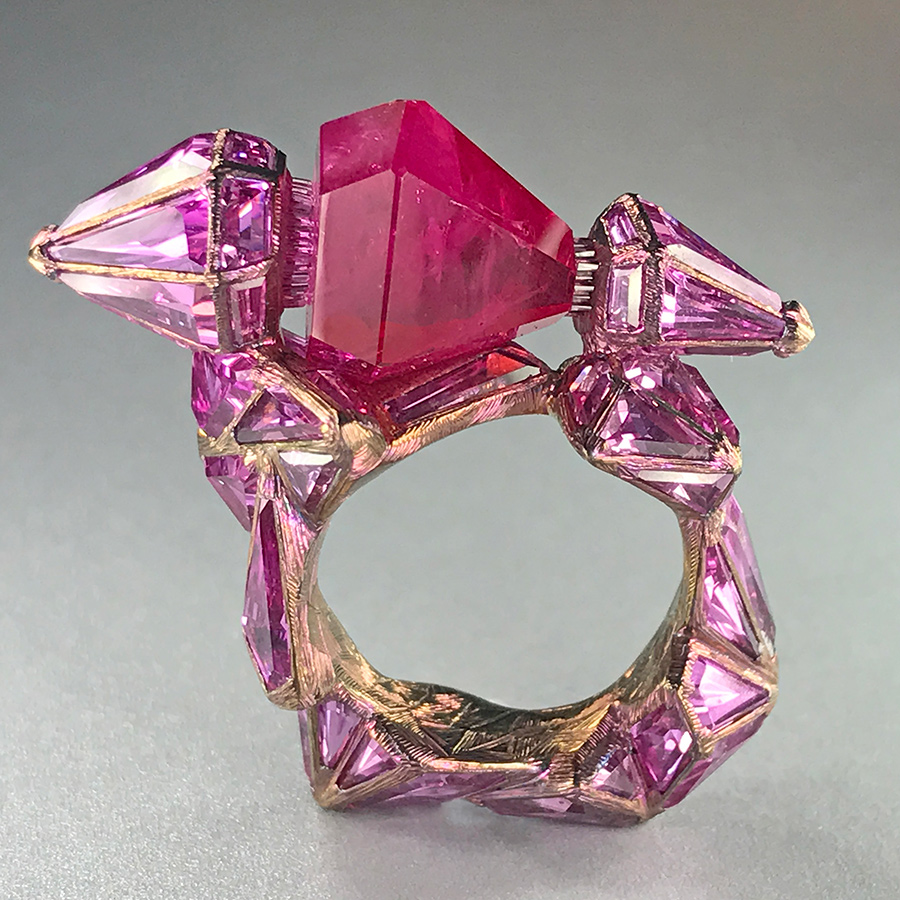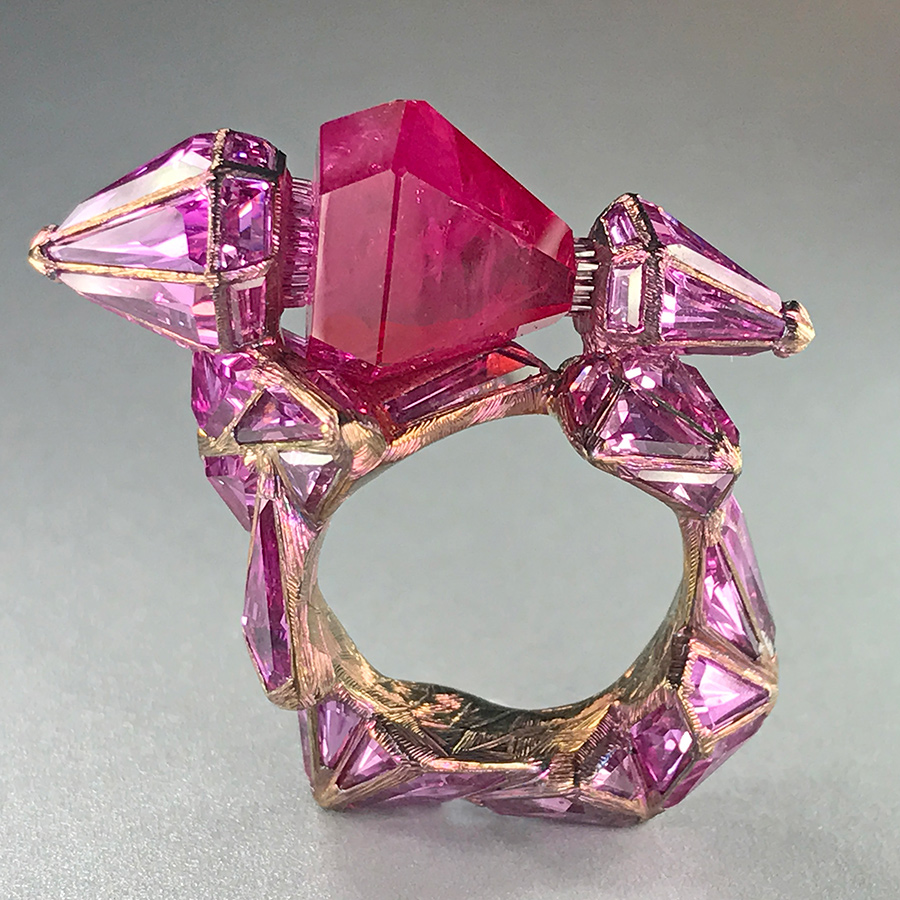 Wallace Chan Ruby Castle Ring
The unusual faceted shape of this titanium ring set with pink sapphires was inspired by the microscopic crystalline structure of ruby. Chan says the ruby found him and told hom what to do with it. Amazingly, the center gem is tension set with no pins or prongs using a technique invented for this ring.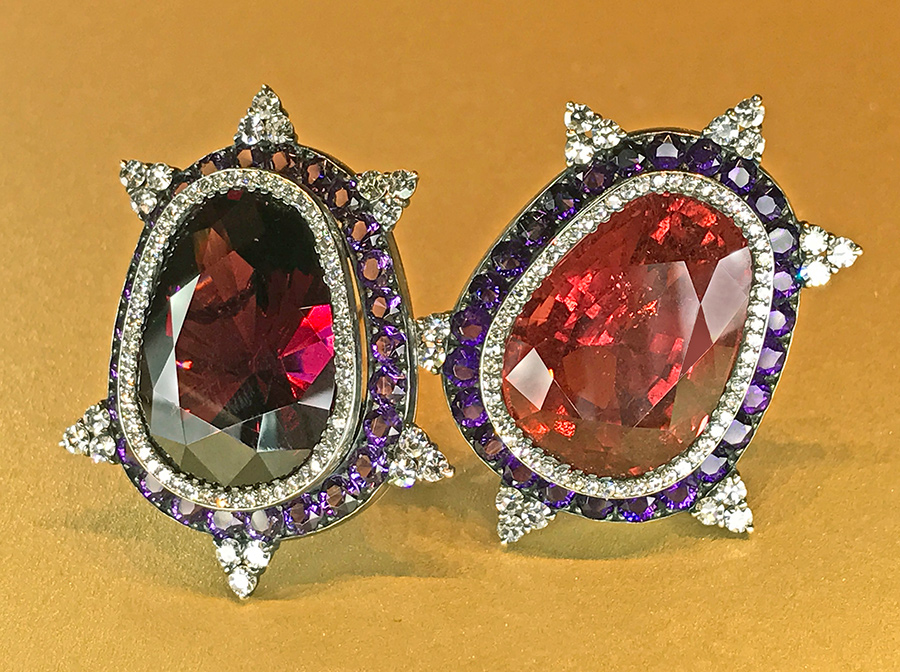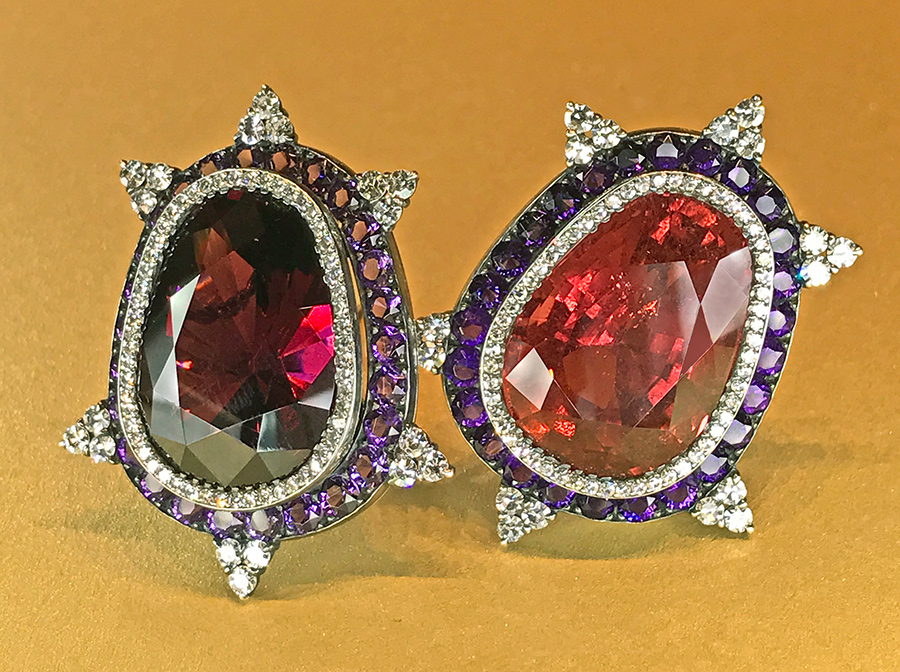 JAR Earrings at Veronique Bamps
My favorite of two pair of JAR earrings at Veronique Bamps, thos design is dramatic yet wearable. The unusual coor colmbination of dark red garnet, salmon tourmaline and amethyst pave is distinctive and flattering to the skin. One woman I saw try them on admiringly had sold her previous pair of JAR earrings because they were uncomfortable to wear but found these much better. I like the mismatched colors and the unusual gem cut. They were made in 1995.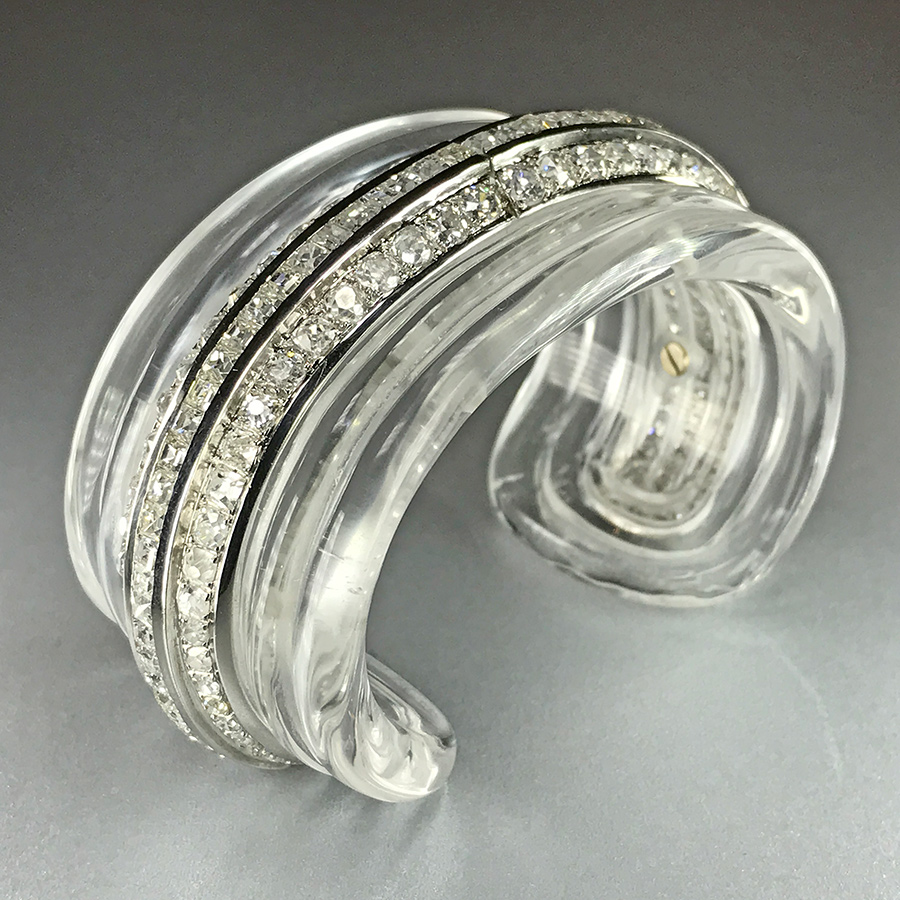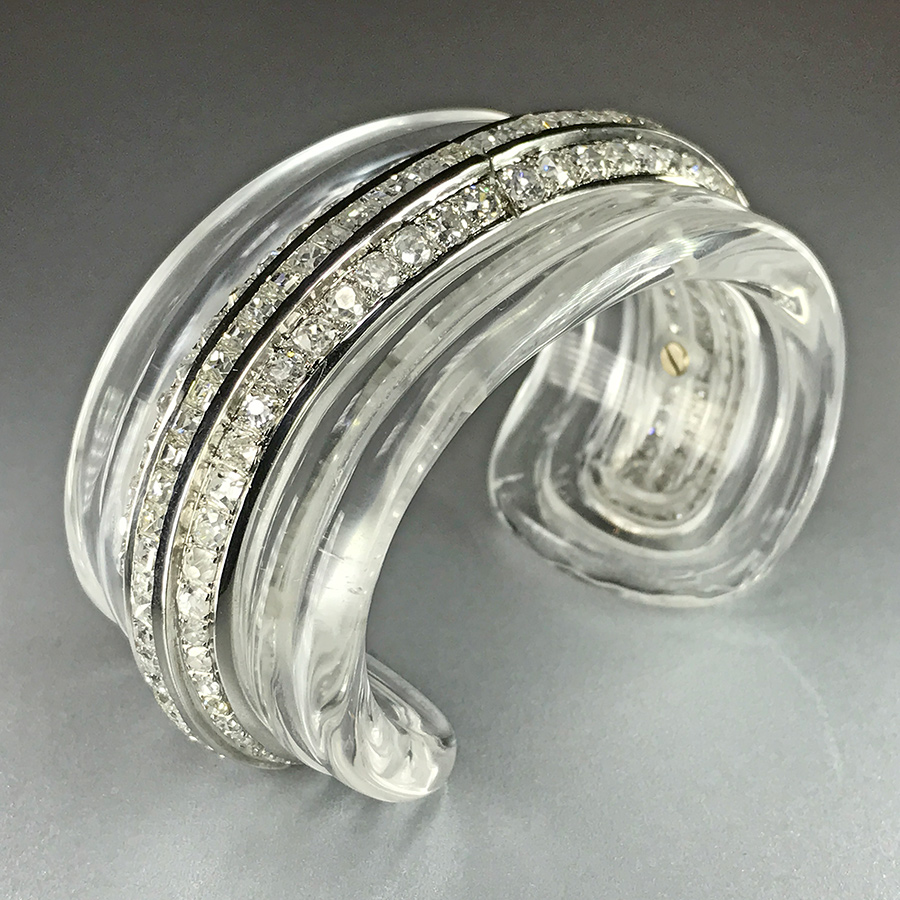 René Boivin Cuff at Siegelson
This 1934 carved rock crystal and diamond cuff by René Boivin is an Art Moderne classic that's still so wearable today. It really lights up in the spotlight. It was designed by Juliette Moutard, who took over as Boivin's lead designer after Suzanne Belperron left to found her own firm. René Boivin had an amazing group of female jewelry designers at a time when there were very few of them and they created modern fashionable jewelry that's very collectible today.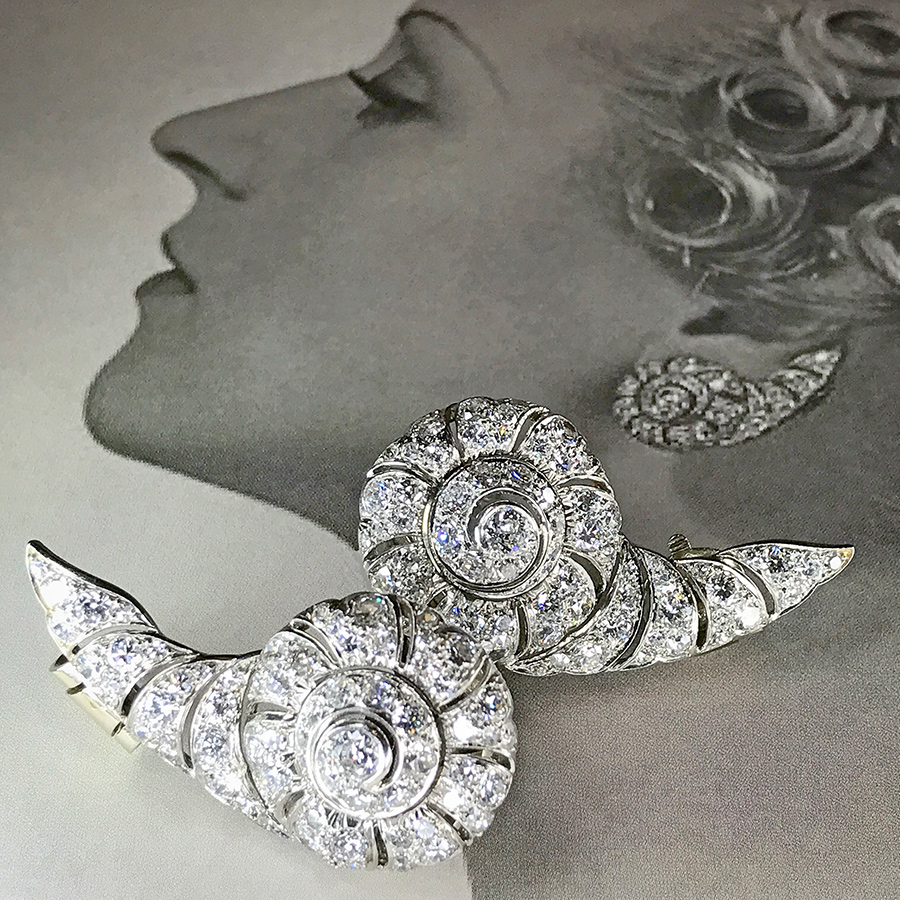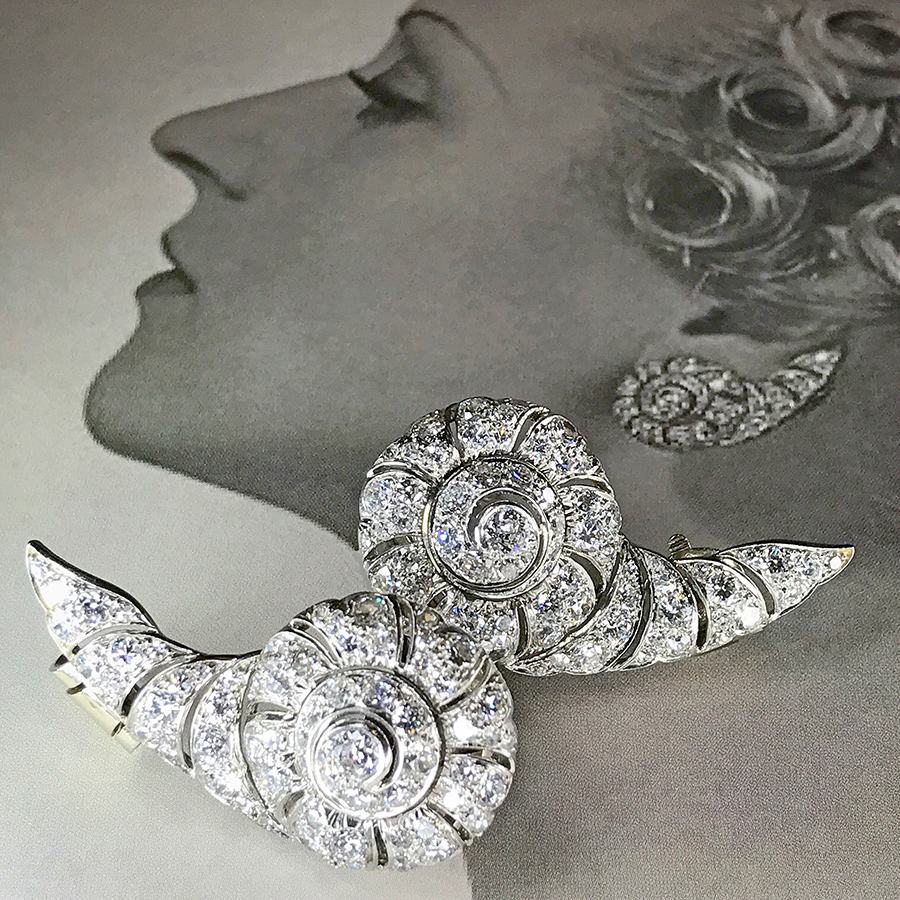 Suzanne Belperron Ear Clips at Siegelson
Would you believe 1933? Suzanne Belperron designed these Nautilus diamond ear climbers for René Boivin. They were featured in Vogue in 1934. I think they'd still turn heads on the red carpet today. Check out Siegelson's Instagram feed to see the original sketch for the earrings, which also shows the details of the clips that fasten them to your lobes, which are larger and more intricate than most designers use for climbers today. I'd love to wear them for a day and see if it makes them more comfortable and stable too.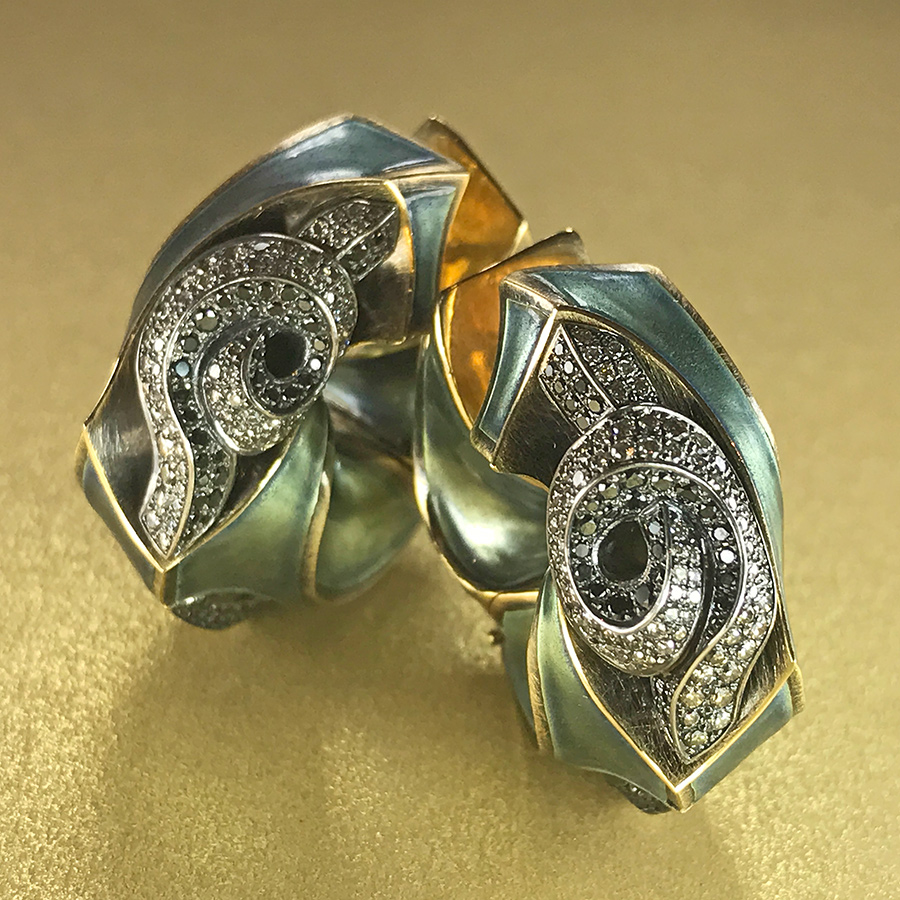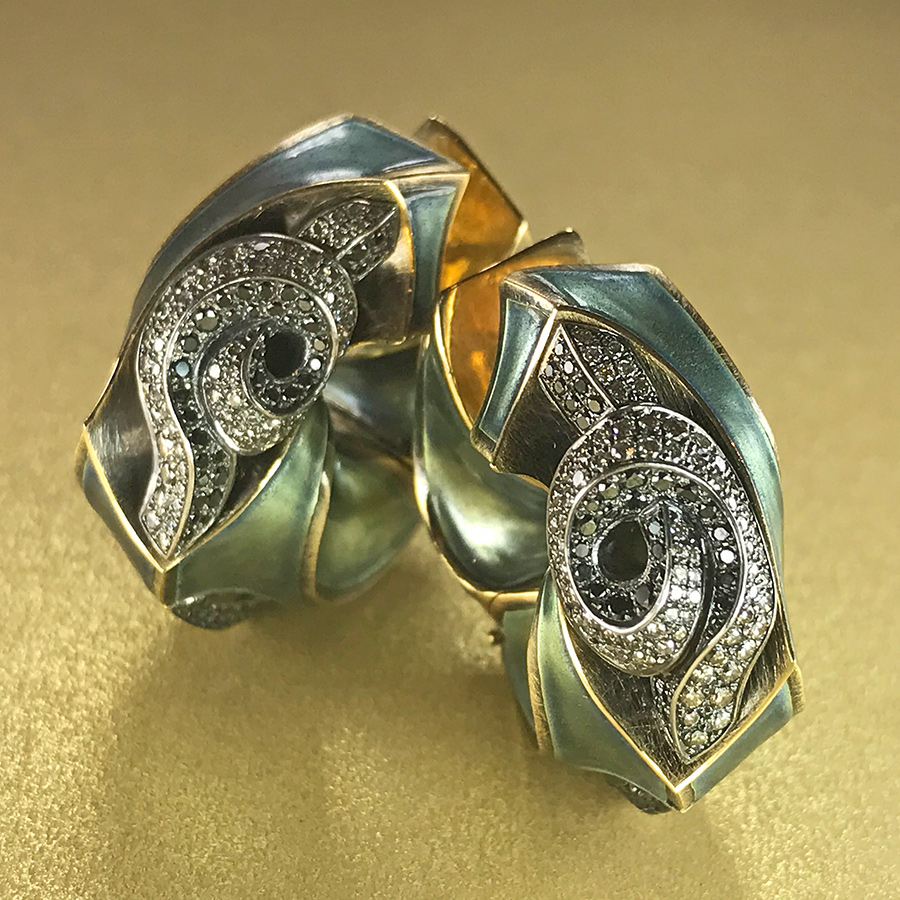 Otto Jakob Hoops
These earrings are almost subtle and understated but the closer you look, the more incredible they are. Otto Jakob described the intricate process for creating these earrings to me in detail. They start with a square tube of gold, just 0.25mm thick. The tube is filled with copper so it will hold its shape and then it is twisted (clockwise for one earring, counterclockwise for the other) and coiled into the hoop shape. Then the copper is etched out with acid, leaving behind the gold. Then the gold is carved away to add in the sections where the snake coils through the hoop and the spring-loaded hinge is added. Then the snake is paved with black and brown diamonds and the body of the hoop is covered with a custom translucent matte grey enamel. I probably missed a step or two but it gives you an idea of his fanatical attention to detail. By the way, Jakob doesn't entirely approve of this image. "They look a bit shiny," he told me. "I was going for something more subtle."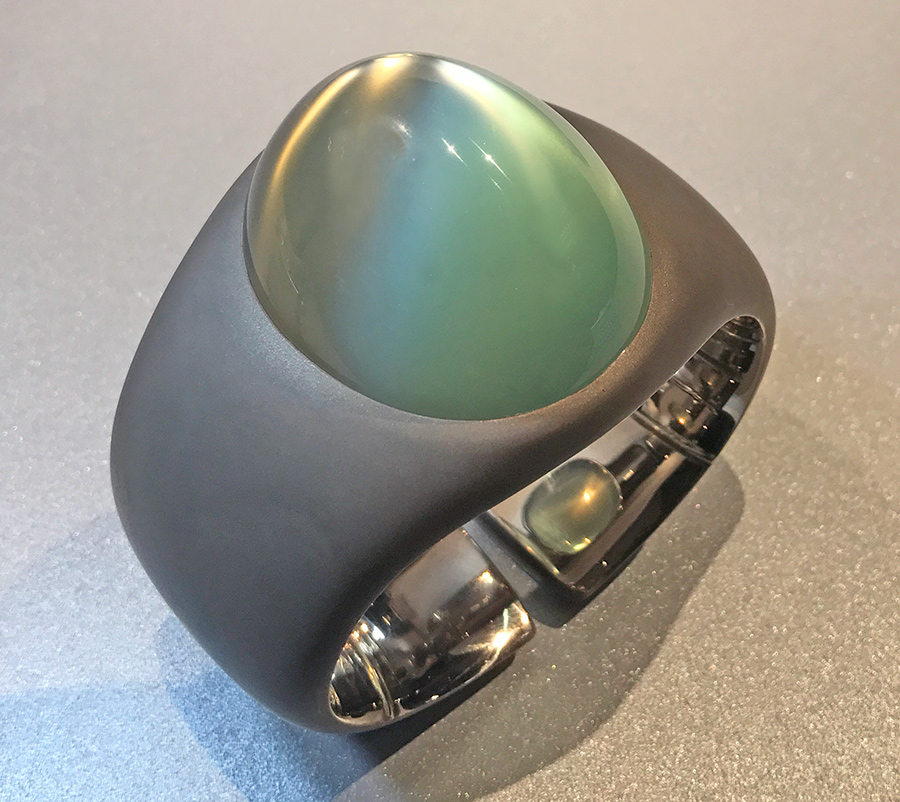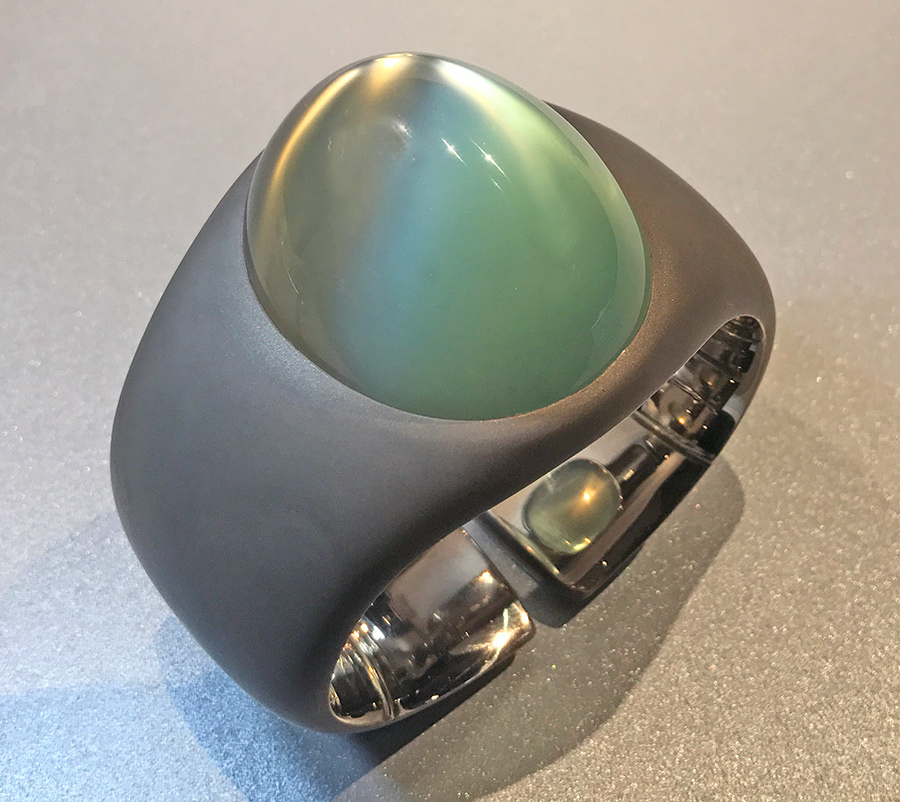 Hemmerle Moonstone Cuff
Hemmerle never disappoints and it's hard to choose one piece to spotlight. (Fortunately I interviewed Christian Hemmerle about the new collection and will post details on many new designs in an upcoming post.) This cuff isn't new, it's from 2006, but it irrestibly combines the sleek Hemmerle aesthetic with a very unusual 200-carat moonstone. It has a milk-and-honey quality and greenish color that remind me of chrysoberyl. It has amazing reflection. I though it had a polished mirror of metal behind it but when I turned it over the stone is visible underneath. (You can see the reflection of the stone in my image above.)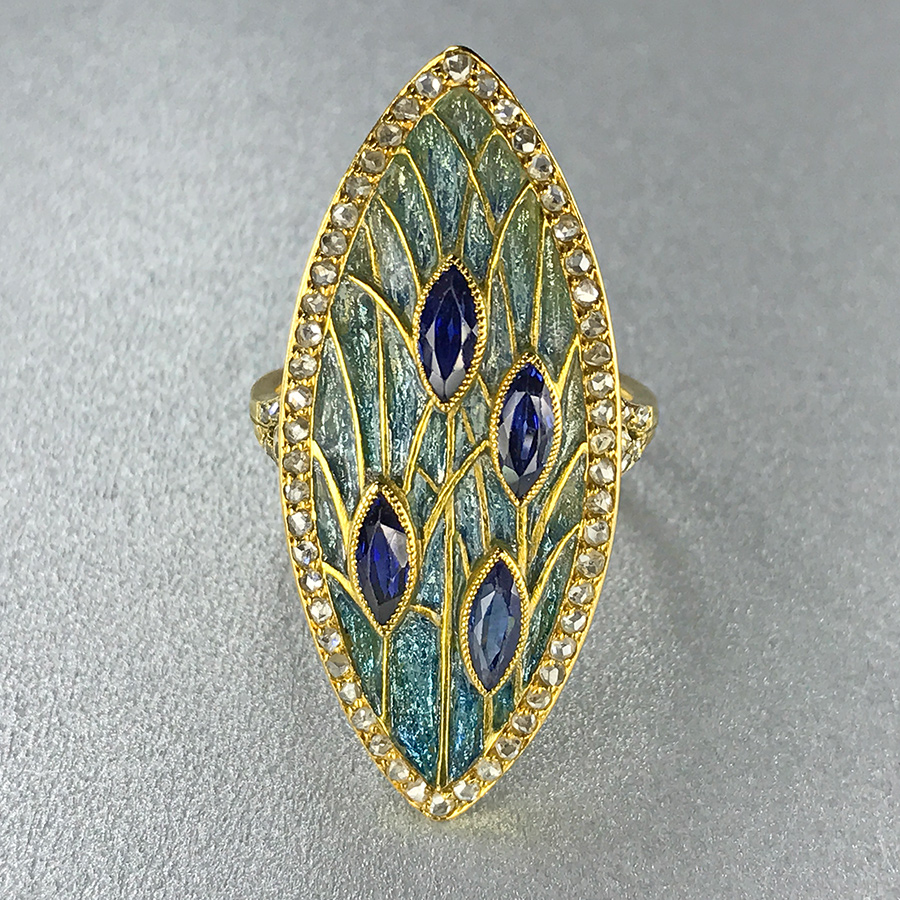 Georges Fouquet Ring at A. Aardewerk
This lovely Art Nouveau ring by Georges Fouquet has luminescent plaque-à-jour enamel in the ethereal blue that Bouquet is known for but also a lovely abstract pattern that has timeless appeal. It's from 1908 and the design drawing of the ring is in the Museé des Arts Décoratifs in Paris. I love the asymmetry of the marquise sapphires, which feels so modern.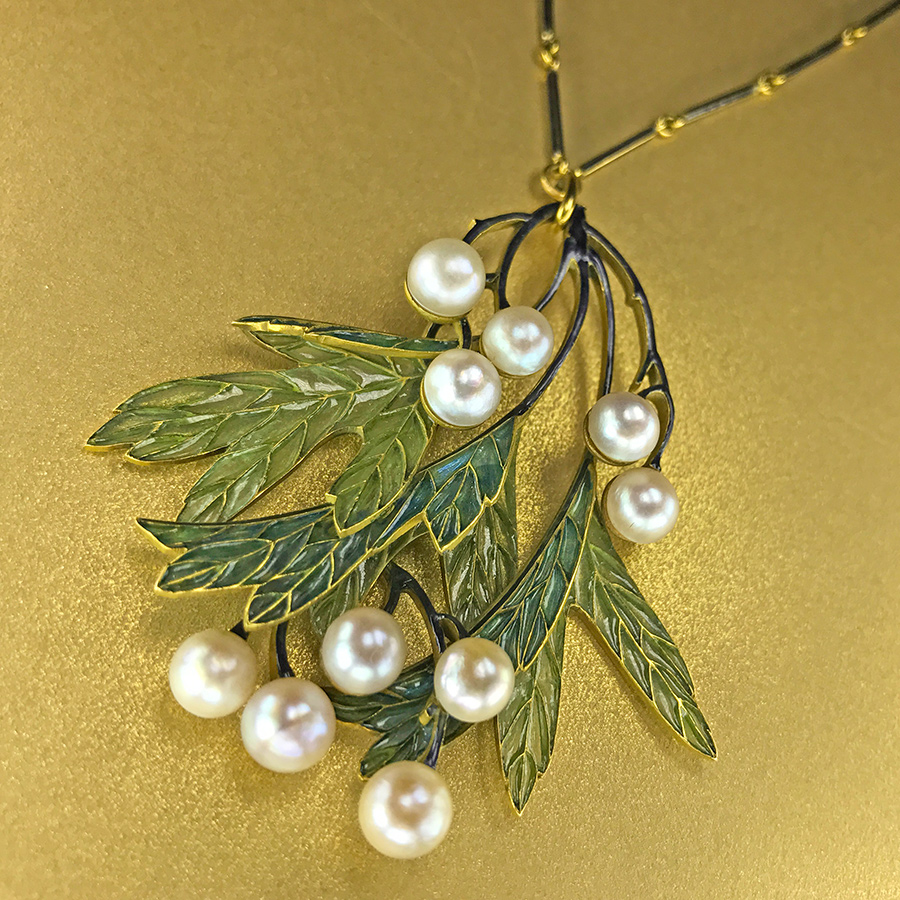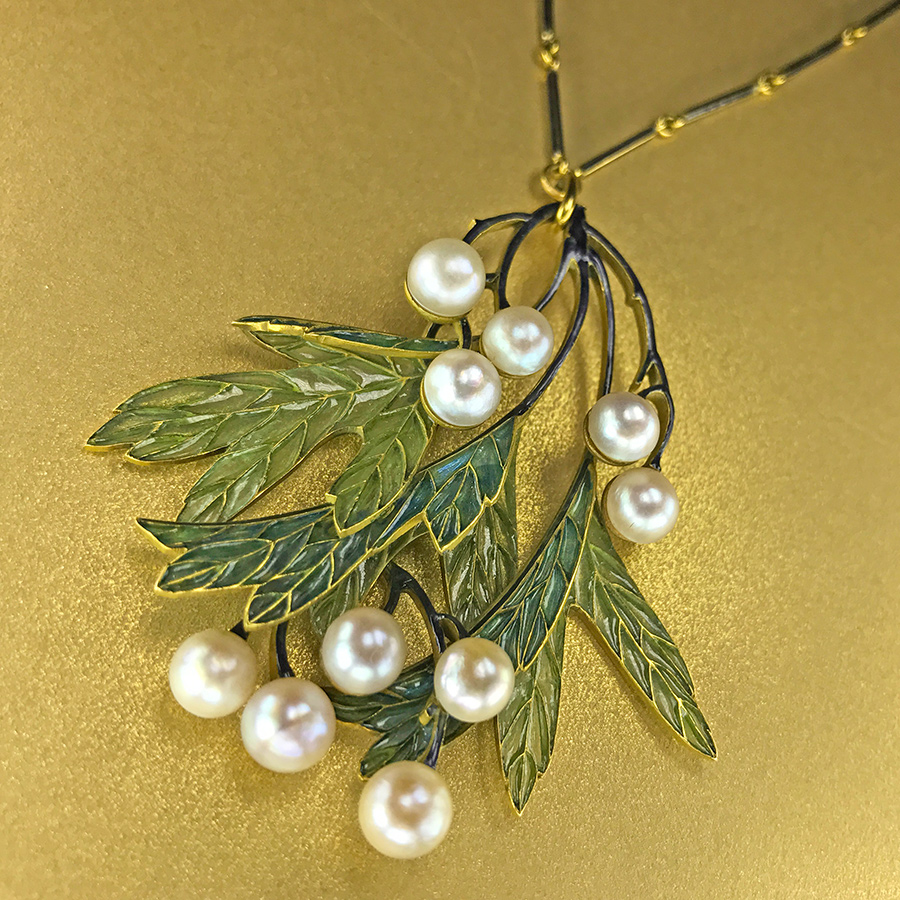 Rene Lalique Necklace at A. Aardewerk
This 1901 pendant is almost understated but the lifelike movement of the leaves and the delicately translucent plique-à-jour enamel are the signature of Art Nouveau jewelry master Rene Lalique. I was almost afraid to touch this necklace which is in perfect condition: it even has the original chain with mauve enamel accents. There were more showy Lalique pieces (including a spectacular portrait necklace with exquisite pine cone details at Wartski) but the simplicity and modesty of this design won my heart.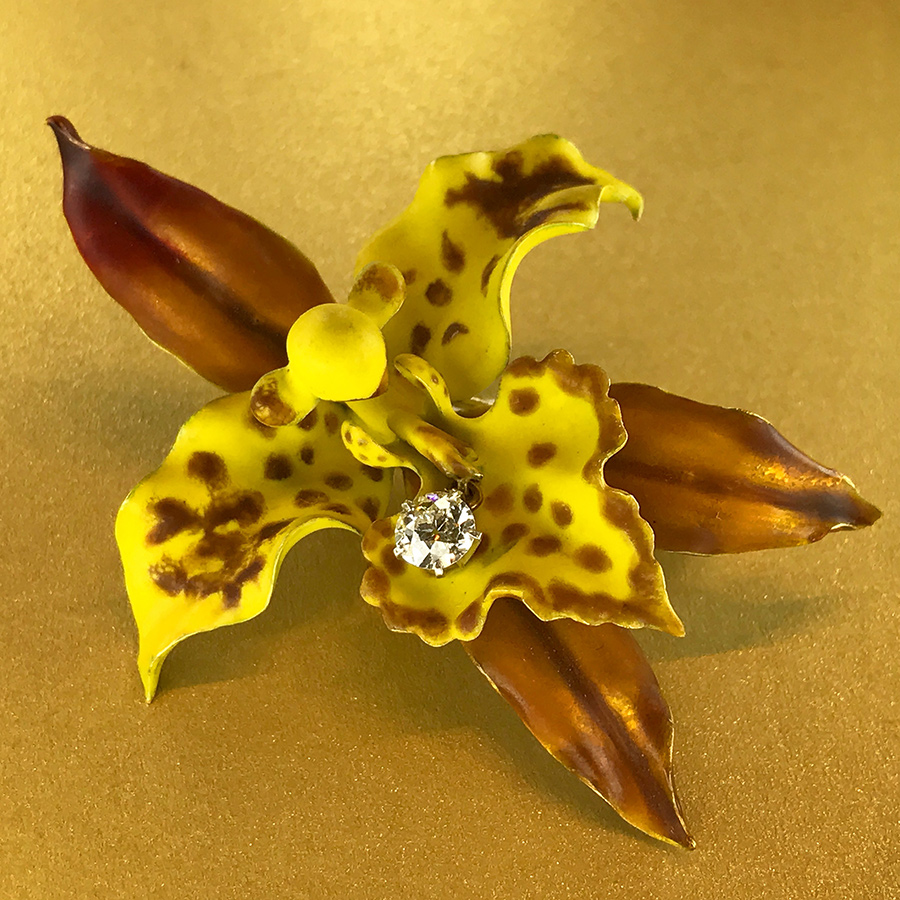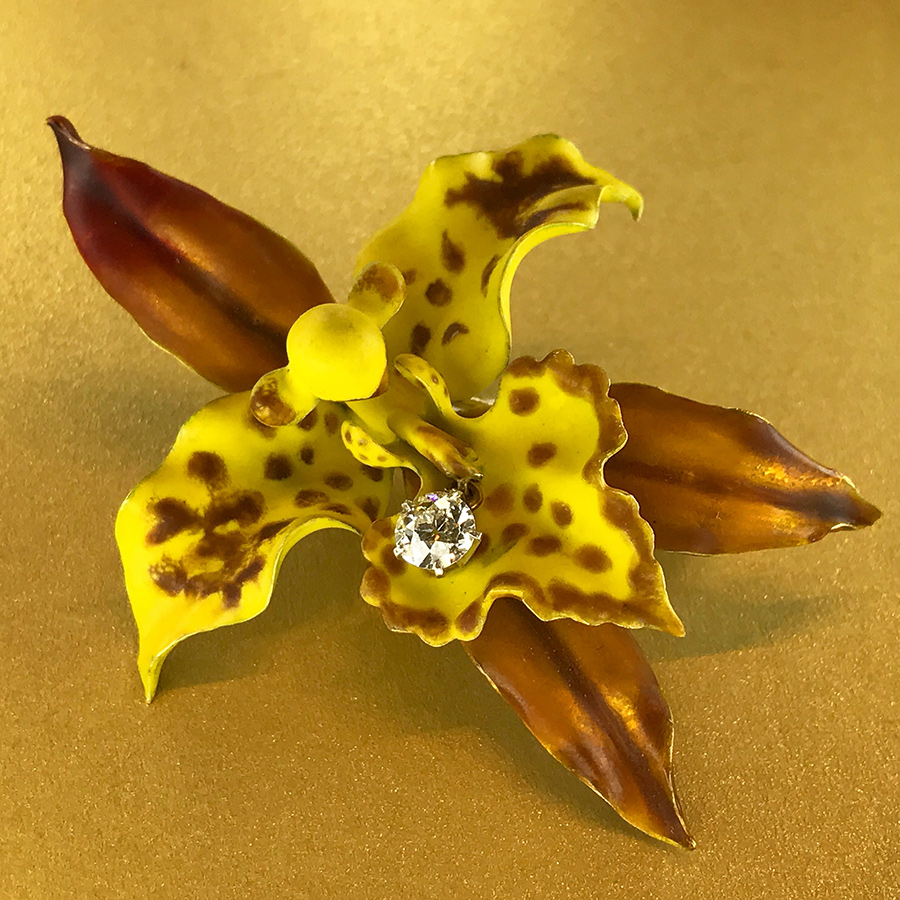 G. Paulding Farnham Orchid at Veronique Bamps
In 1889, Tiffany & Co exhibited 24 enamelled orchid jewels by 29-year old jewelry designer Paulding Farnham at the Exposition Universelle in Paris. They were an immediate sensation. Tiffany immediately began work on 14 more. This 1890 orchid with a dangling Old European Cut diamond is one of those 15. Supremely rare and in fabulous condition (it has a minor enamel repair by Tiffany), this orchid brooch is amazingly lifelike, with a velvety matte finish and a subtle shine coming through the enamel from the 18k gold underneath. Delicate and beautiful, this is also a piece of jewelry history.