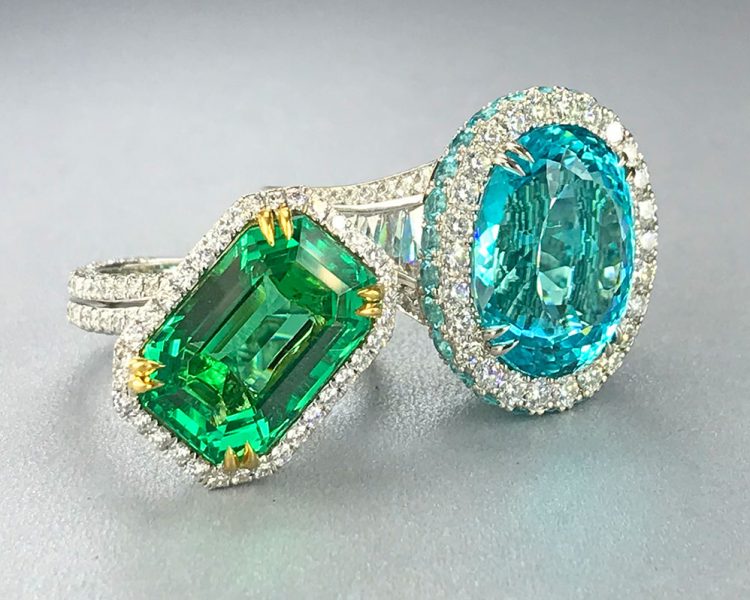 Top Ten: 2018 AGTA Spectrum Awards
It's time to celebrate gems in the annual AGTA Spectrum Awards competition! I think Spectrum is the best jewelry design competition because the editor's preview includes all the entries, not just the winners.  Although the winners are always good, it's nice to find favorites that might have been overlooked by the judges too. And seeing all the entries gives you a much better idea of overall trends in gemstone jewelry designs. This year, bicolor tourmaline was hot. Emerald also featured in many designs (thanks no doubt in part to the fact that emerald mining company Muzo Colombian Emeralds is working with designers to promote its gems).
Here are the ten gemstone designs I like the best from this year's competition and why I think they are interesting.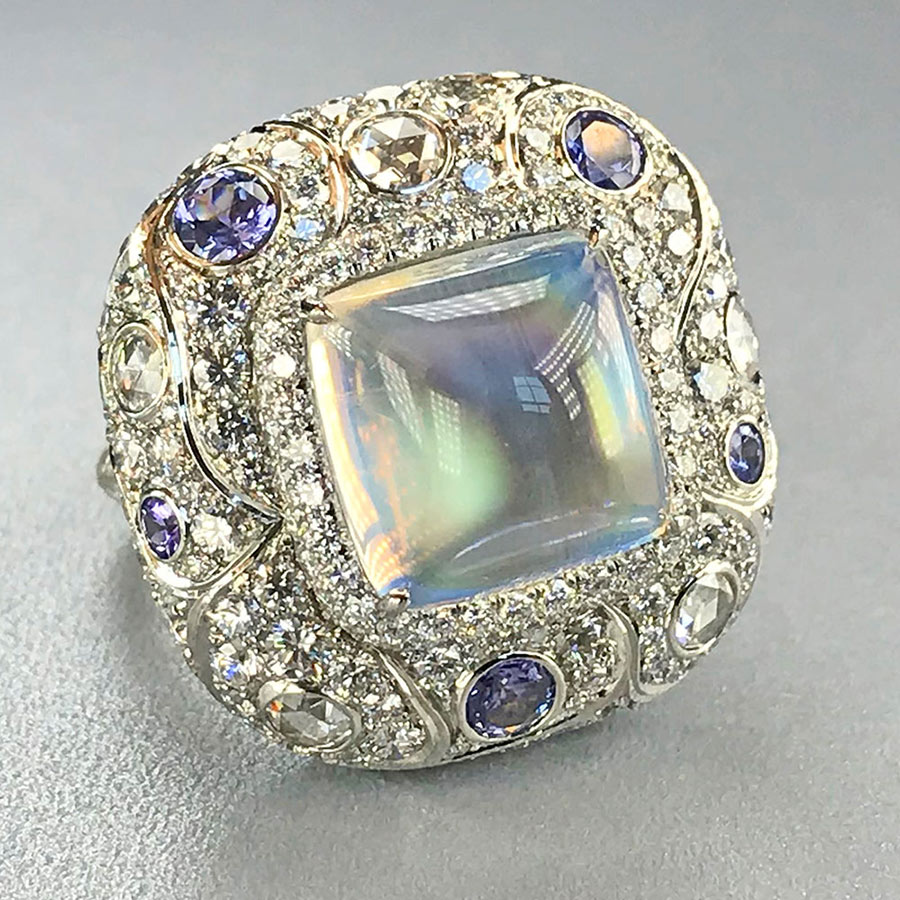 Helen Kim Currens, J.W. Currens: Remember Ring
This J.W. Currens platinum ring set with a 9.25 carat sugarloaf moonstone isn't just beautiful from the top: every curves surface of this ring is beautifully engraved and set with gemstones, including tanzanites and rose-cut diamonds (and a lot of diamond pave). Here is a view from the back.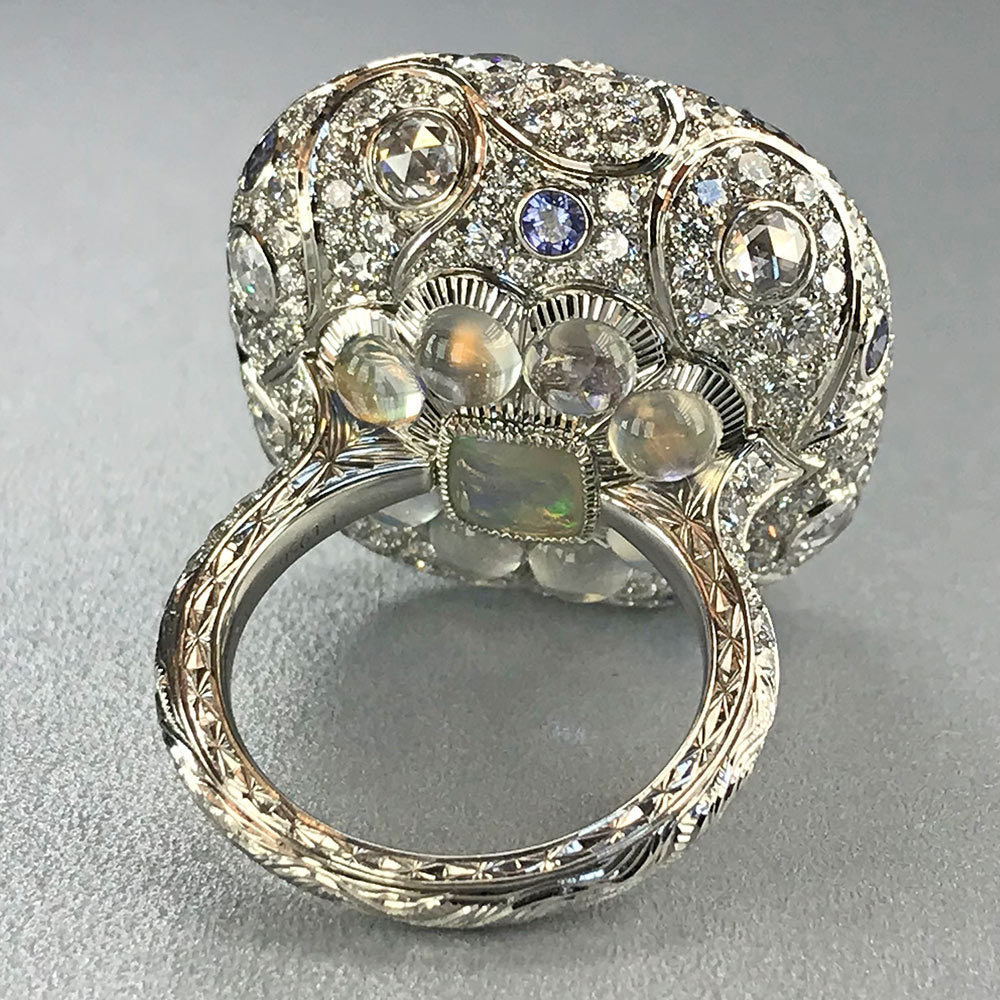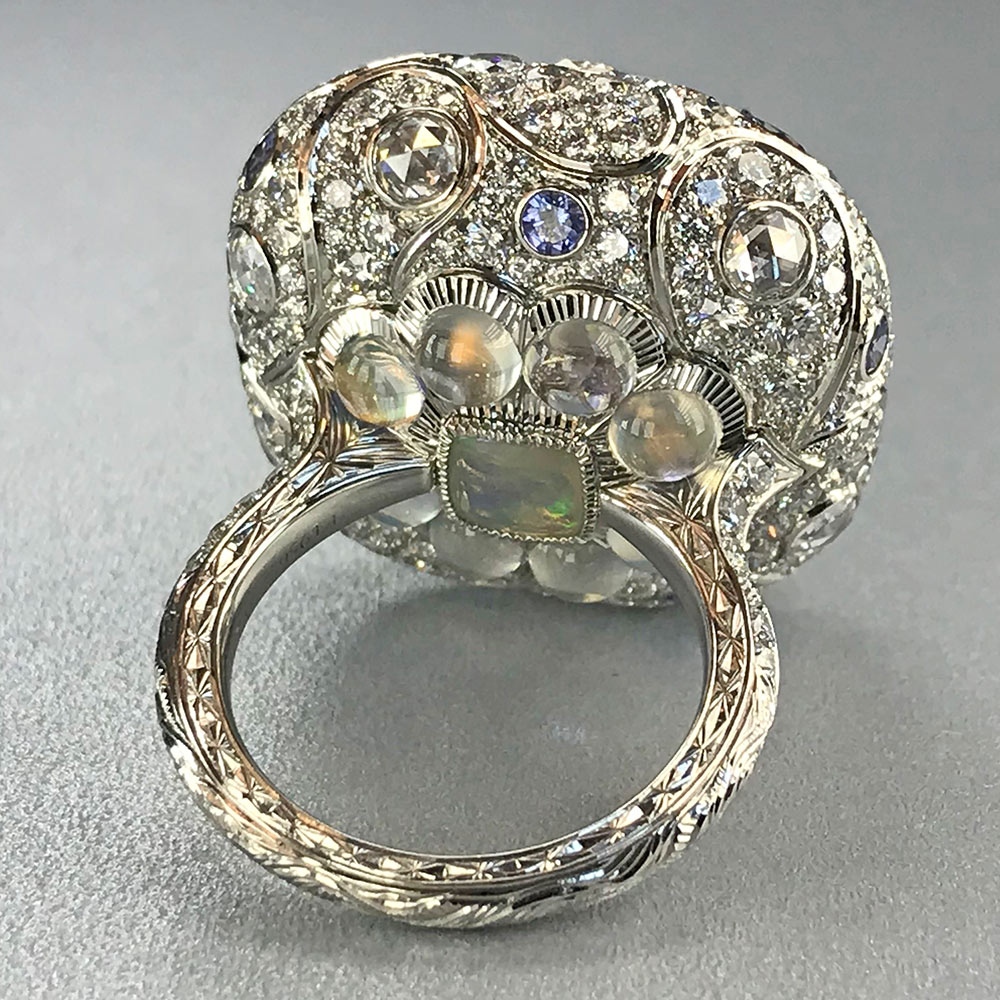 See the opal underneath the center stone and the ring of smaller moonstones? The band, too, is covered in engraved motifs. This ring was created as a memento mori but it has a serene joy about it rather than traditionally somber mourning jewelry. It's really spectacular work and a fitting tribute.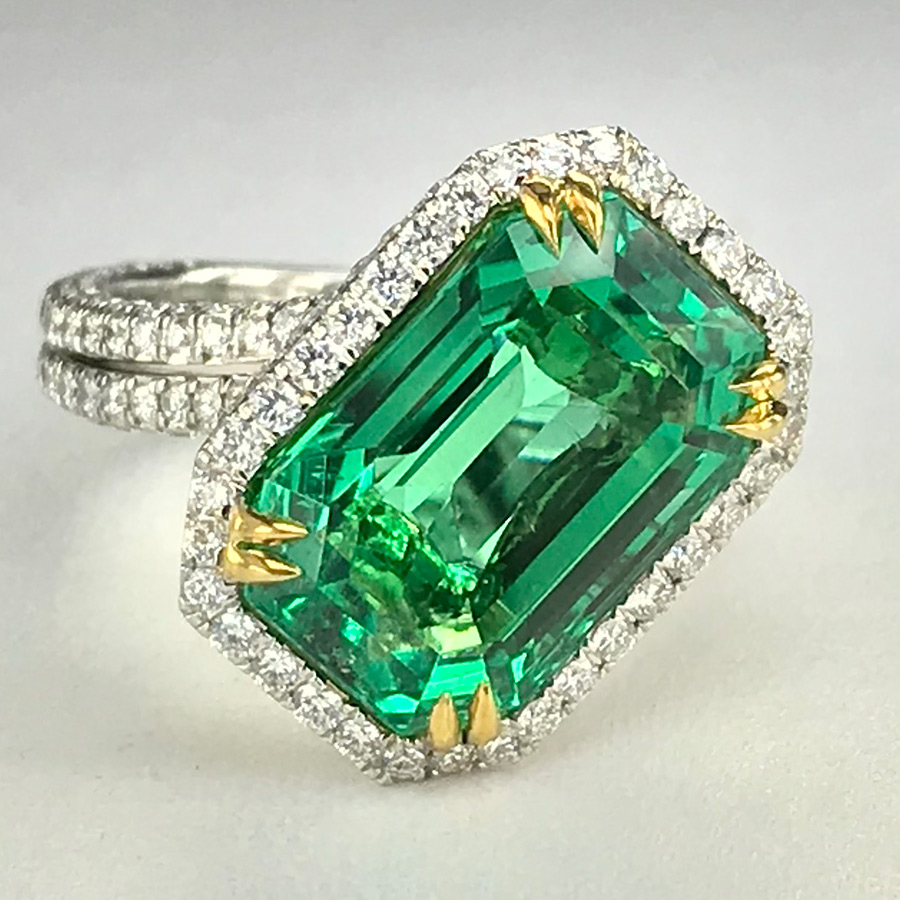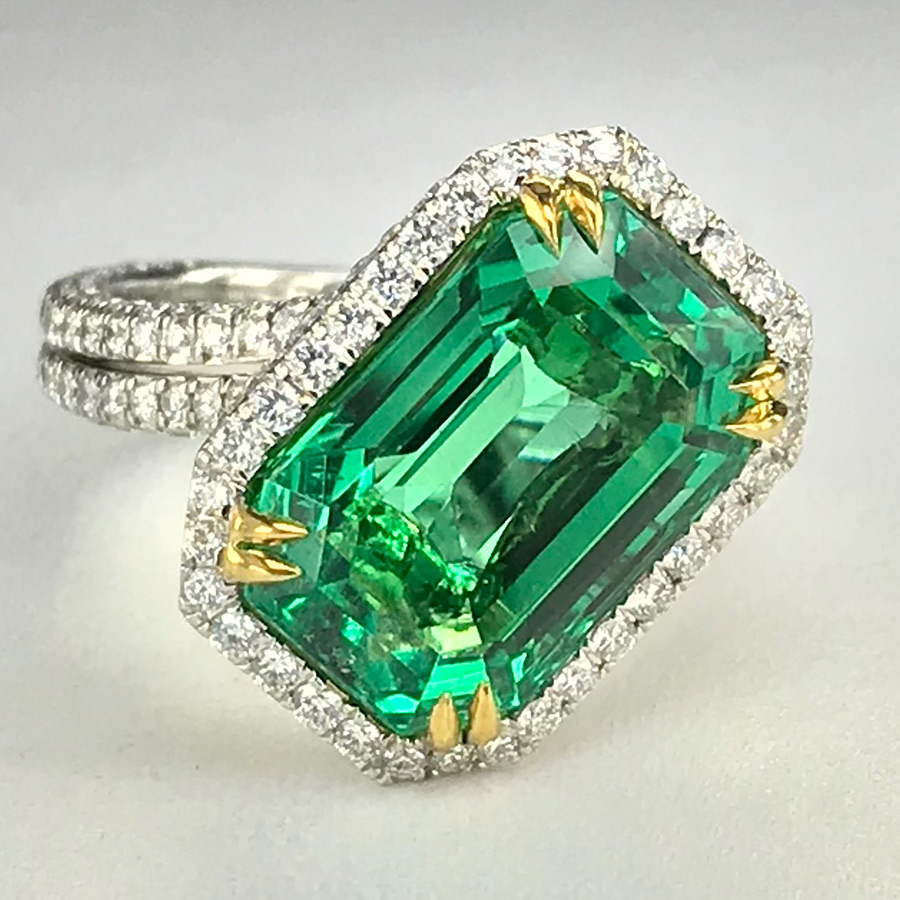 Joseph Ambalu, Amba Gem Corp: Emerald Ring
There are emeralds and then there are emeralds. This 7.16 carat untreated Russian emerald is gem quality, what dealers call "crystal." It's not oiled and has a limpid clarity that reminds us that emerald is a beryl and has a high reflective index. And that Russia can produce fine emerald. When I was photographing this ring and talking to AGTA President Jeff Bilgore he told me "Remember this stone: you won't see another one like it." I love that this kind of gemmy stone is set at an angle, it really takes this ring to a new level. And the yellow gold double prongs and double pave band are nice touches too.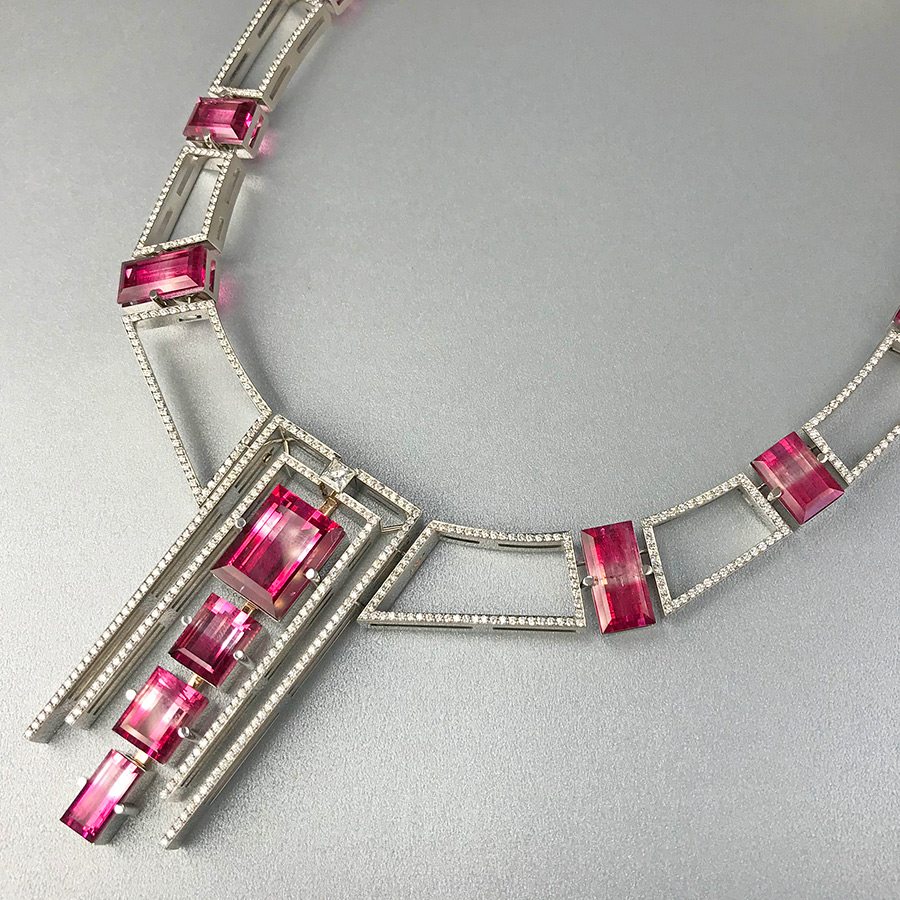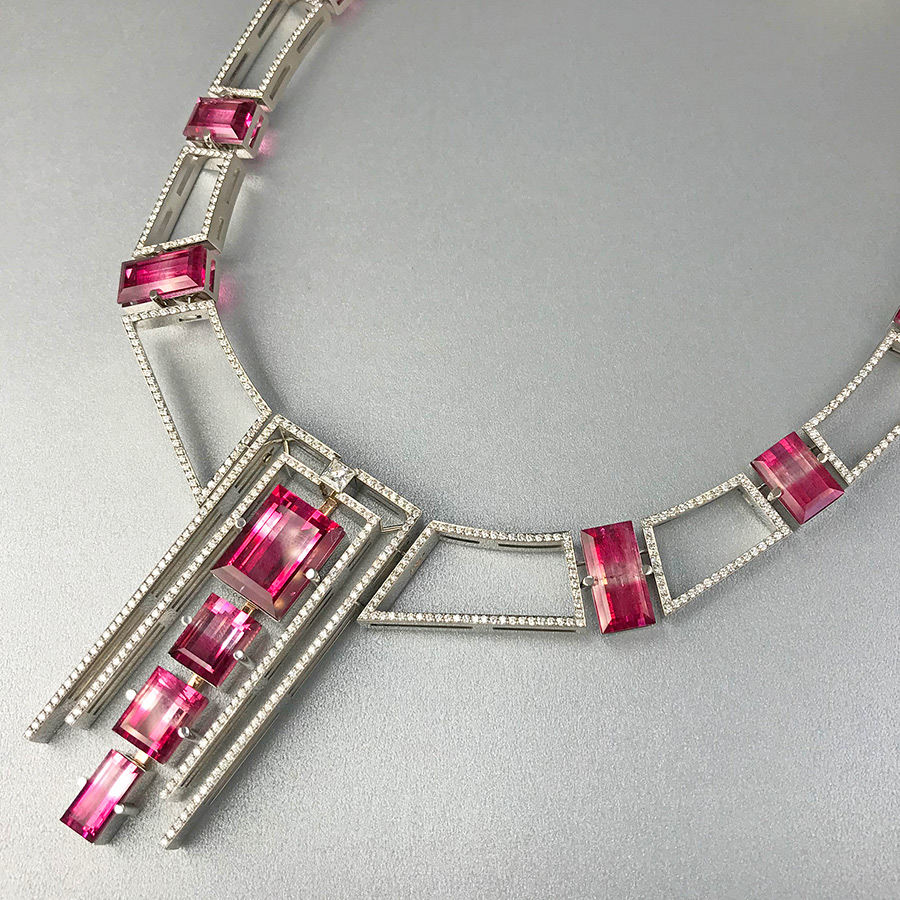 Zoltan David: Candy Ice Tourmaline Necklace
This incredible layout of bicolor rubellite tourmalines is perfectly complemented by the design of this geometric necklace, with the stones almost floating between spare platinum, palladium and diamond forms. This necklace isn't laying completely flat in the image above because it's beautifully constructed to curve around your neck. I love when the design is clearly inspired by the gemstones. This design looks simple but making a piece like this work is incredibly difficult. Zoltan David makes it look easy.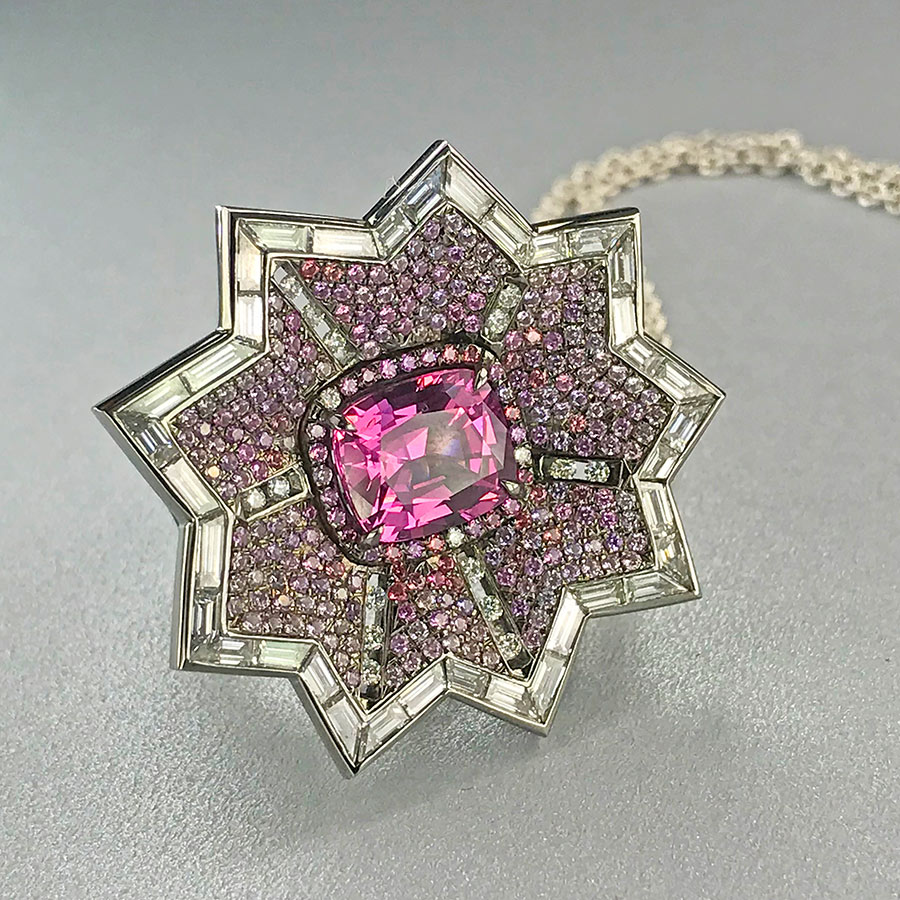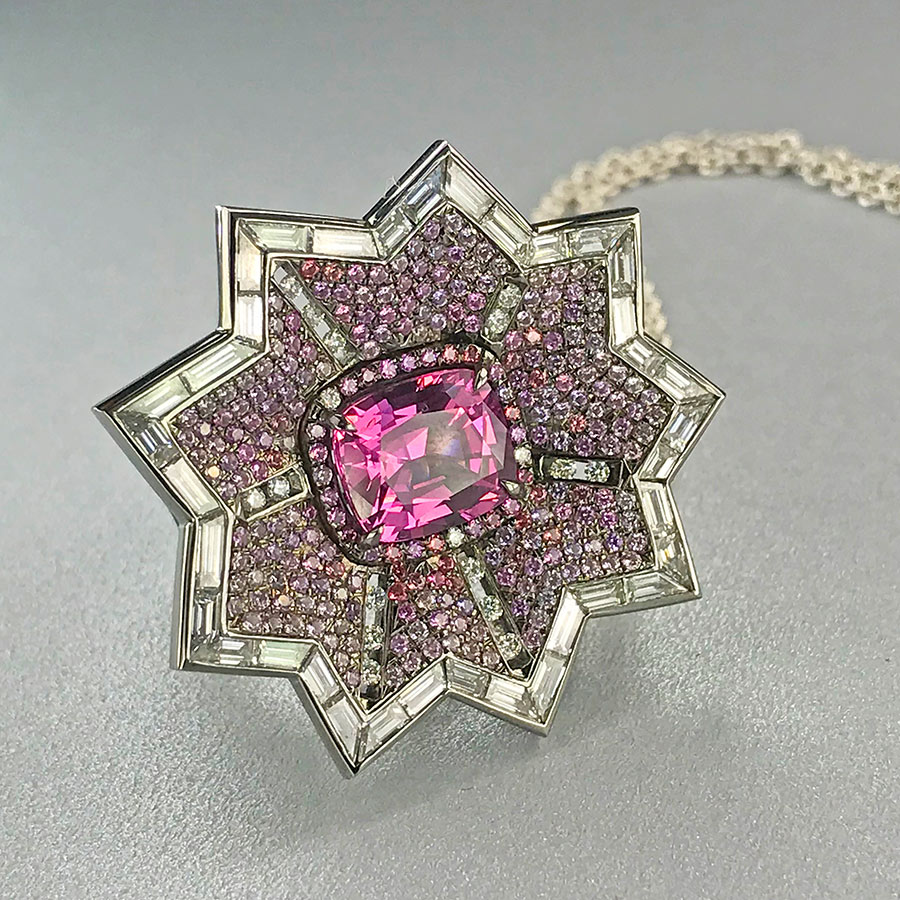 Evelyn Huang, Evelyn H Jewelry: Aurora Ring/Pendant
Who wouldn't want more ways to wear their jewelry? This clever design by Evelyn H is a ring that turns into a pendant. There is a catch in back that joins the star to the shank and bails on the top and bottom to hold a chain so the necklace lays correctly. The center pink spinel is surrounded by spinel, pink sapphire, and diamonds (including a cool baguette diamond edge.) See how the halo around the center stone is shades of pink? All of these little details plus the convertibility make it a winner for me. (And I don't even like pink.)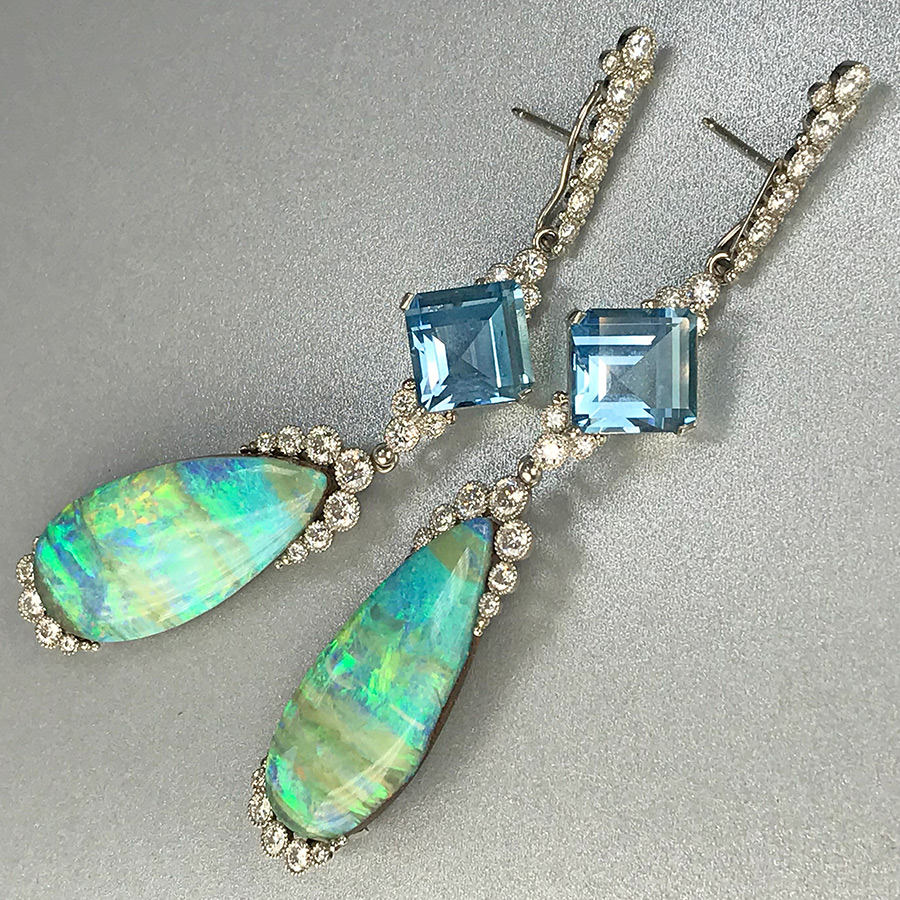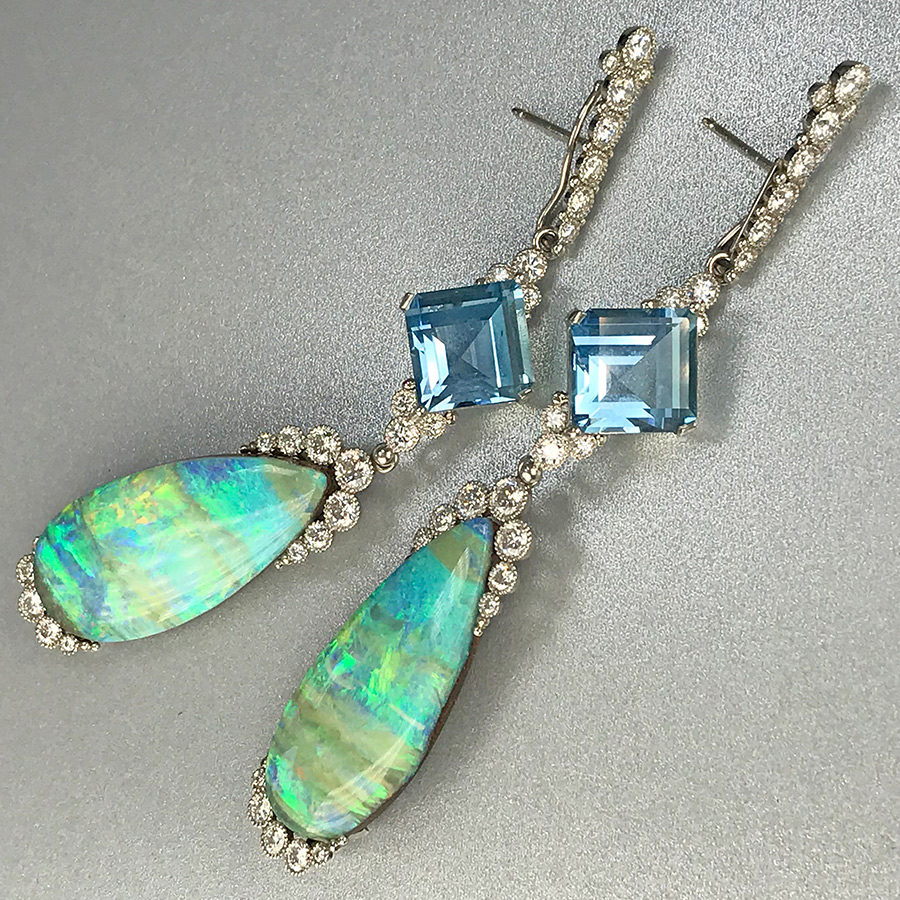 Deirdre Featherstone, Featherstone Design: Opal Earrings
Although Deirdre Featherstone won an award for a platinum cuff, I was drawn instead to these long Featherstone Design opal earrings, with interchangeable drops that allow them to be worn several different ways. I like the pair of boulder opals with the unusual olive colored stripes and the fine step cut aquamarines (about 5 carats each) set on point. One more lovely detail: the diamonds extend higher than usual on the ear, elongating the silhouette even more.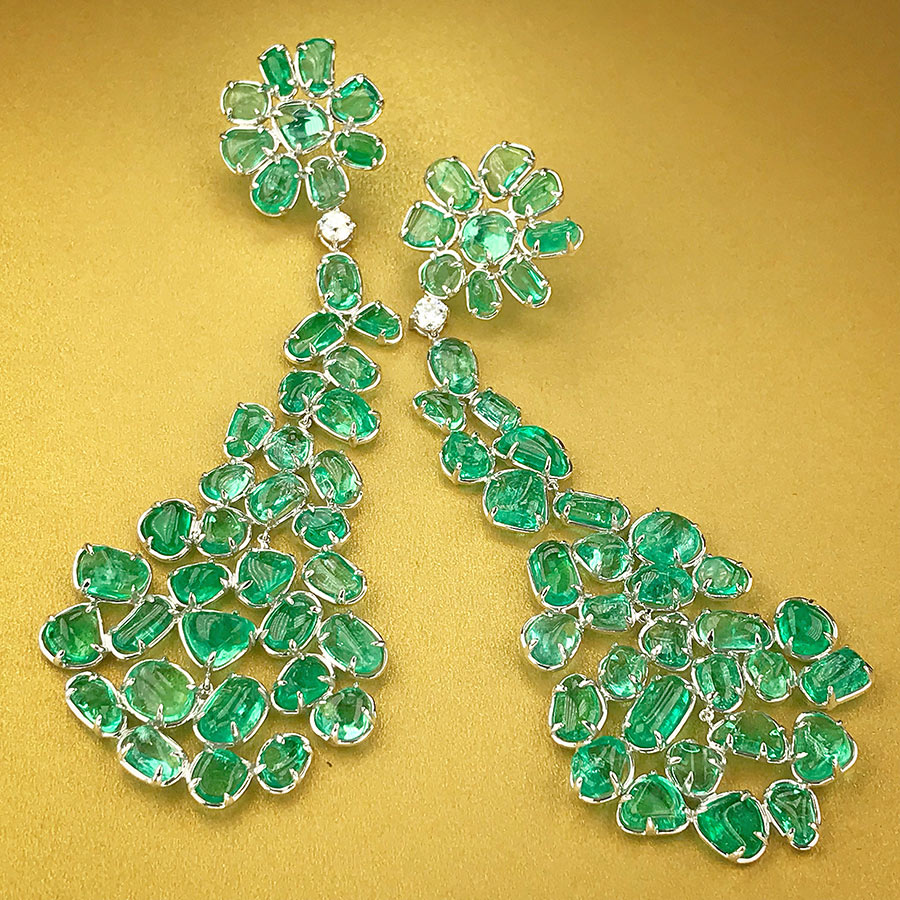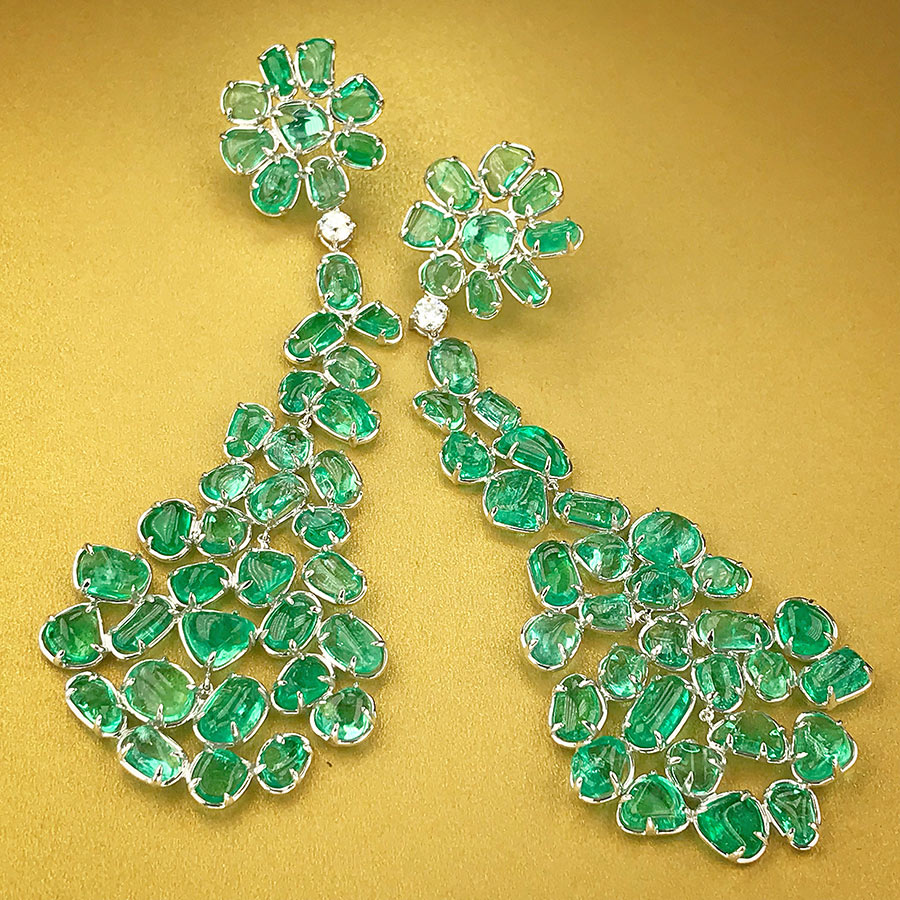 Muzo Emerald, Cobblestone Earrings
The legendary Muzo Emerald mine is now an ingredient brand and that's good news for jewelry. Muzo is working with a growing stable of designers to promote emerald from the mine, including a new supply of free sizes, tumbled-style cabochons in organic shapes like the ones in these earrings. And these earrings are a great demonstration of the charm of this style of cutting. It takes full advantage of the vivid green the mine made famous without feeling formal. These earrings have 74 carats of emerald and yet they have a bohemian charm that would be perfect for the red carpet.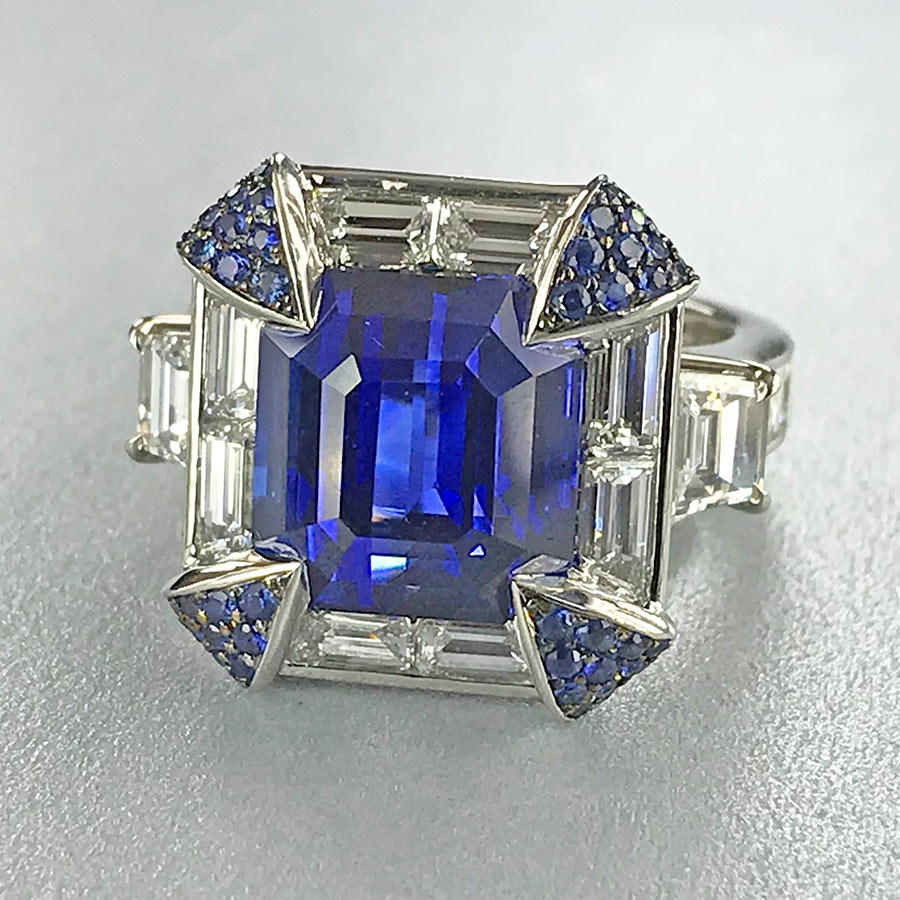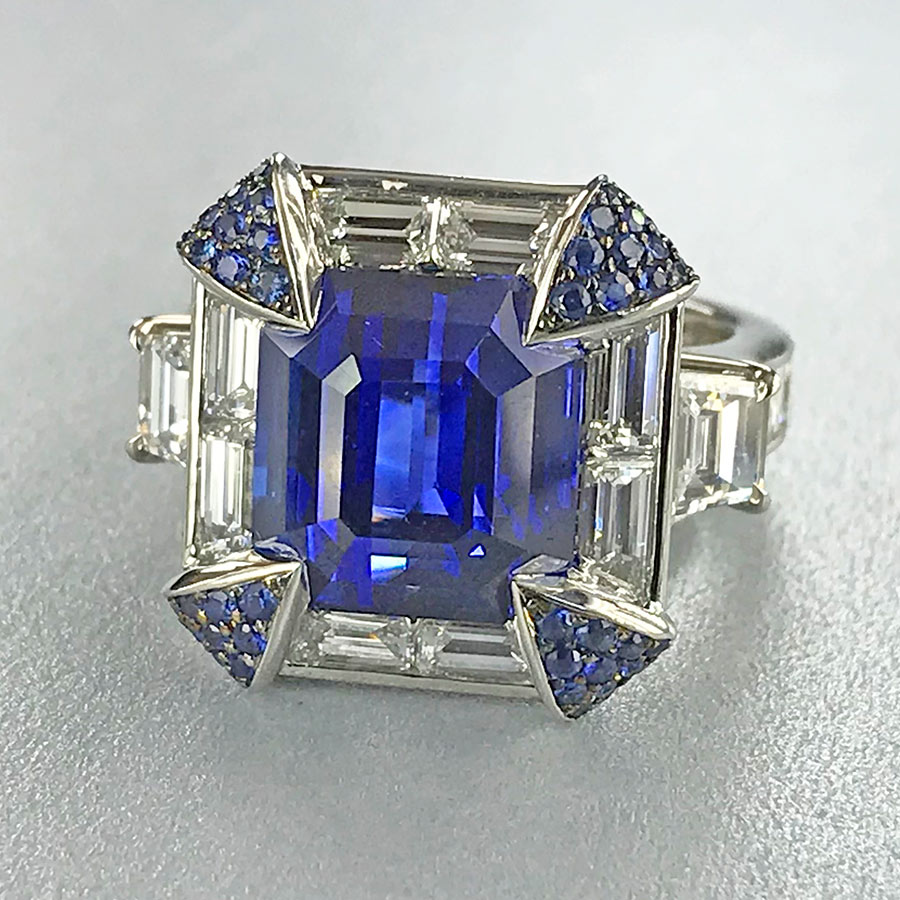 Niveet Nagpal, Omi Prive: Sapphire Ring
Omi Prive has been a reliable presence on the winner's table at the Spectrum Awards every year. (Trust me, there's a reason autocorrect changes Omi to OMG. The gems are that good.) This year, the company was recognized for its cuprian tourmaline ring, seen in the opening photo above. That ring demonstrates why Omi wins again and again: fine quality gems in meticulously crafted settings. The 10-carat tourmaline (which is similar in color to Paraiba but is probably from Mozambique) is accented by Paraiba melee on the side and back, along with a fantastic tapered baguette shank. The owner will find much to admire from every angle (including a small alexandrite as a signature of Omi Prive: branding!) But when it came down to choosing just 10 designs, I chose this 9.34-carat Omi sapphire ring instead. Why? I do love a baguette frame. And a fine emerald-cut sapphire. But I also think the design with the pave sapphire super-sized "prongs" is unusual but still classic. It just feels fresher to me than the tourmaline ring. But maybe I just have halo fatigue. Let me know which one you like best in the comments below!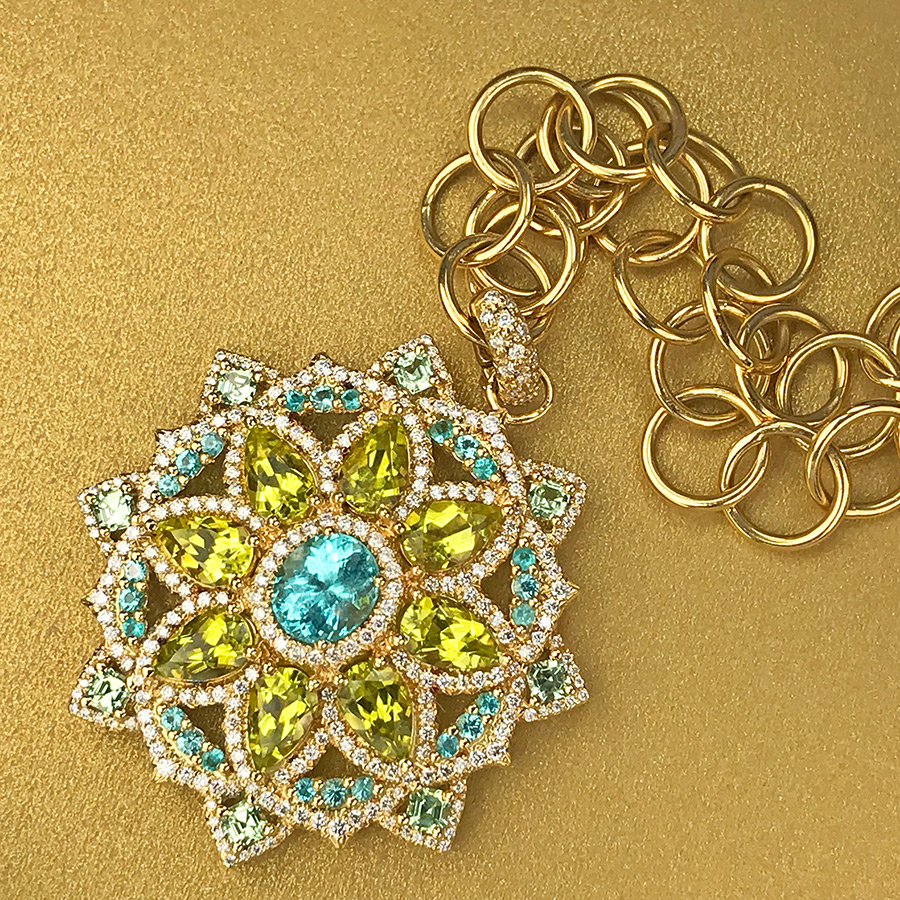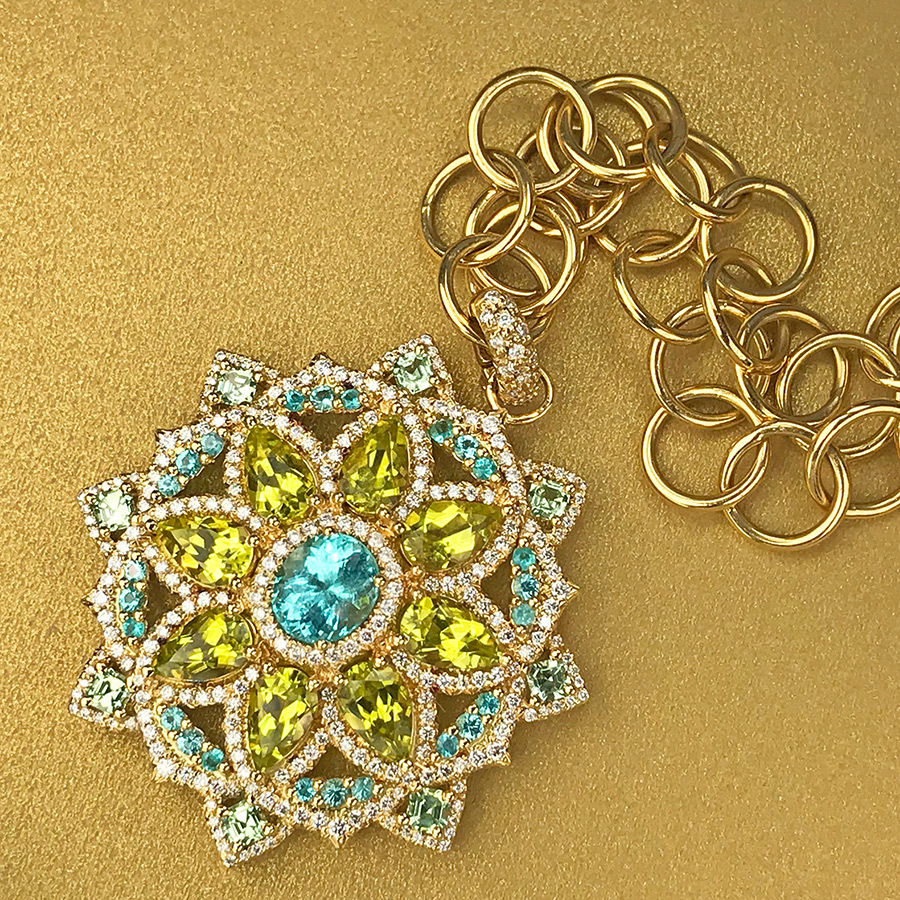 Erica Courtney: Gemstone Mandala Pendant
Another Spectrum juggernaut, designer Erica Courtney knows her way around gemstones. (If I went to Spectrum one year and found she didn't win anything I would be shocked.) Her winning hundred-carat emerald pendant and more intricate chrysoberyl gemstone mandala are probably popping up all over your Instagram feed. I decided instead to photograph this medallion, which surrounds a two-carat Paraiba with tourmalines, garnets and diamonds. Its sweet-and-sour color combo gives me a Pucci vibe that really pairs well with the design. I like the way this pendant flirts with floral but comes down firmly in kaleidoscope.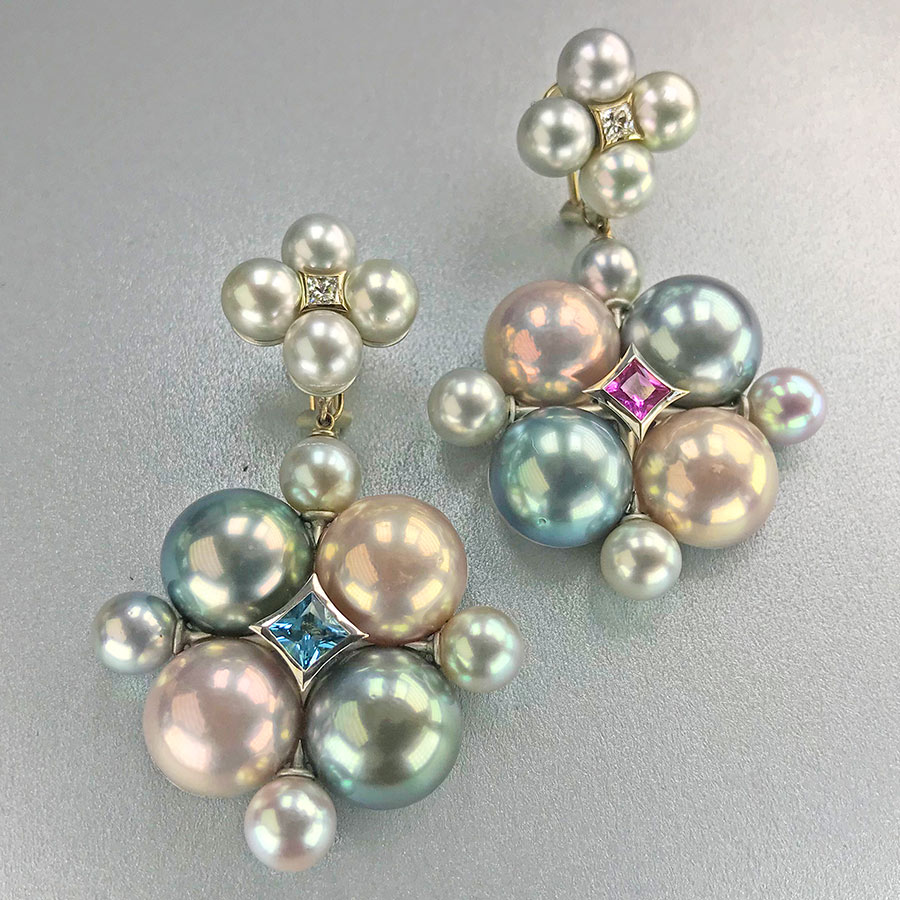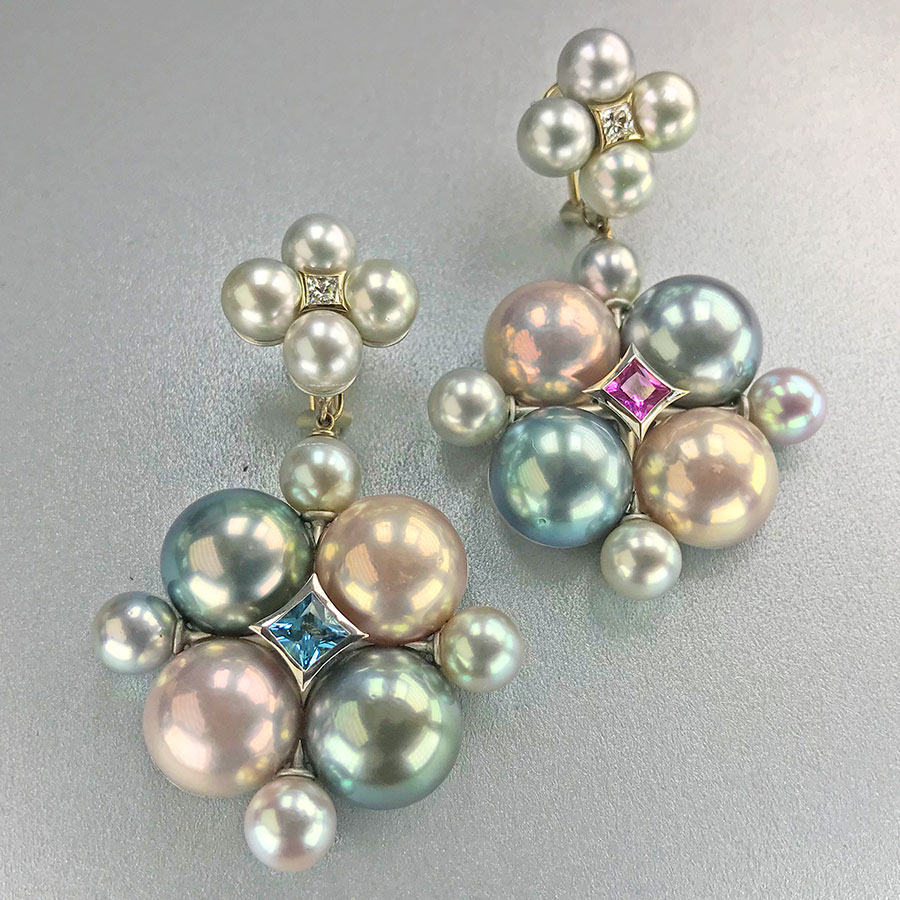 Heath London, Cultured Pearl Earrings
It's easy to forget sometimes that Spectrum is also a pearl design competition. These earrings designed by Heath London are the perfect celebration of color in pearl form, with beautiful shades of Tahitian,Freshwater and Akoya cultured pearls in complementary shades. I like the way the colors are balanced up and down, left and right, with a mismatched aquamarine and pink sapphire centers. But you can't see one of my favorite things about these earrings: they are set in aluminum as well as 18k so despite their considerable size they are light and comfortable to wear.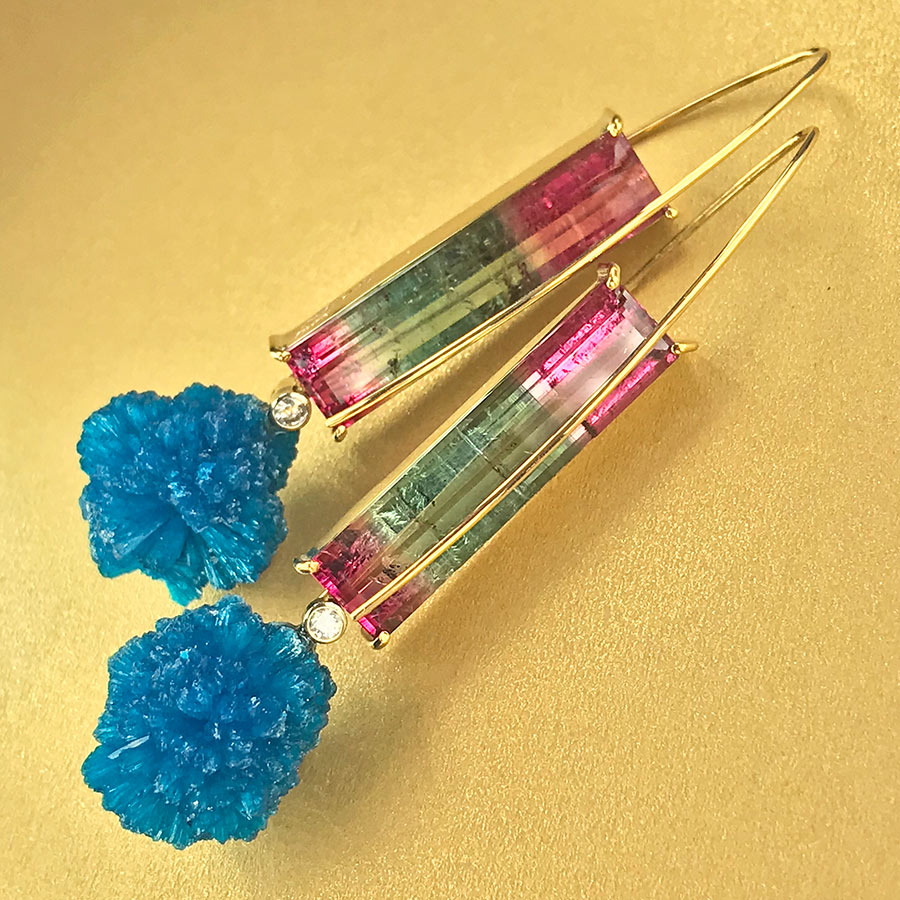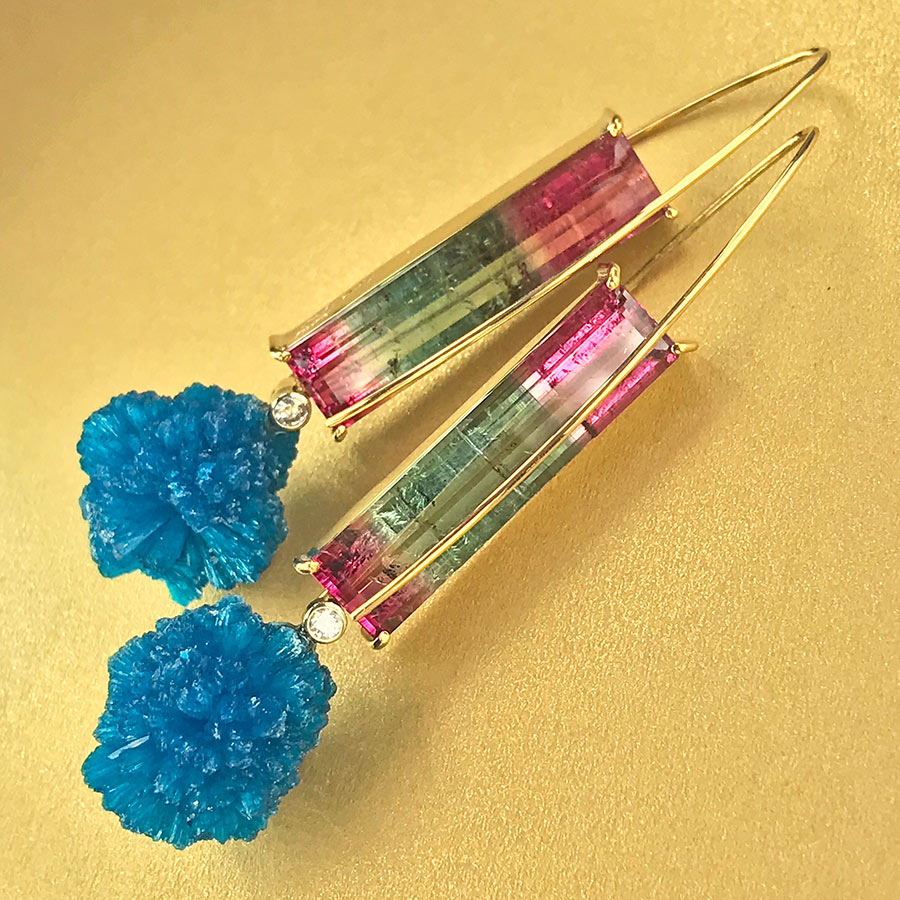 Mark Loren: Bicolor Tourmaline & Cavasanite Earrings
Mark Loren has decided that earrings should have the earwire in front not in back anymore, judging from all the earrings he entered in this year's competition. These earrings begin with tricolor tourmaline and then explode in vivid blue cavasanite crystals. It's an interesting juxtaposition of geometry and fractals accentuated by the contrast. This kind of experimentation is what Spectrum is all about. Mark Loren also entered an equally crazy wrist and finger hand jewel called a racelette set with bicolor tourmalines. It's too bad he;s not on Instagram because I would definitely follow that kind of crazy.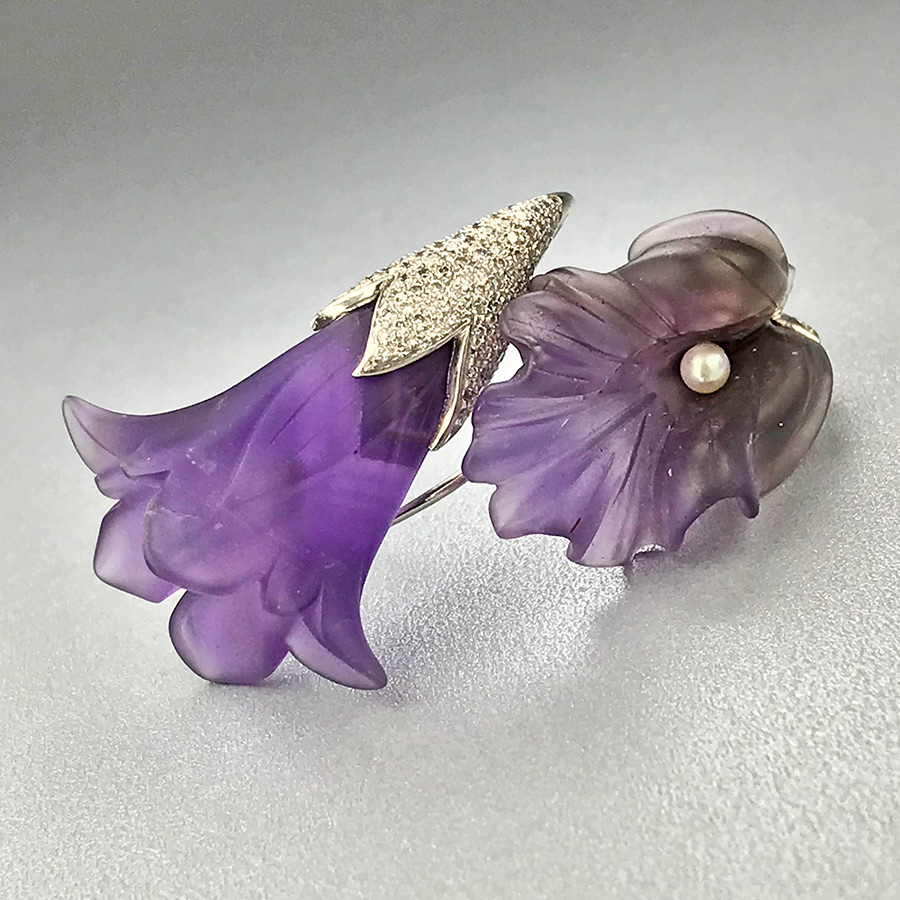 Carolina Palermo Schultze, CPS Jewels: Spring Genetian Earrings
These mismatched earrings by Carolina Palermo Schultze are so wearable. They are set with two different carved amethyst flowers, each with a matte finish, pearl center, and platinum and diamond calyx. Carved gems are a big trend right now and I expected to see more of them at spectrum but these earrings are a good example of the kind of design that many women want to wear but which rarely gets celebrated in design competitions: well made, versatile, everyday jewelry that you reach for over and over.
That's why I find Spectrum so inspiring: among all the showy pieces are some quiet everyday jewelry designs that give you inspiration for your own wardrobe.
To see images of all the winners, follow AGTA on Instagram. I'll be posting images of even more of my favorites on my @kremkow Instagram account as the month continues: it was very difficult to choose just 10 favorites! And there are loose stones too!  I mean, just look at this kite-shaped faceted crystal opal by Steven Moriarty of Moriarty's Gem Art. (And wait until you see the video!)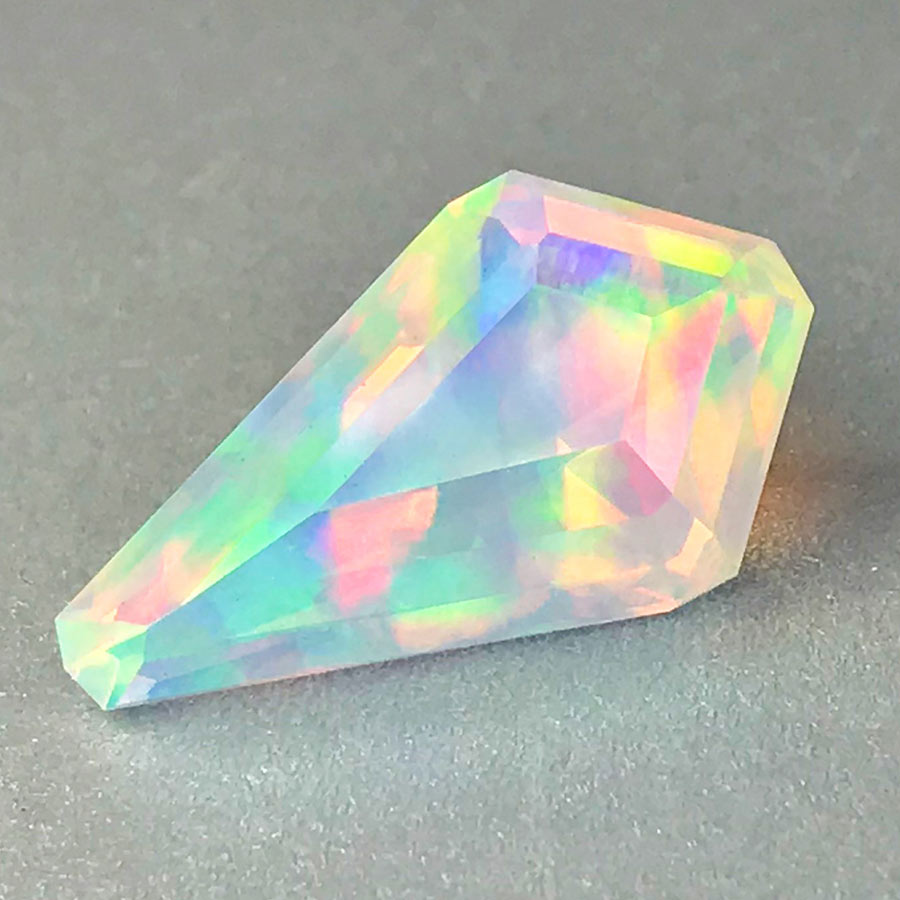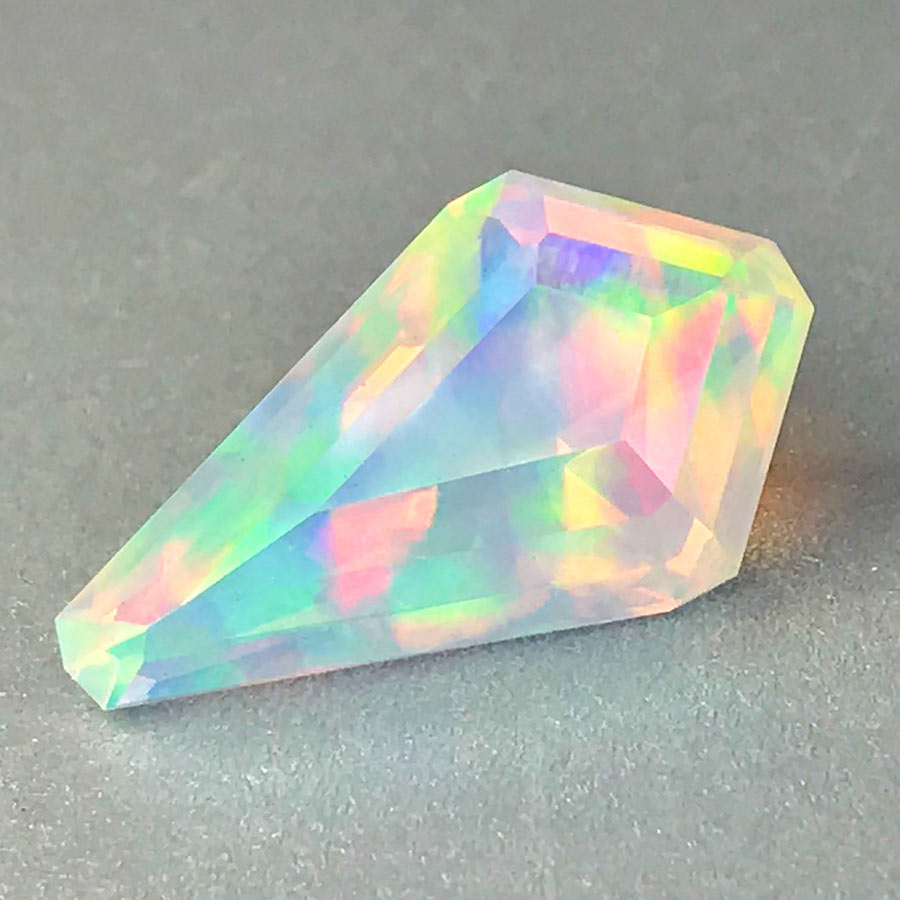 Let me know which 2018 Spectrum Award designs you like best in the comments below.