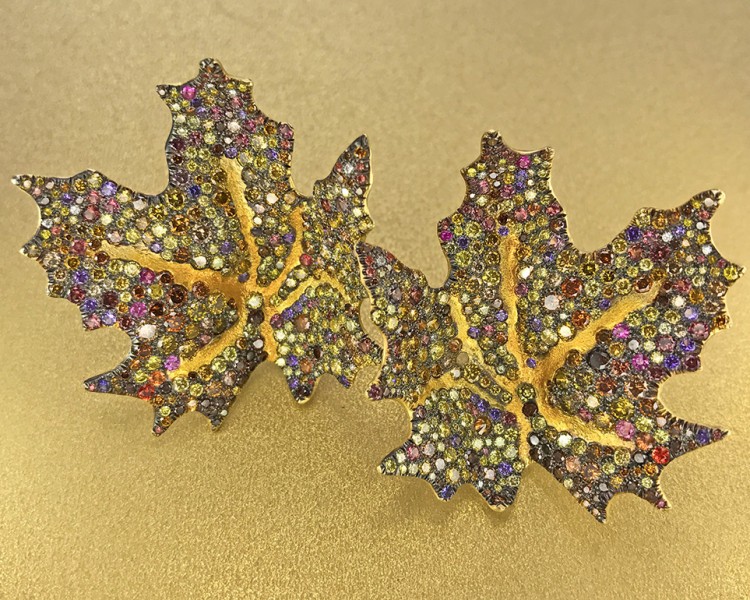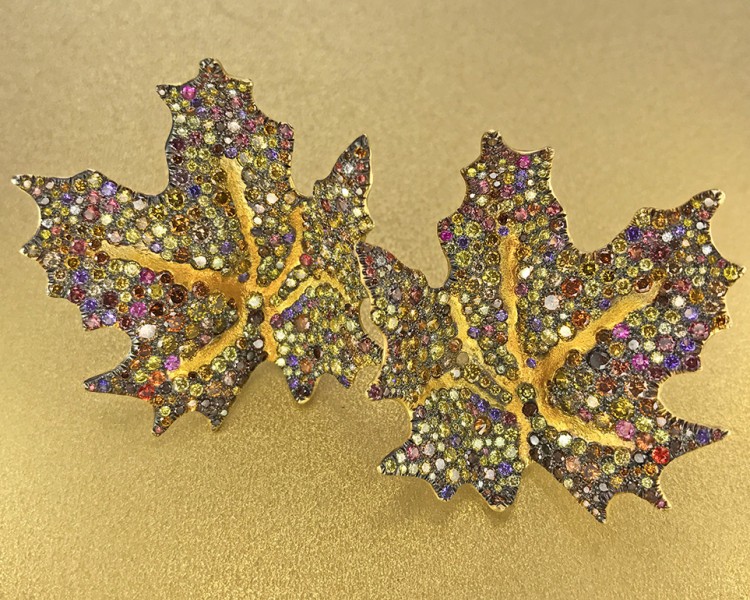 Top Ten: 2017 AGTA Spectrum Awards
Happy Spectrum Awards!  Every year the American Gem Trade Association celebrates a rainbow of gemstones with the AGTA Spectrum Awards, my favorite jewelry design competition.  I love it because the AGTA invites editors and bloggers to a viewing to see all the entries, not just the winning designs.  It's incredibly inspirational.  I always find a few pieces that I like better than the winners (although a wide selection of categories ensures that there is always something to love on the awards table too.) I like to focus on more wearable designs that many design competitions overlook because they aren't showy, just something interesting and cool that I think you might want to add to your jewelry wardrobe. My favorite design this year are the Maple Leaf Earrings by Naomi Sarna that you can see above (and again at the end of this post.)
The Spectrum awards include loose stones too and this year's best of show is an incredible 53-carat pair of neon blue tourmalines cut by Mikola Kukharuk for Nomad's that were jaw-droppingly beautiful. In fact, their blue-green color was definitely the color of the year, with entries in blue-green tourmaline, both Paraiba and not, and blue zircon adding a watery glow to many designs.
Here are my favorite designs from the 2017 Spectrum Awards. I'll be posting even more favorites on Instagram so be sure to follow me for another helping of delicious gems. (I spent hours at the viewing photographing all the fabulous pieces I could.) Let me know which of this year's designs you like best in the comments!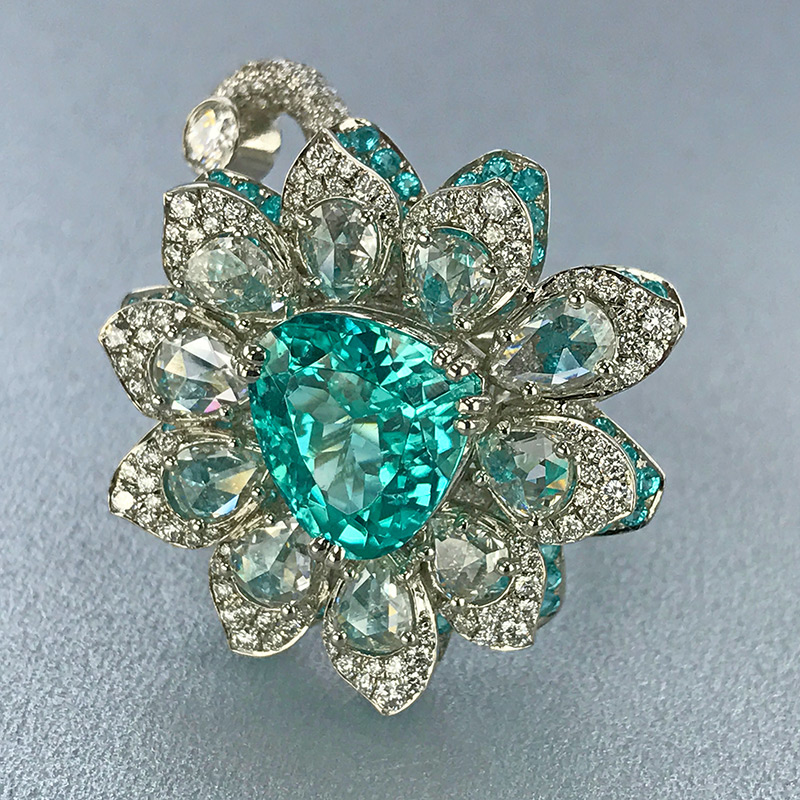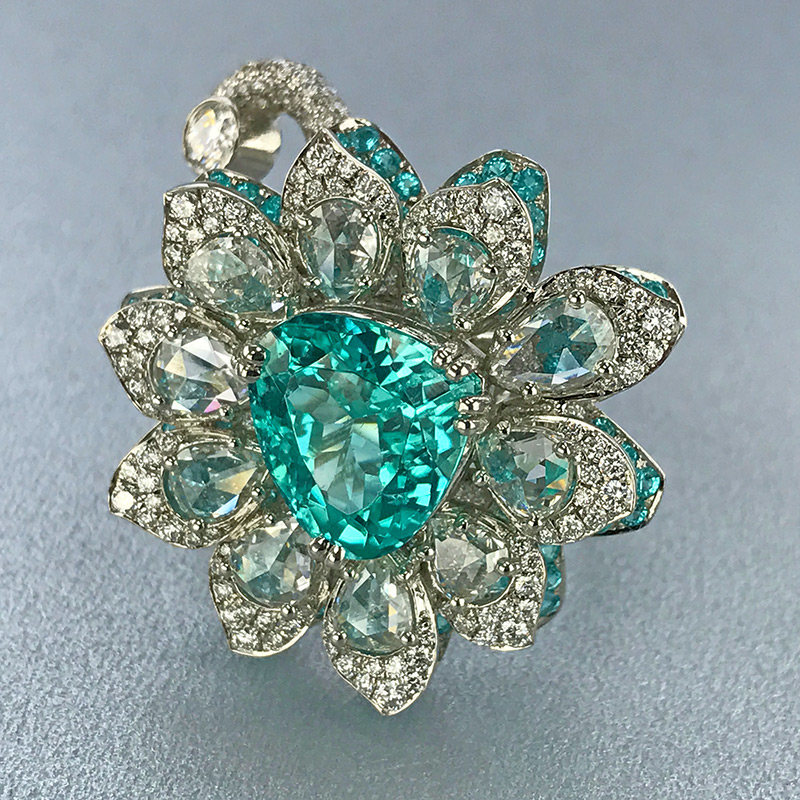 Paraiba Ring by Samuel Sulimanov
This Paraiba tourmaline ring by Samuel Sulimanov of Samuel Sylvio Designs makes good use of an unusually shaped center stone but what I really love is how the petals are packed with Paraiba melee: see the turquoise peeking out at the edges?  The blue is adding color to the rose-cut diamond petals. The curving stem is another nice touch.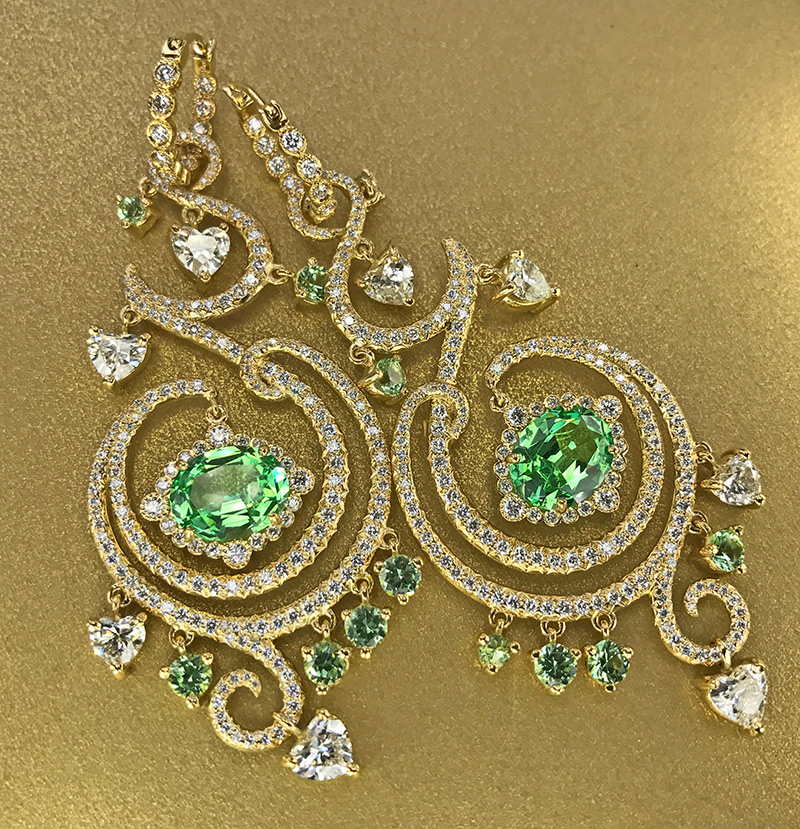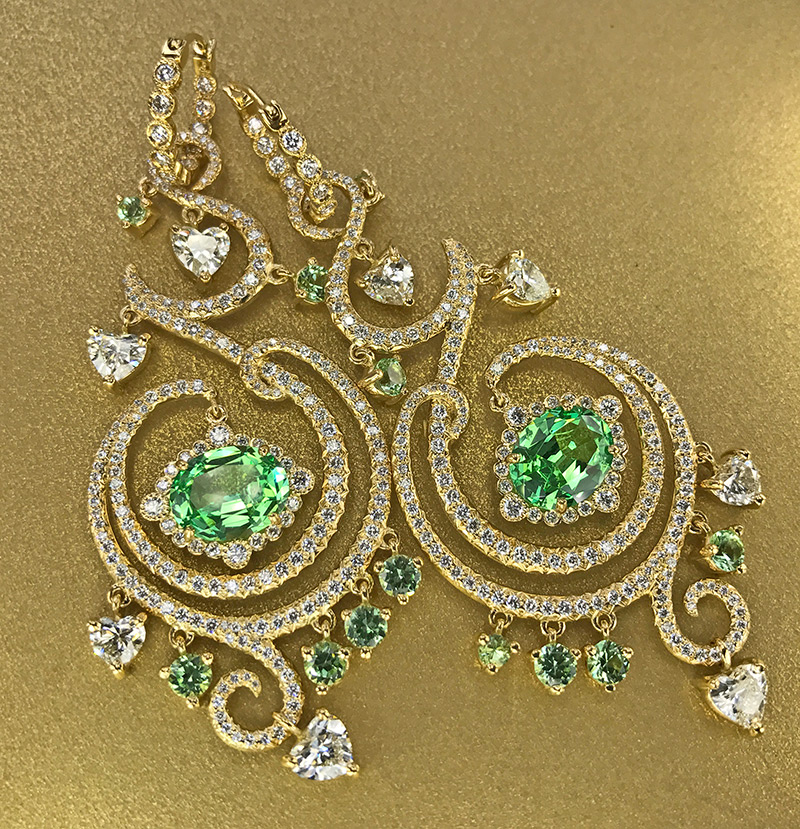 Genie Earrings by Erica Courtney
Mint grossular garnets and lots of diamonds dance, swing and sparkle in these showstoppers  by Spectrum hall-of-fame designer Erica Courtney. I love the way the shape makes me think of graceful Arabic calligraphy. And the dangles are removable so you can just wear the little diamond huggies.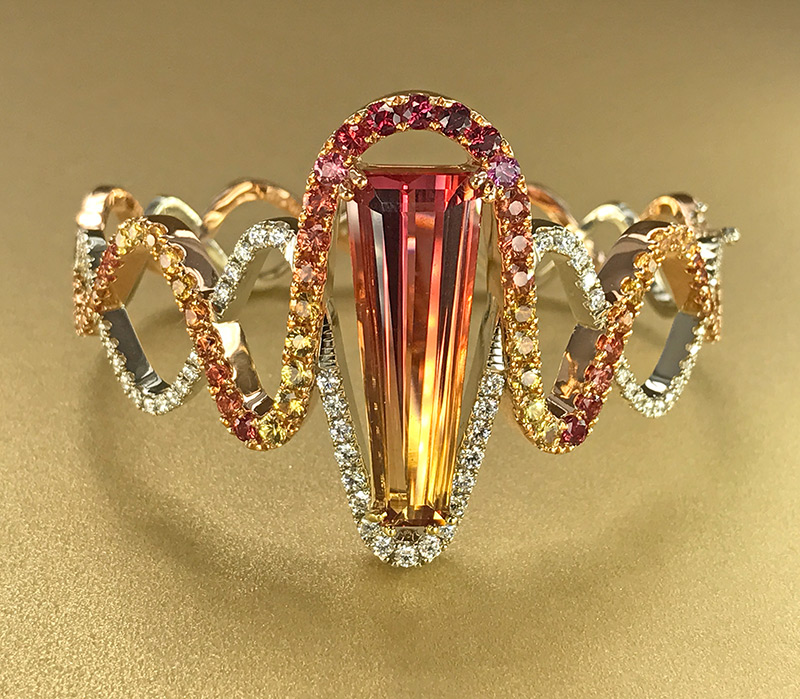 Randy Coffin, Temptress Topaz Bracelet
I would name this design, by Randy Coffin for Somewhere in the Rainbow, the torch bracelet.  I was photographing it the other way around, with the gold half of the topaz on top, but when I turned it around the gem just lit up! The bicolor topaz is rare and cool but not a shape I would have thought to set in a curvy design but this works beautifully. The curves of ombre fancy sapphires and diamonds beautifully accent the two tones of the topaz.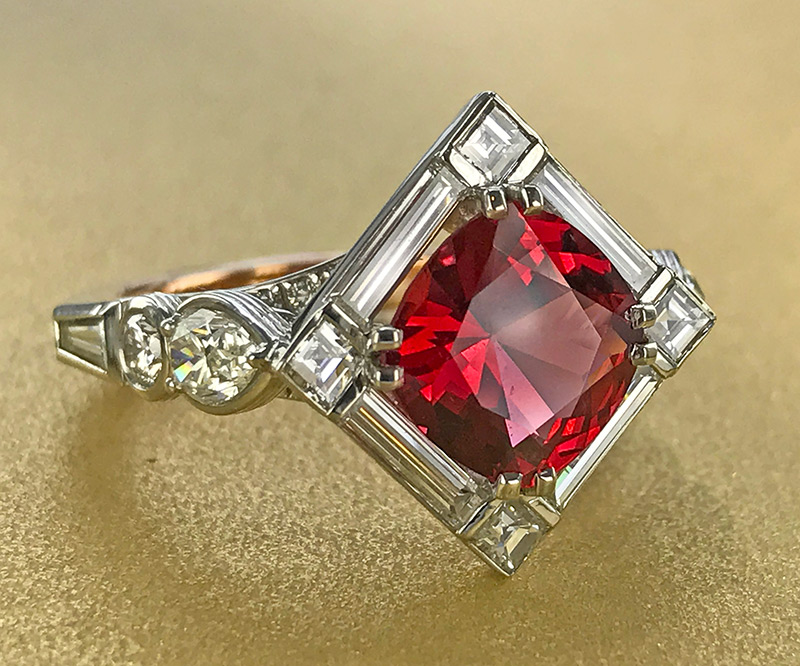 Queen of Sheba Ring by Robert Pelliccia for JR Dunn
This red spinel ring designed by Robert Pelliccia for JR Dunn Jewelers has such a cool baguette halo! (I can see why it won a platinum innovation award.) Such a beautiful frame for a rare and unusual gem. I hope this becomes a huge engagement ring trend. I'm not a fan of round brilliant cuts in general but this frame could make me a convert!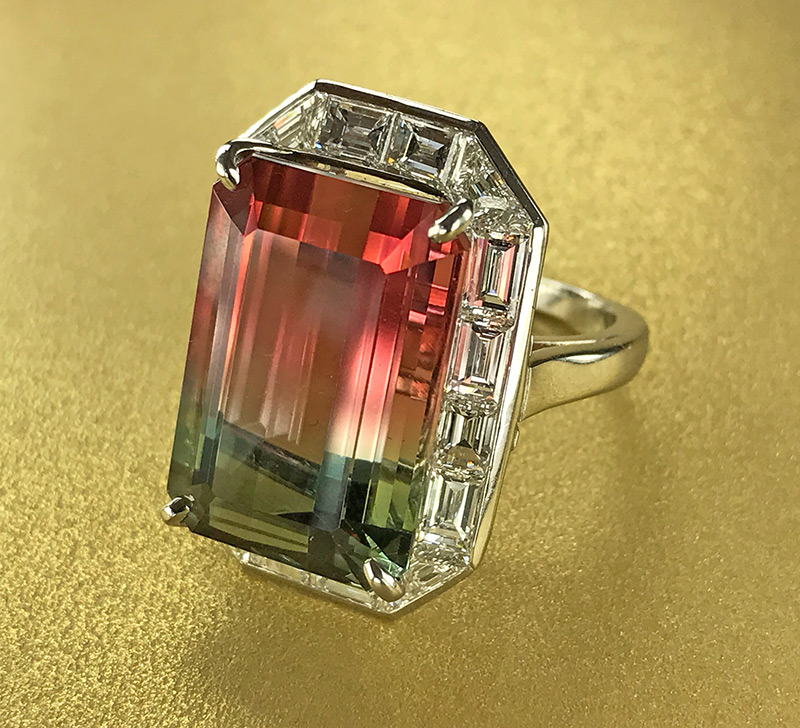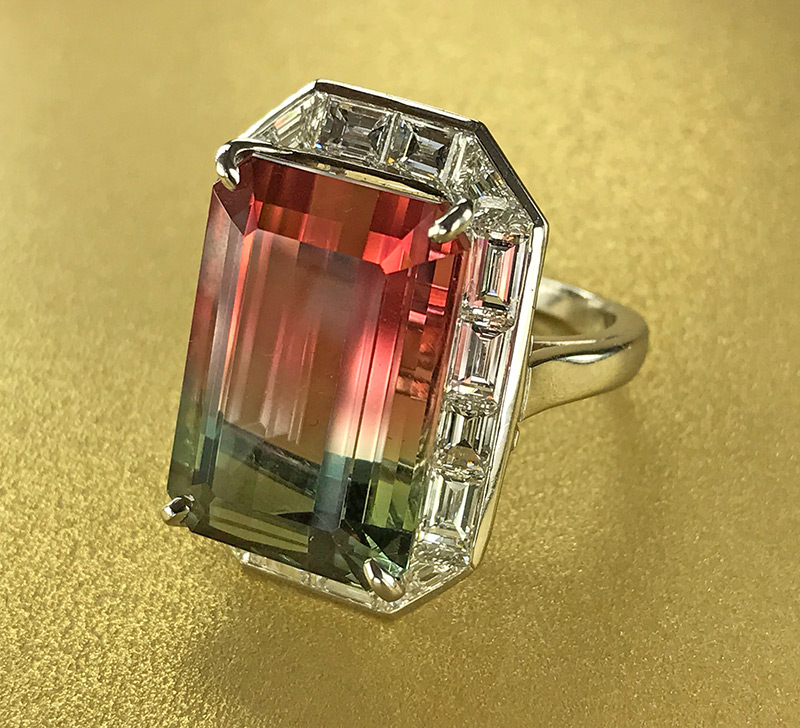 Bicolor Tourmaline Ring by Oscar Heyman
Another beautiful baguette halo, this one from Oscar Heyman surrounding a 19.40 carat bicolor tourmaline.I am definitely ready for this to be a trend, aren't you?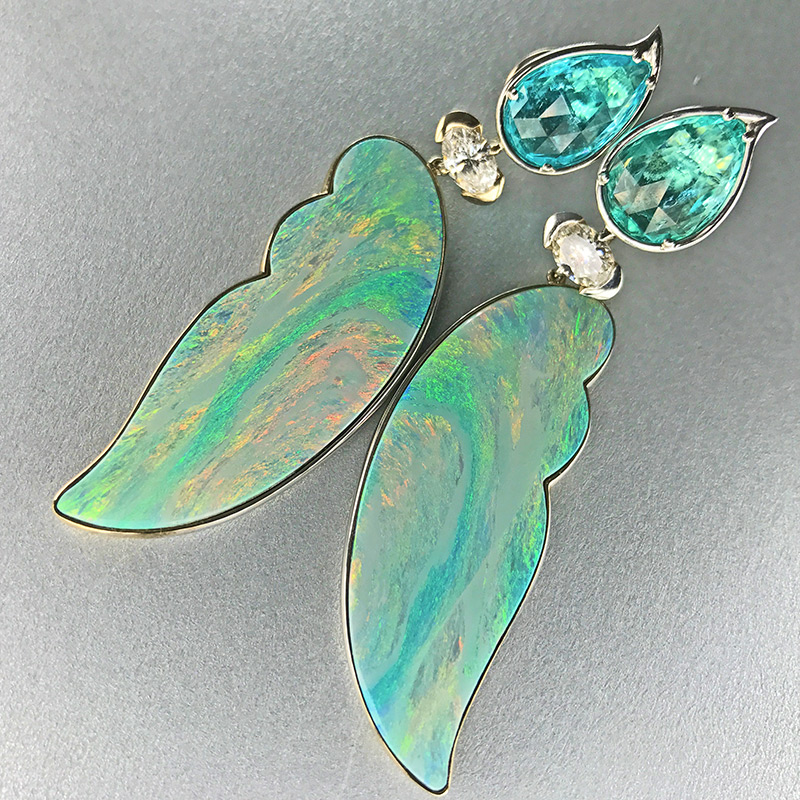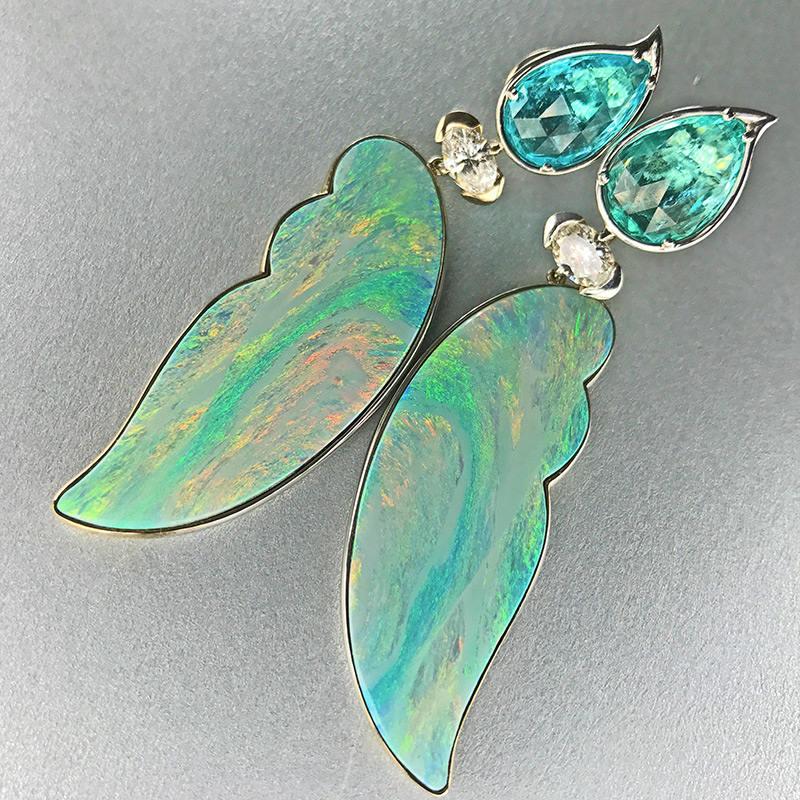 Paisley in Paradise Earrings by Heath London
These 37.60 carat pair of lovely carved opals look like butterfly wings.  I love the way designer Heath London split them up into earrings and accented them with Paraiba tourmalines. Because everything in life that isn't framed in baguettes should be accented with Paraiba tourmalines!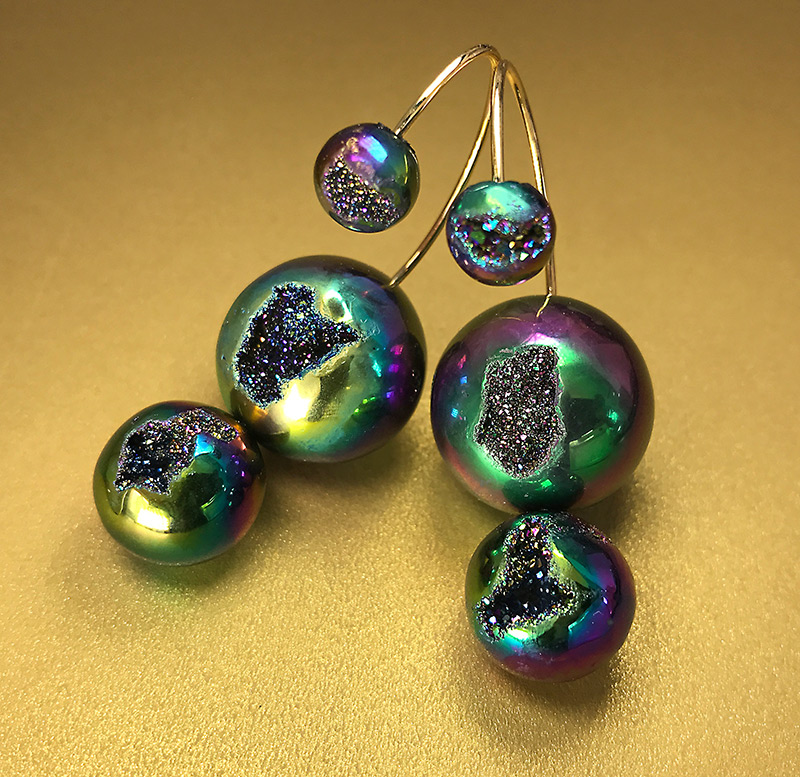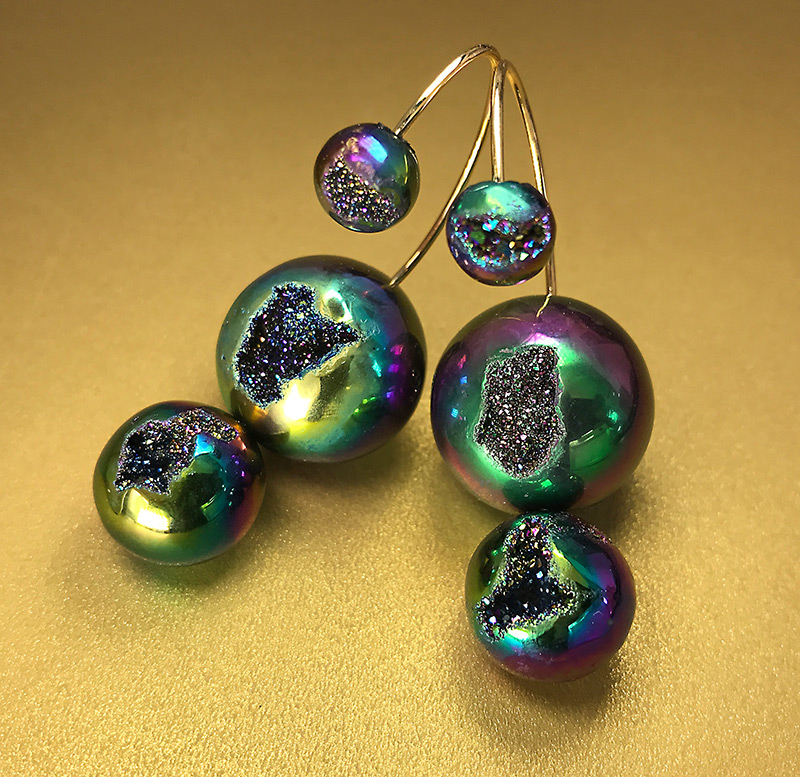 Titanium-Coated Drusy Earrings by Mark Loren
These crazy colorful disco ball earrings by Mark Loren aren't particularly natural but they are interesting.  I might have preferred the natural drusy agate colors, whatever they were. I like the space-age vibe and the combination of natural form and unnatural color.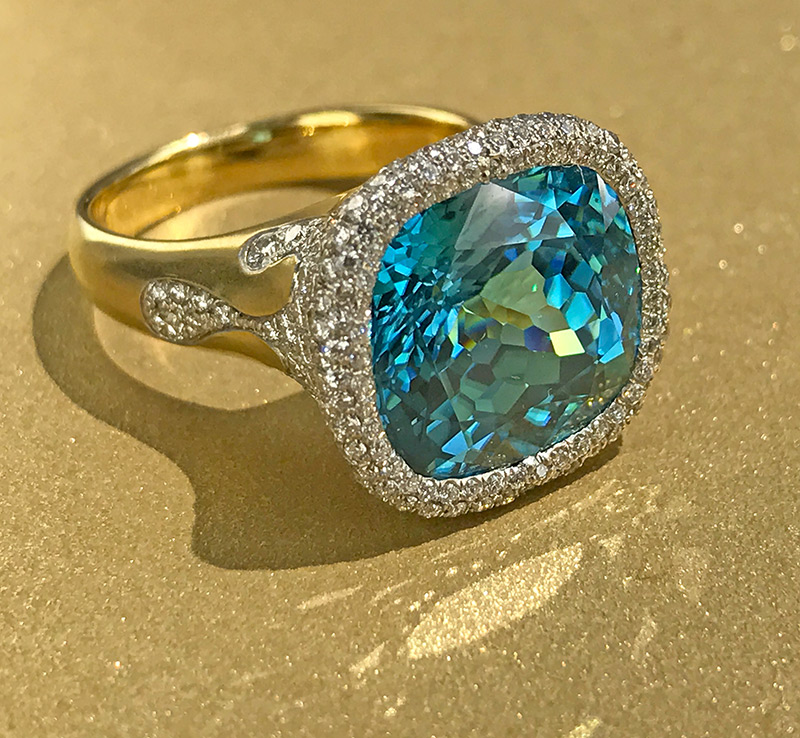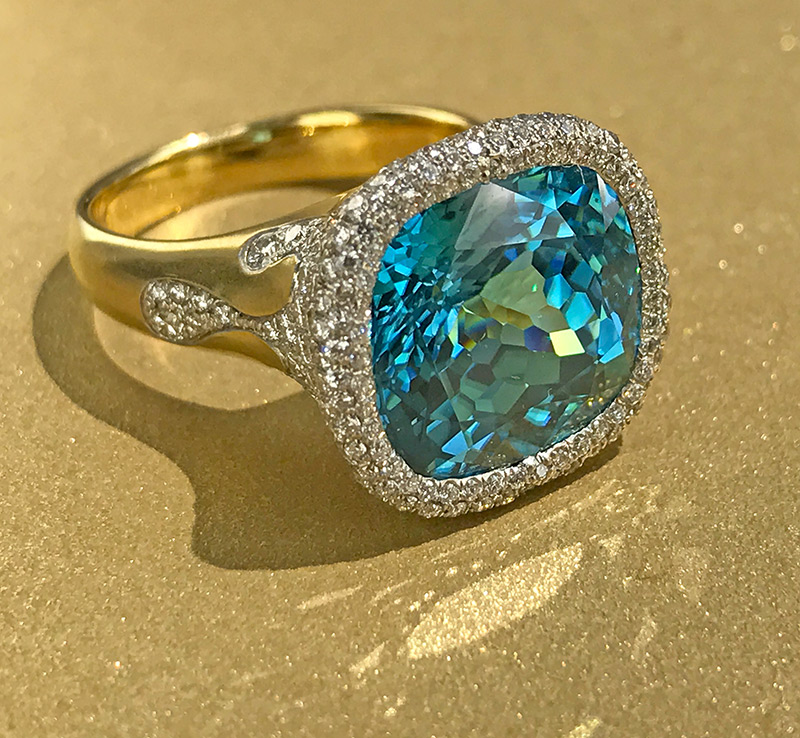 Blue Lagoon Ring by Ricardo Basta
This striking blue zircon ring by Ricardo Basta for E. Eichberg Inc, has a lovely pave frame. But what really makes the design for me is the carved profile and the pave splash motif on the shank: a really fun reference to the pool-blue color of the zircon.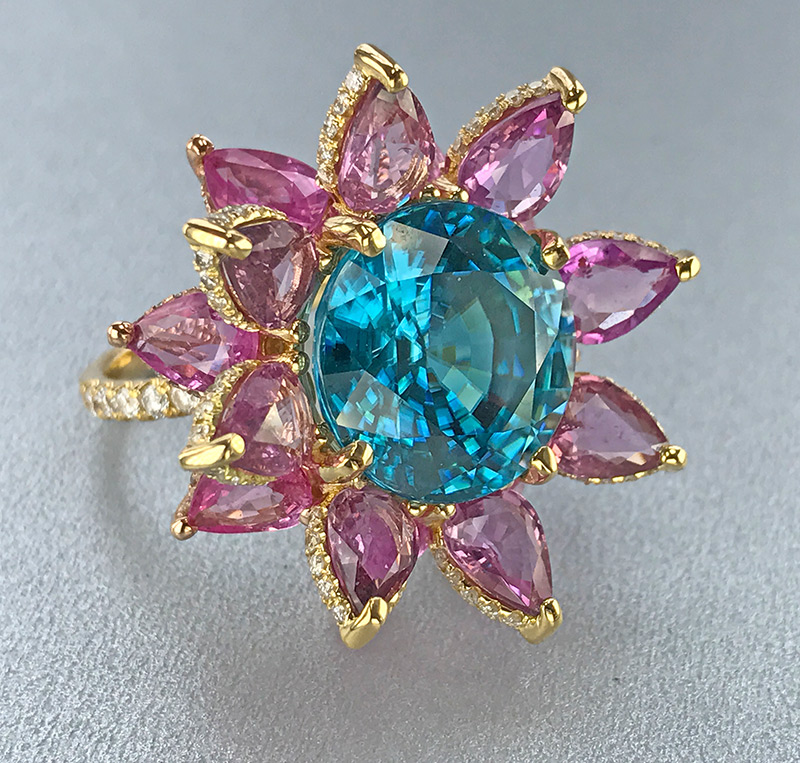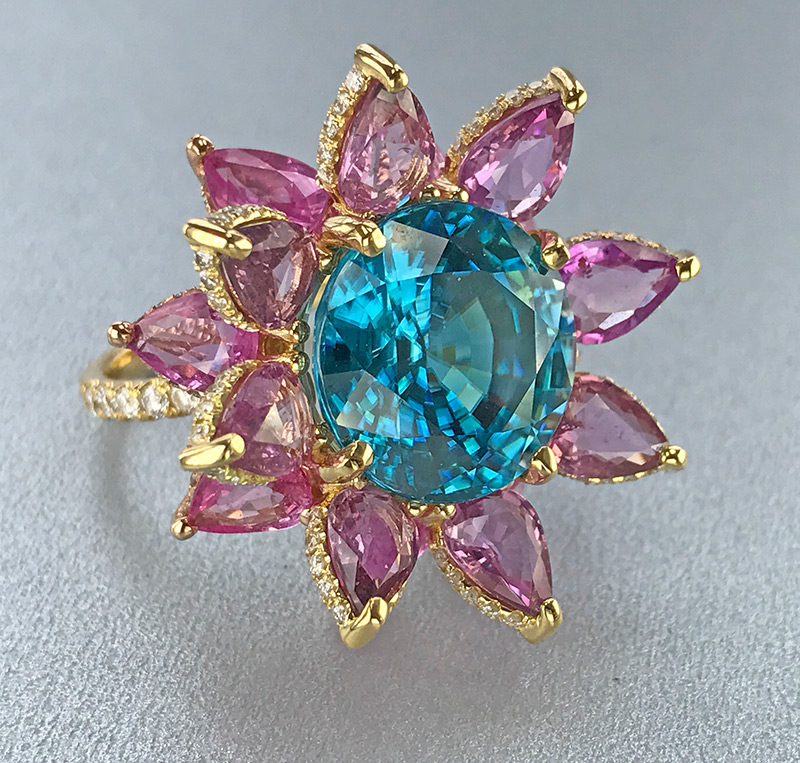 Zircon and Sapphire Ring by Manya Nazarian
This flower ring by Manya Nazarian for Manya Jewelers is nicely dimensional with two layers of petals. But it's the bold color combination that makes this design stand out for me. Even the metal is a combination of 18k yellow and 14k rose gold.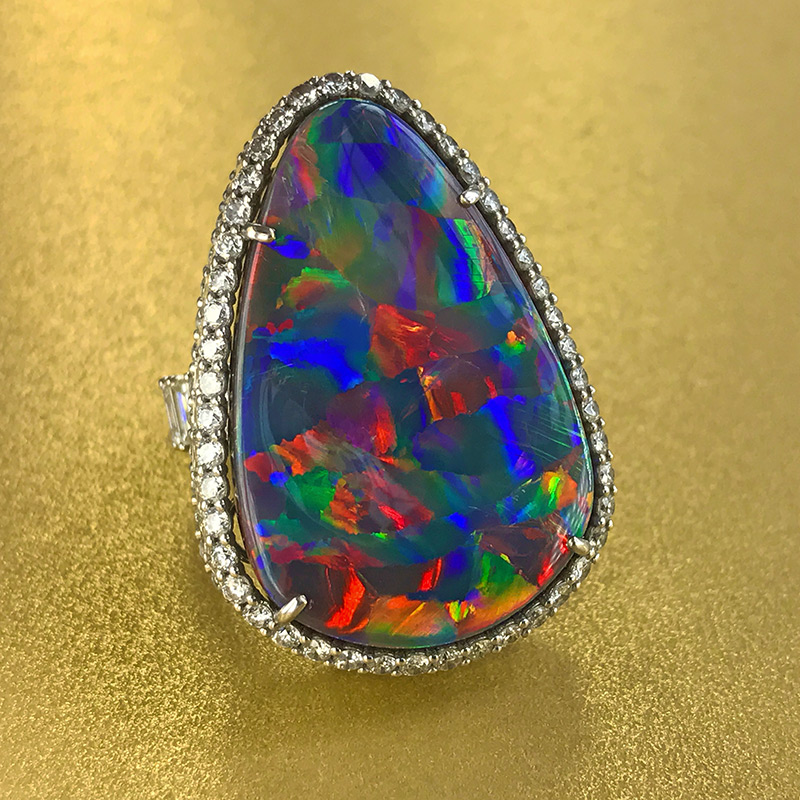 Opal Ring by Victoria Tse for VTse
This design may not be the most innovative in the competition (although there is a lovely line of baguettes around the outside of the gem that you can't see in this image.) But this opal is incredibly stunning, with a depth of red and blue that I couldn't quite capture in this photo. The harlequin pattern and shifts from red to blue are pretty textbook Harlequin. It's a mood ring for every mood.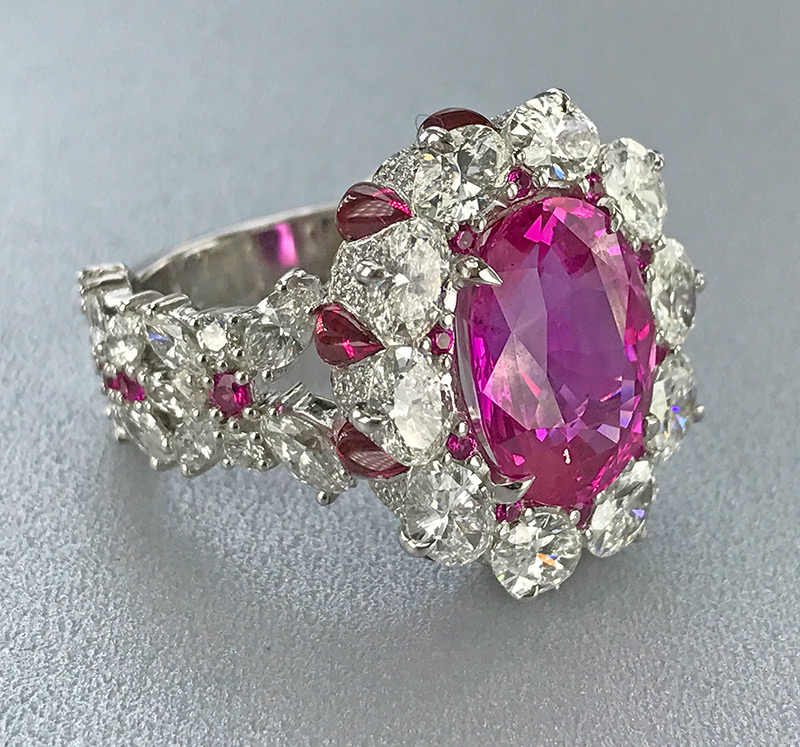 Pink Sapphire Ring by Caroline Chartouni
This ring has a very intricate halo and band designed by Caroline Chartouni of Caroline C. The ovals, the pear-shaped cabs, the rounds and then the diamond flowers around the finger, it all works together to make this ring really special.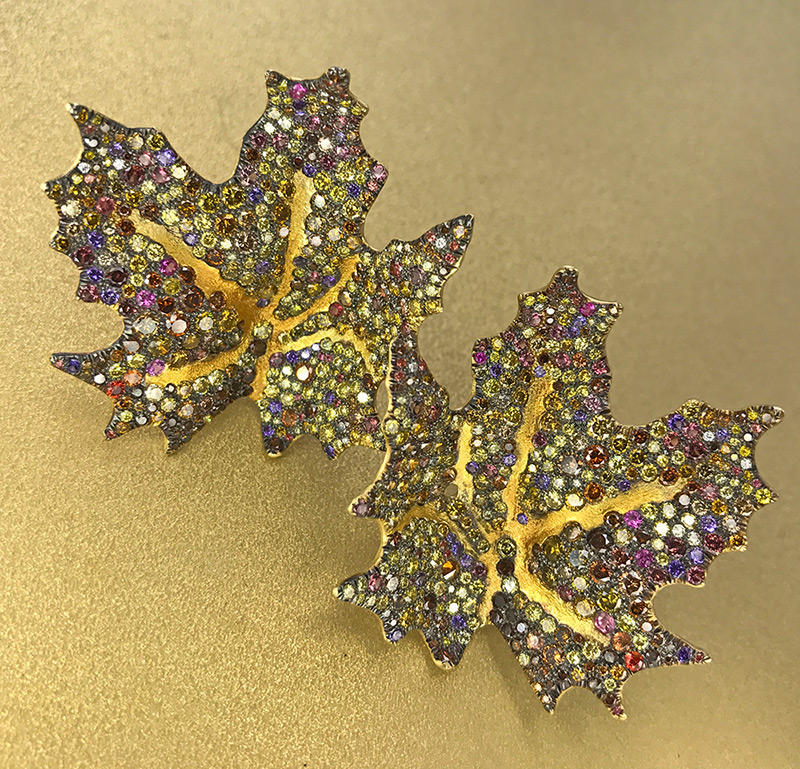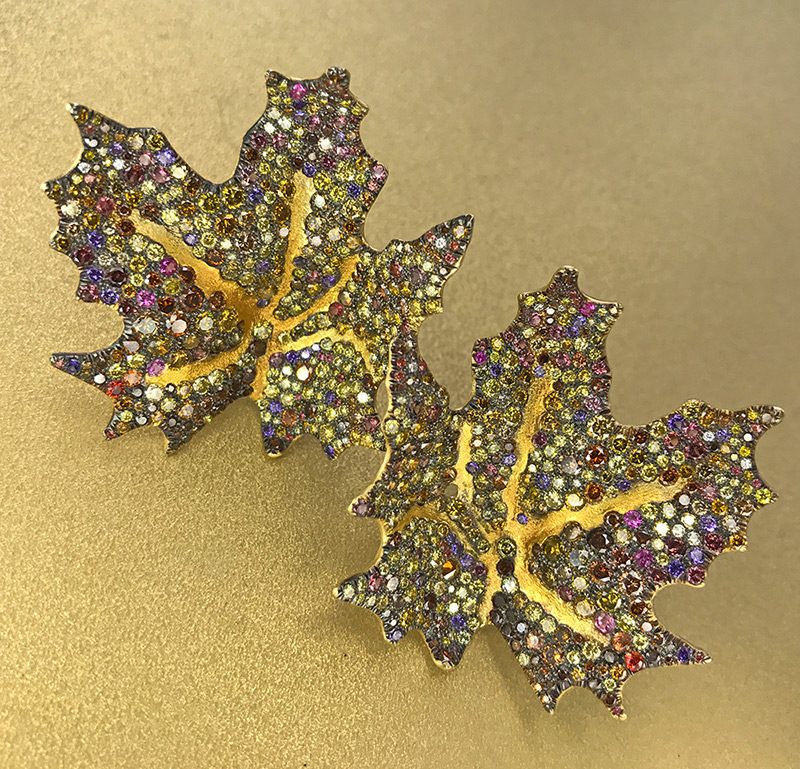 Maple Leaf Earrings by Naomi Sarna
I saved the best for last!  My favorite design of the 2017 Spectrum Awards are these maple leaf earrings by Naomi Sarna. Sapphires, garnets and diamonds in 18k and 24k gold form a stunning pattern of colors that is totally different from far away and close up. They are like a pointillist painting in gems.
Which design is your favorite?  Did I miss something spectacular?  Let me know in the comments.