The Earrings of Spectrum
The AGTA Spectrum Awards celebrates colorful gemstone jewelry. One of the best things about this design competition is that the AGTA's press event not only showcases the winning designs but displays all the entries, which makes it possible to see design trends, interesting new gem material and popular color combinations.
The top trend this year was drop earrings. Opals, briolettes, pearls. Flowers, fringe. There are some beautiful designs that were 2013 Spectrum winners.  But also some spectacular styles that were not recognized. Here are some favorites.
These Japanese plum blossom earrings by Gregore Morin  of Gregore Joailliers are carved pink opal with black and white diamonds.  Nice combination of sweet and spiky, don't you think?  These earrings won first place in Spectrum's Business/Day Wear Category (and Gregore also won second AND third in that category!)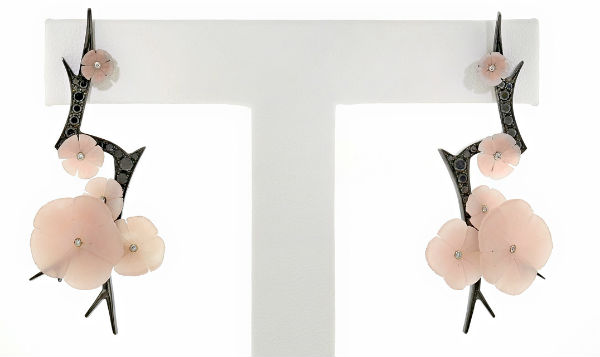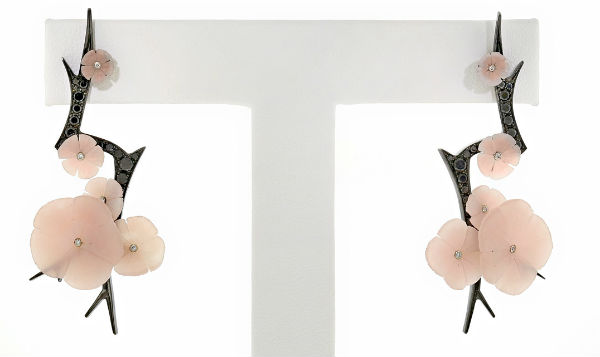 These earrings designed by Wendy Brandes are amethyst and tsavorite. The vine-like tsavorite cage that holds the drop is a really lovely and elegant solution for suspending the drop. (So many drop earring designs just use some kind of horrible off-the shelf cap.)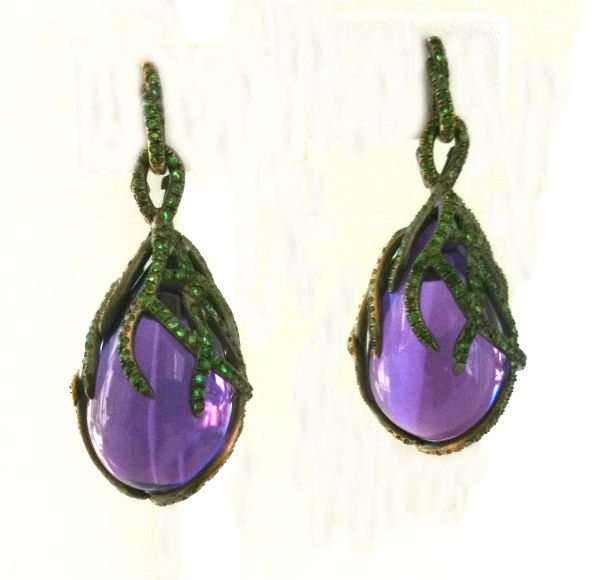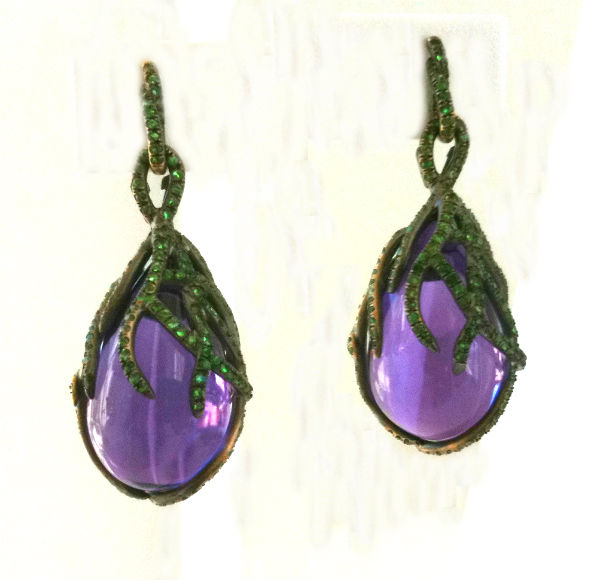 These earrings by Paul Klecka are bright and bold but still very wearable. I like the long blue topaz lens cut and the cushion amethyst set at an angle. (The other gems are pink tourmaline and peridot: when's the last time you saw these colors together in a piece?) Again, the elegance of the incorporated hardware with the accent gems is what makes this design special.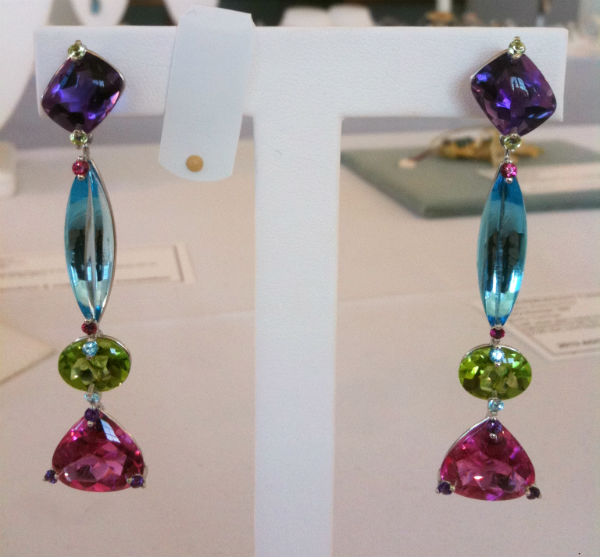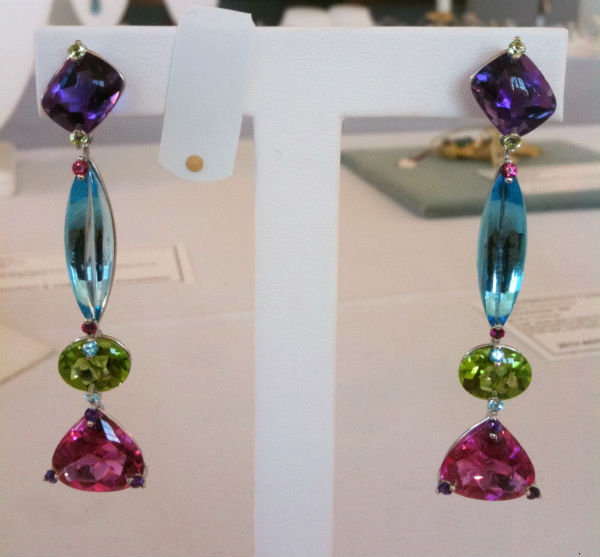 Erica Courtney's turquoise and rubellite earrings are so flattering and wearable. I like that they are yellow gold. (Another trend at this year's awards.)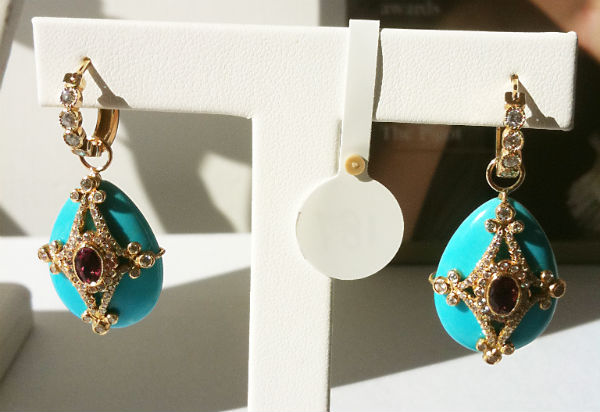 It's hard to see in my terrible cell phone photo but the triangular topaz slices in these earrings by Cynthia Renee have an interesting ice pattern. The shapes here are really graceful.
These earrings by Dierdre Featherstone won Best Use of Platinum. The gems are opal, tanzanite, sapphire, tourmaline, tsavorite, turquoise, and diamond. Very red carpet: they literally are shoulder dusters.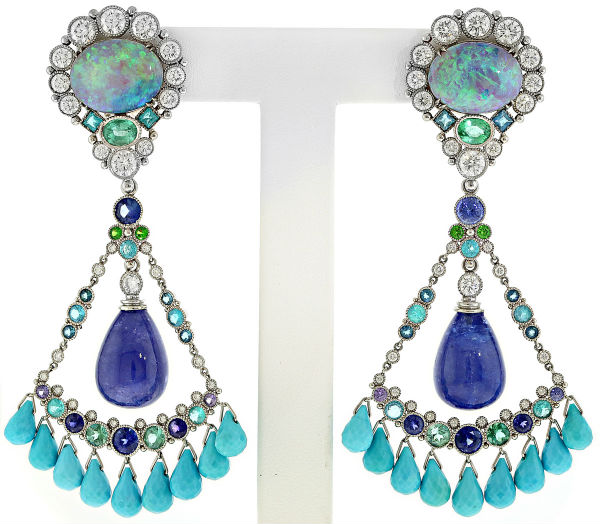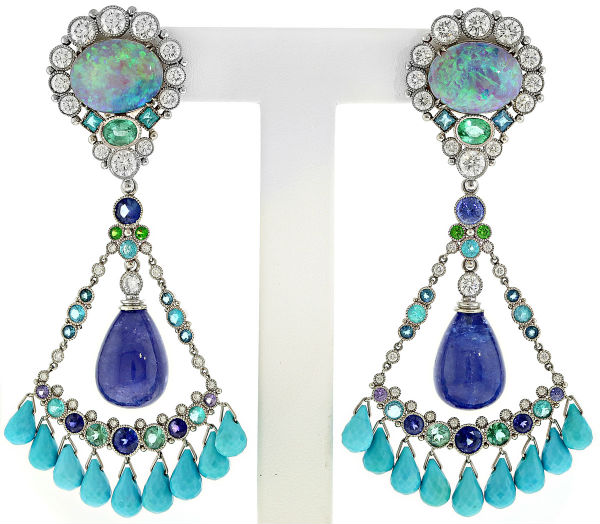 These earrings by Caroline Chartouni are rose quartz, rose gold and diamonds. The rose quartz drops are 56 carats. These won a Gem Diva Award for Business/Day Wear.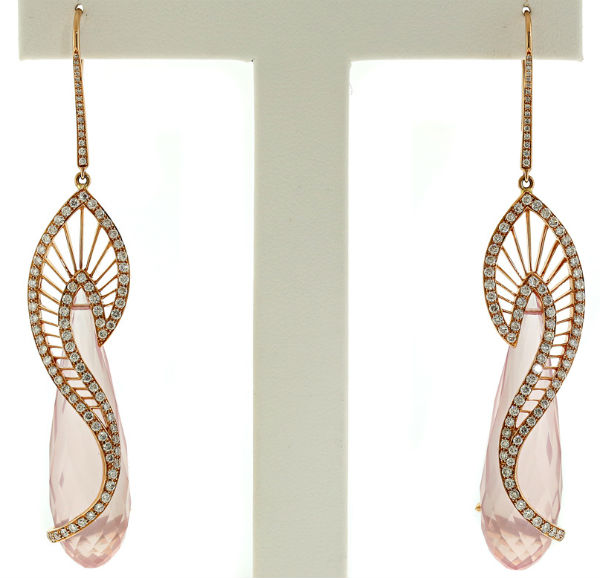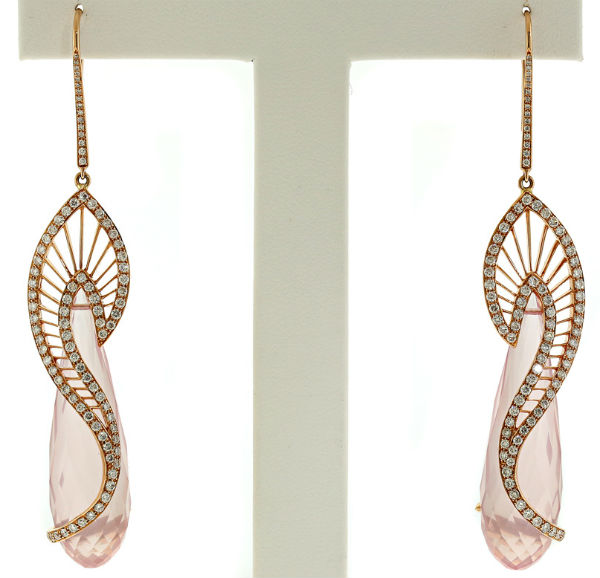 In this post on my favorites from the 2013 Spectrum Award winning designs I featured two more spectacular drop earrings by Anil Maloo of Baggins Inc and Erica Courtney. And I didn't get a good photo of the dreamy London blue topaz and sapphire Lily Pad earrings by Jane Taylor: if AGTA posts images again this year, I'll add a link. All in all, a fabulous year for earrings in the Spectrum Awards don't you think?
Which are your favorites?