Space Age Jewelry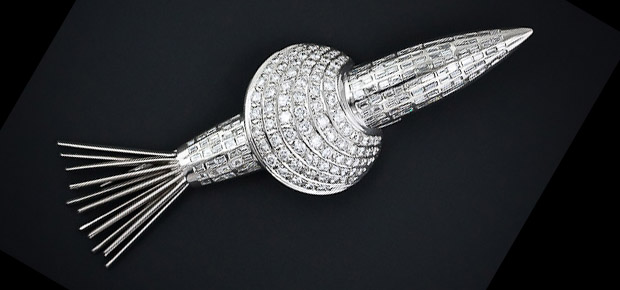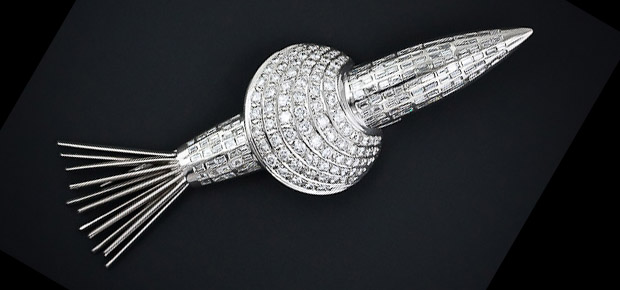 In 1835, Halley's Comet appeared, right on schedule, in the night sky. Jewelers celebrated with comet-inspired brooches and launched a new era of jewelry design that continues to this day. Jewelry inspired by space is celebrated in a new exhibit at the Forbes Galleries that opens March 16 and runs until September 7, 2013.
Curated by Elyse Zorn Karlin, co-director of the Association for the Study of Jewelry and Related Arts,  Out of this World: Jewelry in the Space Age features pieces from over 100 designers, luxury brands, collectors, and even a few astronauts.
Stars, moons, satellites, rockets, meteorites, orbits, and other cosmic themes dazzle in diamonds, pearls, gems, and space-age materials like titanium, polymer, and fiber optic glass. The exhibit includes a wide range of both fine and costume jewelry with a smattering of space memorabilia.
Curator Elyse Karlin was inspired to research the topic when she realized that two brooches she owned from the sixties were inspired by the quirky shape of the 1957 Sputnik satellite. Sputnik-shaped jewels are one of the more interesting design motifs explored in the show.
One of the exhibit's highlights is an 18k gold model of the lunar module from Apollo 11: created for each of the three astronauts by Cartier as gifts from the readers of French newspaper Le Figaro to celebrate the lunar landing.
The exhibit also includes contemporary styles, including the intricate Tampa Necklace created by Van Cleef & Arpels in 2010 to celebrate Jules Verne's Voyage to the Moon.  Contemporary jewelers included in the show include Steven Kretchmer, Lisa Krikawa, Gina Pankowski, Kara Ross, David Yurman,