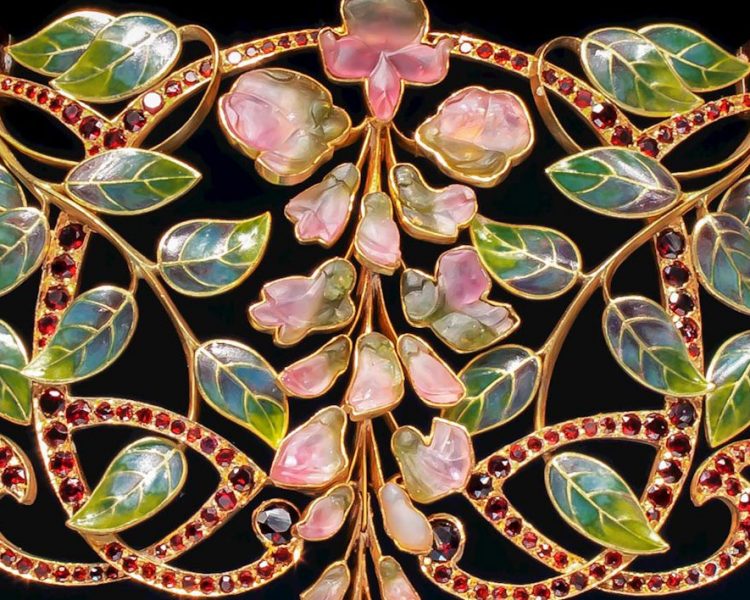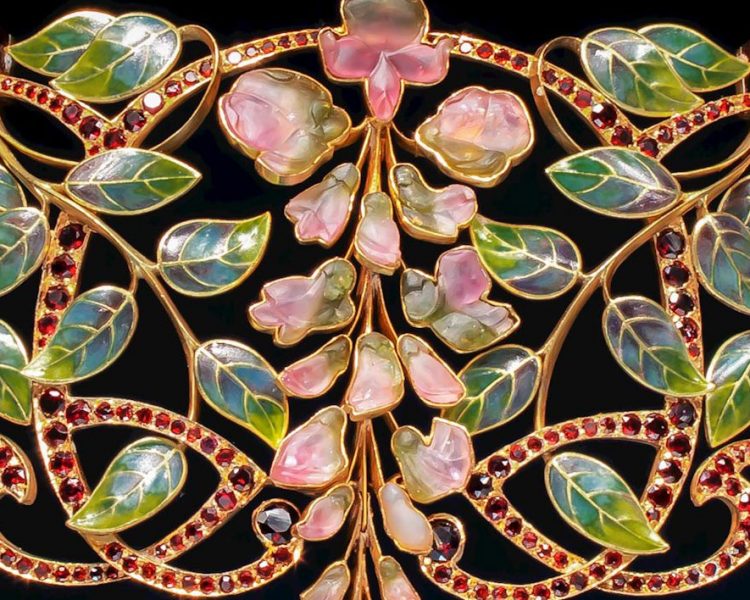 A Preview of the Jewels of TEFAF Maastricht
The annual TEFAF fair in Maastricht is a showcase for art and antiquities, including museum quality jewelry from contemporary masters like Wallace Chan, Hemmerle, and Glenn Spiro as well as vintage jewelry by Suzanne Belperron, Lalique, and other sought after-makers. With a growing international profile thanks to new spin and fall events in New York, the annual main event in Maastricht has an awe-inspiring collection of jewelry on display. I won't be attending to photograph the jewelry in person but I enjoyed the previewed pieces so much I thought I should share them with you too.  Here is a small sample of the riches that will be on display when the fair opens on March 10.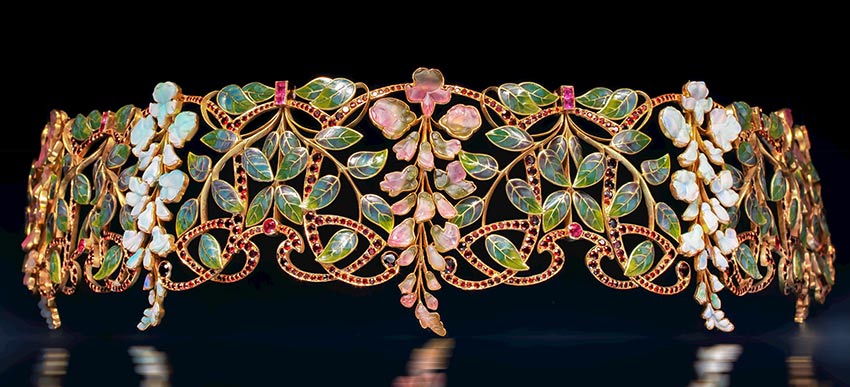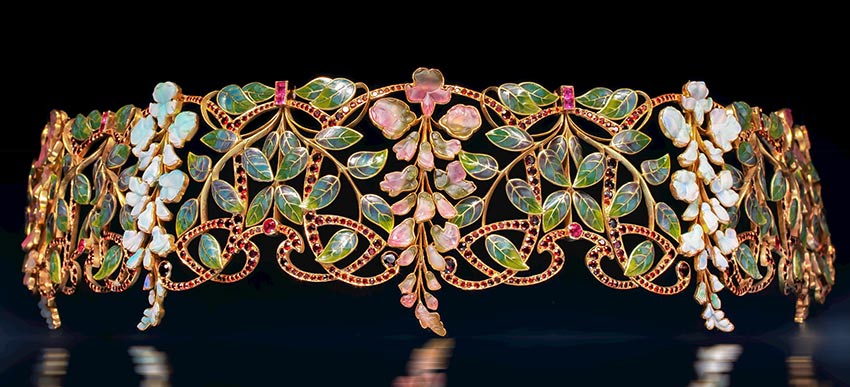 Glycines Choker by Philippe Wolfers
This exquisite 1901 choker with carved watermelon tourmaline, opal, ruby, and garnet with plique-a-jour enamel is a textbook example of everything that is wonderful about Art Nouveau jewelry: the whiplash line, the unusual gemstones, the natural inspiration, and the lightness and translucency. It also has great provenance: it comes from the estate of Sophie Willstädter, who was the wife of Philippe Wolfers. How lovely to think that he made this beautiful choker specifically for the neck of his beloved. It's offered by Epoque Fine Jewels.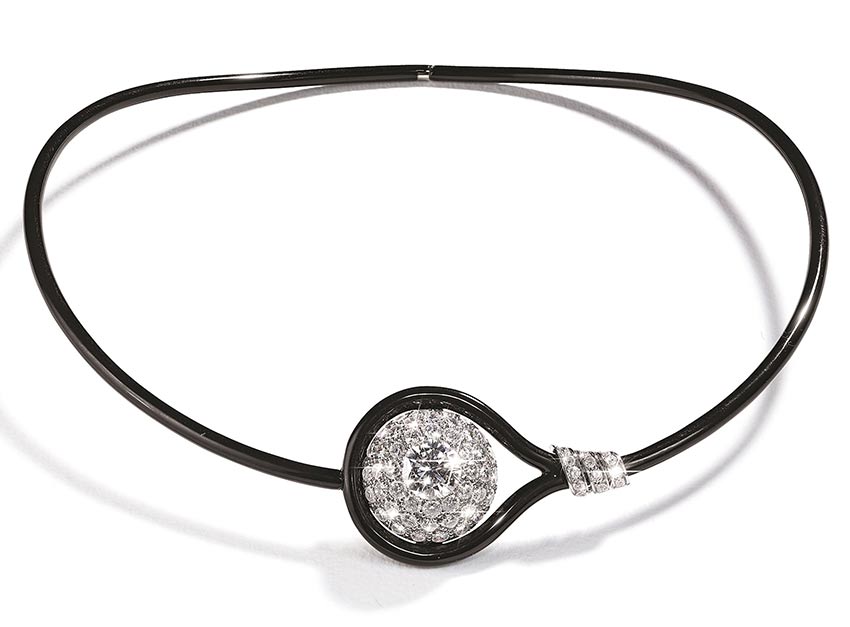 Toggle Torque Necklace by Suzanne Belperron
This design by Suzanne Belperron was originally created for Elsa Schiaparelli, who was photographed wearing hers for the September 1933 issue of Vogue Paris. The recent revival of the Belperron brand couldn't come at a better time: her designs, like this choker, feel absolutely current. This choker is black lacquer, platinum, 18k gray gold and six carats of diamonds from Herz-Belperron.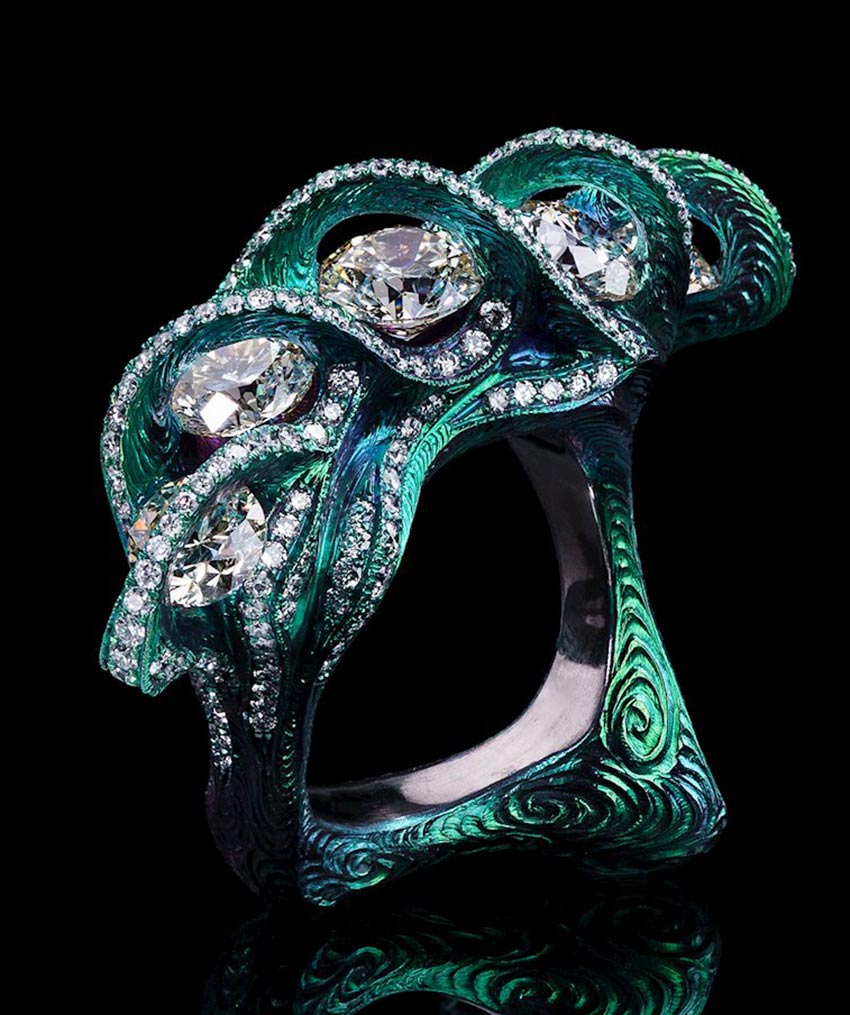 Bridge of Waves Ring by Wallace Chan
Titanium waves dance into white and yellow diamonds in this dynamic design by modern master Wallace Chan. The diamonds sparkle light sunlight on the waves, hidden and revealed behind the curves of metal in a design that merges sea and sky.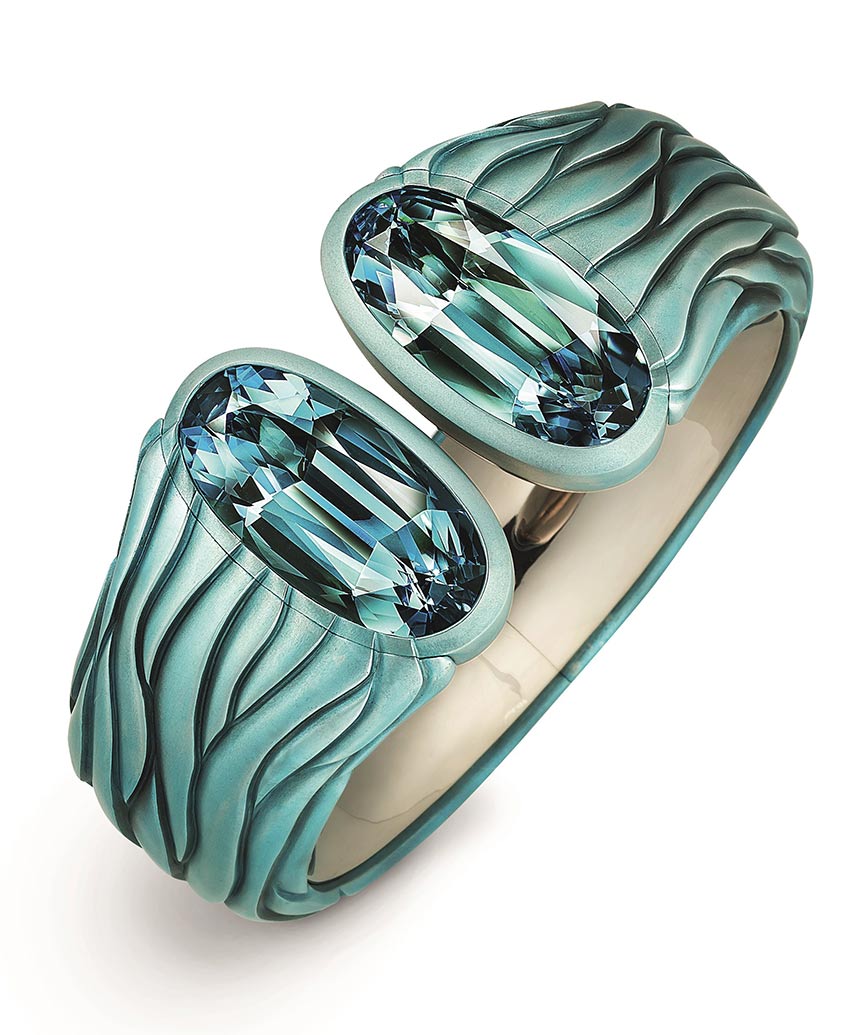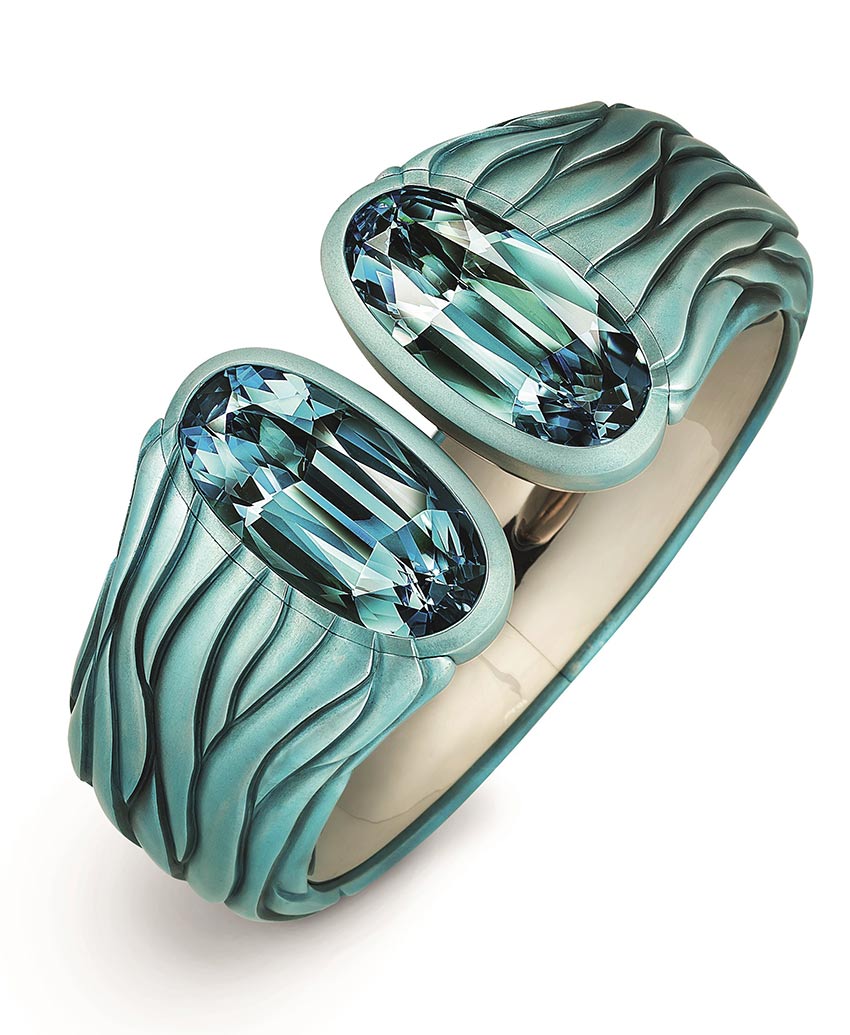 Harmony Bangle by Hemmerle
The matching aquamarines in this bangle are set in the perfect shade of light blue aluminum. It twists gracefully to open: if you've never tried on a Hemmerle bangle, you have to do it at least once to appreciate the engineering that goes into making pieces that are so streamlined and understated (if you can call a bracelet with more than 50 carats of flawless aquamarine understated!). It's the company's 125th anniversary so I am sure they will also have a few surprises on display from their archives.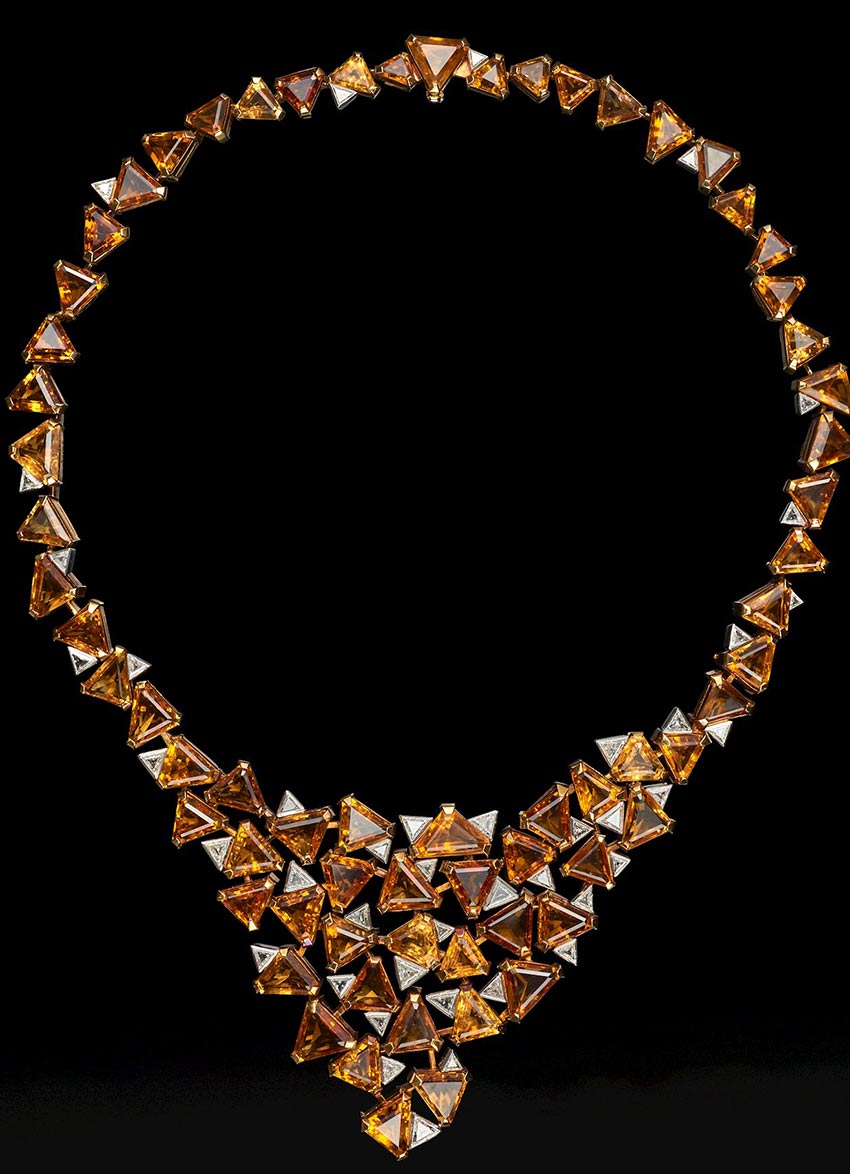 Citrine & Diamond Necklace by Andrew Grima
Grima is having a moment: his funky 70s designs are fetching record prices at auction. This necklace is particularly cool: I love the controlled chaos of the tumbling triangles of citrine and diamonds. This 1974 necklace is in the Grima book and took 248 hours to make. It's being offered by Hancocks.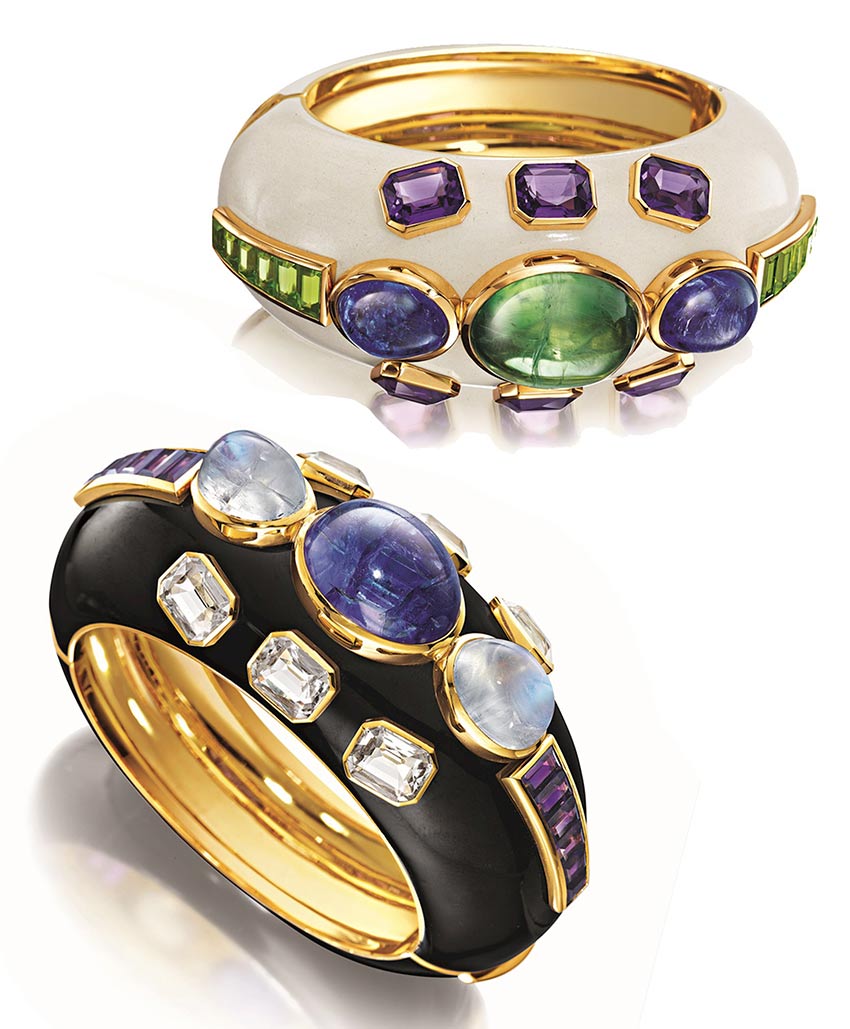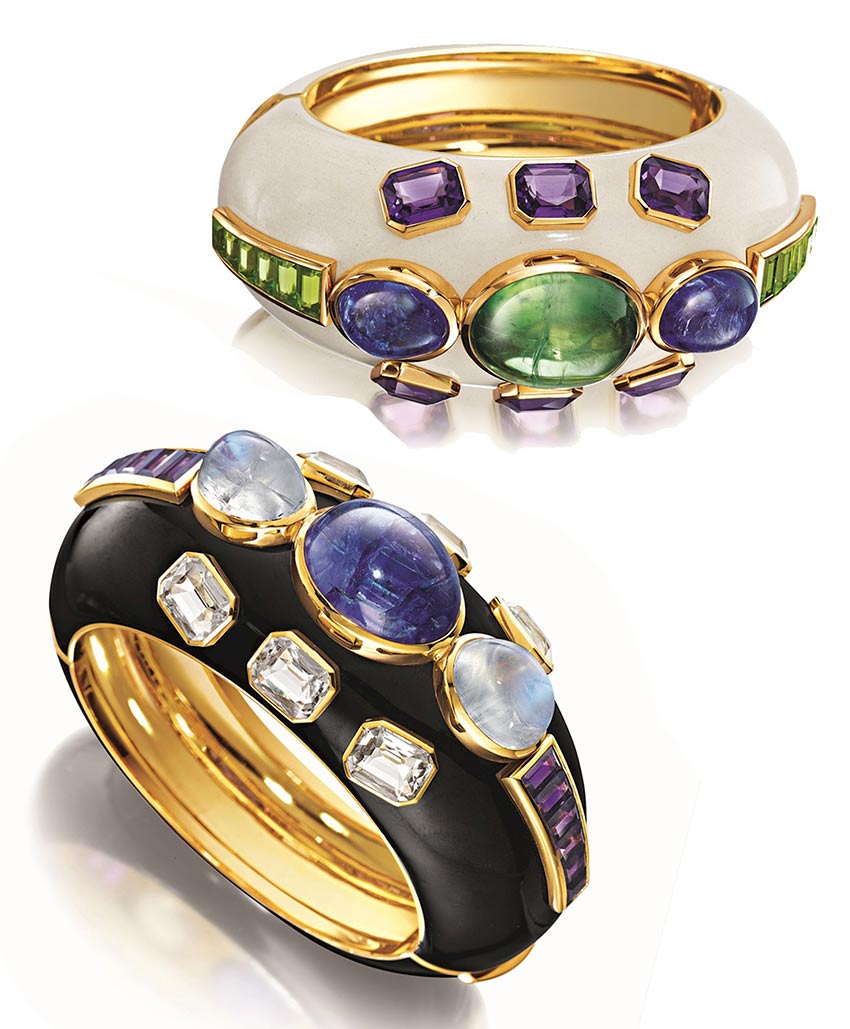 Ravenna Cuffs by Verdura
Duke Fulco di Verdure designed the originals of these cuffs for Coco Chanel in the 1930s. This is statement jewelry, to be sure, but these bracelets would also be fabulous in a whole arm stack, the kind that we haven't seen on the red carpet for a while. Maybe it's time to bring it back?
Cosmic Union Cuff by Wallace Chan
This cuff bracelet represents the first time Wallace Chan has created a piece with agate, which represents the layers of the passage of time laid down by stare on the earth. Diamonds, sapphires and garnets swirl around the bangle like the cosmos swirling around the planet.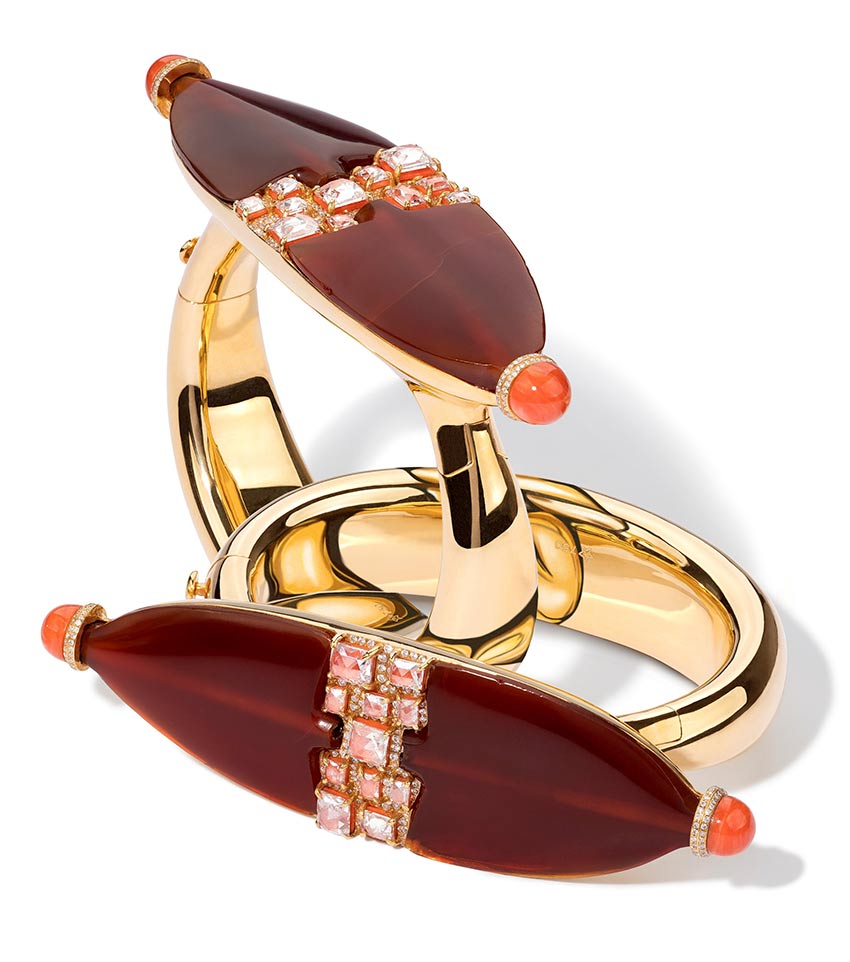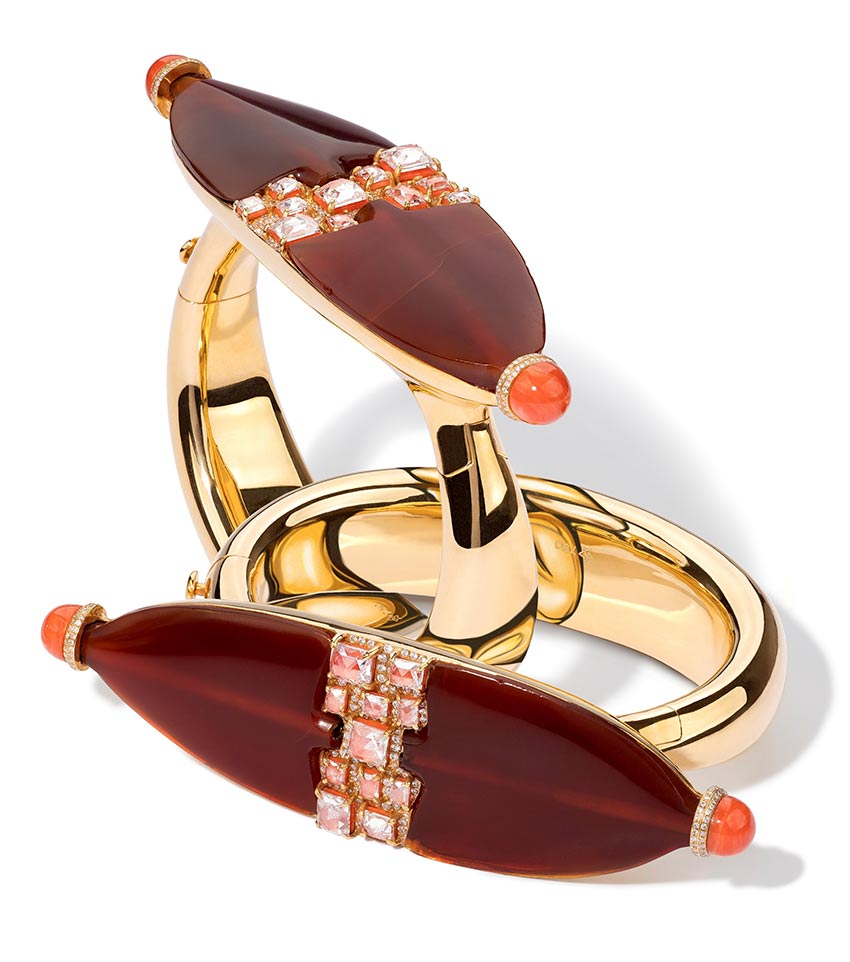 Mesopotamian Carnelian Bangles by G
Designer Glenn Spiro often uses rare gems (another ring he is showing at this year's fair is set with an amazing ten-carat old-mine cut marquise diamond) but these bracelets are designed to highlight something much more precious: four carved carnelian arrowhead-shaped pieces that date from first-millennia Mesopotamia. I love the way this ancient material is set in such a modern design. whether or not these dramatic bracelets will give the woman who wears them ancient superpowers, they will clearly give her supreme style.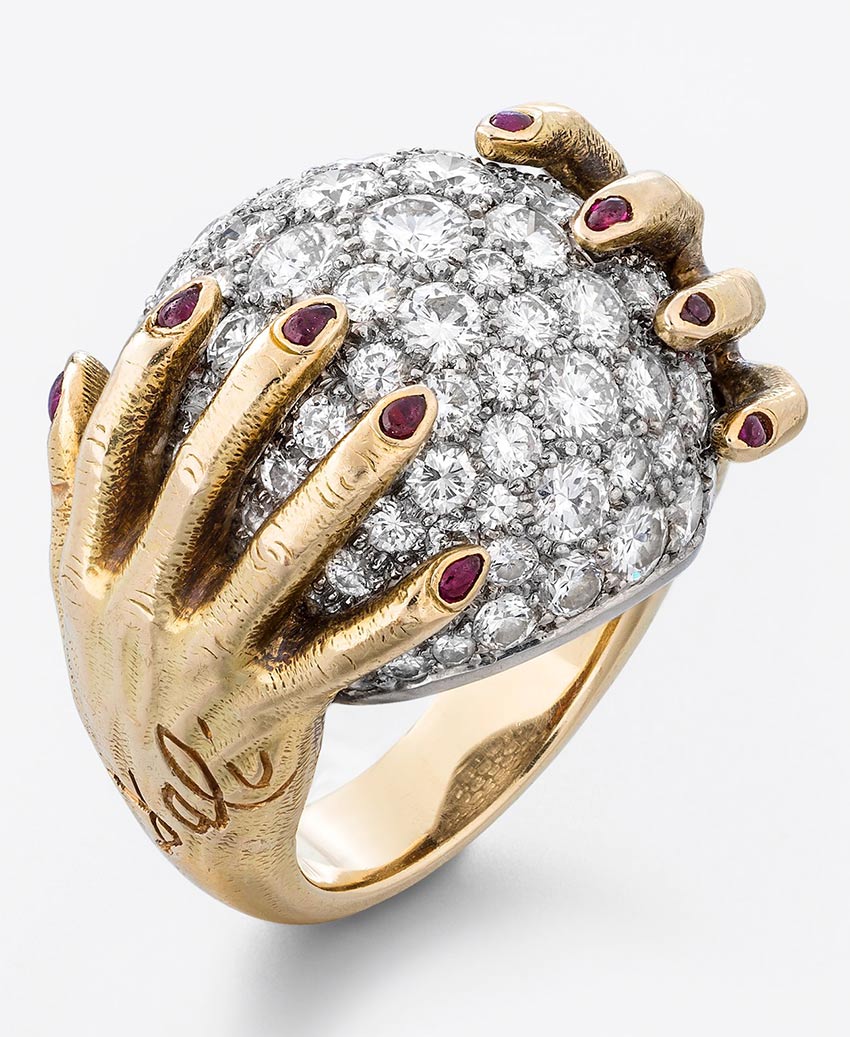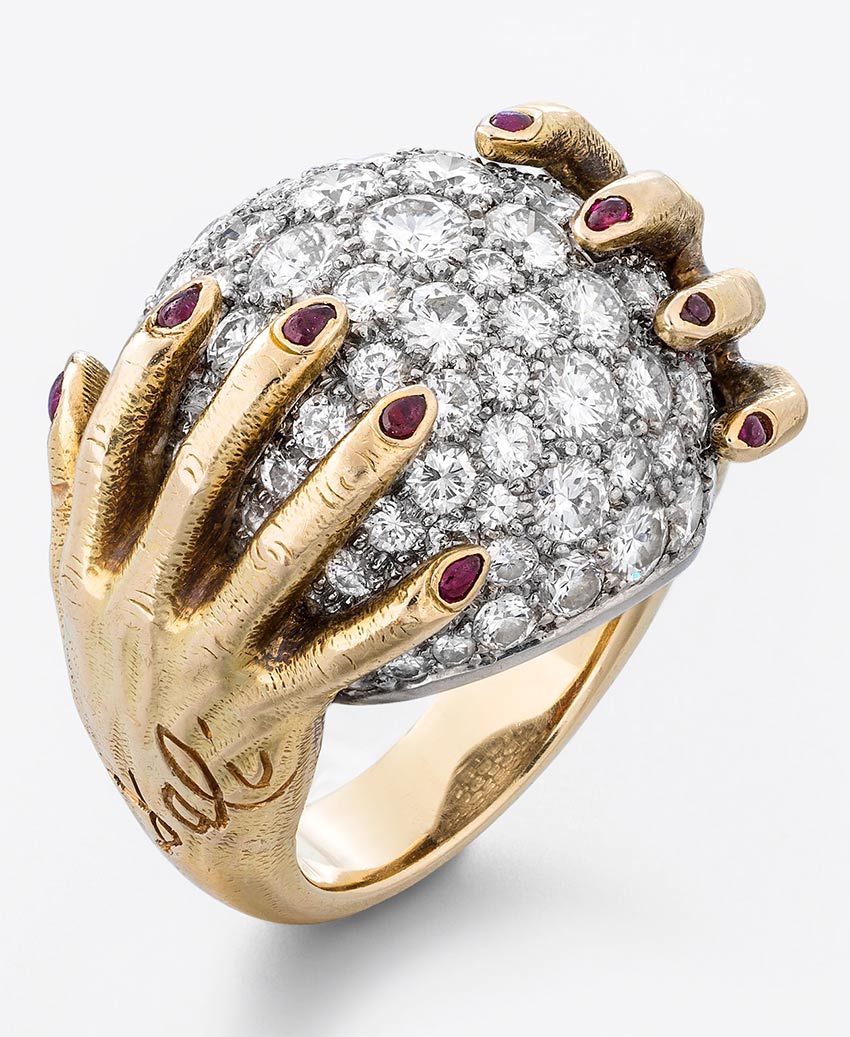 Portrait of a Passionate Woman by Dali
Veined gold hands topped with ruby nails grip a diamond and platinum sphere in this ring that Dali designed in 1950. Available at artist jewelry specialist Didier Ltd, it was owned by Mildred 'Tweet' Kimball of Cherokee Ranch, Colorado. I imagine her riding spirited horses and drinking martinis with blood-red nails wearing this ring while she regaled you with tales of her years in Paris. I'm sure this ring has stories to tell too.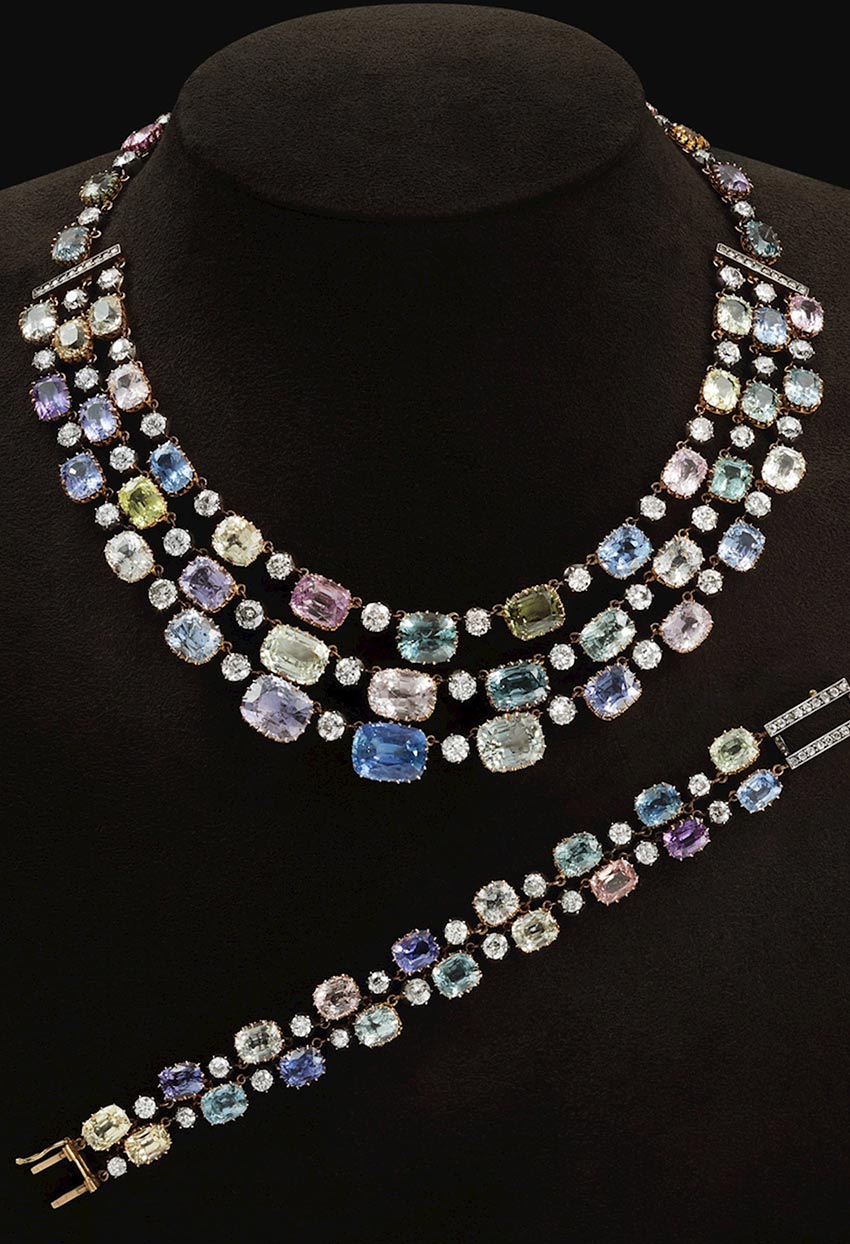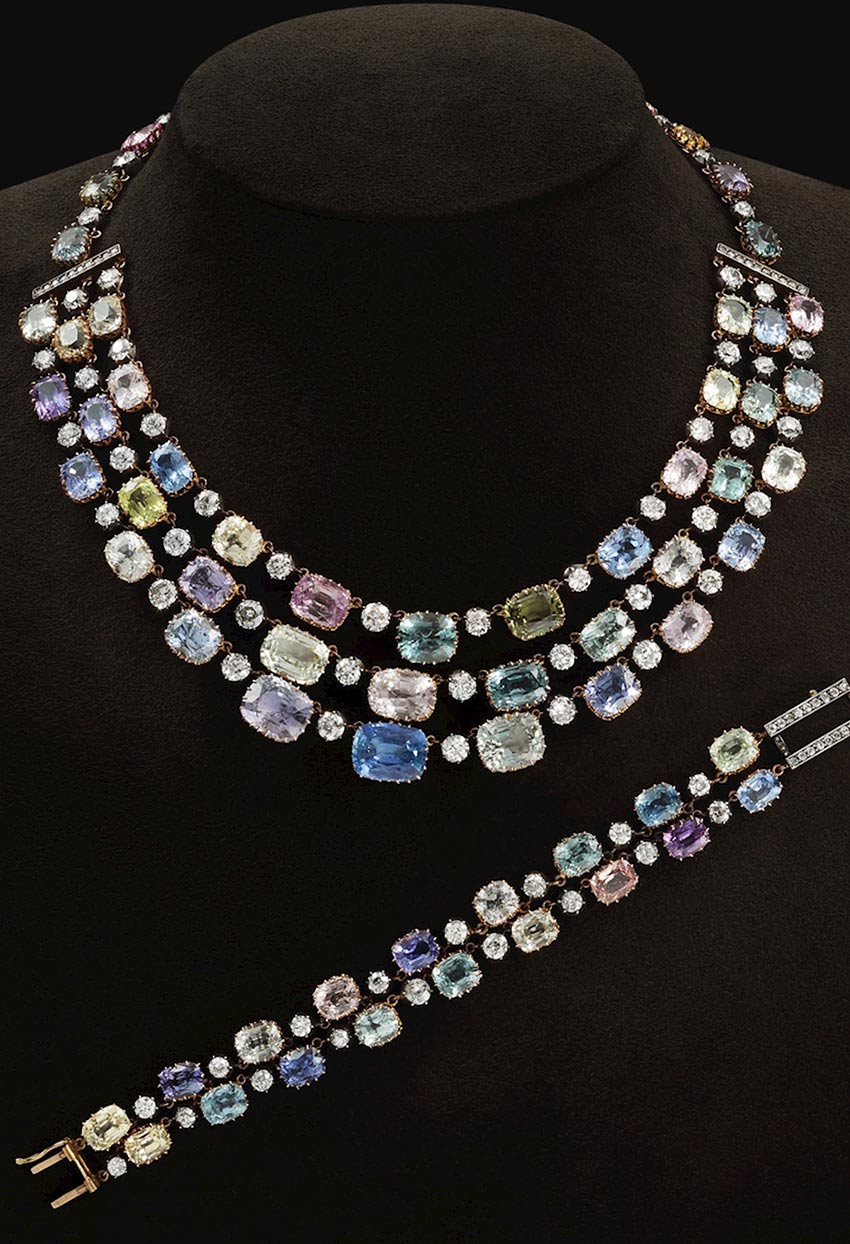 1880 Fancy Sapphire Necklace and Bracelet
Sapphires were discovered in Montana in 1865 and their pale colors added a new palette to jewelry at the end of the century. I'm not sure that the sapphires in this necklace came from Montana but they have a lovely syncopated rhythm of colors that add an unexpectedly modern element to this Victorian necklace from Veronique Bamps.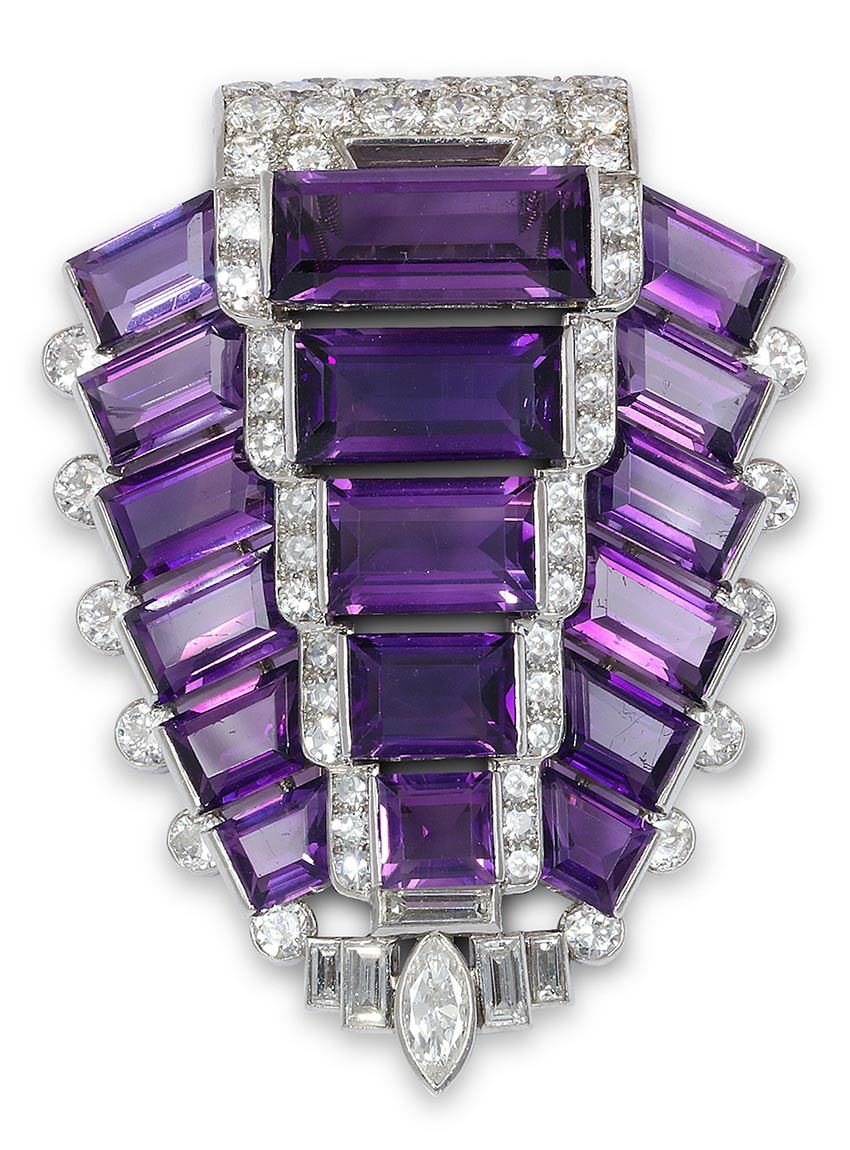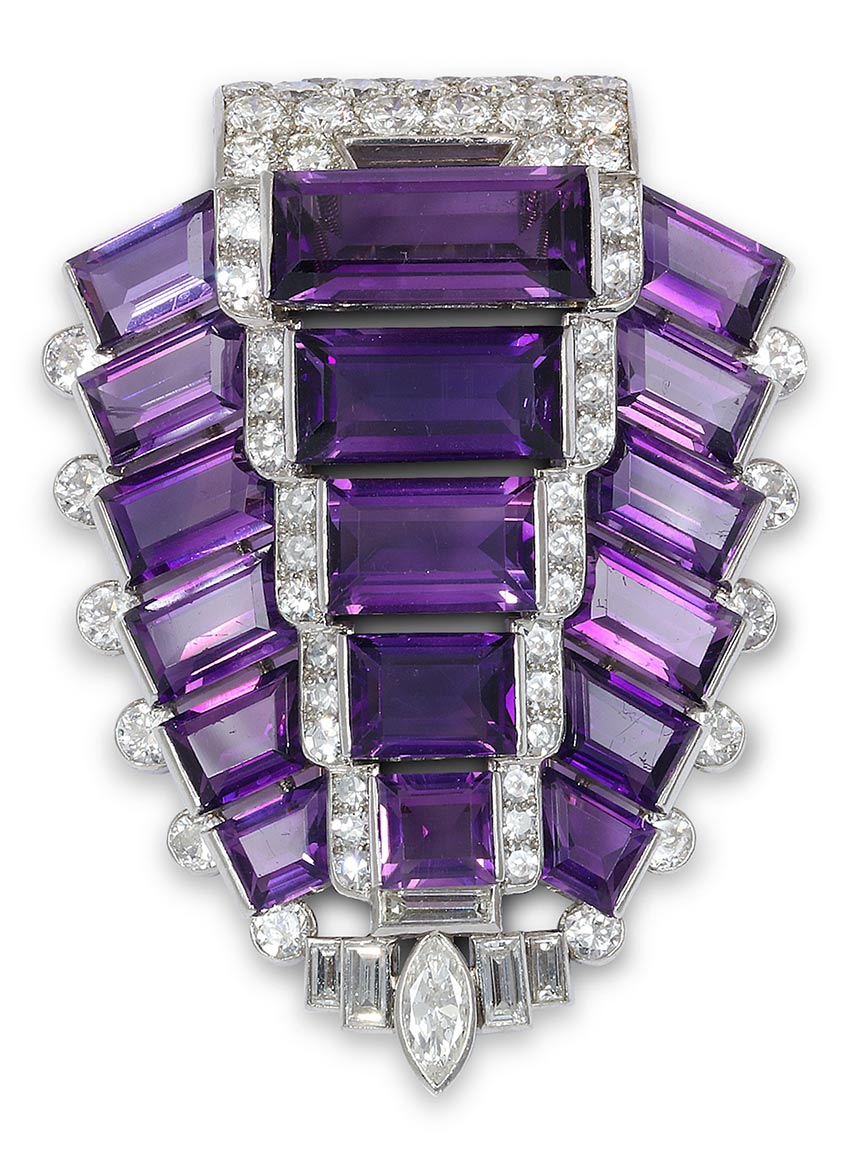 Amethyst Art Deco Brooch by Cartier
I love the unexpected punch of purple amethyst in this platinum and diamond brooch by Cartier. The strong geometric design, circa 1930, is Art Deco but there is boldness that looks forward to Retro. Available from VKD Jewels
SaveSave