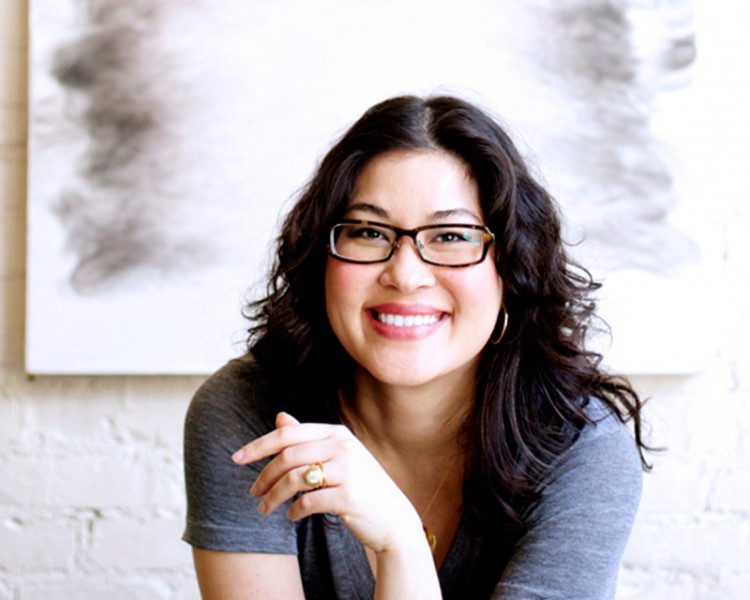 Interview: Erika Winters
Dancer. Writer. Photographer. Social media maven. Jewelry Designer. Seriously, is there anything Erika Winters can't do? When I first met her, at the Vegas Gems Dinner for creative women in jewelry and media, she was a talented blogger who took beautiful photographs of jewelry. A year later in 2014, she launched Erika Winters Fine Jewelry. Take one look at her collection and you'll see she's found her calling. Innovation in jewelry is hard but innovation in bridal? That's insanely difficult. Erika's collection of engagement rings and wedding bands already has the kind of coherent aesthetic and meticulous execution that you could spend a lifetime developing. I talked to her in the run-up to Couture, where she's exhibiting in Salon 137, about life and jewelry.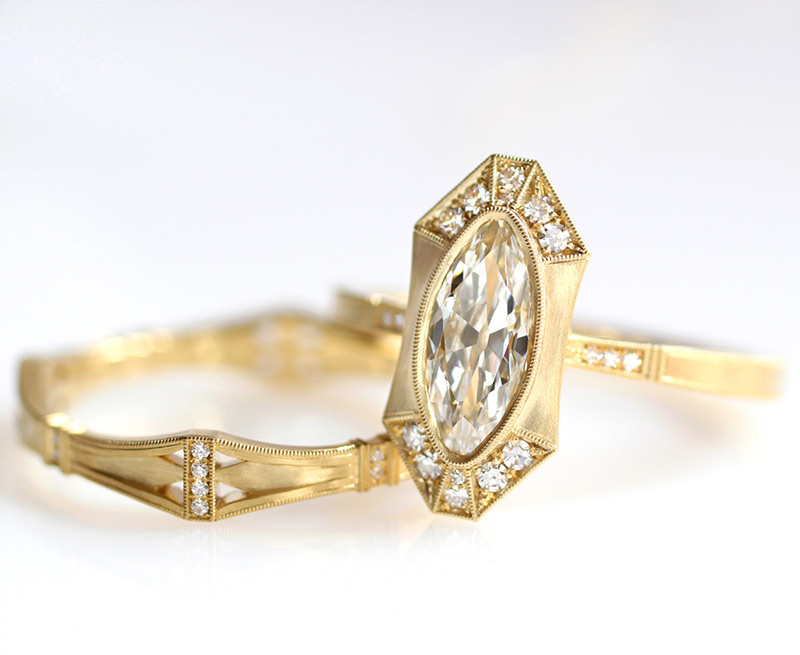 CK: When did you know that you wanted to become a jewelry designer?
EW: I had worked in theatre for well over a decade when my future husband Peter proposed to me with a diamond engagement ring. That ring, and everything it symbolized, inspired a full-on immersion in the artistry, history, science, and meaning of jewelry. I went on to earn my graduate gemologist degree at GIA, then started in retail sales, selling both antique and designer jewelry. I also worked as an independent jewelry writer and photographer with focus on designer lines. I've always had a keen aesthetic and design sensibility, and during my time in retail and as a writer, I designed many pieces for retailers, my friends and colleagues, and myself. I loved design and had envisioned a career in jewelry design, but did not design my first collection until December 2013, when Grace Lavarro of Jewels by Grace, who knew my aesthetic very well, asked me to design a bridal collection. From there, Erika Winters Fine Jewelry was born.
CK: What was your first design?
EW: The first design I produced for the official collection was the Caroline Halo, which is a floral, octagonal style that I created for a very beautiful antique cushion cut diamond. My first collection was all set with antique cut diamonds, as I have a deep and abiding love for old cuts and unique shapes.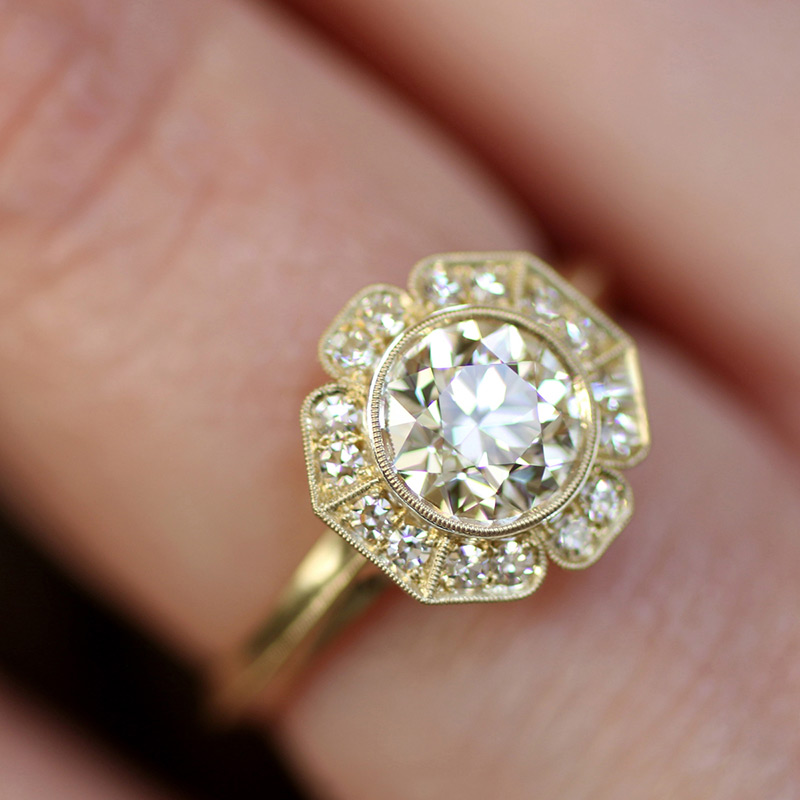 CK: You've always taken beautiful photographs of jewelry. Do you think that influences your designs?
EW: Photography definitely influences my designs. I often begin a design for a unique stone shape by first studying the stone through the camera. I live in a bit of a macro-photography world: I'm nearsighted with what I call "loupe vision," so I tend to look at everything up close and experience shorter depths of field naturally. So a DSLR camera with my favorite macro lens is my absolute tool allowing me to express how I actually see gemstones and jewelry. Often when I'm designing, I'll envision how the piece will photograph, so yes it's a huge part of my process.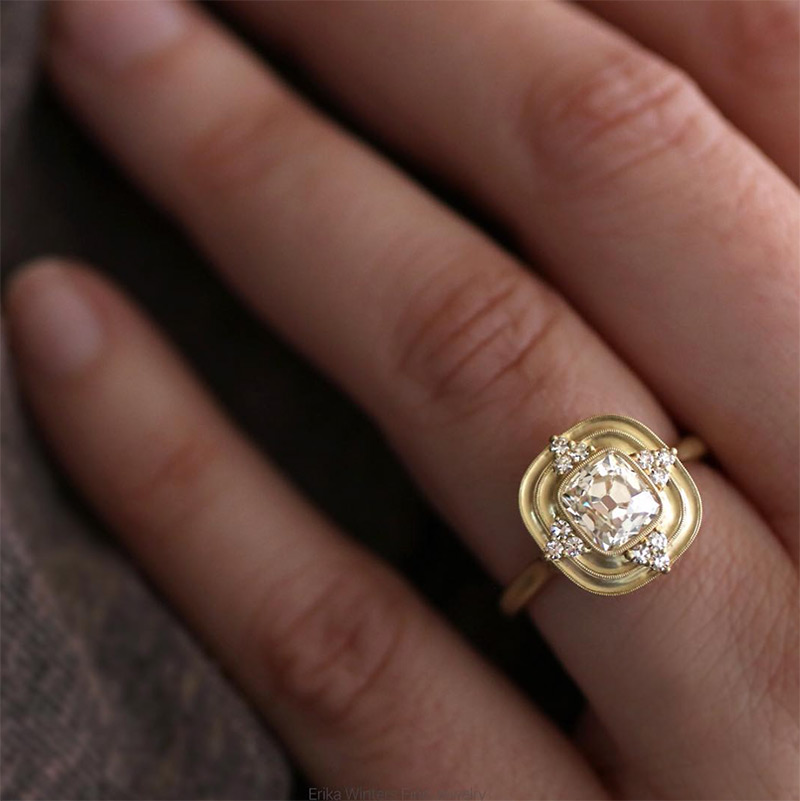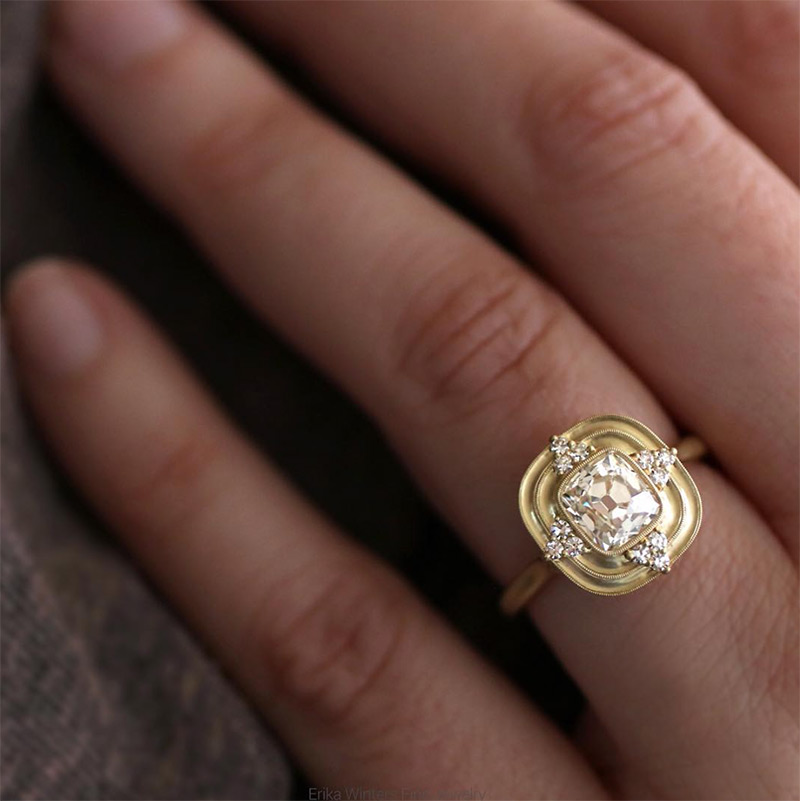 CK: Your Instagram feed is amazing.  Has it played a role in your success?
EW: Thank you so much! My photography has enabled me to express my vision and creative direction for my brand. It's important for me to show how I see jewelry—it's a tangible thing where you almost want to reach through the screen to experience and feel the jewelry. I do think it's played a strong role in my company's growth, as I launched my collections entirely online. My expansion into wholesale has been in part to give people the opportunity to see the work in person, as even the very best photos can't illustrate just how fine the work is… So the fact that I was able to launch a line online as a relative newcomer armed with new designs and a camera—makes me very proud, and I appreciate you noticing that work, Cheryl.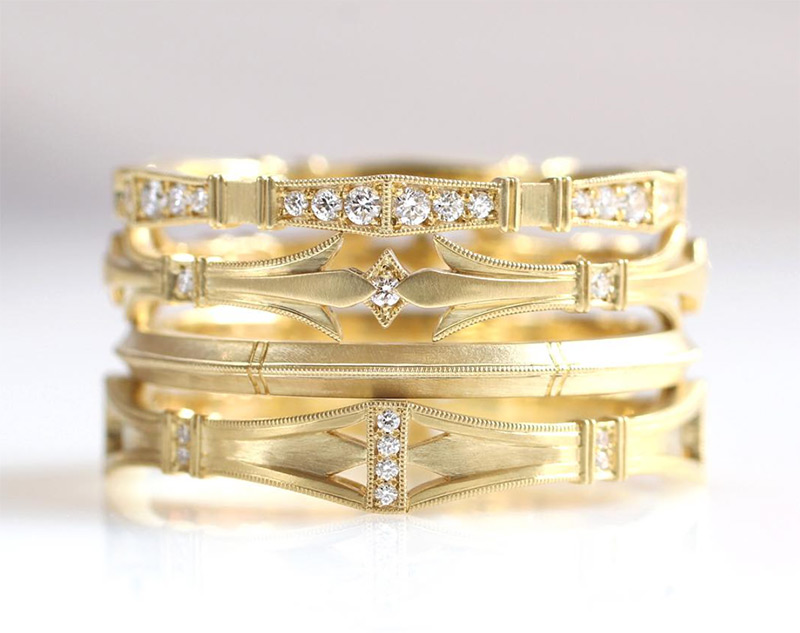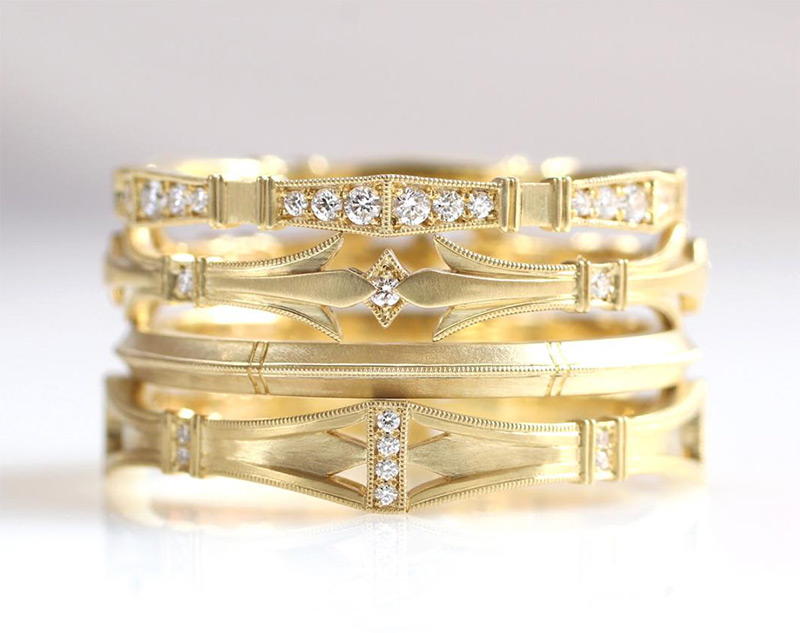 CK:Your pieces have a lot of vintage detailing but they are most often in yellow gold. What inspired that combination?
EW:  I love gold! And I have a deep love for gold jewelry from the Victorian period, when the metal was so prominent. I'm fascinated by ancient gold jewelry as well, and the Victorian period was bursting with ancient, classical design revival, so definitely an inspiration!
CK: What other artists and jewelry designers inspire you?
EW: Oh there are so many! I was a jewelry writer who worked in designer jewelry sales prior to launching my own company, so I've been celebrating designers for as long as I've been in this industry. When it comes to bold and conceptual work, Elena Votsi excites me so much. She has the rare ability to deconstruct jewelry on a conceptual level that blows me away. In terms of both design and business aspects, I have always had a deep admiration for Temple St. Clair. I'm also very inspired by earlier-to-mid 20th-century jewelry artists, including Suzanne Belperron.
CK: What's inspiring your newest designs?
My new collection breaks down the wedding jewelry concept to its essence, hearkening to simple and elemental jewelry pieces worn thousands of years ago. The collection is comprised of wedding rings for both women and men, inspired by ancient architecture with a distinct almost futuristic feel, exploring the timelessness of ring design—past, present, and future. And yes, this collection was created in gold!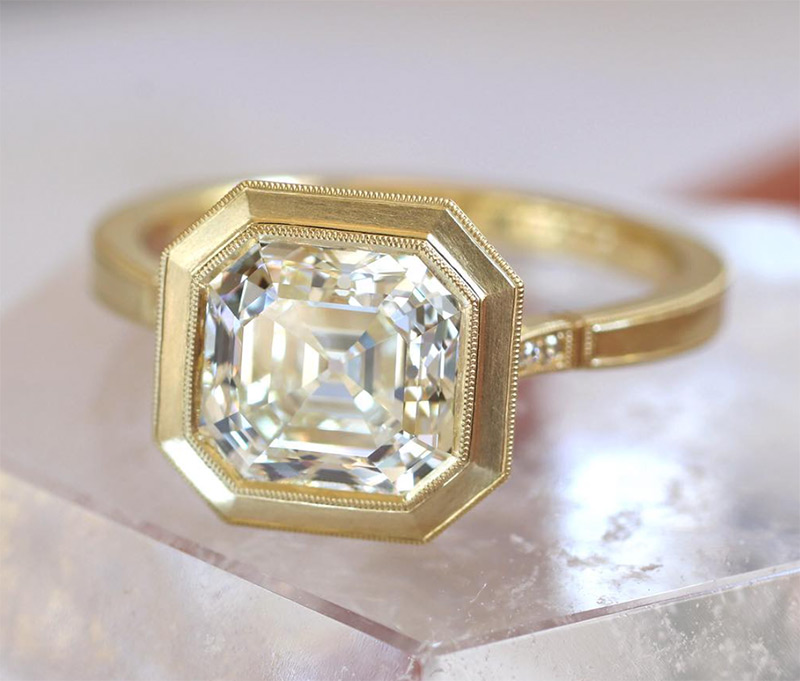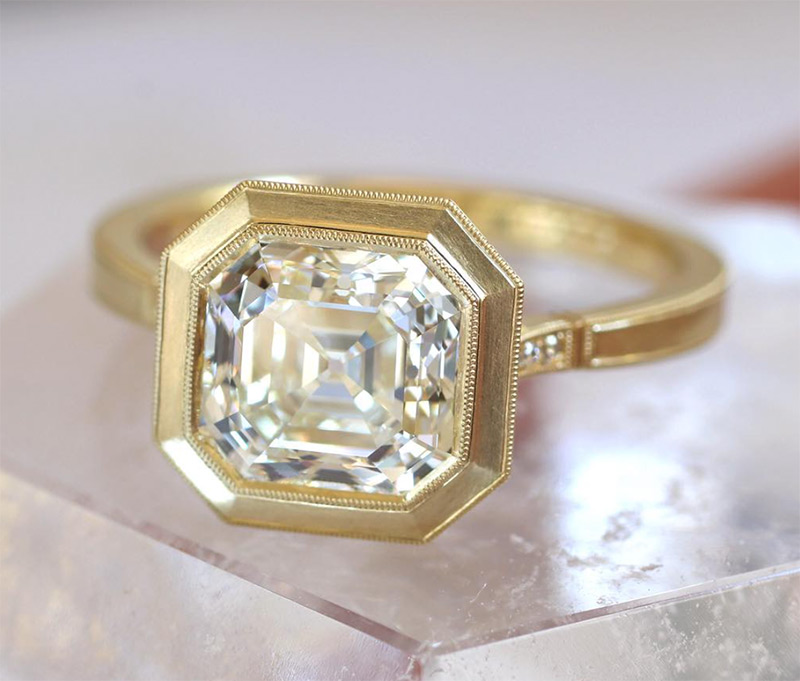 CK: If you could give women one piece of advice about jewelry, what would it be?
EW: Wear what you want. There are no rules.
For more from Erika, see the extended interview on the CJDG Insights blog.