Breaking Tungsten Carbide
Designer Scott Kay breaks some tungsten carbide wedding bands to show why men should choose a new cobalt alloy instead.
Not so long ago, a wedding ring was a simply a "band of gold." When platinum came on the scene in the 1980s, some high-end bands began to be made of that precious metal too.  But this last decade has seen a huge surge in what the jewelry industry calls "contemporary metals," like titanium, steel, and tungsten carbide, which isn't really a metal at all (more on that later.)  Recently, a relative of platinum, palladium, has also been added to the mix.
Why have hundreds of thousands of men chosen a band made out of one of these non-traditional metals? They are much more affordable, especially with the gold price now above $1,000 per ounce.
A ring made out of a high-tech material seems modern and in sync with a contemporary lifestyle.  Titanium, because of its light weight, feels more comfortable to some men. Steel has a classic industrial appeal, especially when combined with diamonds or gold. And tungsten carbide is marketed as being more durable than precious metals, with a superior hardness that resists scratching. Sales of tungsten carbide have surged in the past two years and are now estimated at 300,000 to 500,000 wedding bands a year.
But one of the country's leading bridal jewelry designers wants men to think twice before choosing a tungsten carbide wedding band.
Scott Kay held a press conference today in New York to demonstrate that tungsten carbide is not as indestructible as a YouTube video might lead you to believe.  How did he do that?  He destroyed a lot of tungsten carbide rings. He tossed them against a marble tile and they shattered. He hit them with a hammer and they cracked. He put them in a vise and they broke in two.
Tungsten carbide, a metallurgist at the press conference explained, is not a metal but a metal matrix composite, a ceramic like material sintered from a powder of tungsten and carbon sintered with cobalt or nickel into an aggregate, which still contains tiny voids. Because it isn't a metal, it can't bend so a sharp shock can break it.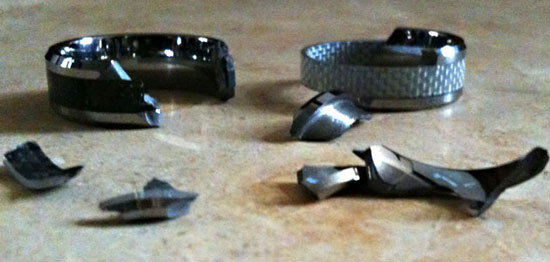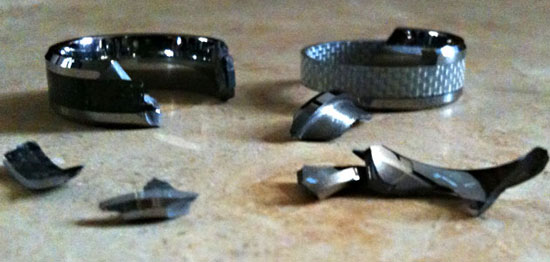 "When I go on the internet and read that tungsten rings are indestructible, unbreakable, durable, and strong, I have a real problem with that," Kay says. "I have a problem with tungsten carbide for a wedding ring without 100% disclosure that it breaks when it falls on the floor."
This jewelry mayhem had another point: Scott Kay announced a partnership with manufacturer Spectore Corporation metal alloy supplier Carpenter Technologies to launch the SK Cobalt collection of bands in a patented white metal alloy of cobalt, chromium, and molybdenum called BioBlu 27. The collection will be designed by Scott Kay and manufactured by Spectore from the high-tech alloy created by Carpenter.
The SK Cobalt Collection will retail from $125 up, with most bands in the $300 range.  They will directly compete with those not-so-indestructible tungsten carbide wedding bands.
Kay promises that the new bands will not shatter when hit by a hammer (and he of course demonstrated by doing just that.)
The bands in the new SK Cobalt Collection will also have a wider selection of styling than most bands in other contemporary metals because the BioBlu 27 alloy can be cast as well as machined, allowing more sculptural and organic designs and textures. Although stones can not yet be set in the new alloy, BioBlu 27 can be combined with precious metals, with or without gems.
SK Cobalt rings will be available in stores in the next two weeks. Helzberg Diamonds will carry an exclusive collection in the new alloy called "Brute Cobalt."
"There is a need for a $300 wedding ring," Kay says. "If gold was $100 an ounce, everyone would have a gold ring. BioBlu is dense, it's solid metal matrix, it's strong and it's not brittle. I am excited about BioBlu 27. I want other manufacturers to use it also."