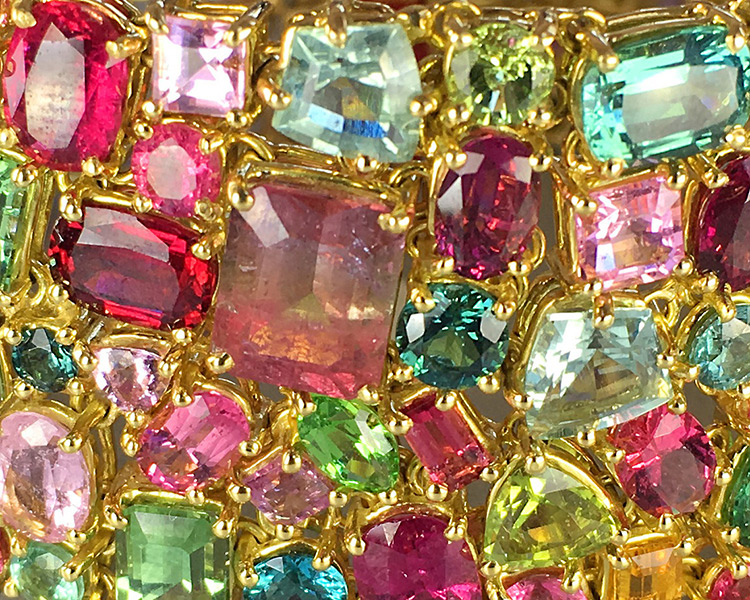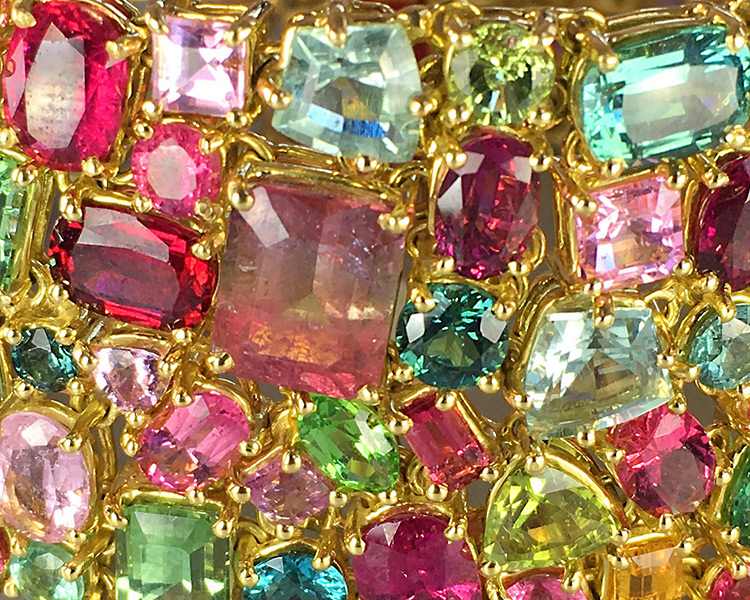 12 Favorite Spectrum Award Jewels
With a new summer schedule this year, the American Gem Trade Association Spectrum Awards, the annual Oscars of gemstone jewelry design, was hotter than July. After reviewing all the entries at the editor's preview, I have so many favorites, I've decided to celebrate them with a whole month of Spectrum entries on Instagram in August! Follow me on Instagram to see 30 spectacular days of colorful gemstone jewelry. It was difficult to narrow down my choices to just twelve for this blog post. (You'll understand why when you see the other contenders during those 30 days.)
As usual, I'm not sticking to the choices of the judges: only two of my favorites are top winners this year. (You can find the official award winners list on JCK and National Jeweler.) Instead, I want to show you designs that I feel break new ground or use gems in particularly inspiring ways. (And although I tried to photograph as many pieces as possible I'm sure there are a few great ones I missed: forgive me!)
Here are my dozen favorite Spectrum entries and why they caught my eye.
Royal Blue Ring by Ricardo Basta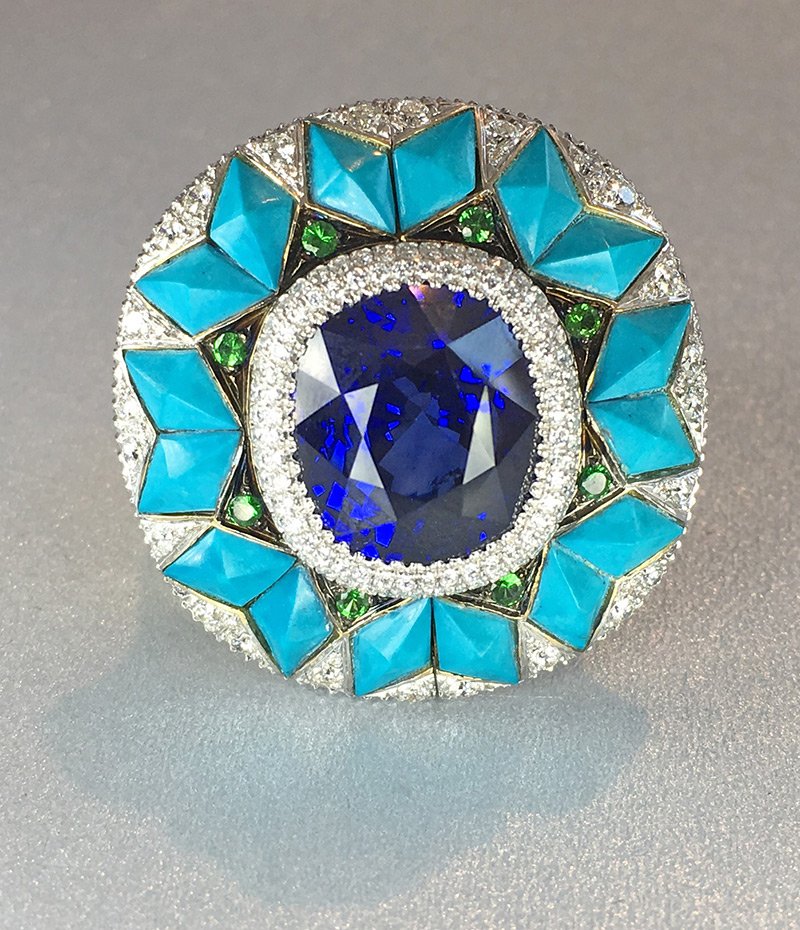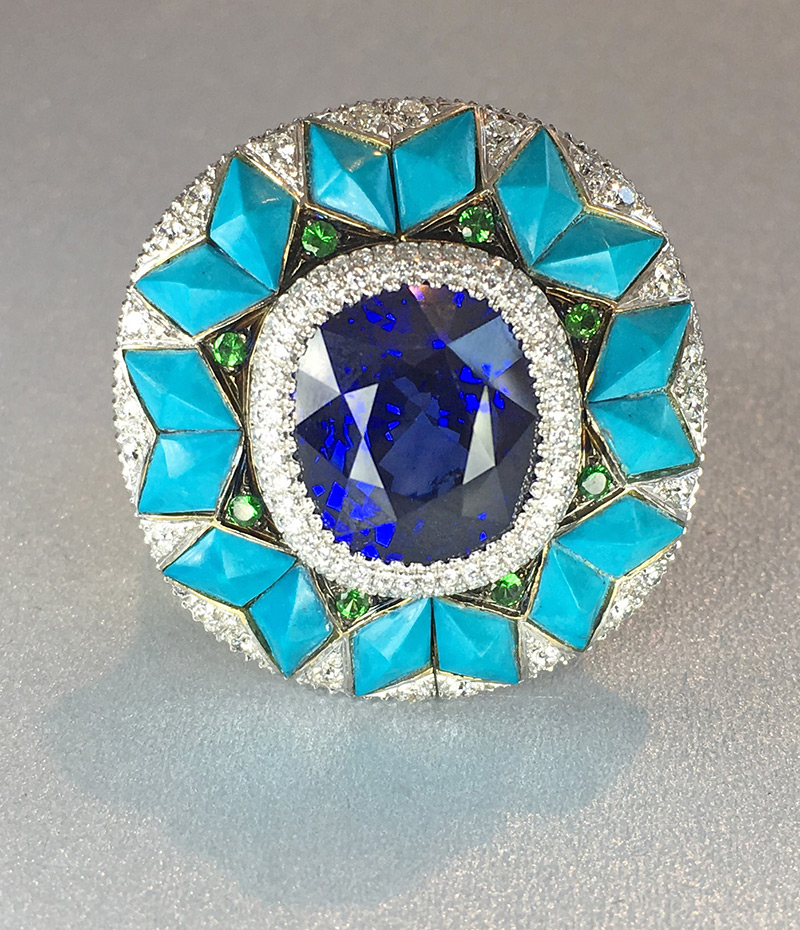 I have to start with one of the winning designs: the clever Royal Blue Ring by Ricardo Basta for E. Eichberg. This ring has a secret: the lovely quilted turquoise frame around the spectacular 12-carat sapphire opens to reveal an inner platinum ring with spectacular craftsmanship. The transformation is remarkable: I didn't originally realize the jacket was removable. Just take a look at the reveal: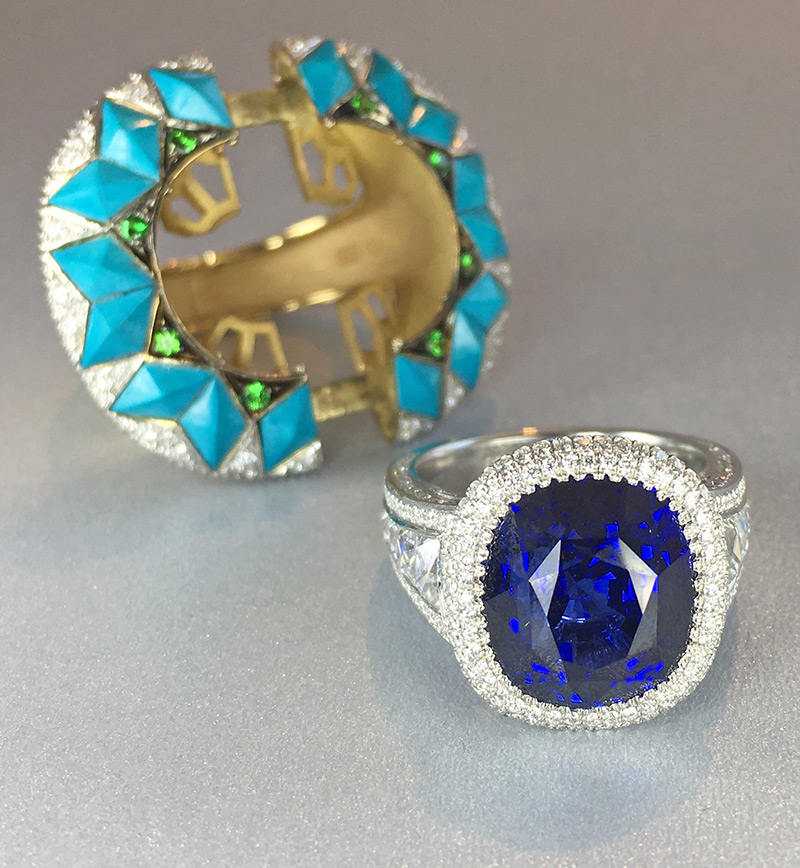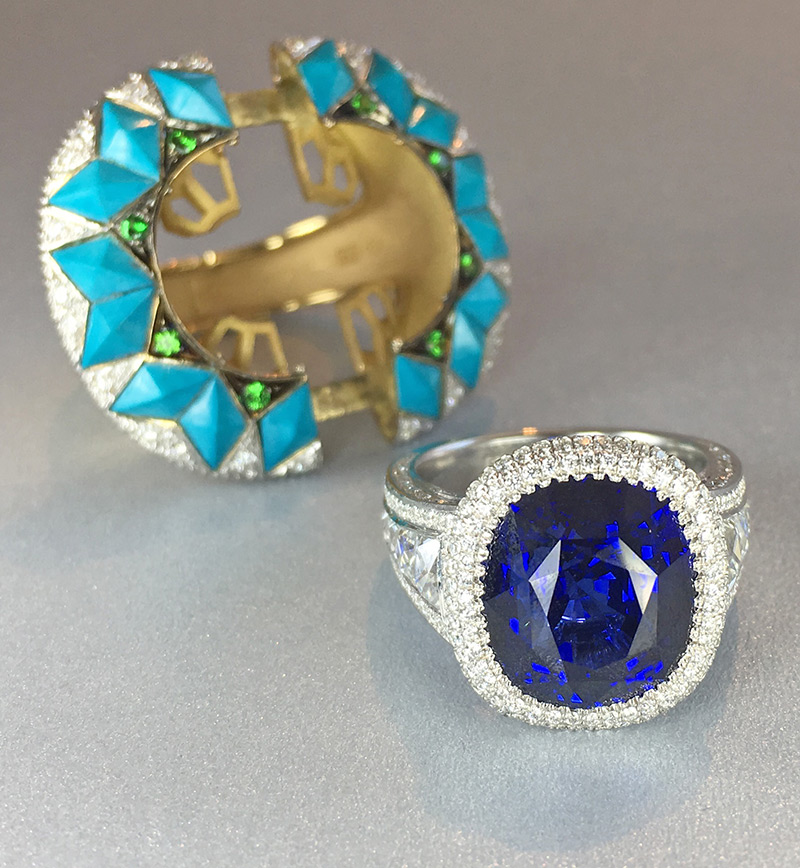 It takes the jacket concept to a whole new level, giving its owner a bold fashion statement and a timeless classic in one. The hinge mechanism was simple but very effective and both versions of the ring were comfortable to wear. Bravo!
Bicolor Tourmaline Ring by Derek Katzenbach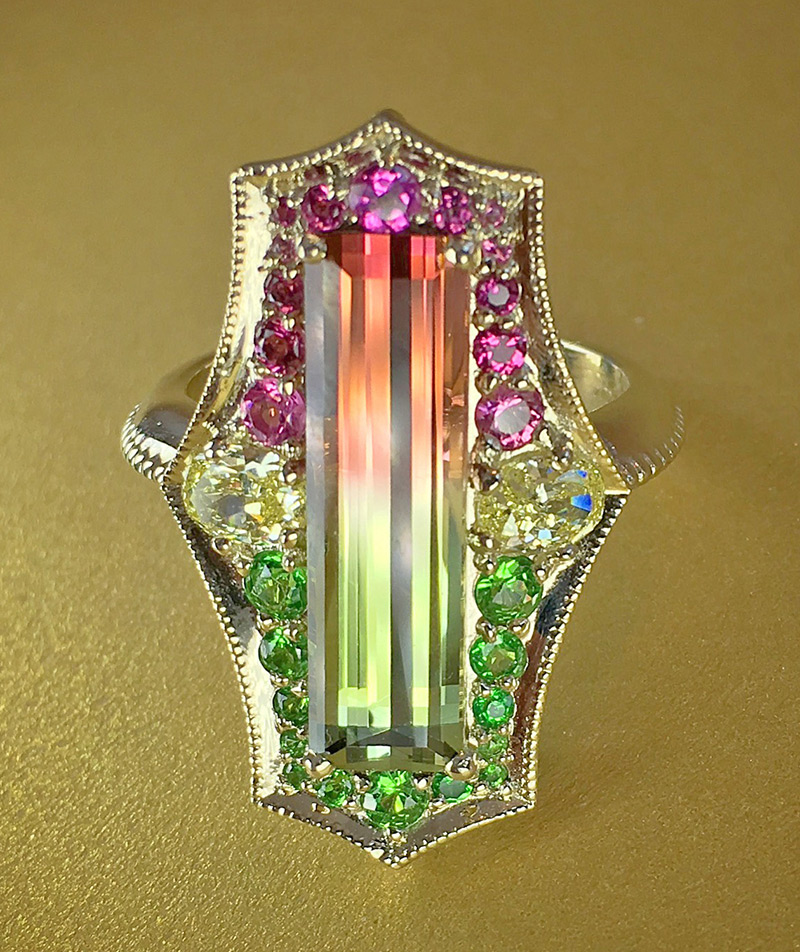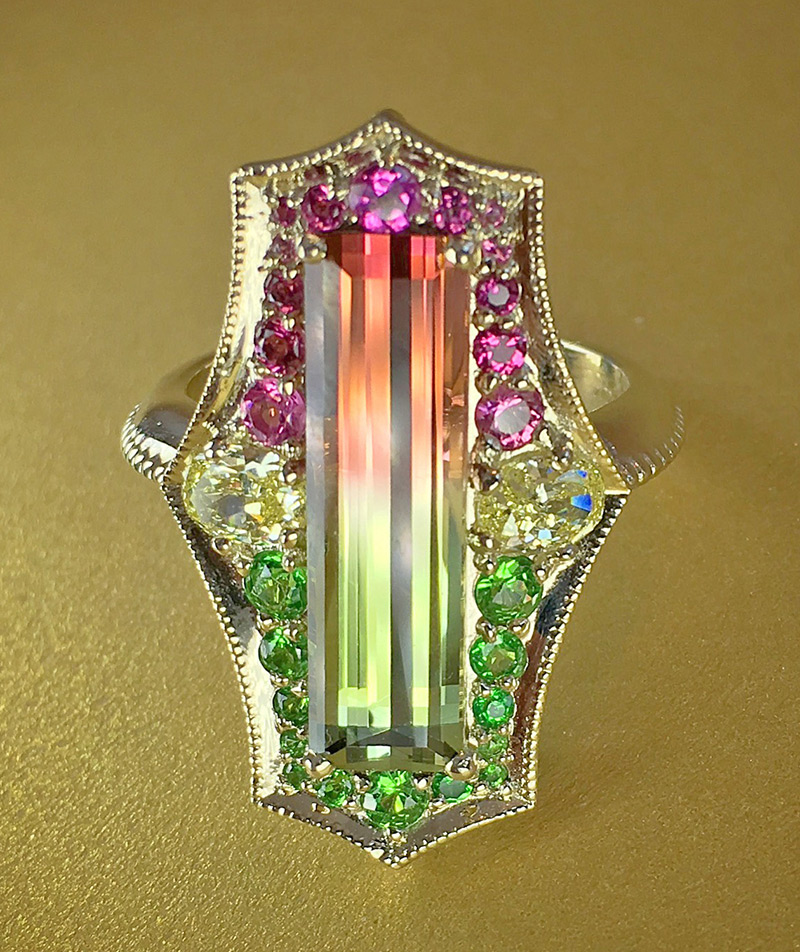 How spectacular is the bicolor tourmaline ring by Derek Katzenbach for Katzenbach Designs? There were several designs that featured bicolor tourmaline with colorful halos but this ring is particularly well executed with lovely millegrain detailing that bridges modern and vintage styles.
Moonstone Pendant by Zoltan David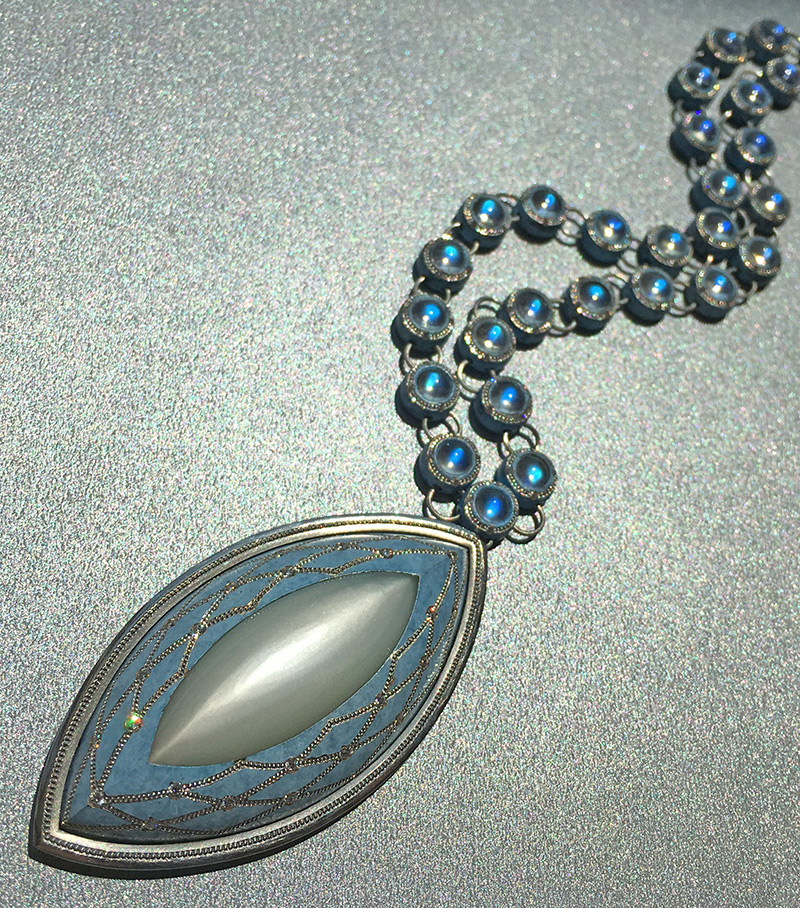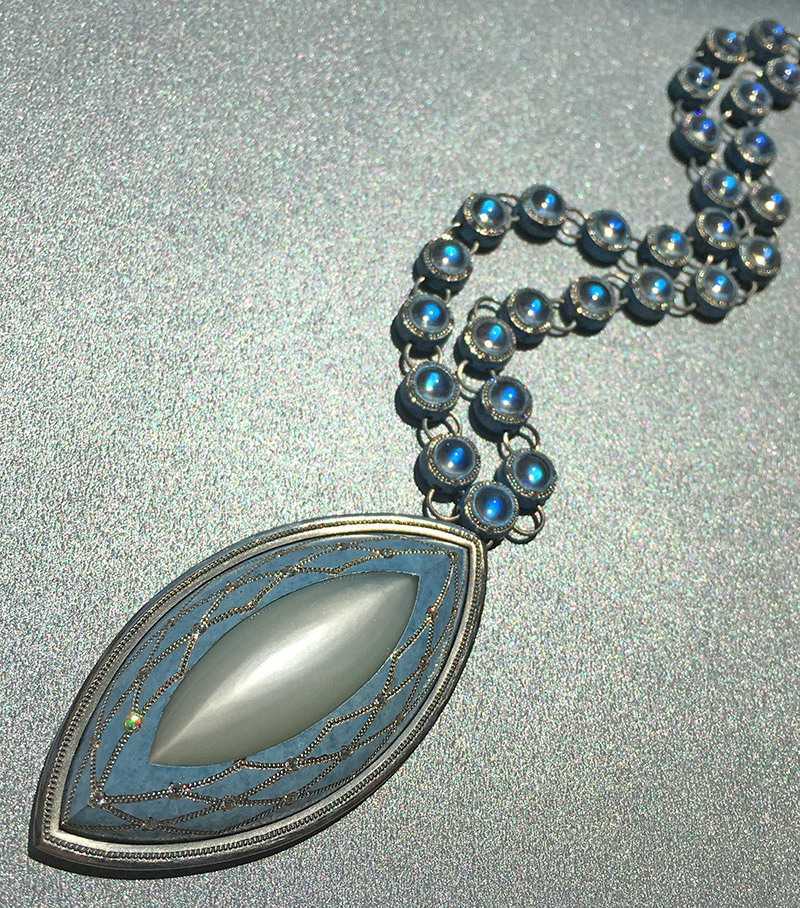 The cat's-eye moonstone marquise cabochon on this pendant is offset by the lovely blue patina of an engraved bronze frame set in platinum. Truly spectacular. And I'm not mad at that moonstone, diamond and platinum chain either.
Essence of Desire Earrings by Megha Gupta, Divine Jewels USA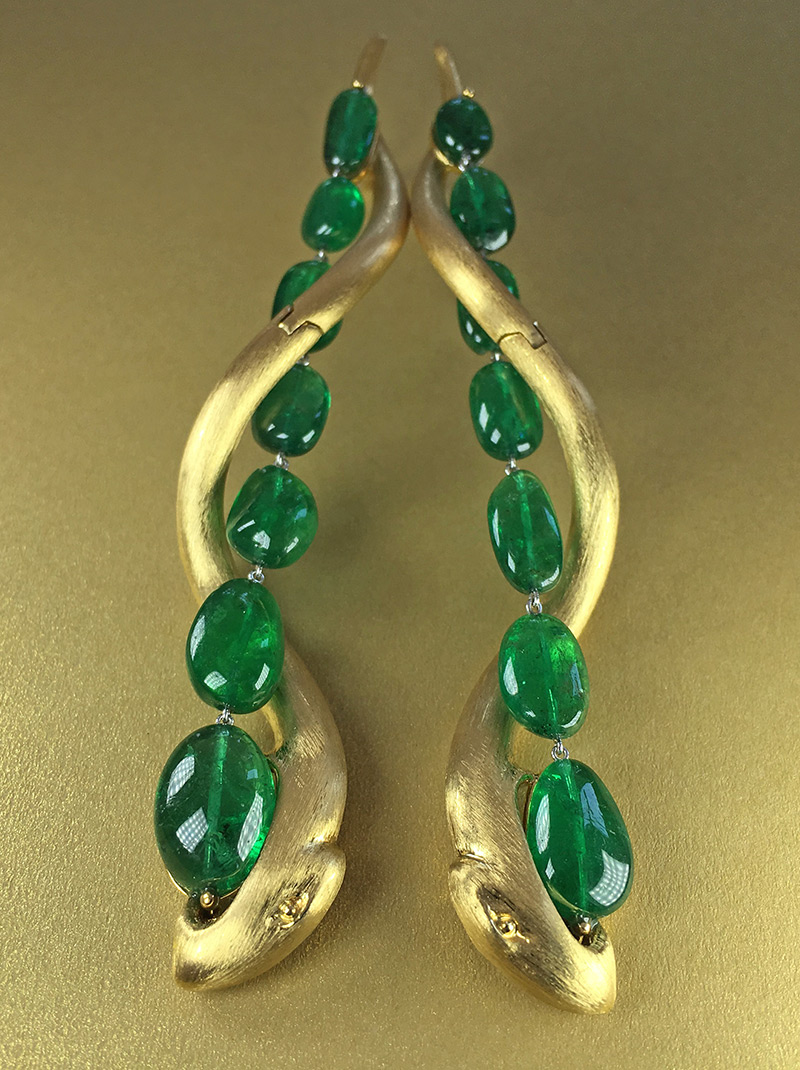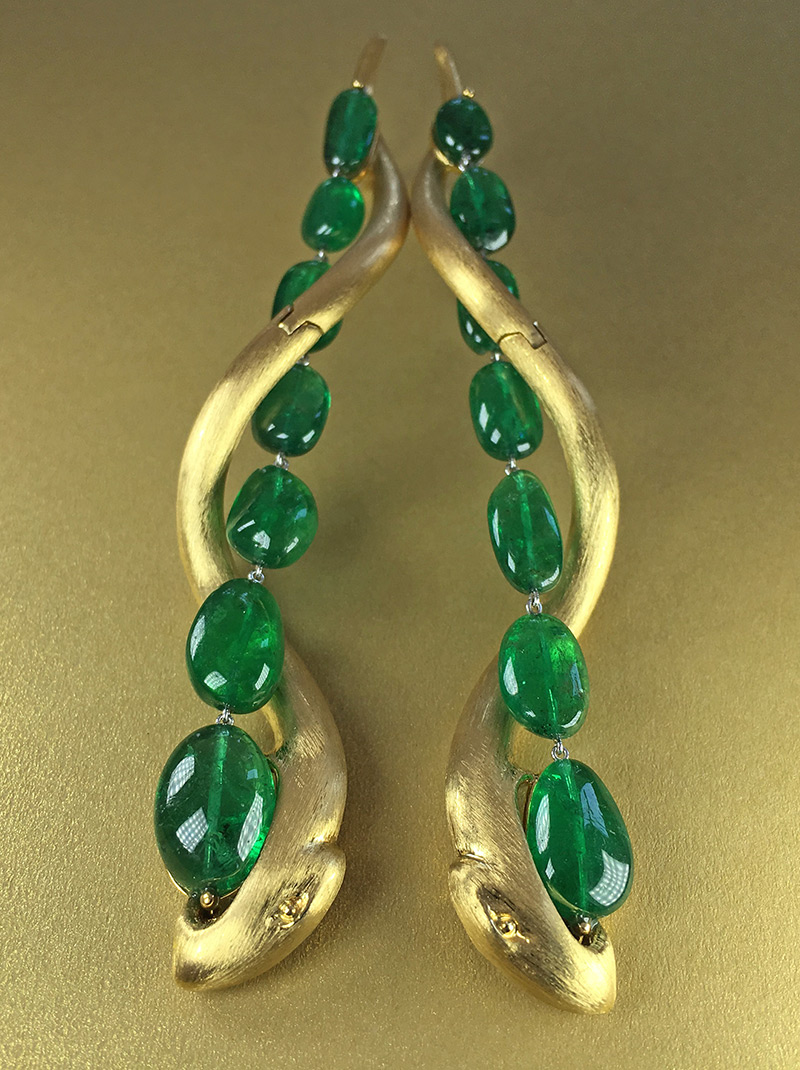 Despite their rigid form, these 18k earrings move in a lovely way: the spiral pieces are hinged to flex as you move. The satin finish of the spirals combined with the soft shapes of the thirty carats of emerald beads create a striking dramatic design that would be perfect on the red carpet.
California Fiesta Bracelet by Paula Crevoshay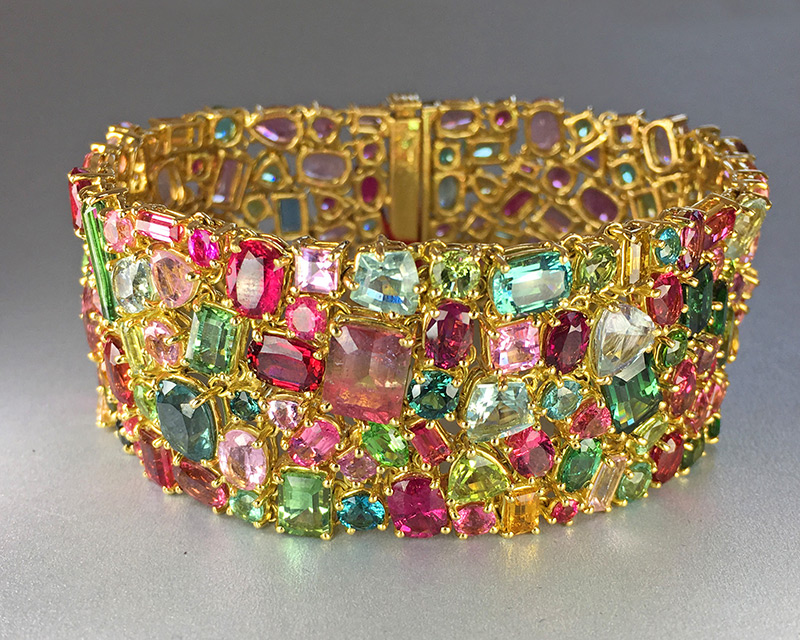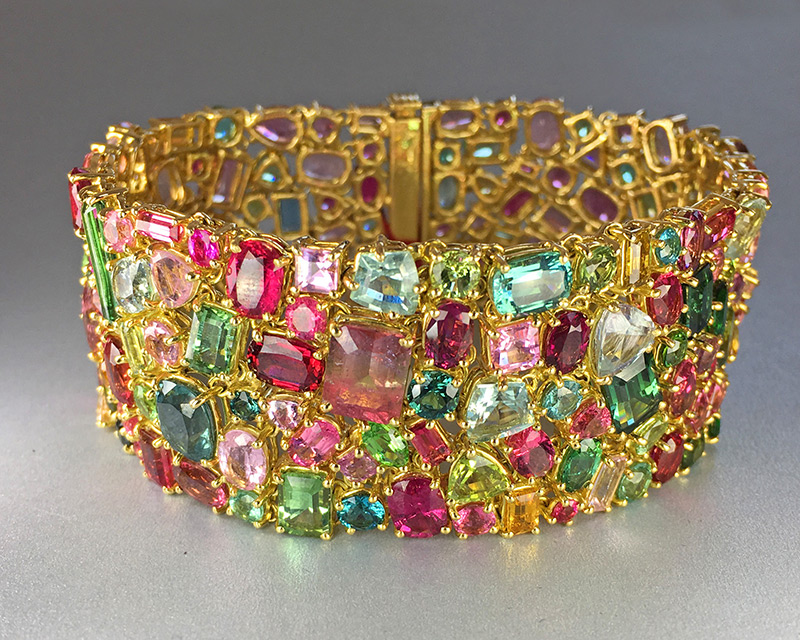 This bracelet is a celebration of the beauty and variety of tourmaline. All 84.51 colorful carats of this gemmy bracelet are tourmaline in pinks, greens, blues, and yellows. There are even a few bicolors in the mix. Such a lovely symphony of color.
Crossover Ring by Erica Courtney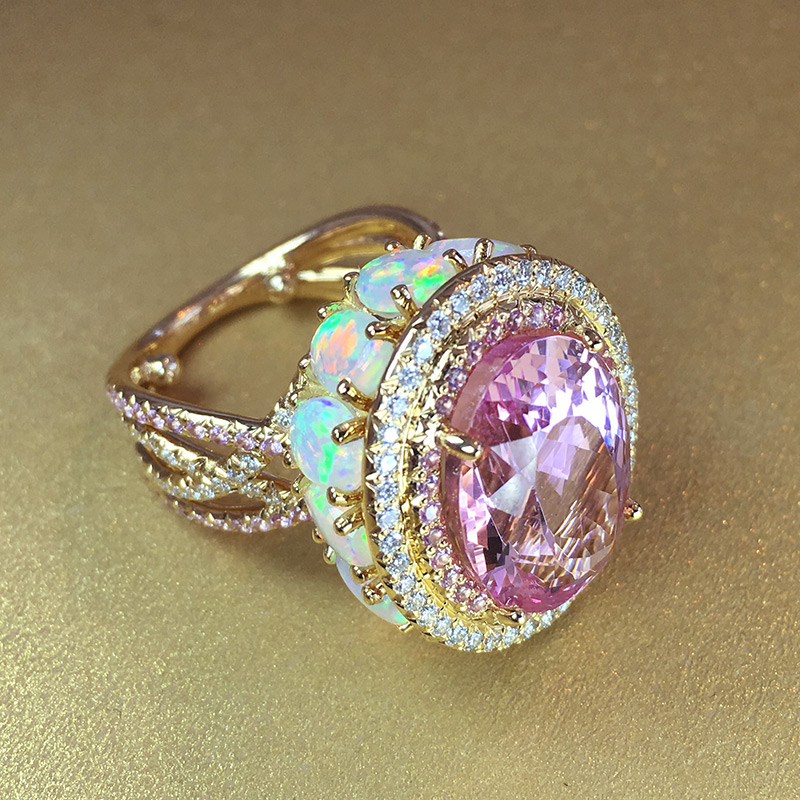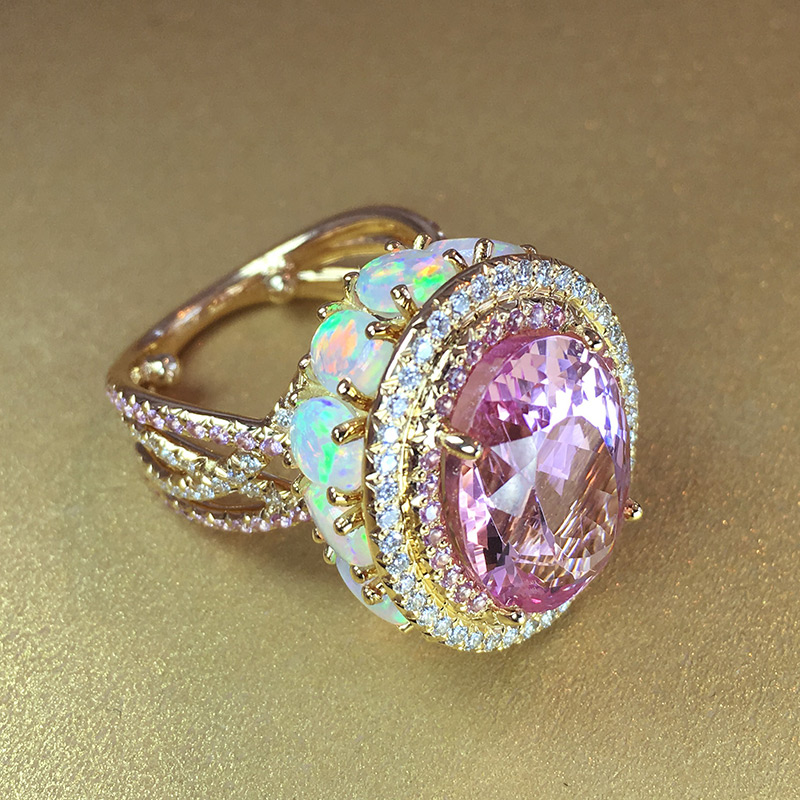 The center stone of this ring is a fine pink topaz. But the side view is what grabbed me most. How great is that opal halo?
Zeus Earrings by Kerri Halpern, Madstone Design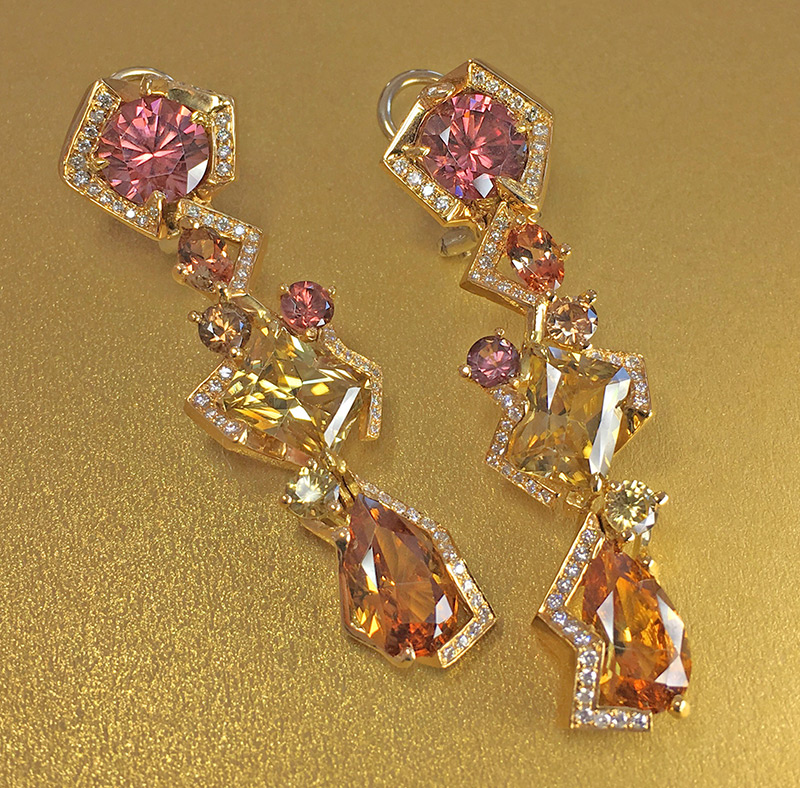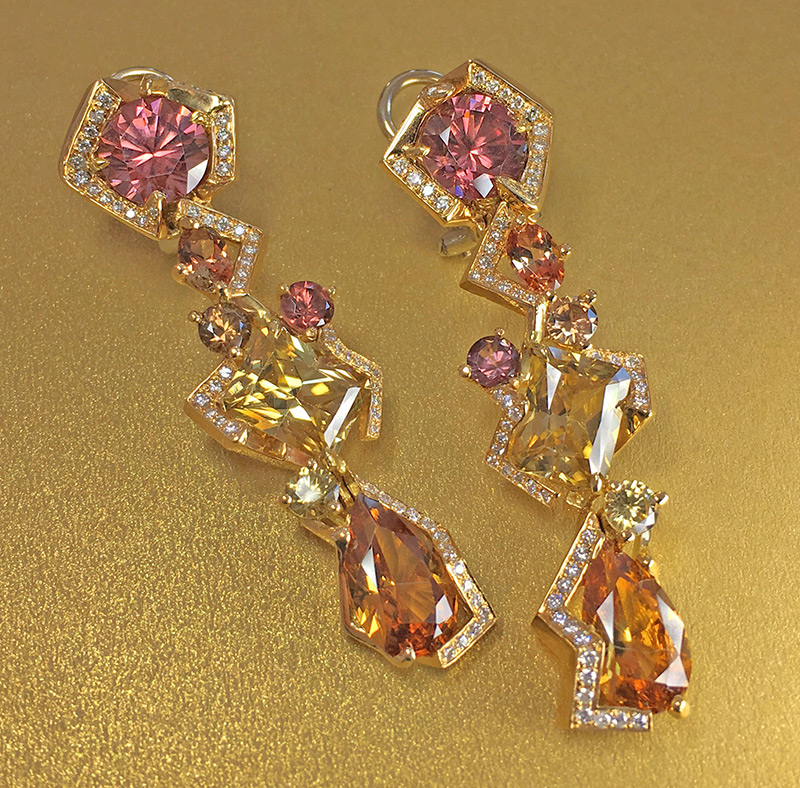 I just love the warm palette of these earrings: tones of zircons, andalusites, tourmalines, and diamonds. Wonderful to see unusual gems in an unusual combination. And although the cuts are all conventional, the angular outlines transform the look into something a bit postmodern in feel that is completely original.
Spiral Earrings by Alexia Connellan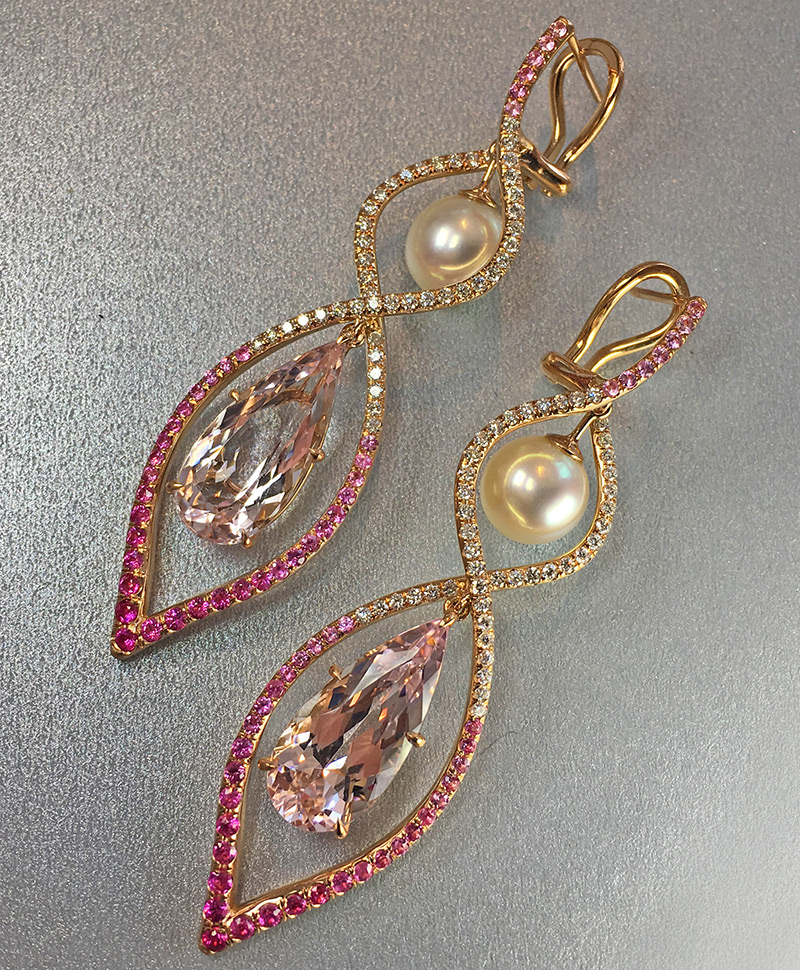 These earrings are so beautifully made: hand fabricated so they are light and strong, with thin lines and a graceful dimensional spiral that is lovely from the side too. Pastel morganite, cultured pearls, ombre sapphires, and diamonds dance in the light. Every detail is very refined.
Burst Cuff by Jane Taylor, Jane Taylor Jewelry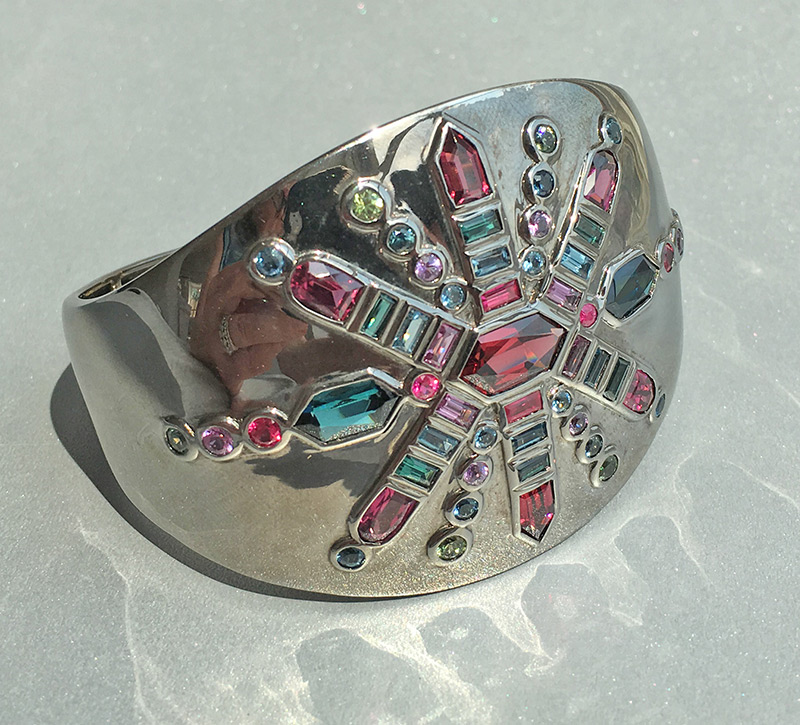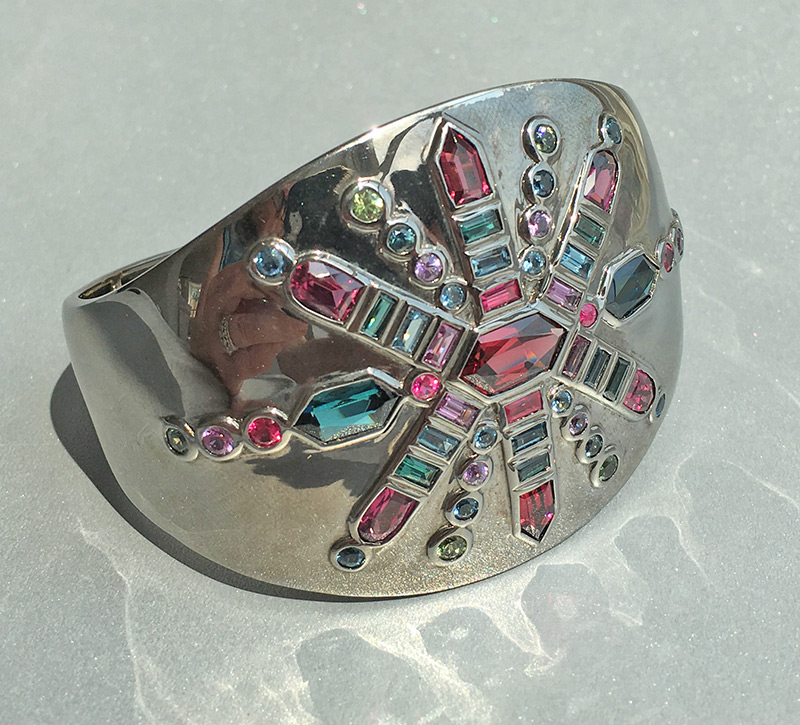 Boom! Wonder Woman worthy in rhodolite garnets, indicolites, rubies, sapphires, and aquamarines. Jane Taylor proves once again that she is the master of color.
Double Ring by Wendy Brandes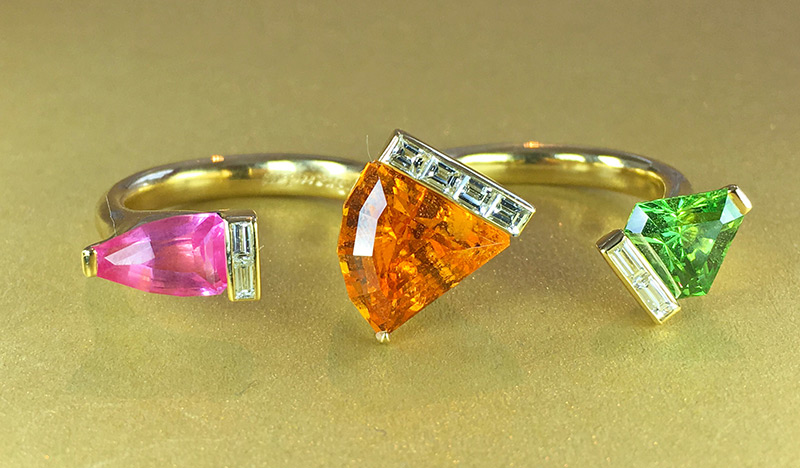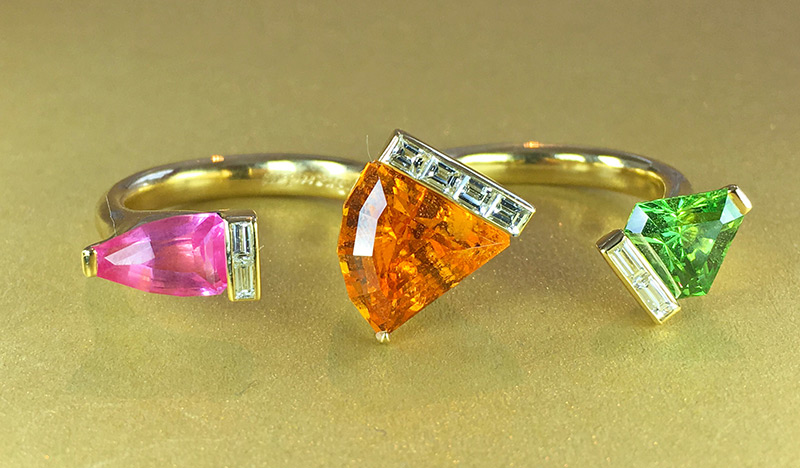 I love the juicy shades of the grossular garnet, spessartite garnet and pink mahenge spinel. But what really makes this ring special is how the gems float. An underline of baguette diamonds adds a cool kaleidoscope vibe. And it's beautiful inside and out: the gems are sourced directly from miners in East Africa through Anza Gems.
Bridget Ring by Heena Chheda Shah, Real Gems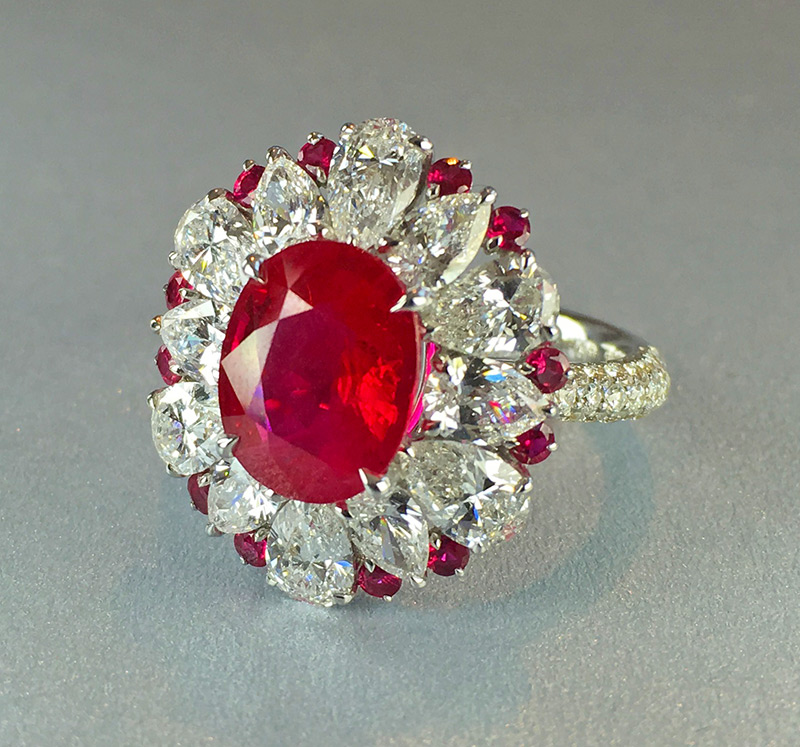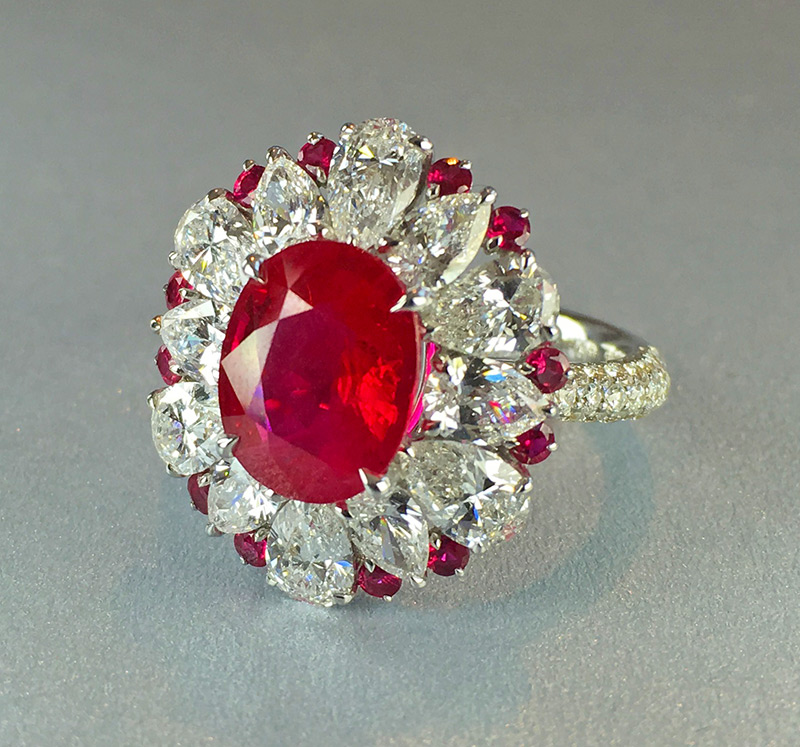 An important ruby deserves a classic setting that will last. It's always harder to design jewelry that is traditional enough for an investment piece yet interesting enough for a design competition. For me, this 3.08-carat ruby ring wins because it is a timeless halo design. But look more closely and you realize that the halo has alternating up and down pear shapes. Behind them round rubies add color and dimension, emphasizing the scalloped outline of the halo. It's classic with a twist and feels like a modern heirloom in the making.
Emerald and Tourmaline Earrings by Annie Fensterstock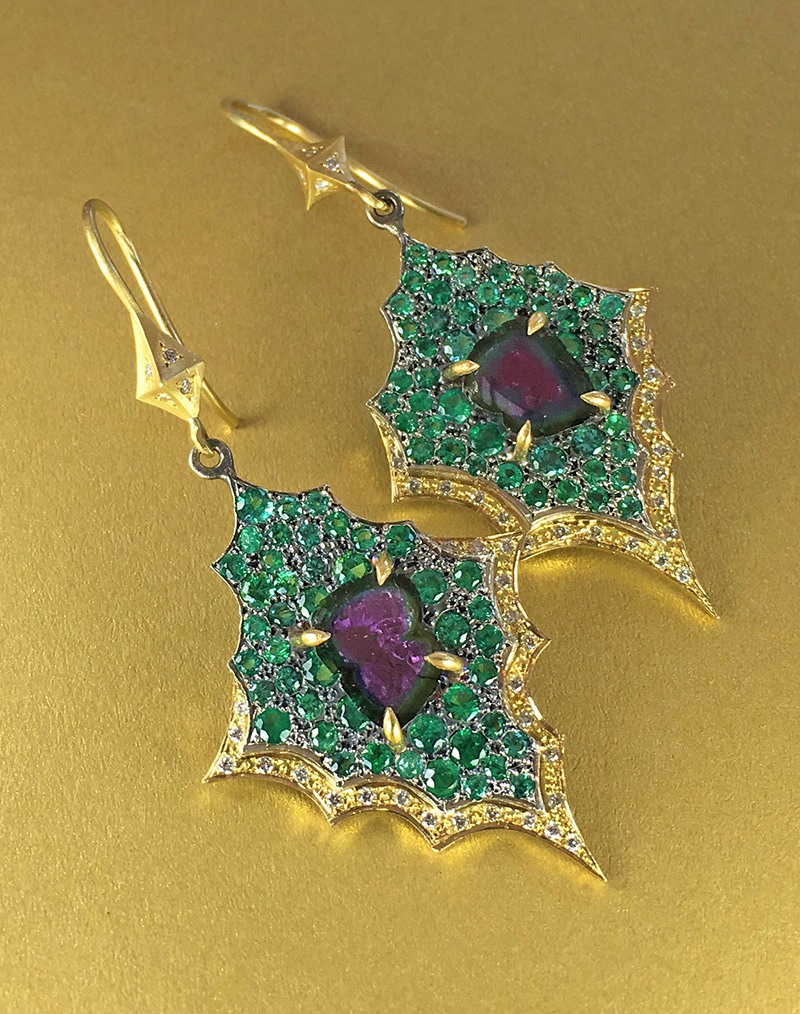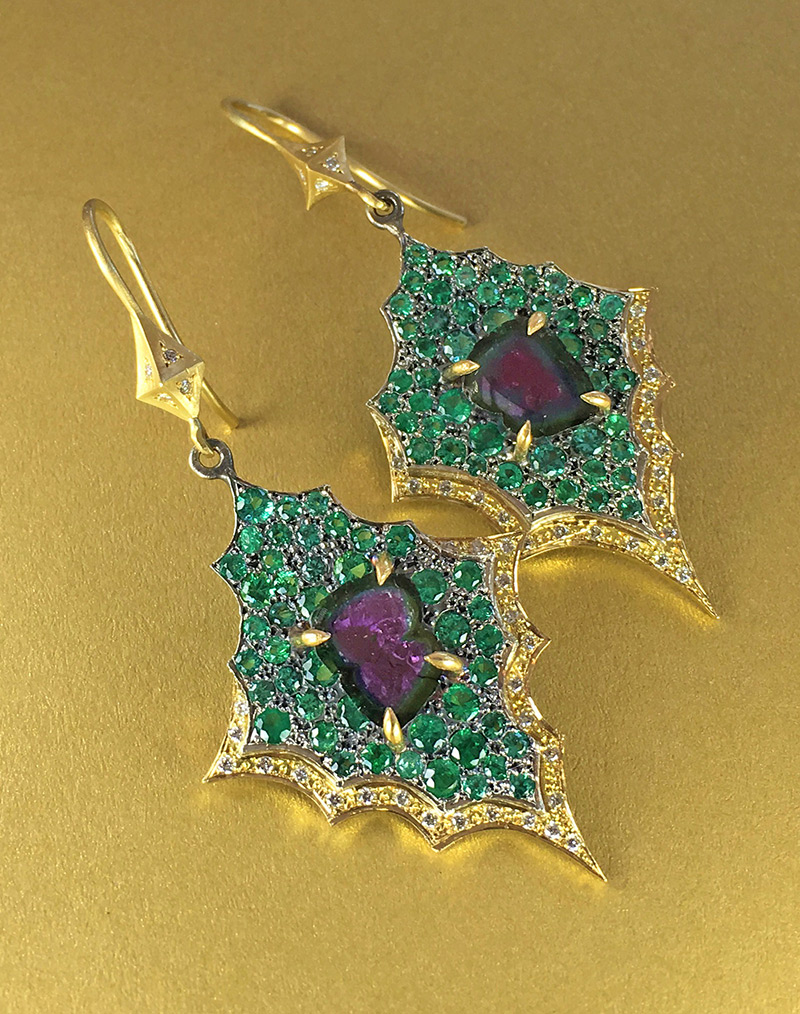 In what turned out to be the year of the tourmaline, these earrings nicely feature small colorful Paraiba tourmaline slices, which are set in the center. Emerald pave brings out the color. But it's the cool shape of these earrings that really sets them apart. It's a nice example of how a slice design doesn't have to be organic to work.
To see more great Spectrum designs, follow me on Instagram!  You also will enjoy Jennifer Heebner's five favorite pieces from the Spectrum Awards.
If you have a favorite Spectrum article, add a link in the comments!