Top 2014 Golden Globes Jewelry Trends
Tina! Amy! Jennifer! Julia! Reese! The Golden Globe Awards are now the most enjoyable awards show on television. The best Golden Globes red carpet jewelry has the same spirit: like you and your gal pals are dressed up and hanging out, only better.
That's why the top Golden Globe jewelry trends for 2014 are likely to influence jewelry off the red carpet too: they are wearable flattering and full of jewelry you'll want to wear right now.
DIAMONDS AND DECO
The top jewelry trend of the 2014 Golden Globes is Art Deco inspired jewelry. In fact Jennifer Lawrence, Kerry Washington, and Jessica Chastain were wearing real vintage Art Deco jewelry. Was this Gatsby? No matter: the geometry, bold palette, and silhouette of classic Art Deco jewelry is perfectly in tune with the bobbed hair and uninhibited spirit of today's top stars.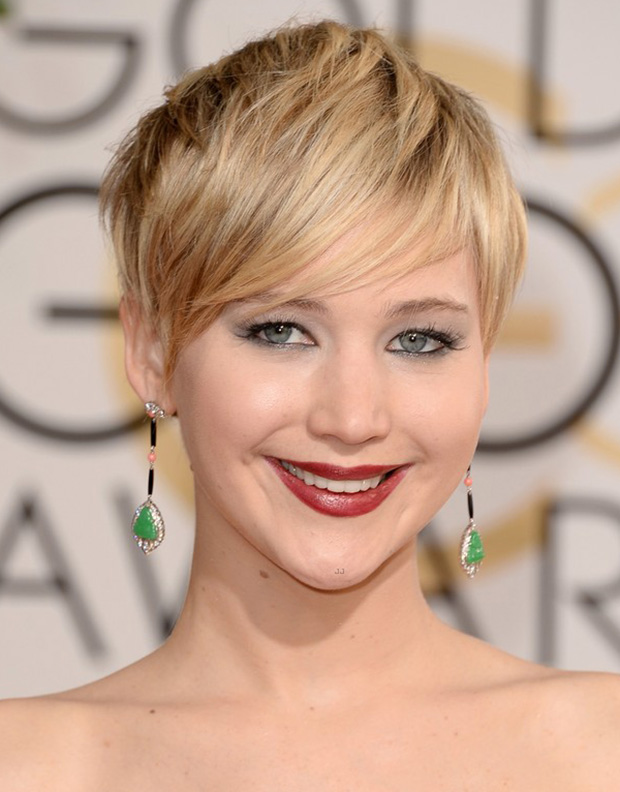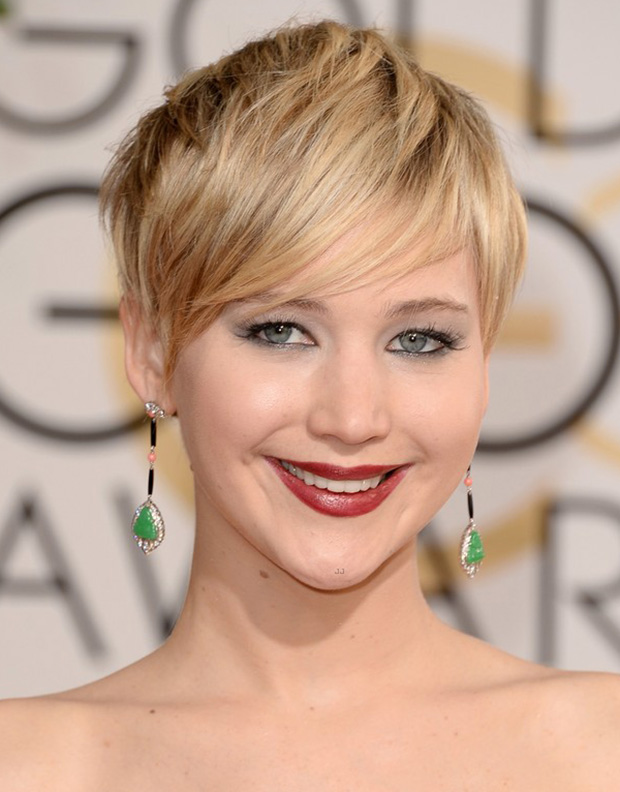 The best example of this trend is the best jewelry of the 2014 Globes: Jennifer Lawrence in Neil Lane Jewelry. Everything about this look worked: the color palette of green and black and white with Jennifer's black and white Dior dress. The movement of those killer jade, black spinel, onyx, coral and platinum earrings. The major emerald  and diamond rings. The fabulous stacked black and white diamond bracelets (one of which went flying in a pre show interview, calling even more attention to the fact that our favorite accident-prone star was wearing $2.5 million in jewels.)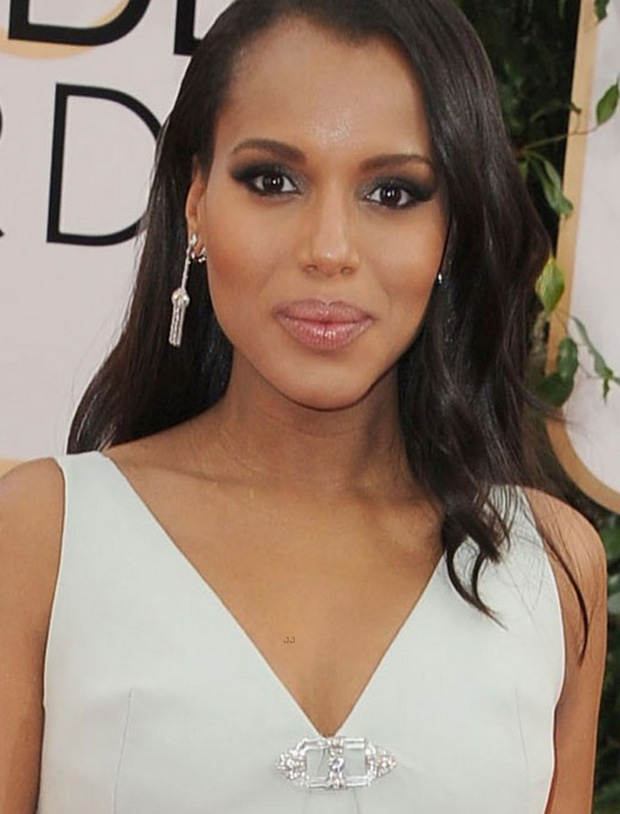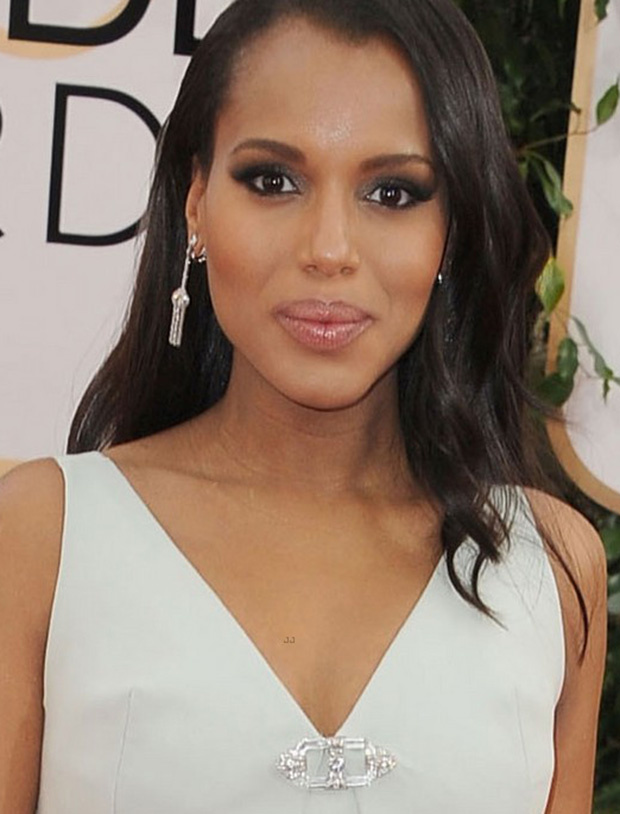 Kerry Washington wore vintage Fred Leighton jewelry
: platinum and diamond tassel earrings from the twenties 
, a fabulous Art Deco platinum brooch with rock crystal and diamonds
 and a ring from the 1920s with diamonds and onyx in platinum.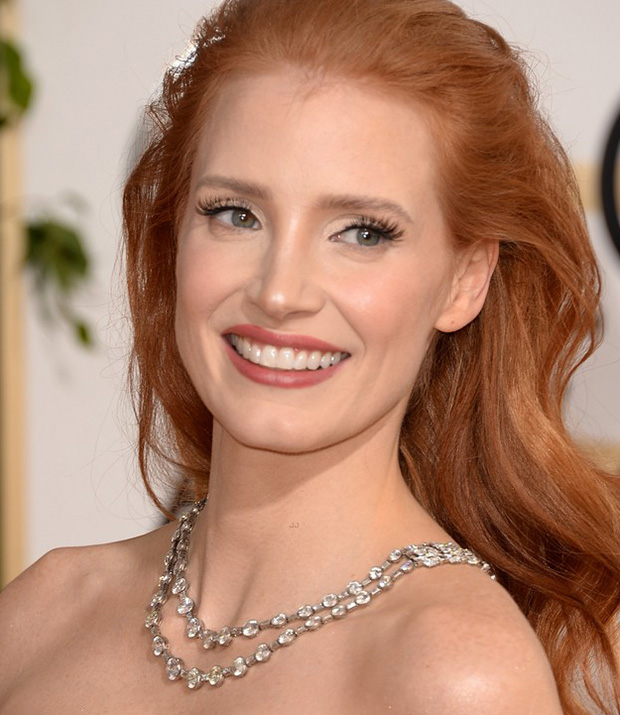 Jessica Chastain is wearing an amazing Bulgari double row diamond and platinum necklace from the 1930s. It sat perfectly on her neck, plunging in the back also.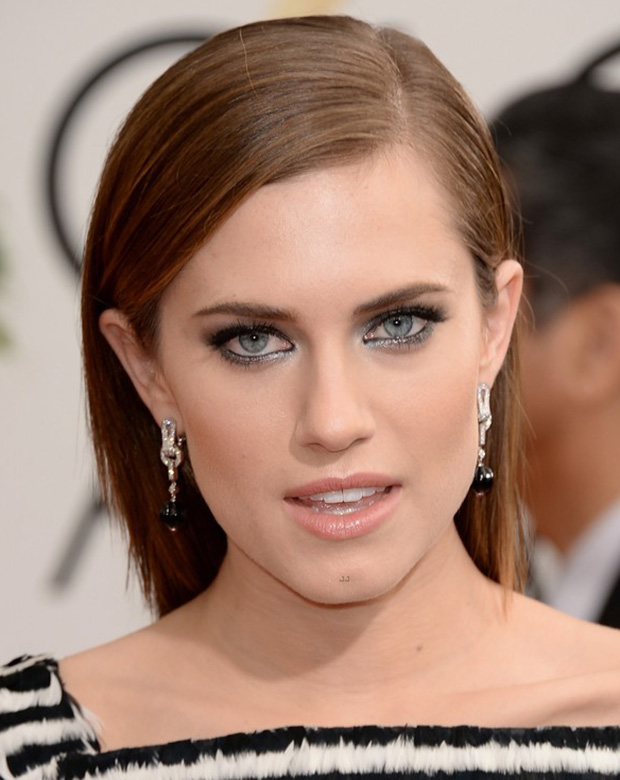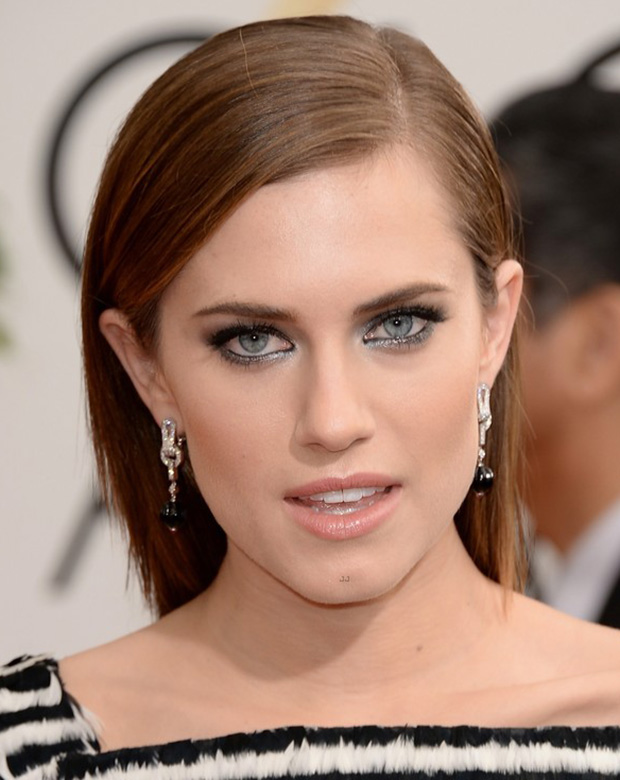 Allison Williams complements her black and white dress with black and white diamond pave link earrings by Cartier, the consummate Art Deco jeweler.
GOLD FOR THE GLOBES
This year the Globe awards really were golden.  Yellow gold was one of the top jewelry trends of the night.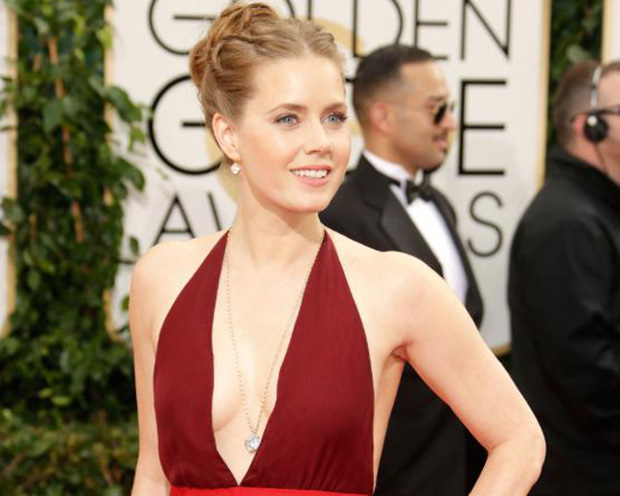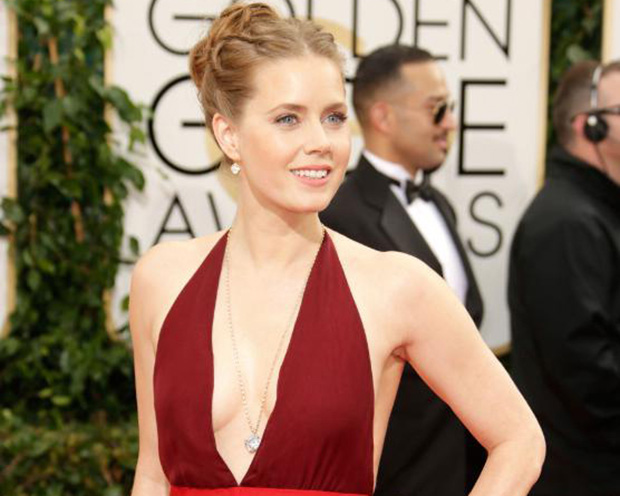 My favorite yellow gold jewelry look of the night is Amy Adams in her very seventies American-Hustle worthy Lorraine Schwartz diamond pendant dropping down into her plunge neckline.  The diamond is thirty carats.  This one is Elizabeth Taylor territory, folks. Amy also wore dangling diamond drops and ruby and diamond rings.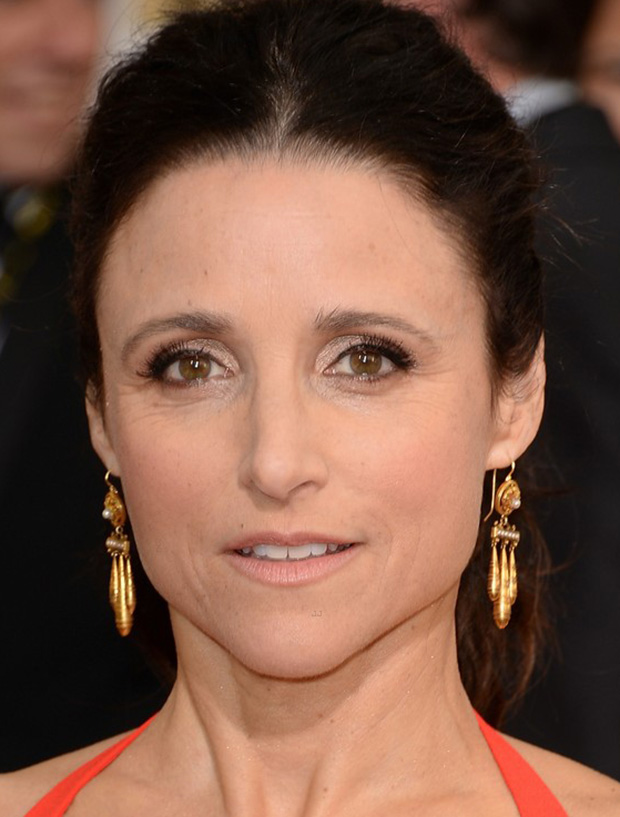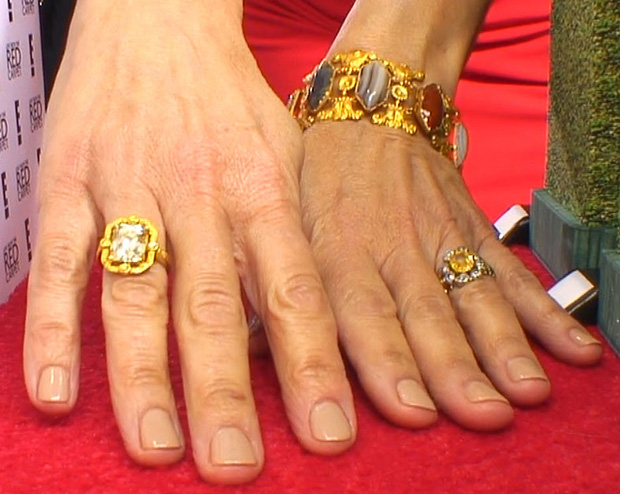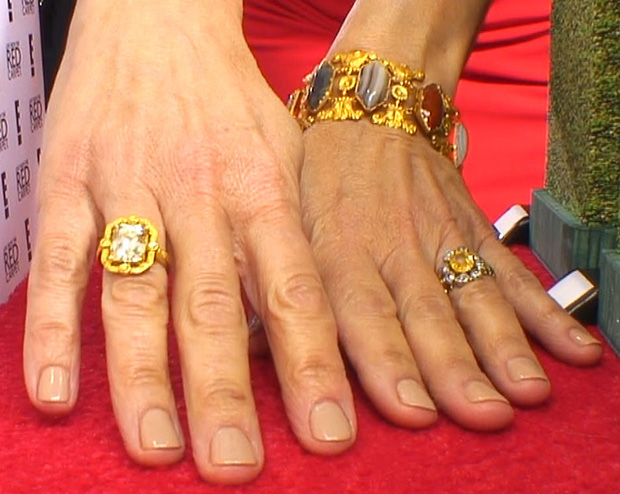 Julia Louis-Dreyfus wears vintage Victorian yellow gold chandeliers by Fred Leighton. She had my second favorite E! manicam moment of the night, flaunting those fabulous vintage bracelets and rings.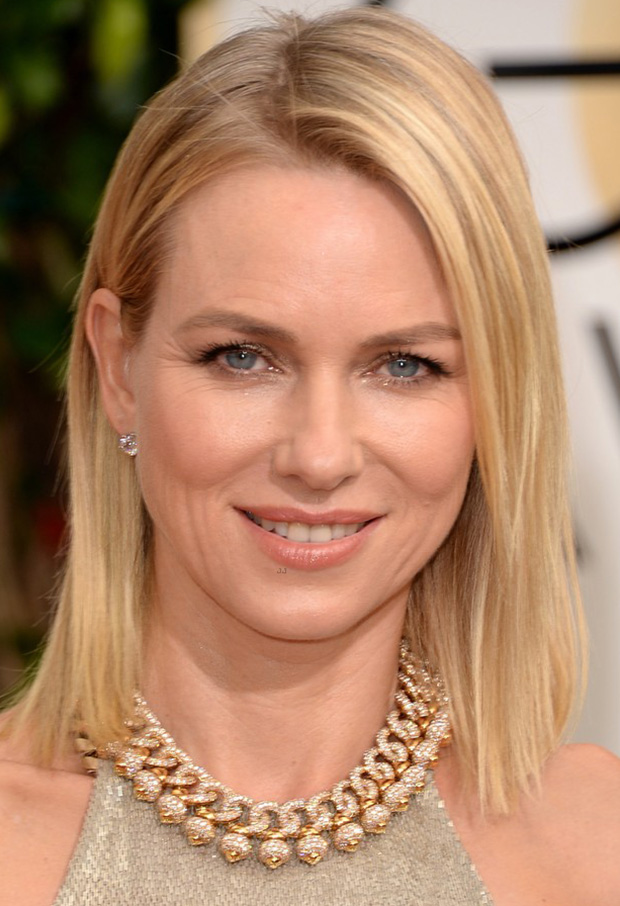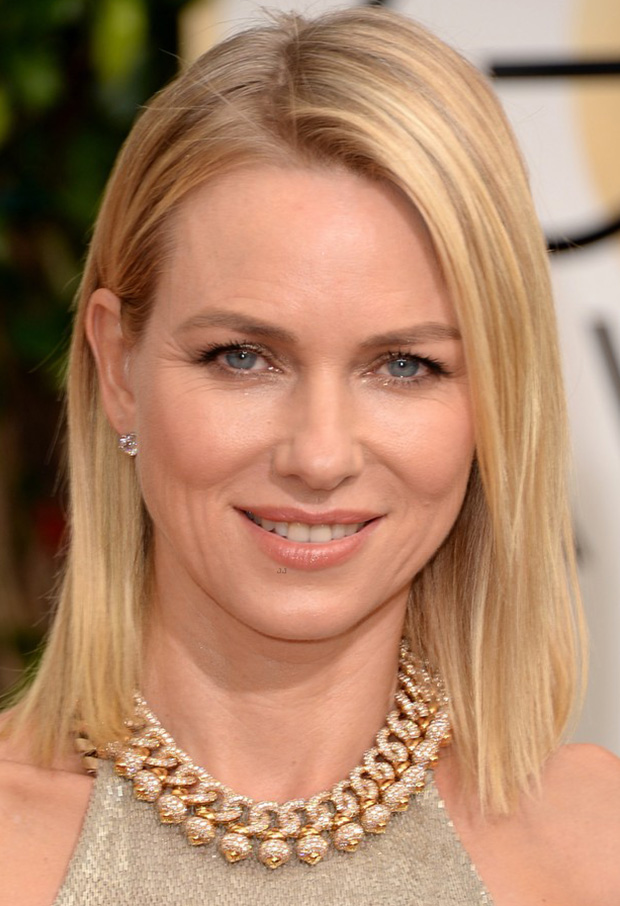 Naomi Watts is wearing yellow gold by Bulgari, including a classic coiled Serpenti bracelet and a necklace that pairs so well with her dress that some commenters thought it was part of it.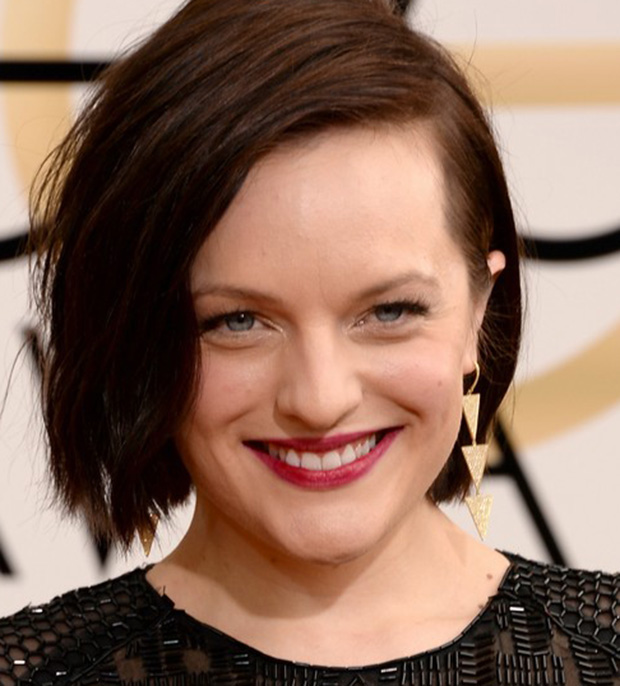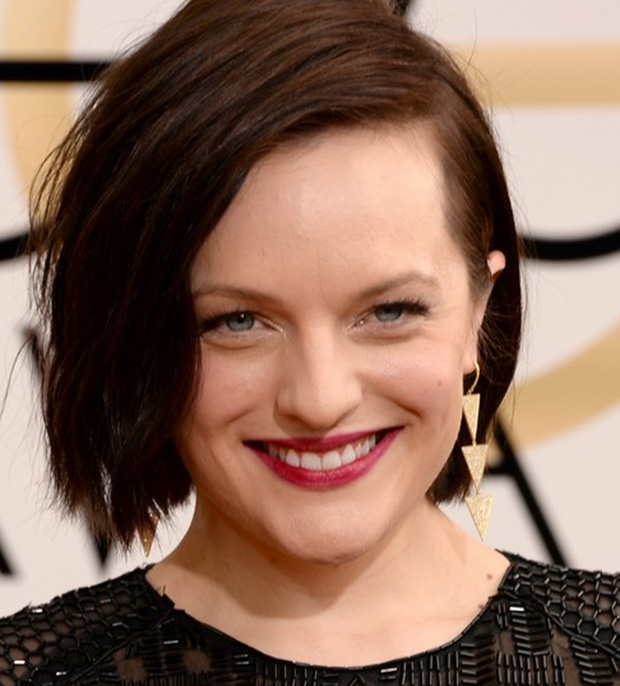 Elisabeth Moss combines Deco and yellow gold with her geometric triple triangle drop earrings by Jennifer Meyer.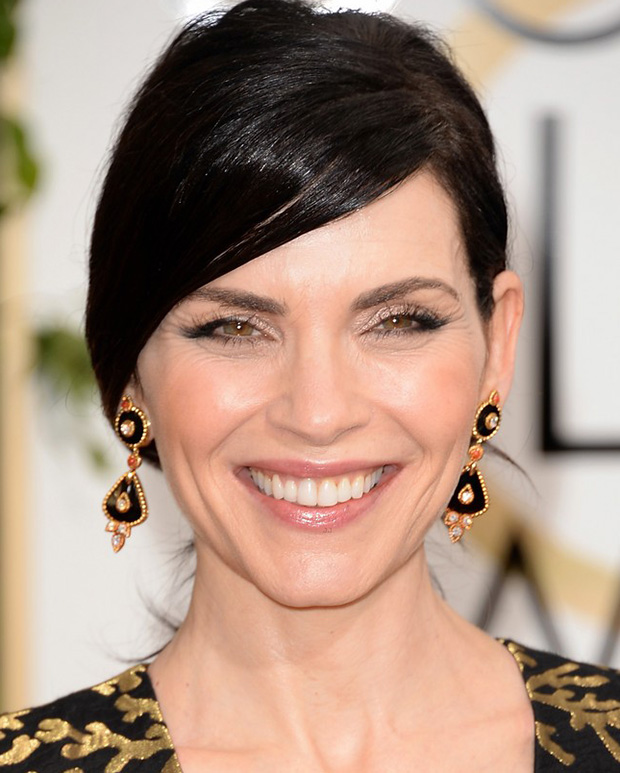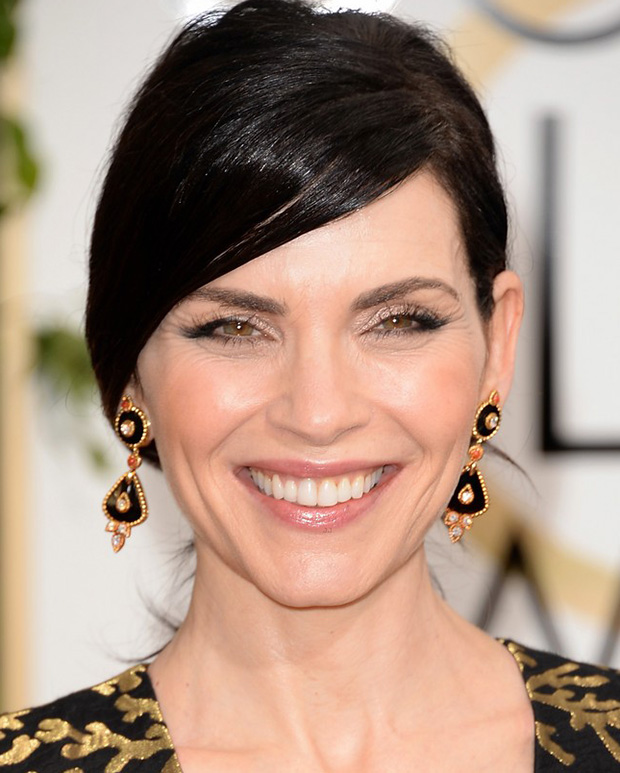 Julianna Margulies also pairs yellow gold and black in her Van Cleef and Arpels jewels.  Other notable golden looks: Emilia Clark in bold gold Sidney Garber bracelets and earrings, Kelly Osbourne in sinuous earrings by H Stern, Amy Poehler's red carpet cuffs by Karla Welch for Jacob & Co.
PINKY RINGS
Although it's difficult to find pictures that prove it, another interesting trend of the night is pinky rings.  What's interesting is that they are bold, not delicate.  The two best examples are visible on the E! mani-cam.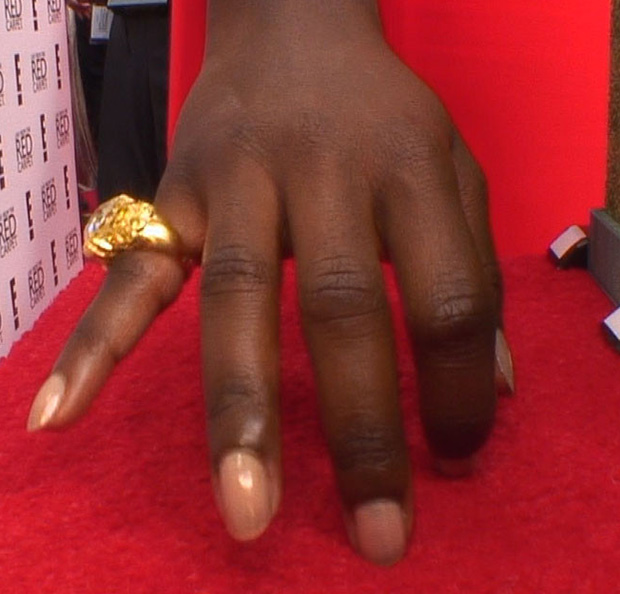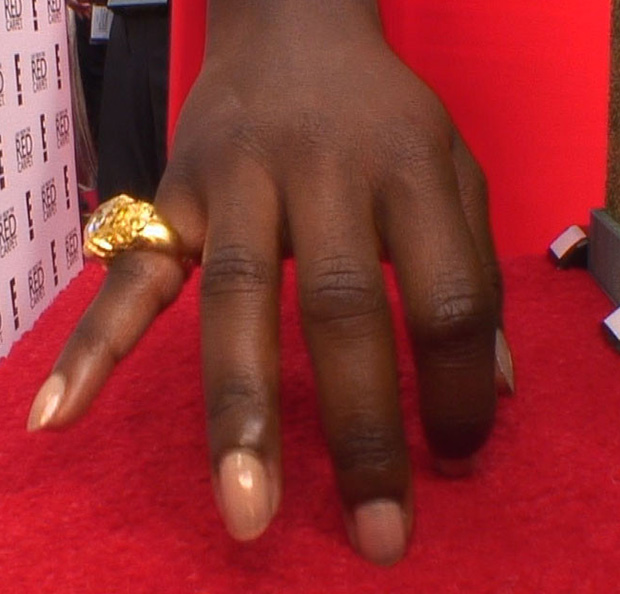 Lupita Nyong'o showed off this bold yellow gold and diamond pinky ring by Fred Leighton.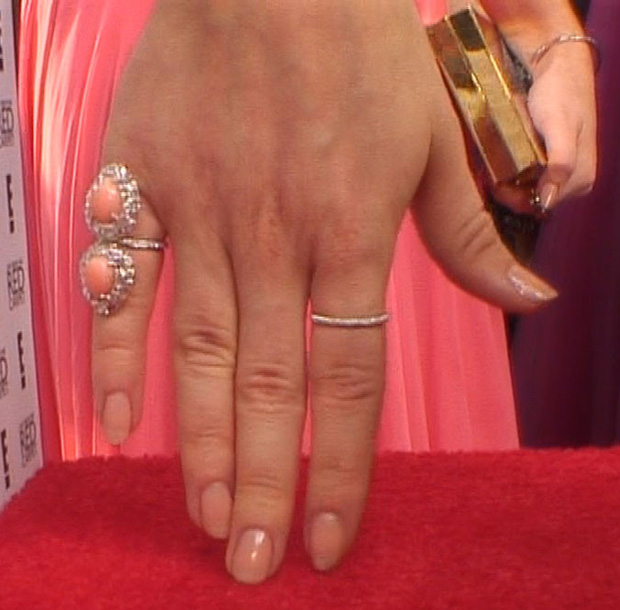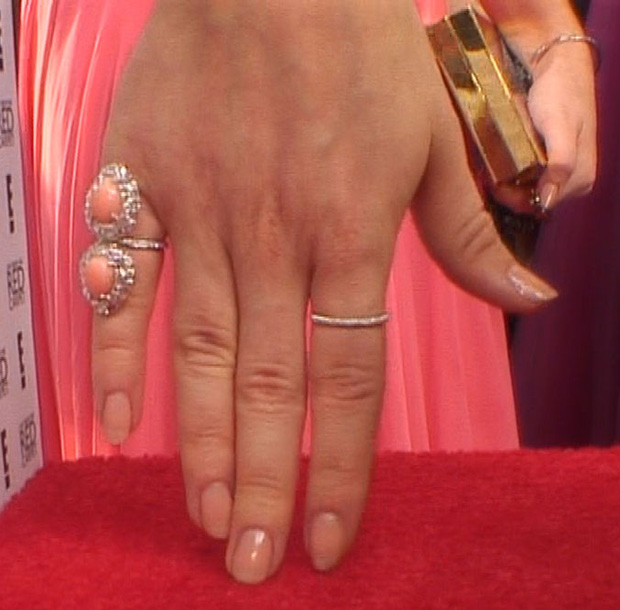 Sarah Hyland wore this fabulous coral ring by Lorraine Schwartz on her pinky.
DIAMOND STUDS
Every year, industry experts tweet the best jewelry moments using the #GlobeJewelry hashtag.  It's safe to say that the least favorite moments of the night are the stars wearing diamond studs.  It's boring, it's safe, we would be thrilled if we never saw another stud on the red carpet.  But undeniably, the stud trend continues to be strong. At this year's Golden Globes, stud supporters include Lupita Nyong'o, Julia Roberts, Naomi Watts, Lena Dunham, Reese Witherspoon, and others I can't remember.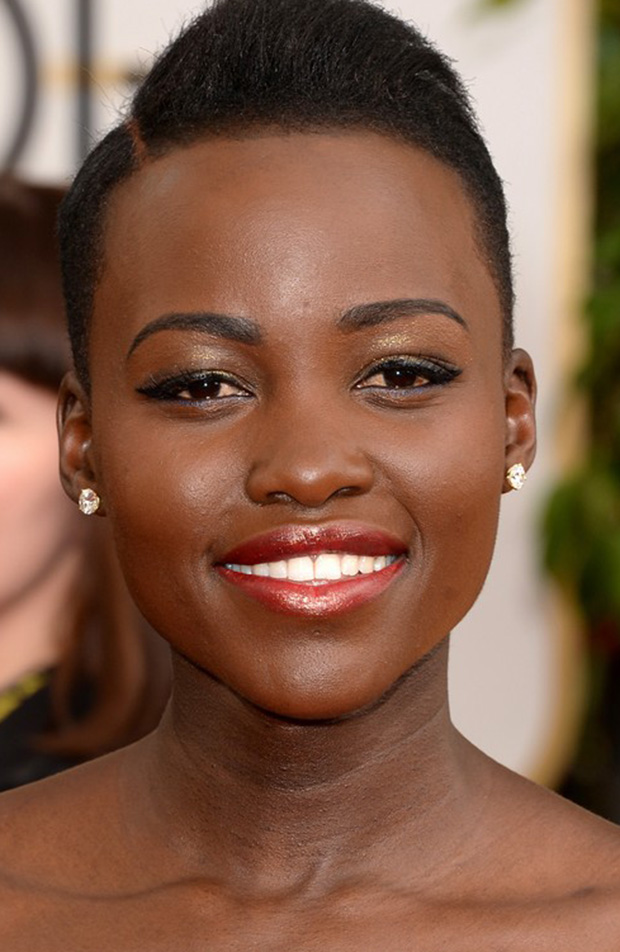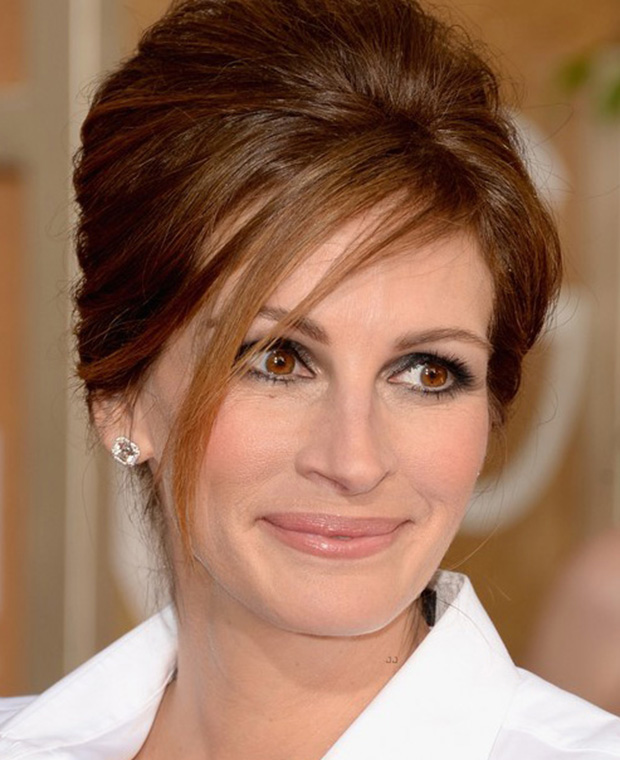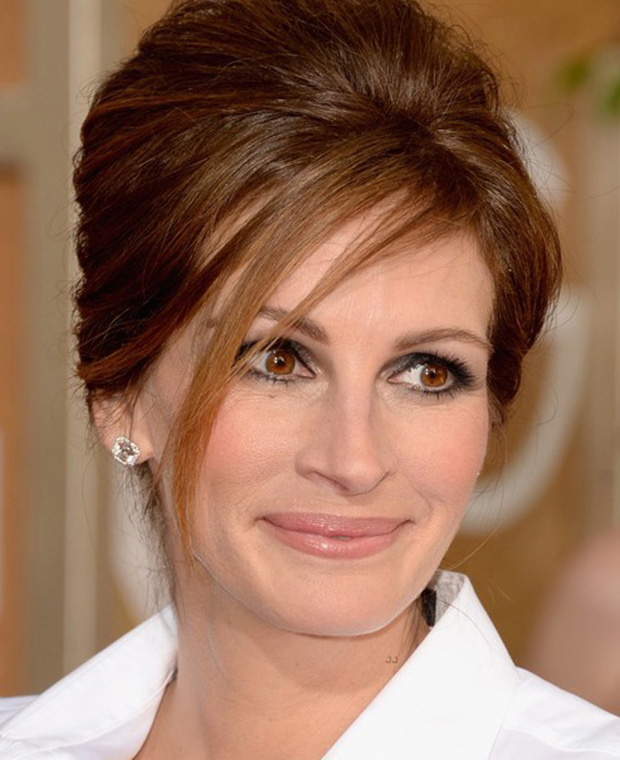 It's the red carpet people!  You can do better.
What were your favorite Golden Globe Jewelry looks?  Any trends I've missed?