The Best Oscar Jewelry of 2015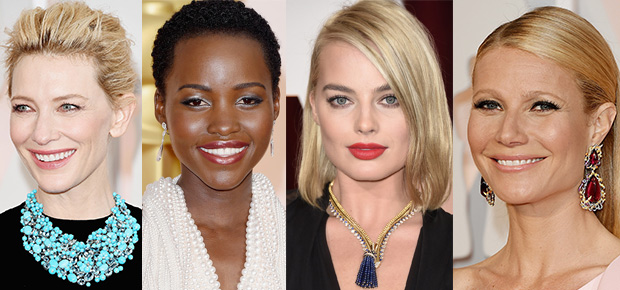 When even the dresses are wearing jewelry, you know it's a very good Oscars red carpet. For the first time in years, statement necklaces are the strongest jewelry trend on the red carpet. Pearls have made a major comeback. Classic Hollywood diamonds sparkle in cluster earrings. Gorgeous gems drop from ears. And a few bold looks break new ground. There are lots of gorgeous jewels this year, so let's get right to it!
Statement Necklaces
This is the big surprise of the night: the important necklace with the restrained background. Who wears this trend best? It's hard to argue with Margot Robbie's classic Van Cleef & Arpels zip necklace, a style the Duchess of Windsor made famous in the 1940s. Unless you can't resist Cate Blanchett's turquoise, aquamarine, and platinum bib from Tiffany & Co. And the diamonds, oh my.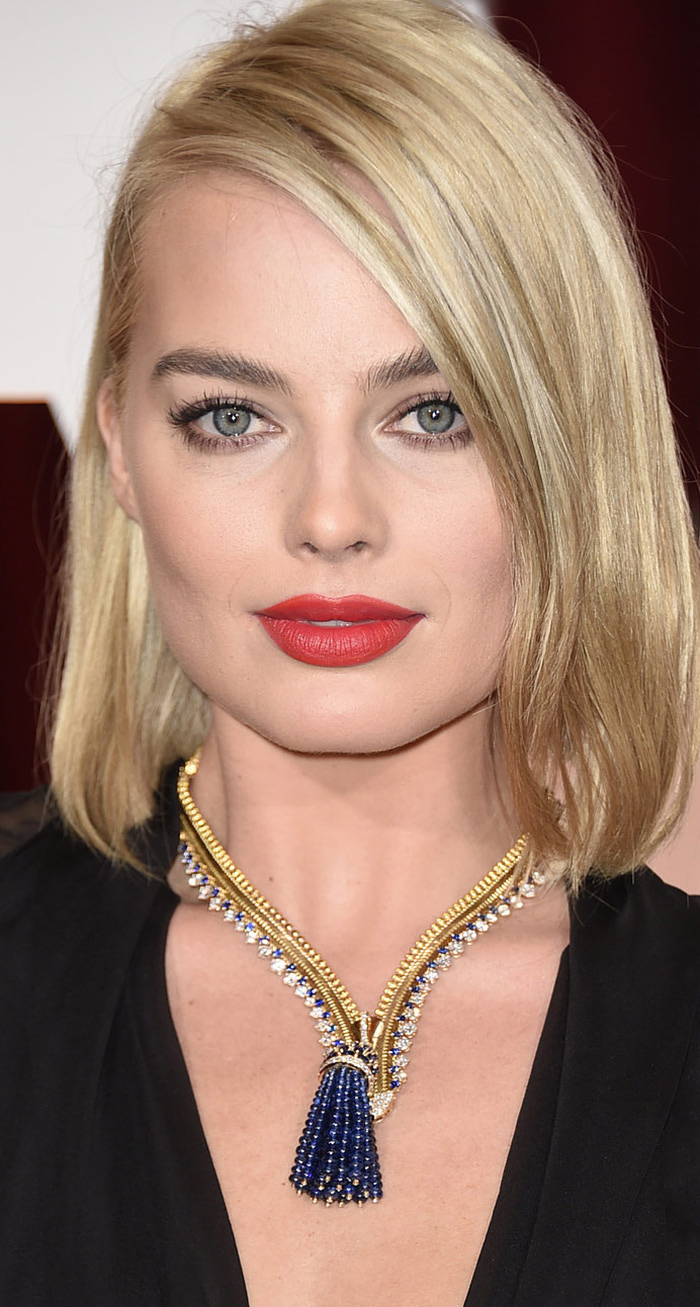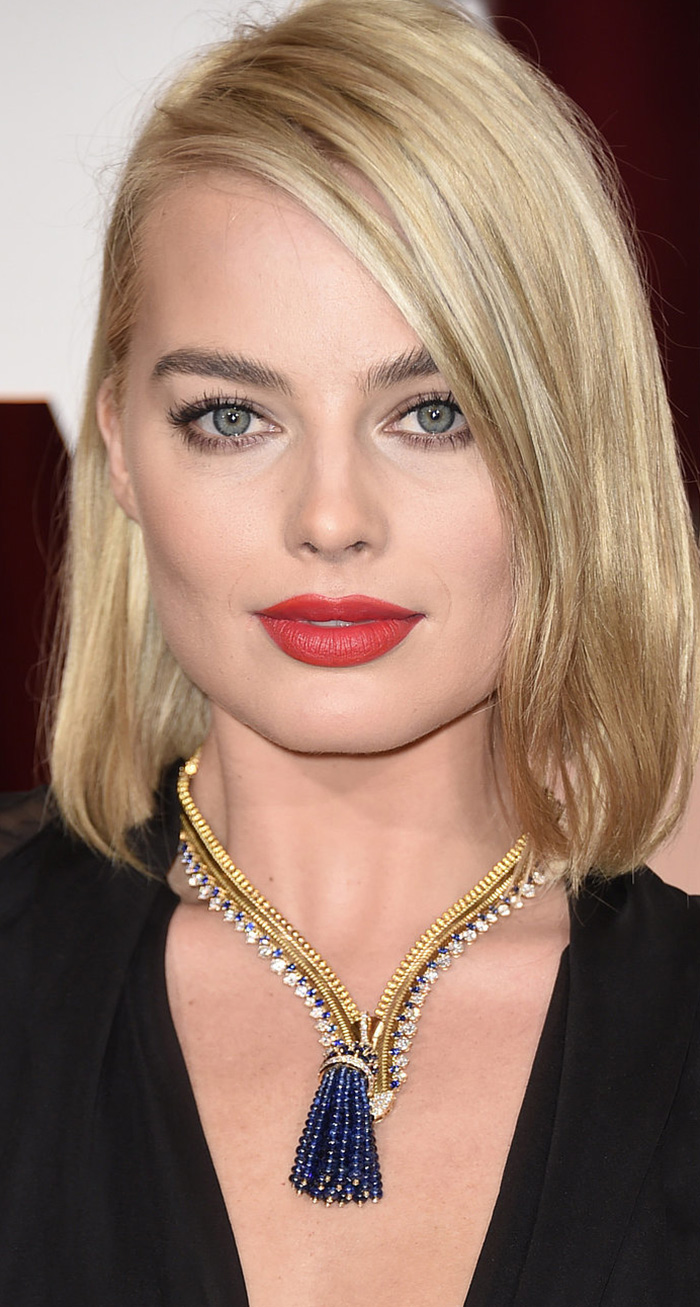 In sapphire, siamonds and yellow gold, Margot Robbie joked that her Van Cleef & Arpels necklace cost "more than my life."  The style statement? Priceless.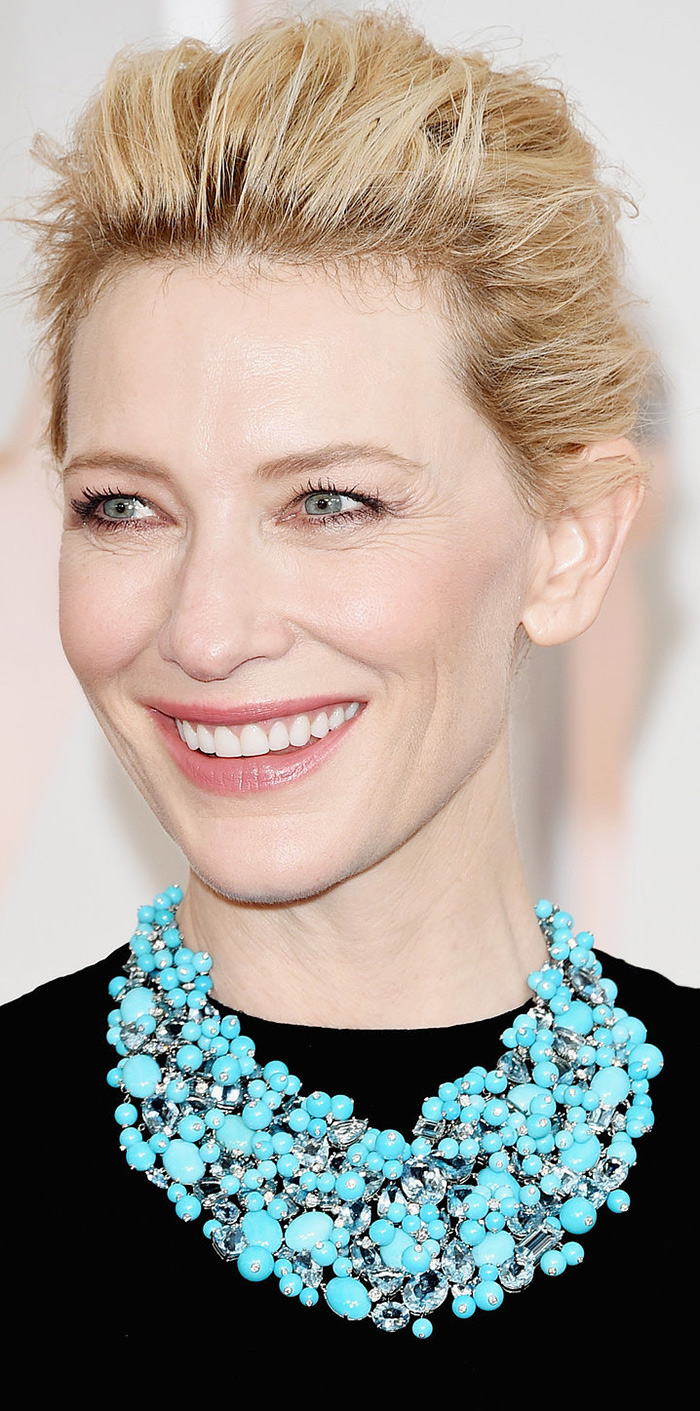 Although most described what Cate Blanchett was wearing as a turquoise necklace by Tiffany & Co, a closer look reveals aquamarine, diamonds, and platinum too, with a lovely dimensionality. Quite a statement, don't you think?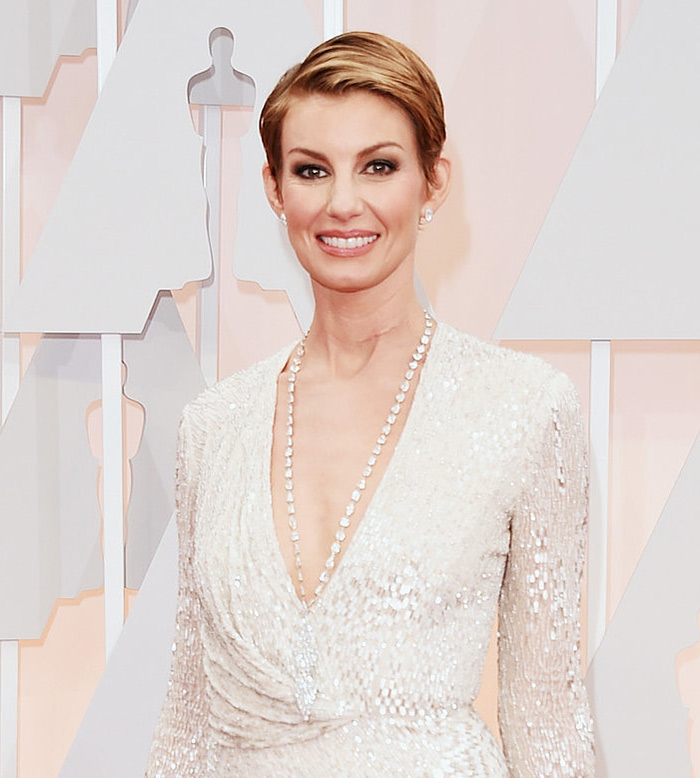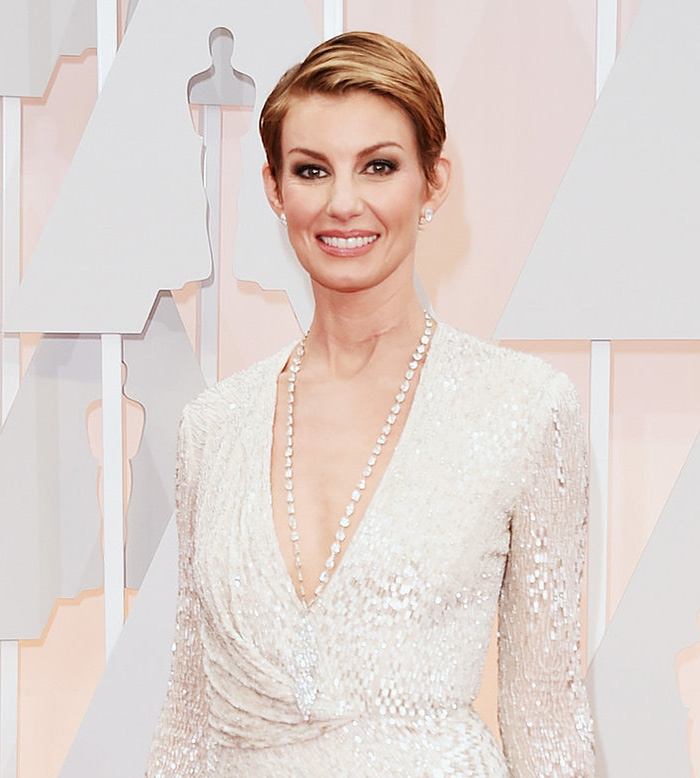 I saw the long diamond chain on the Lorraine Schwartz necklace faith Hill is wearing immediately.  But then it hit me: there is an amazing diamond pendant also. See it at the end of the chain?  Too bad most shots crop it away because her dress is the perfect diamond pendant camouflage.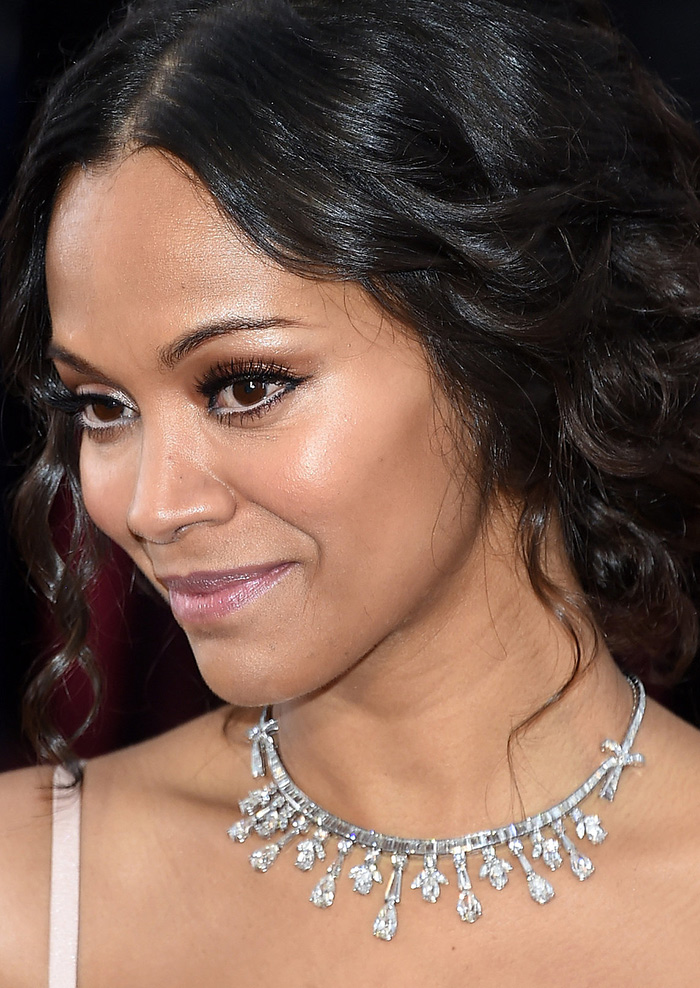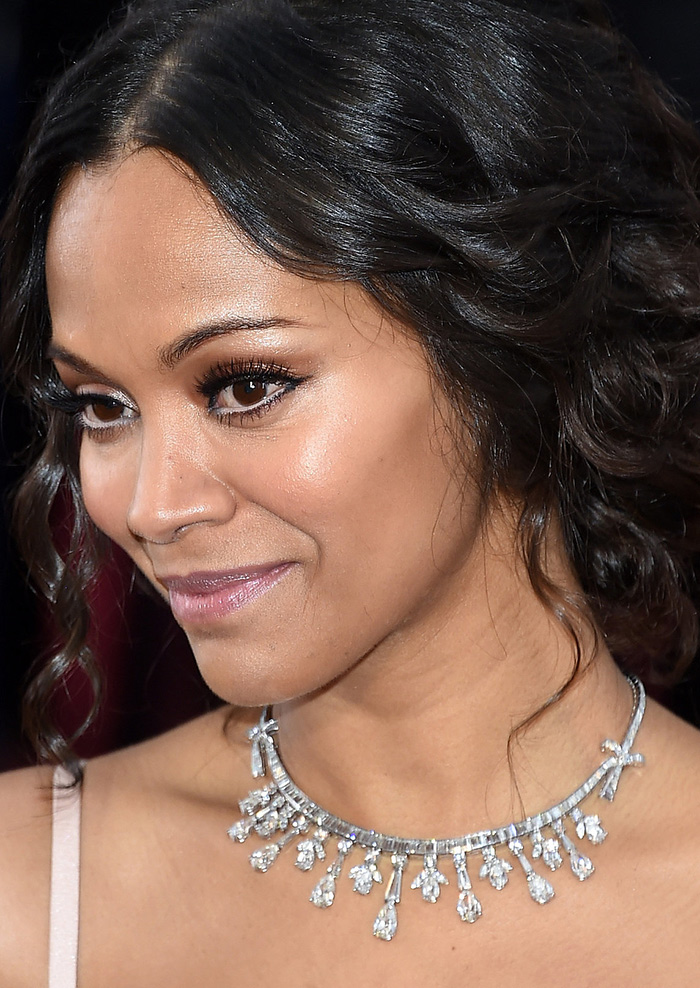 The diamond necklace by Neil Lane that Zoe Saldana is wearing is valued at $1 million.  Check out the baguettes that go all the way around her neck.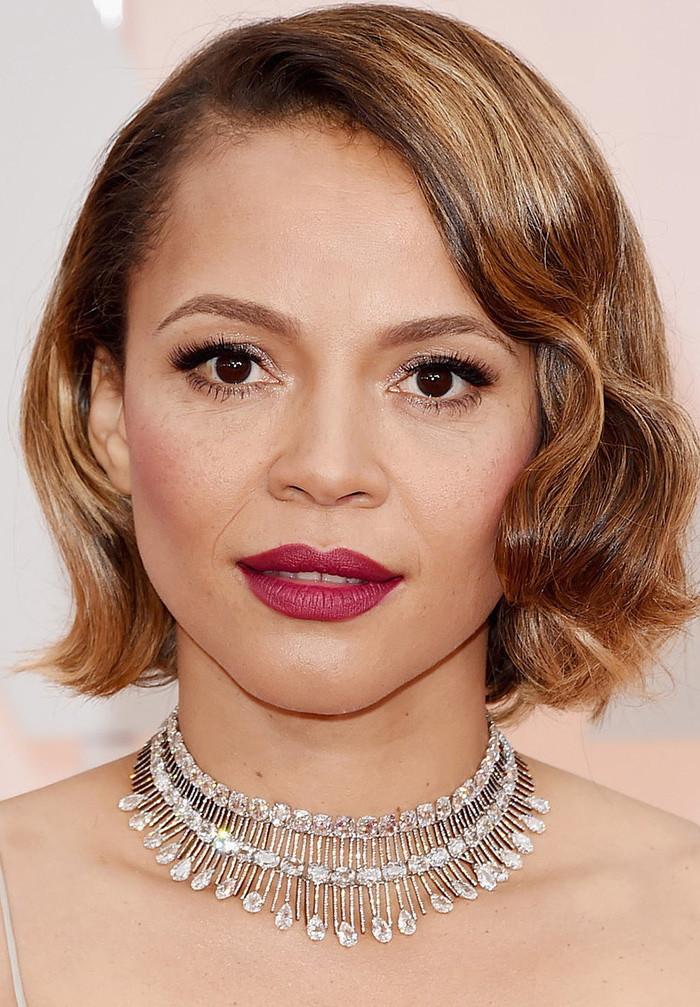 Carmen Ejogo is wearing a pretty spectacular diamond necklace by Chopard. I like the large size of the diamonds, the pear dangles, and especially the corset collar silhouette, which feels pretty directional right now.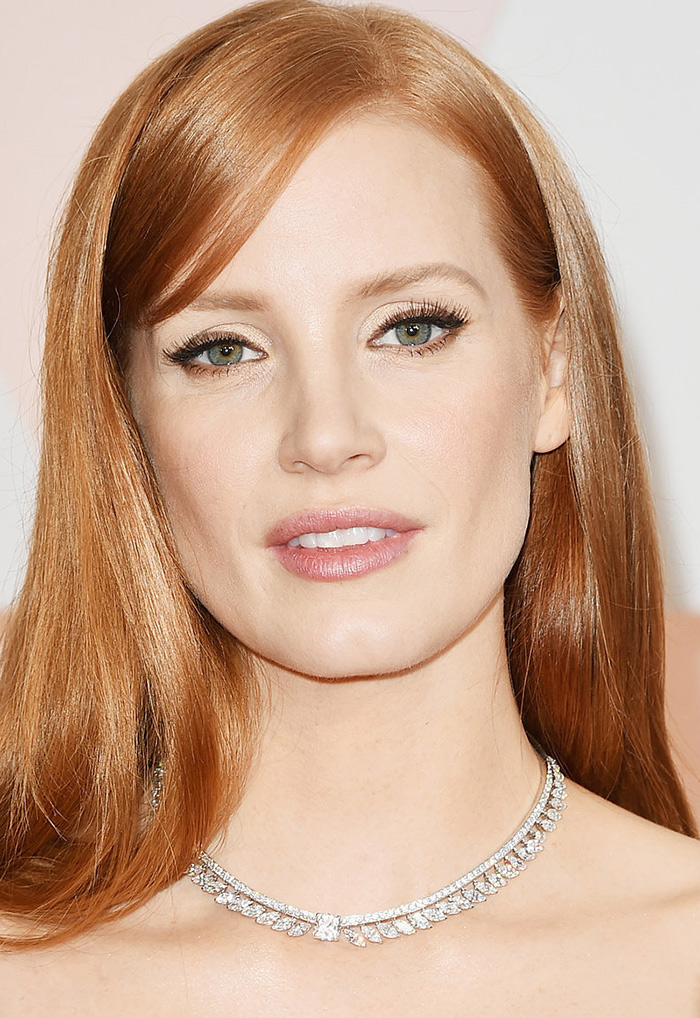 The delicate diamond necklace by Piaget Jessica Chasten is wearing has an interesting fringe of marquise cut diamonds.  Fancy shaped diamonds are a pretty strong trend right now and this is a nice use of them to enliven a classic silhouette, don't you think?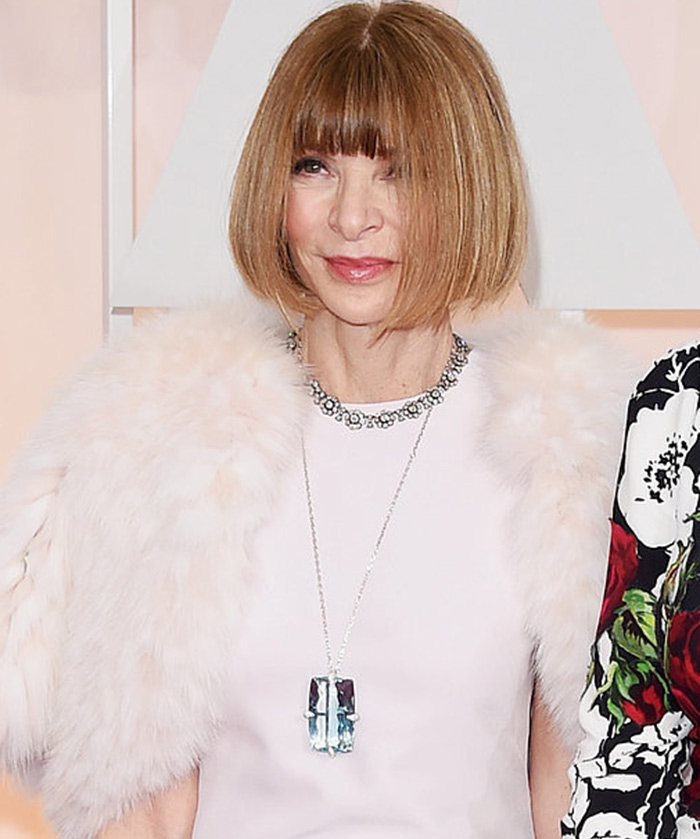 How important are statement necklaces right now? None other than Anna Wintour is wearing not one but two! She often wears Georgian style collet necklaces so the blackened vintage style is no surprise. But the large modern pendant layered with it is quite a statement.  I don't have credit information for these necklaces yet: I'll work on it.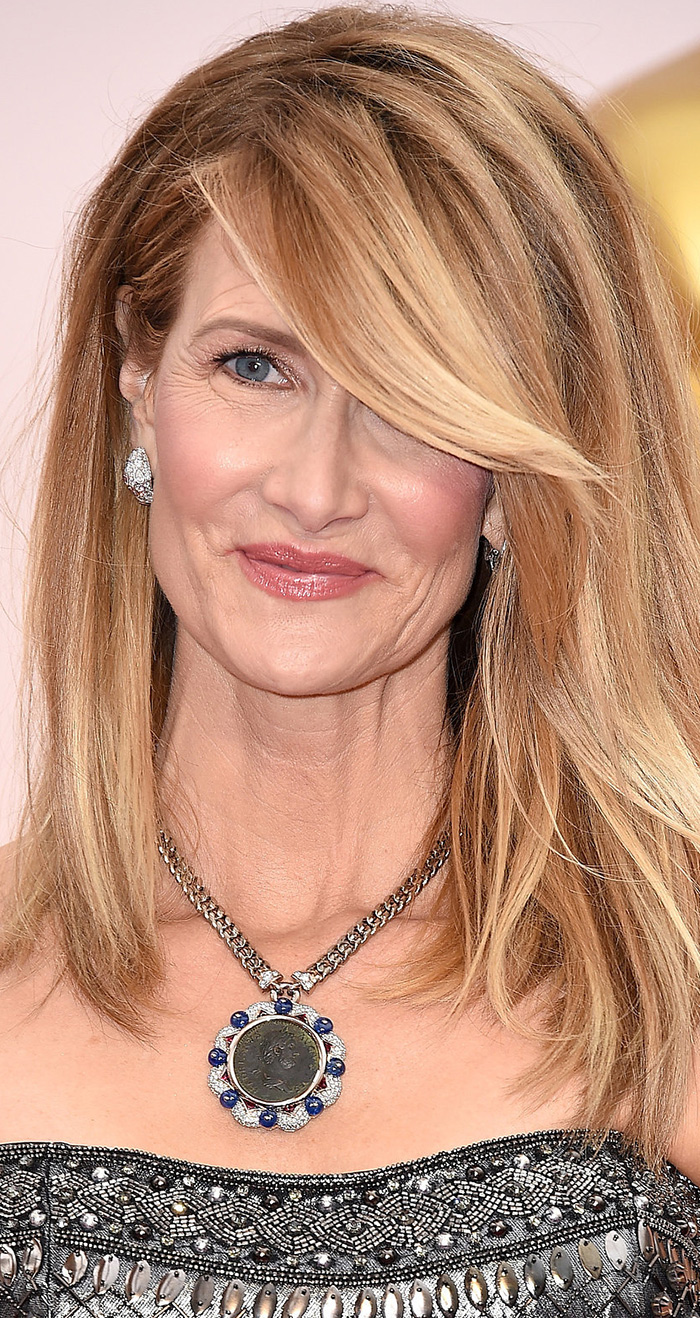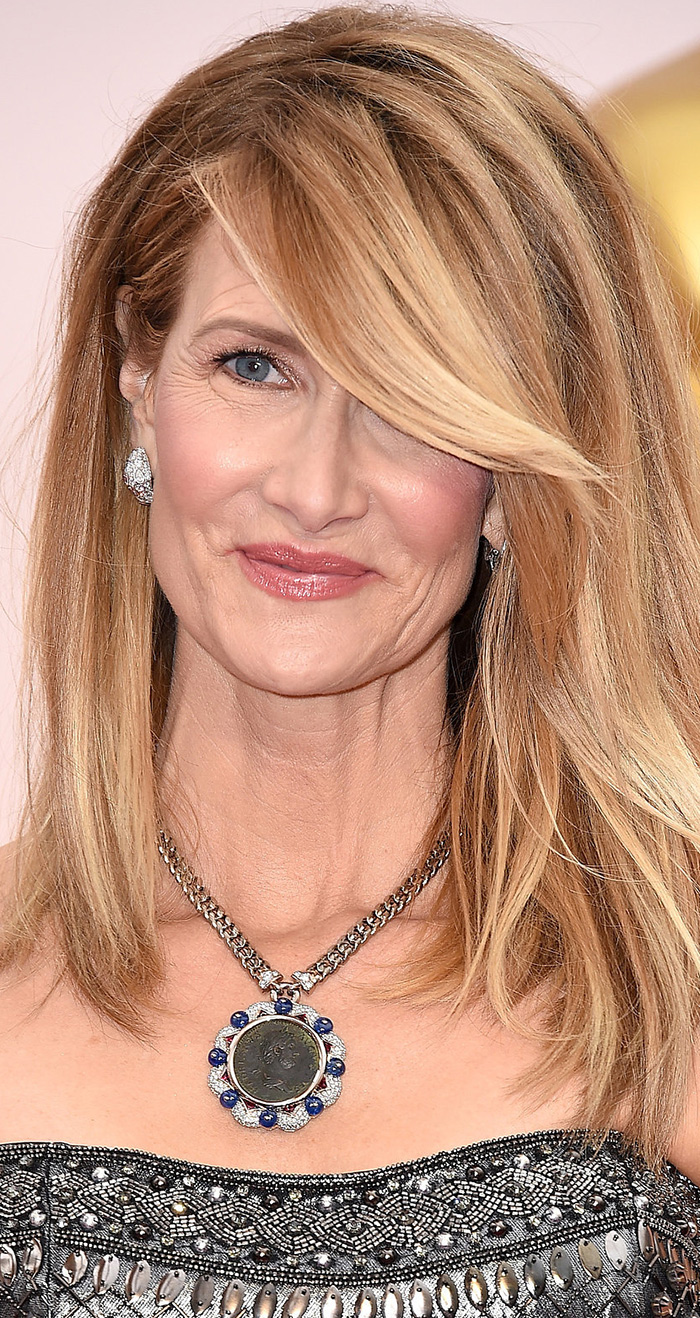 Laura Dern wears a classic coin pendant from Bulgari that helps reinforce her medieval warrior princess vibe.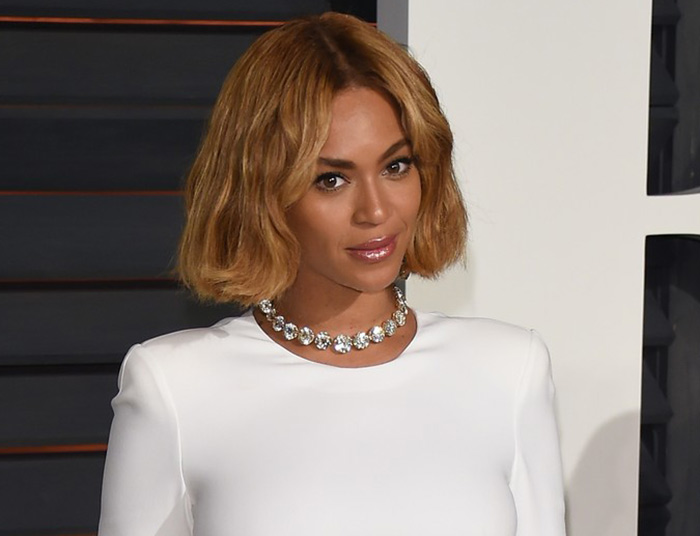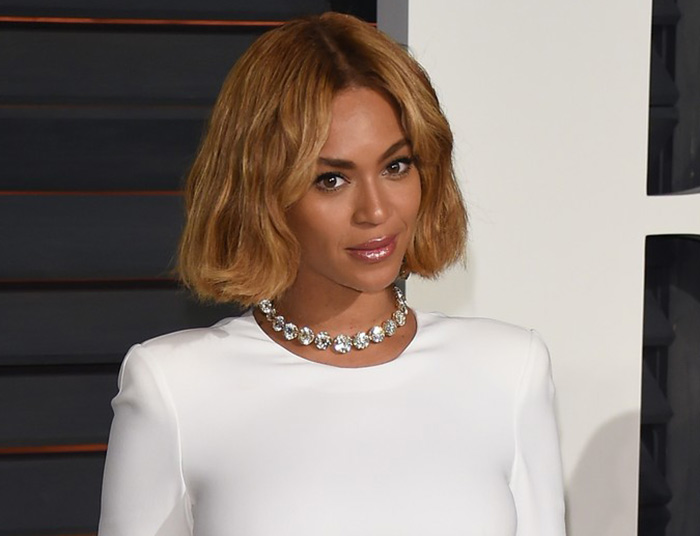 And last but never least, I couldn't resist adding in one image from the Vanity Fair Oscar party. Because the Lorraine Schwartz necklace Beyonce is wearing is pretty incredible.  Look at the size of the diamonds! Another short collar silhouette too.
Pearl Plenty
This is the best Oscars ever for pearls. There were three or four pearl embroidered dresses, pearl necklaces and pearl earrings. But all anyone will probably remember is Lupita Nyong'o, because there are pearls and there are PEARLS. Exhibit A: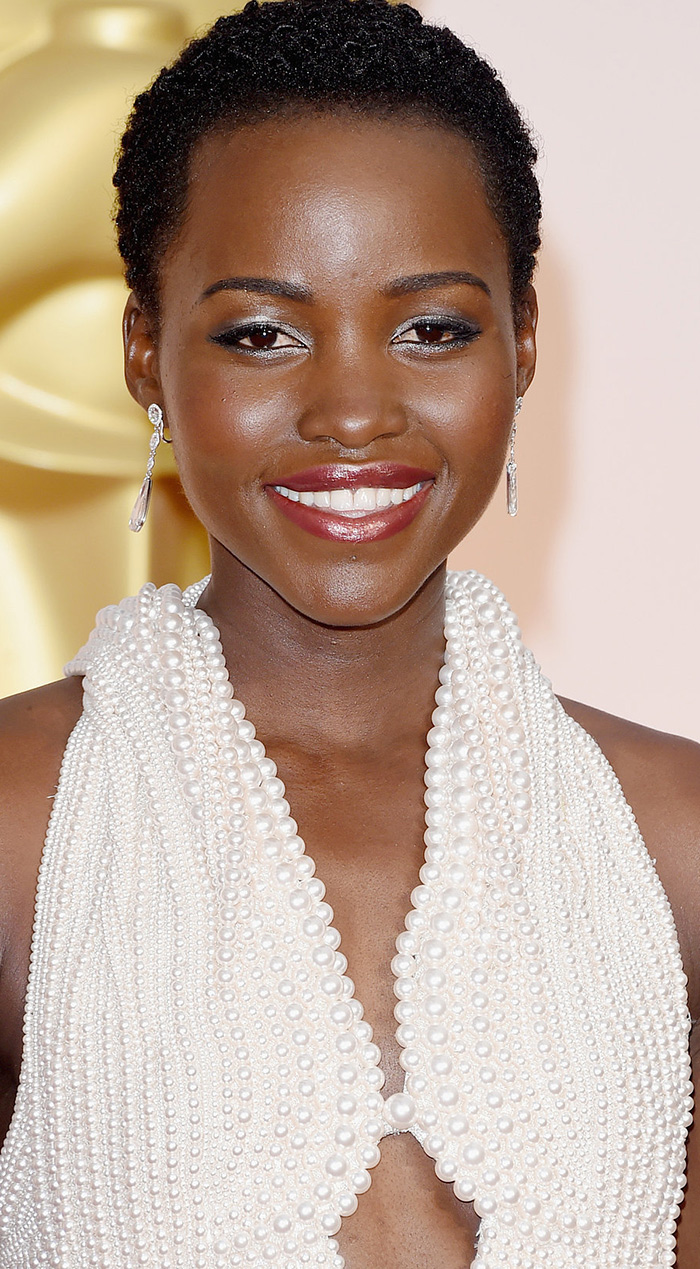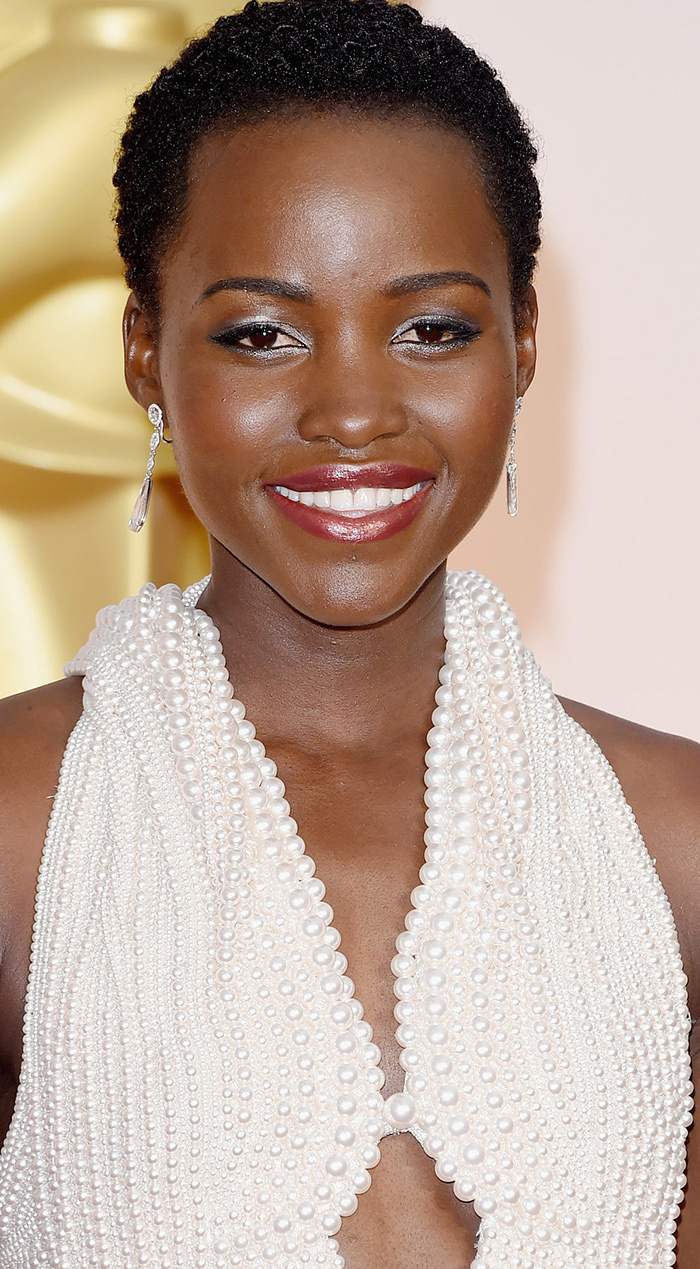 There are 6,000 embroidered pearls on her custom Calvin Klein dress, some real, some not.  But it is harder to imagine a stronger statement for the allure and beauty of pearls. (Lupita is also wearing some lovely diamonds by Chopard BTW.)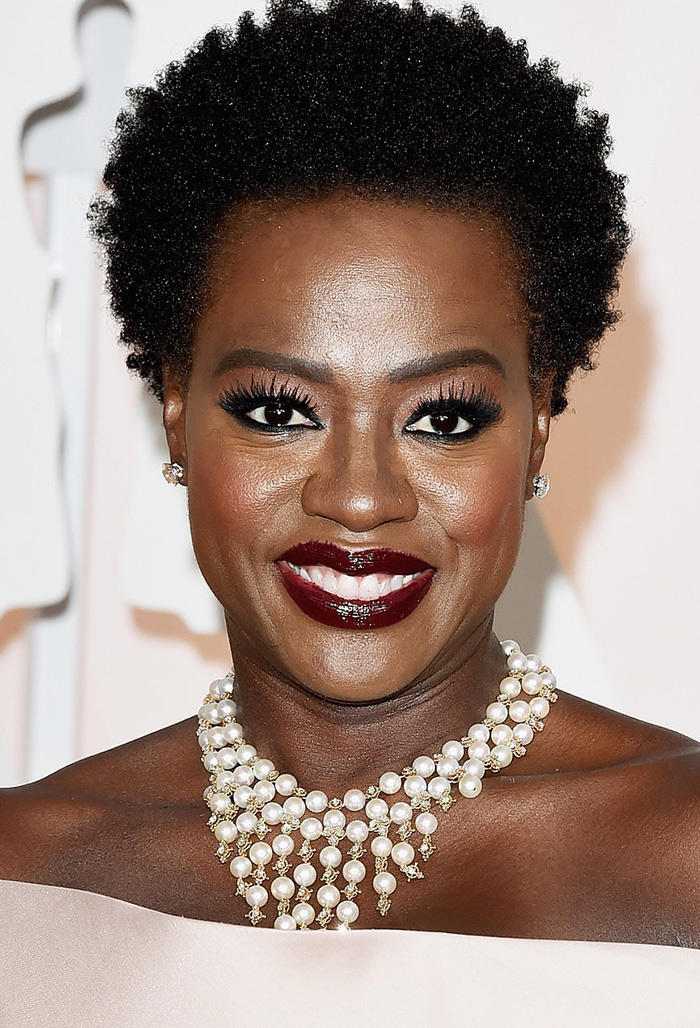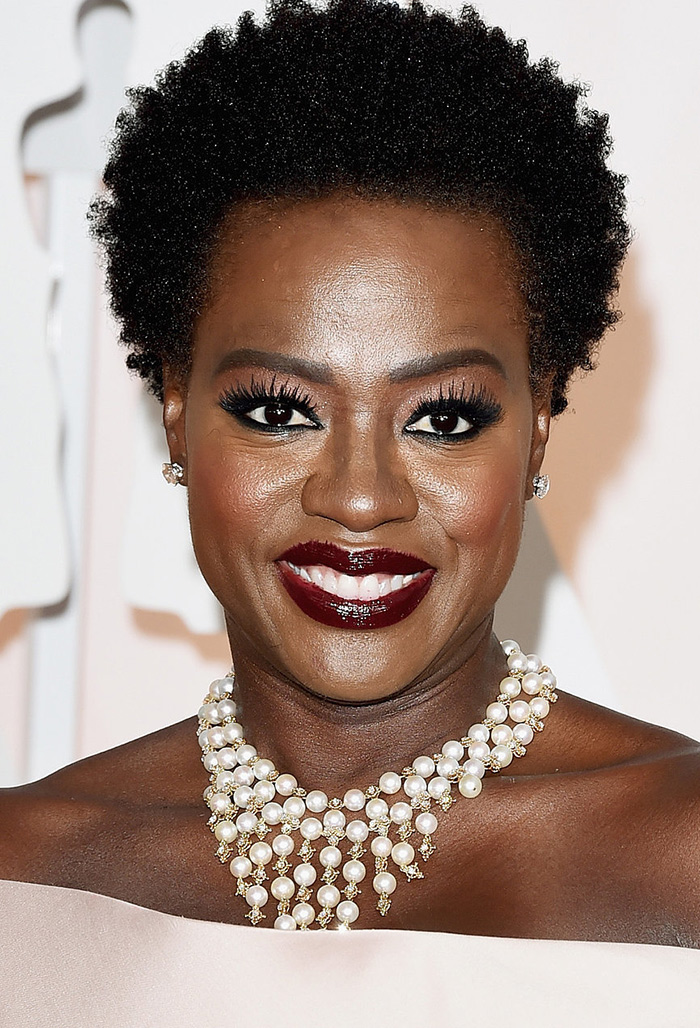 Statement necklace, check. Pearls, check. Viola Davis hit both of the night's strongest trends dead center with this bib necklace by Van Cleef & Arpels.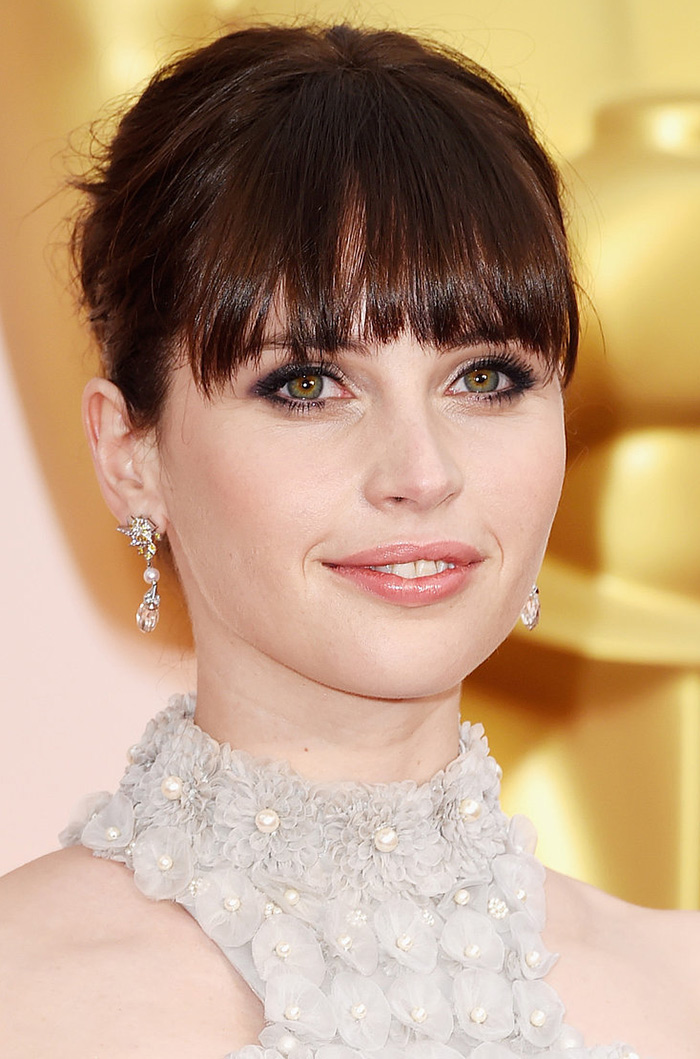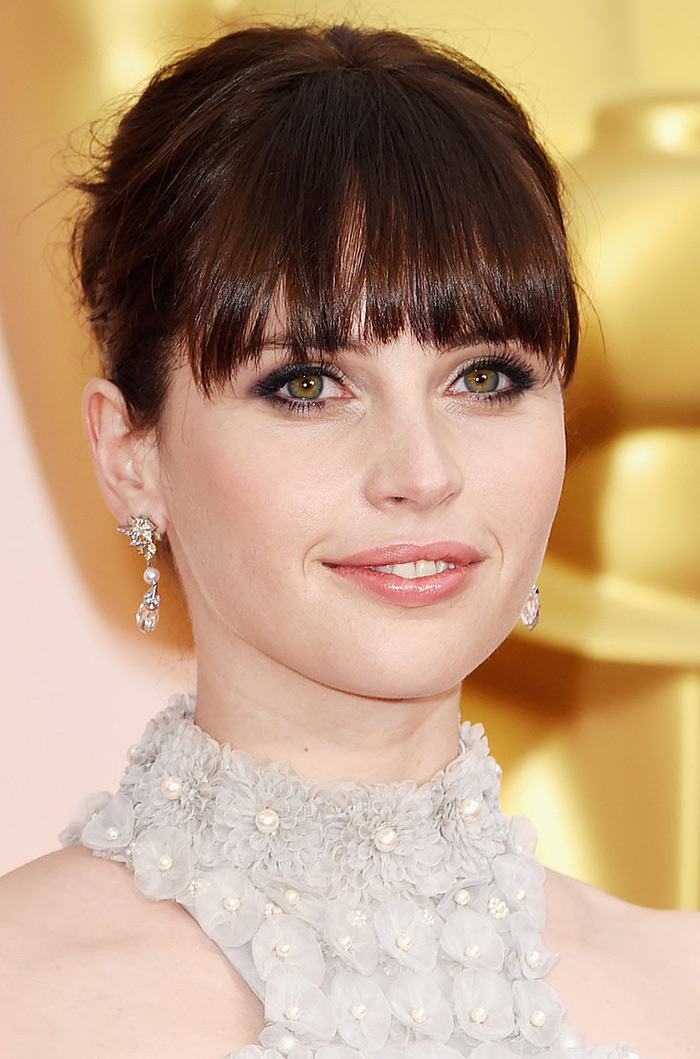 Felicity Jones paired her pearl embroidered dress by McQueen with pearl earrings by Van Cleef & Arpels.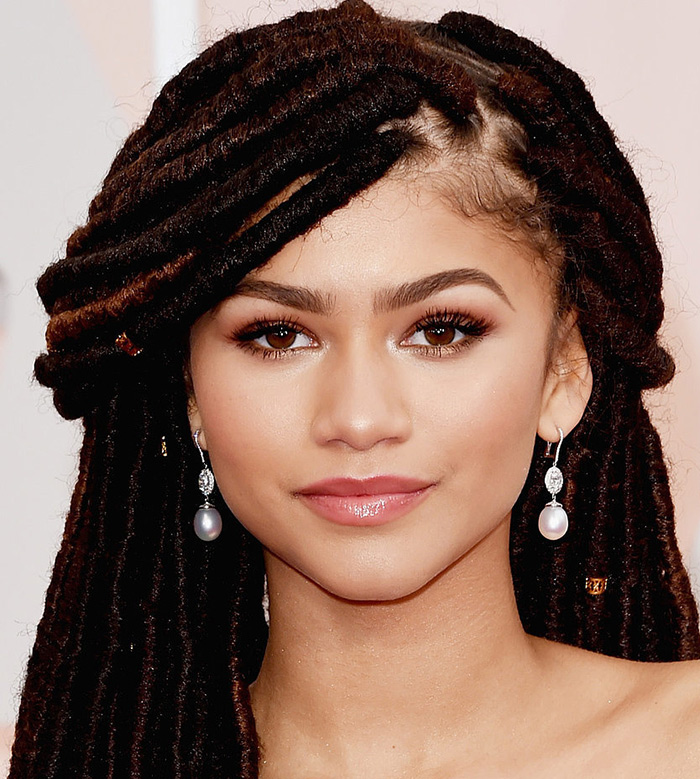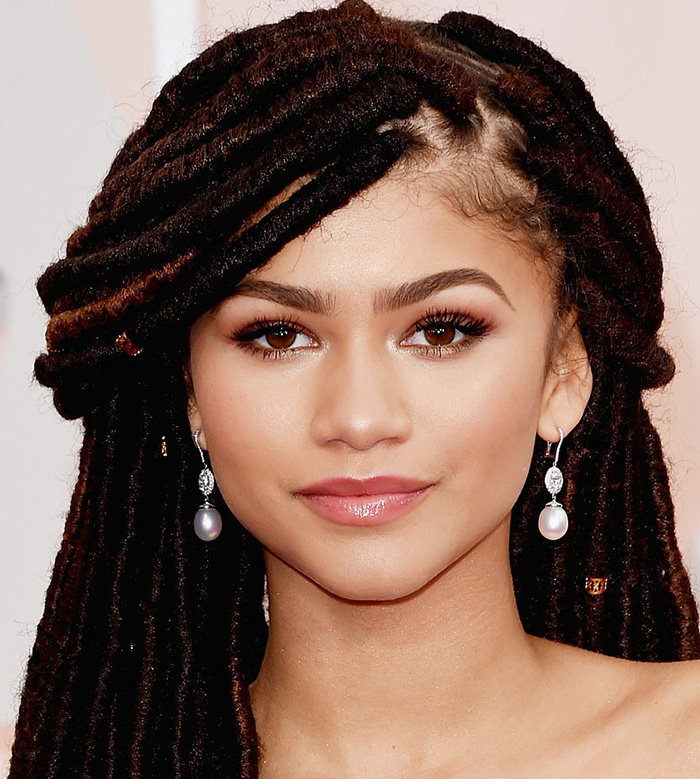 Zendaya looks lovely in these classic pearl drop earrings by Chopard.  So wearable for everyday but perfectly Oscar-appropriate too.
 Colorful Statement Earrings
Diamonds ruled the night but some of the best jewelry looks stand out for their use of colorful gems. Statement earrings in vivid colors in particular, often paired with pale pastel dresses, are another major trend. Here are the best.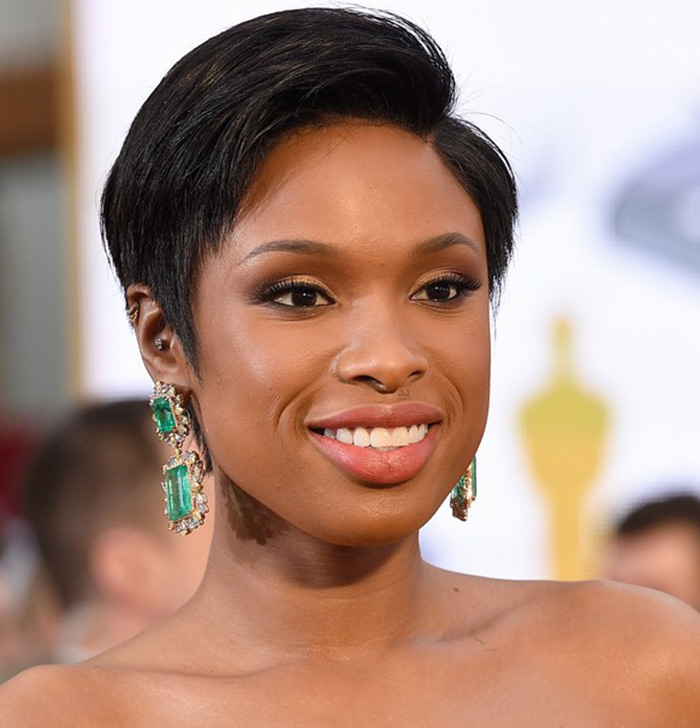 Would it be the Oscars without a major pair of Lorraine Schwartz emerald earrings?  I think not. Jennifer Hudson does the honors with a breathtaking pair of drops that were particularly glorious in the audience shots.  She paired them perfectly with a simple lemon yellow strapless column.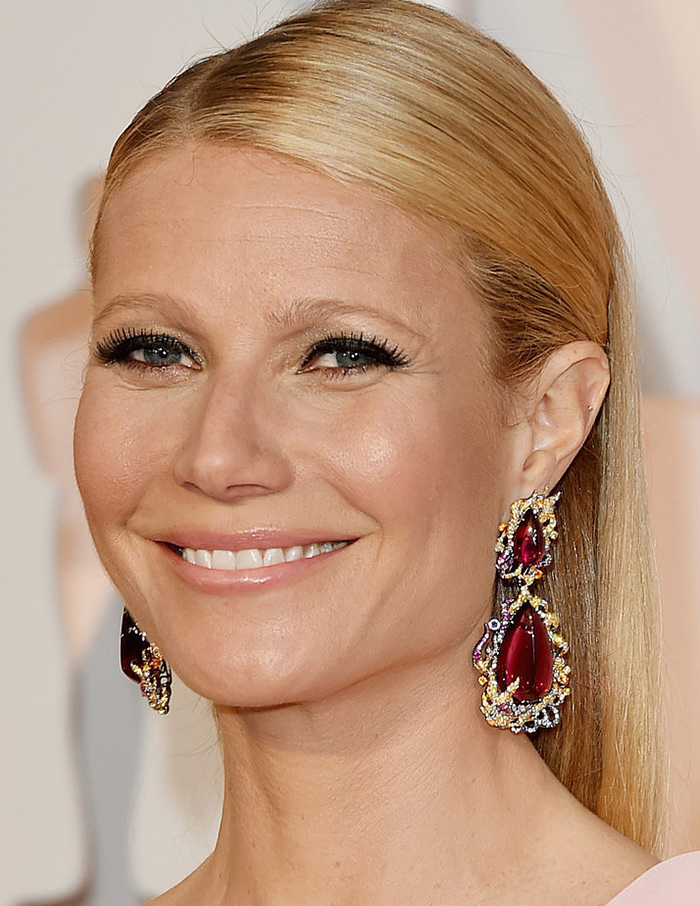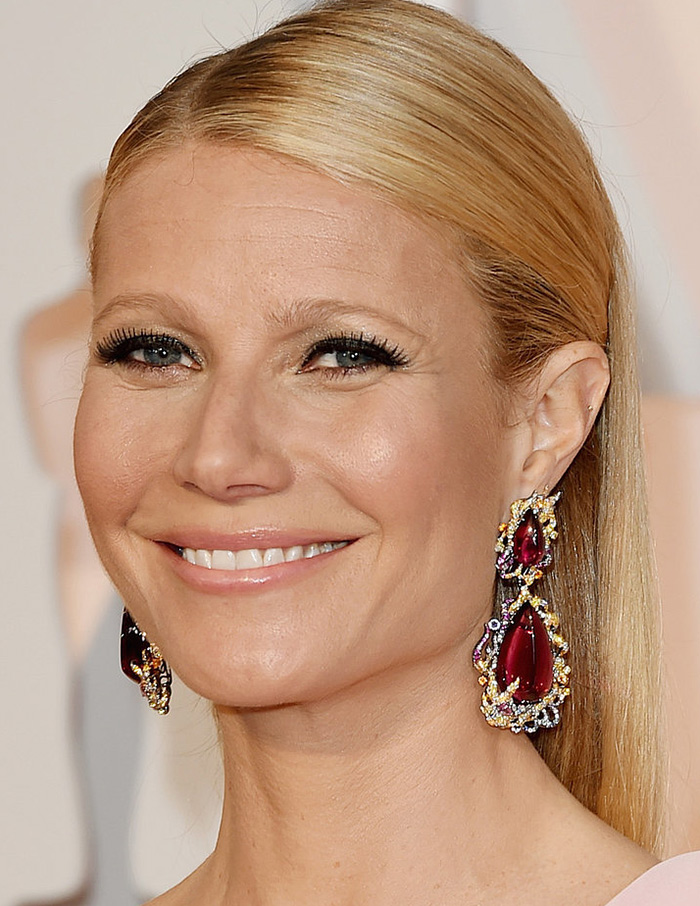 Like so much about Gwyneth Paltrow, her rose-shouldered dress was polarizing.  But her Anna Hu Fire Phoenix earrings are a spectacular YES. Amazing rubellite surrounded by diamonds, sapphires, spinels, and Paraiba tourmaline: truly breathtaking.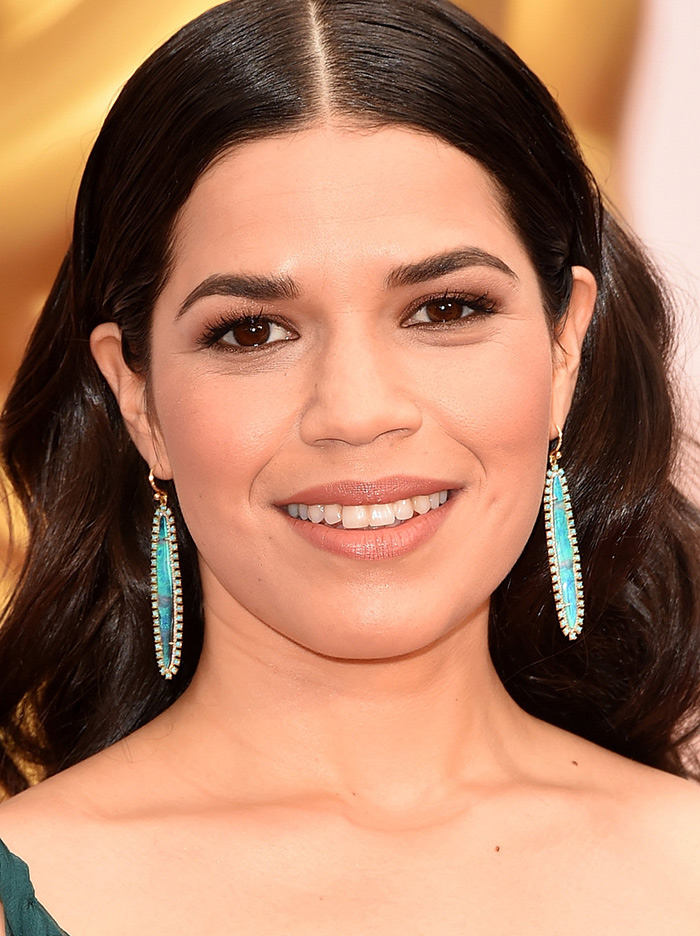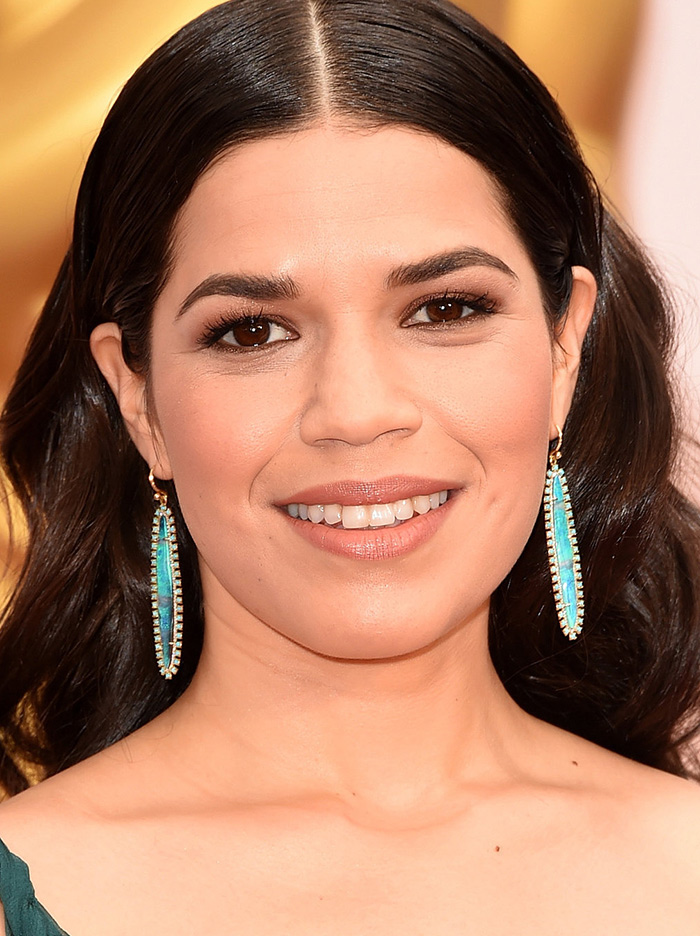 I just love the opal earrings by Irene Neuwirth that America Ferrera is wearing. Such a beautiful color on her.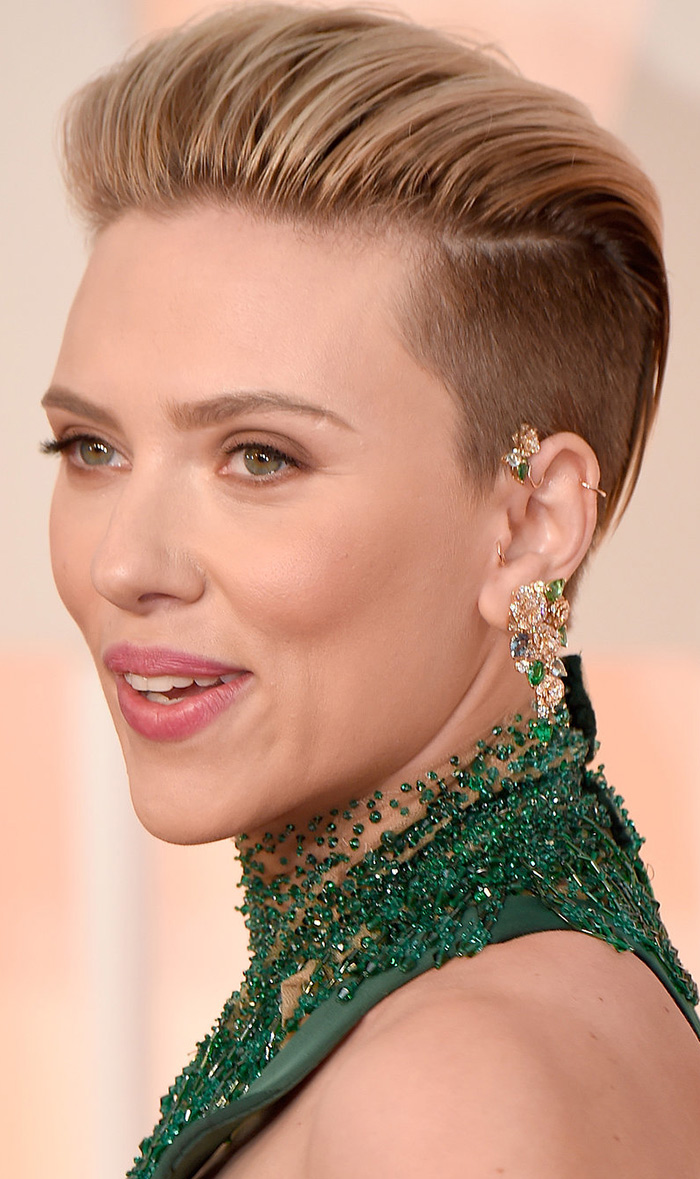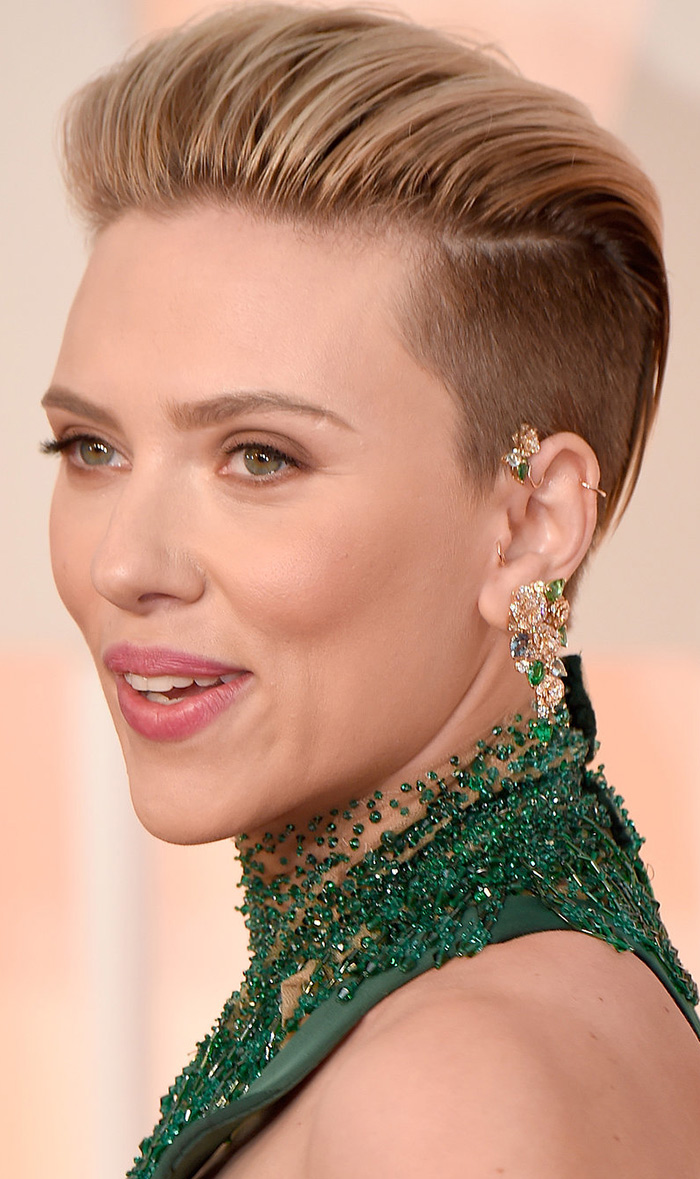 Scarlett Johansson has the coolest ear cuffs of the night: a spectacular emerald, tourmaline, aquamarine and diamond ear cuff set by Piaget.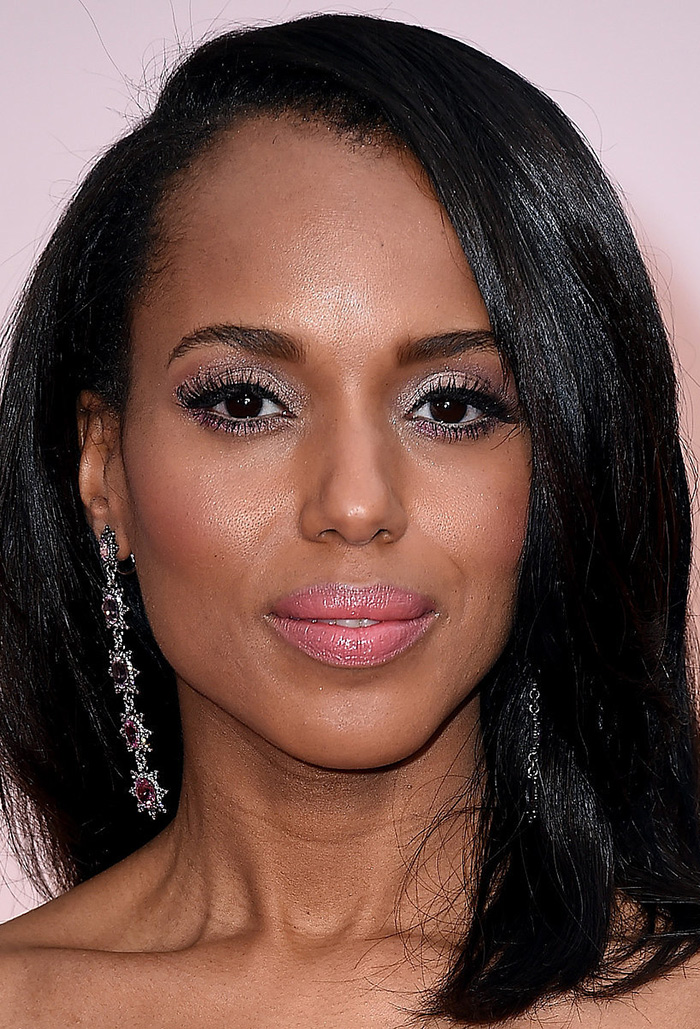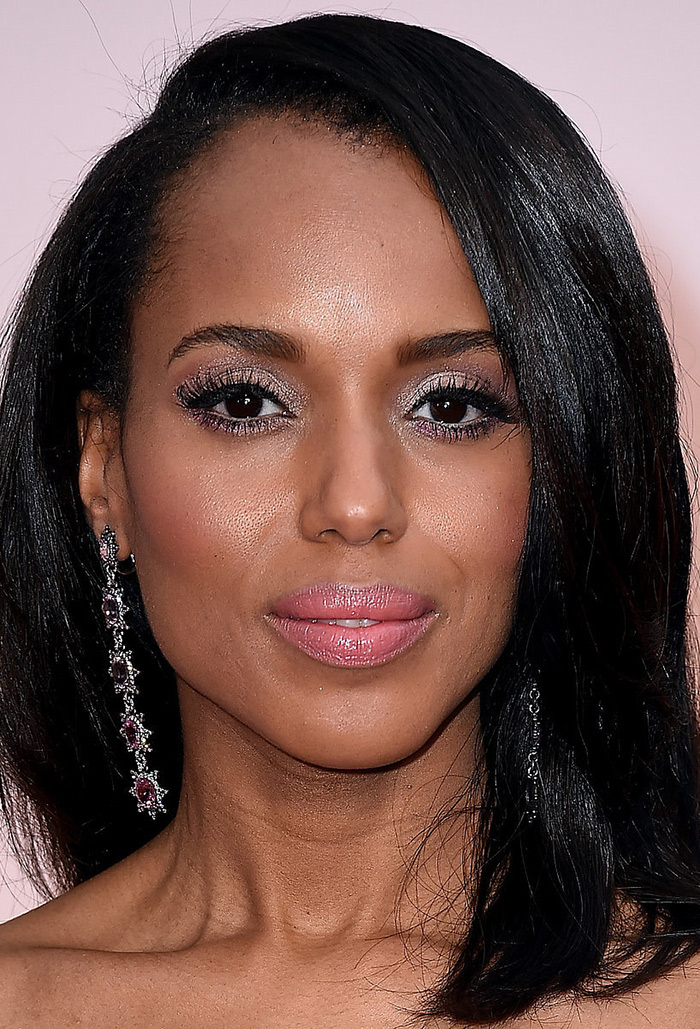 Kerry Washington is wearing ombre pink sapphire shoulder-dusters by Fred Leighton. I hope this is a sign she is getting more adventurous with jewelry. These beauties are so much more interesting than her usual snoozy studs.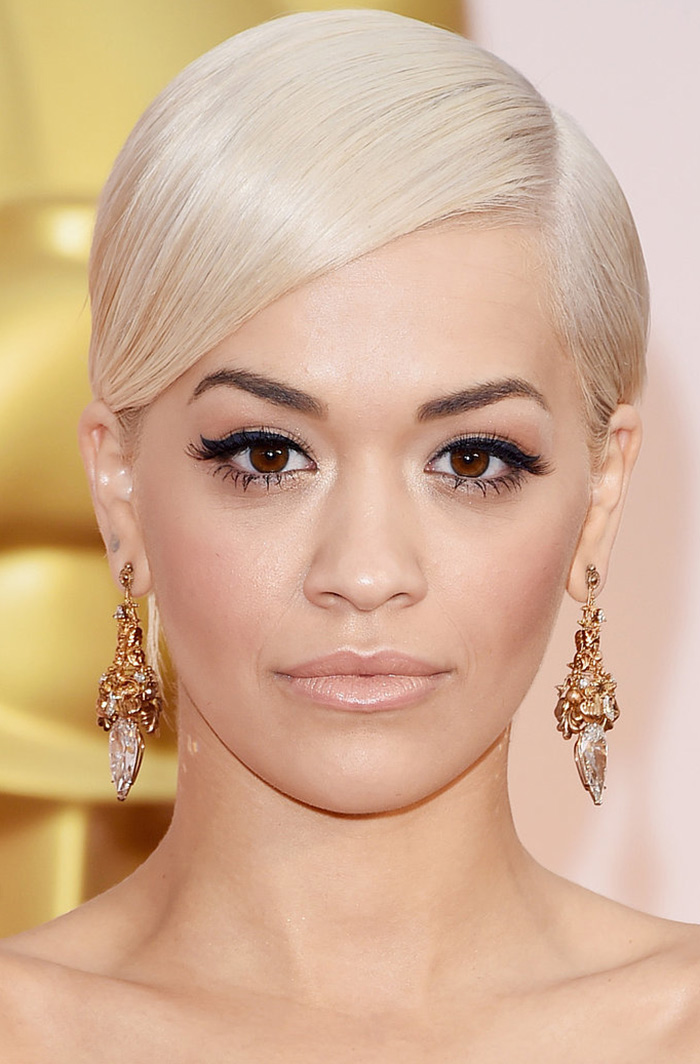 I love the subtle shades of diamonds in Rita Ora's Lorraine Schwartz earrings. Really spectacular.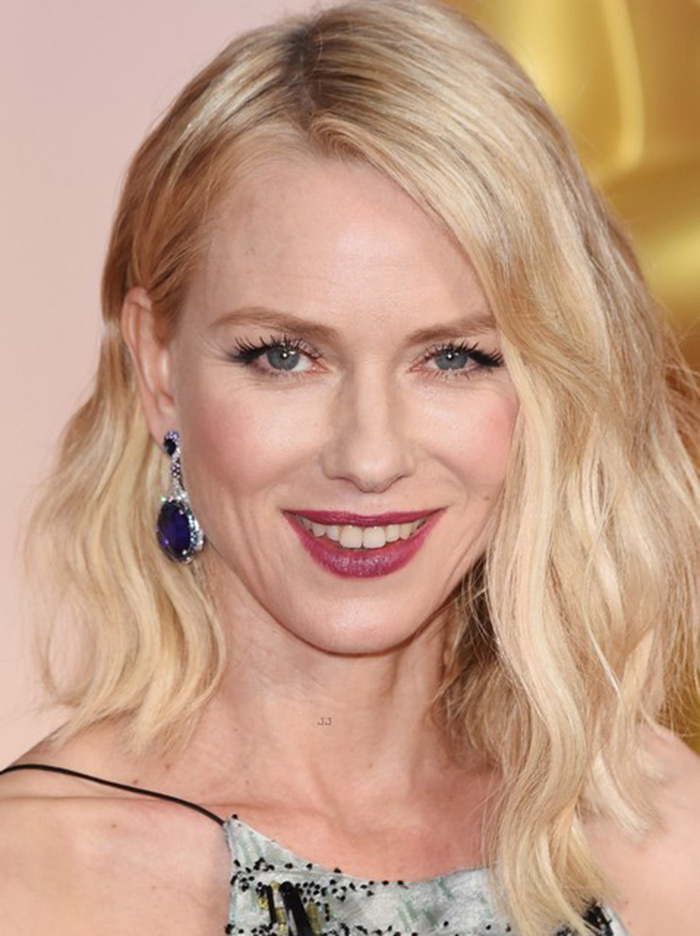 Naomi Watts wears gorgeous 50-carat sapphire earrings by Anna Hu worth about $3 million. Jewels du Jour has a great photo of their awesomeness. (I was a good night for Anna Hu earrings, don't you think?)
Diamond Clusters
Classic old Hollywood style glamor never goes out of style on the red carpet. Diamond cluster earrings are a major trend, particularly with fancy shaped diamonds. Here are the best of the night.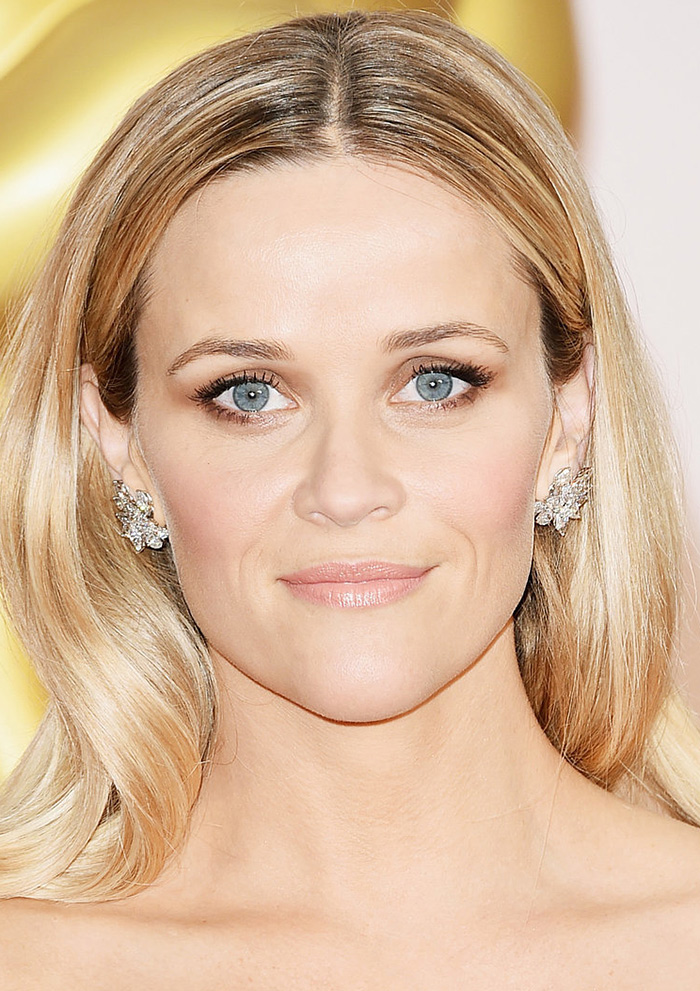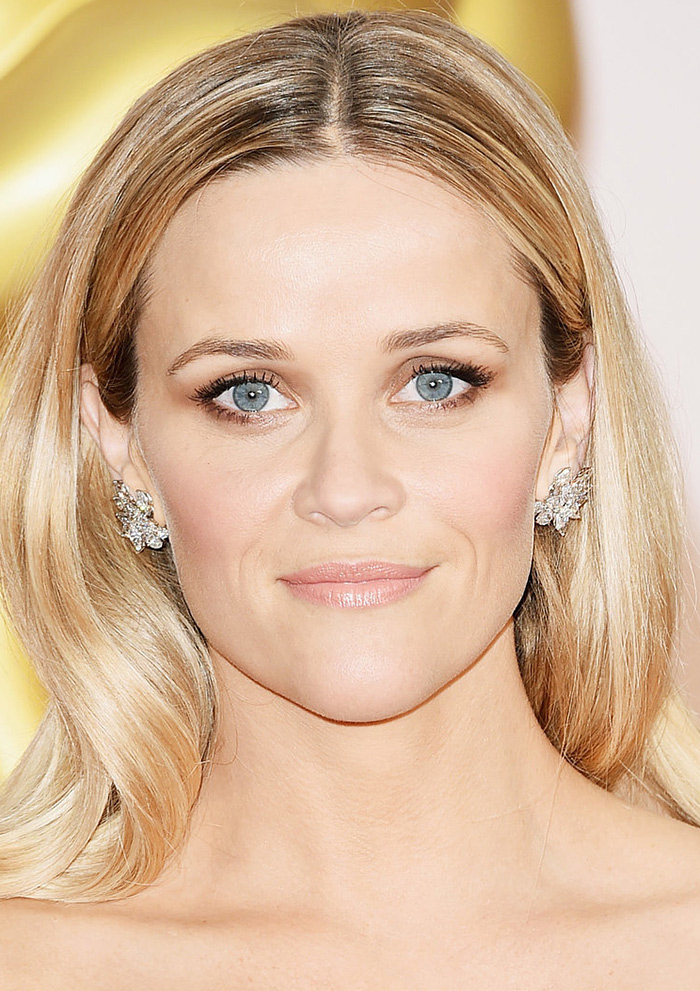 Reese Witherspoon looks gorgeous in classic diamond clusters by Tiffany & Company.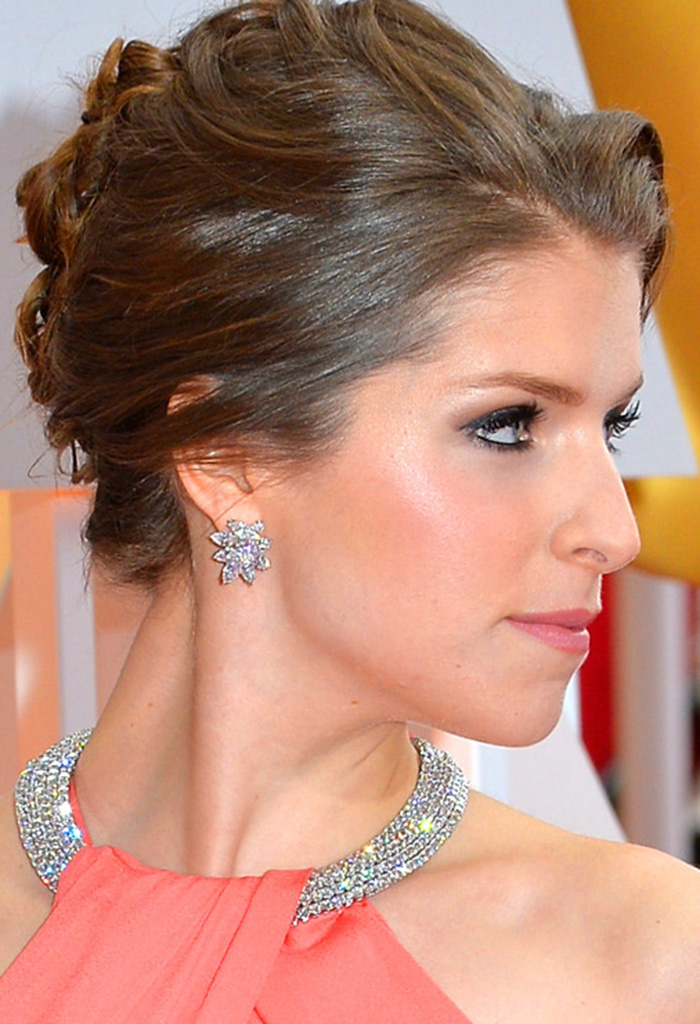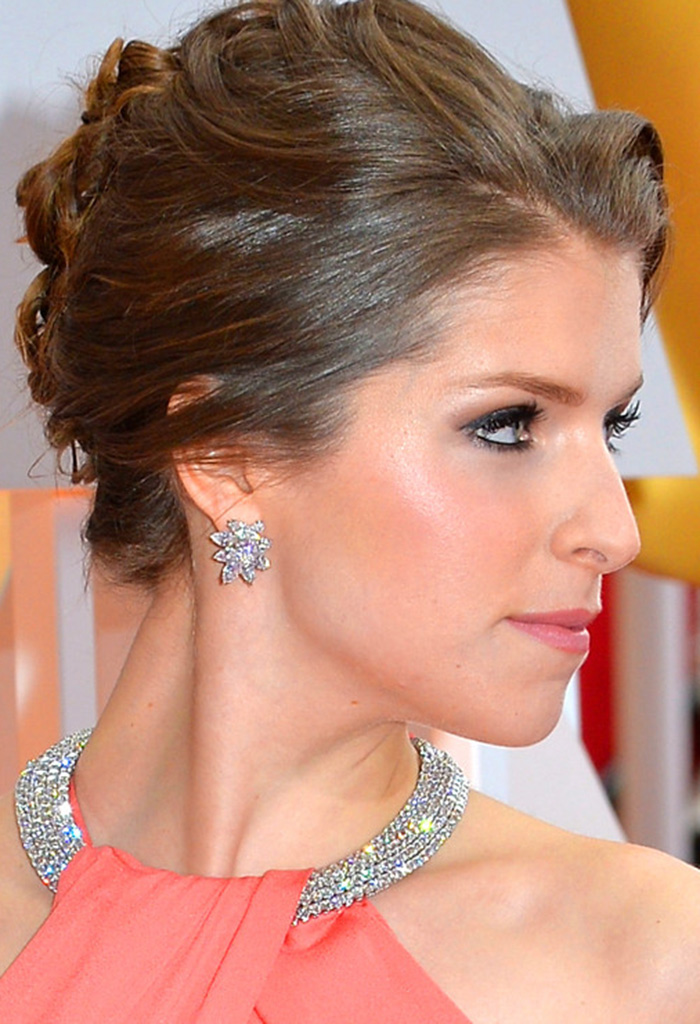 Anna Kendrick has classic clusters by Norman Silverman Diamonds. (Her dress is wearing a pretty nice matching Norman Silverman necklace too!)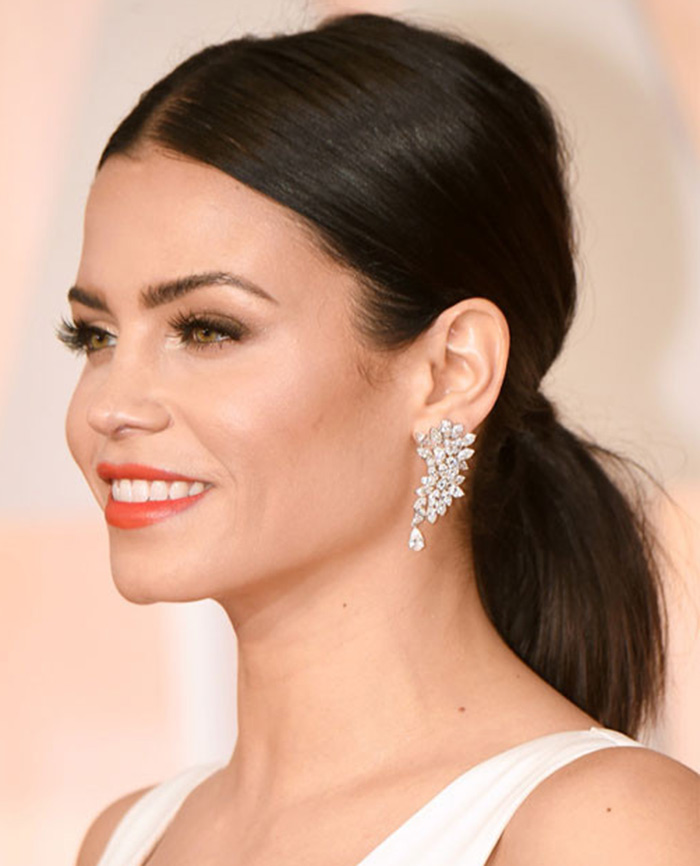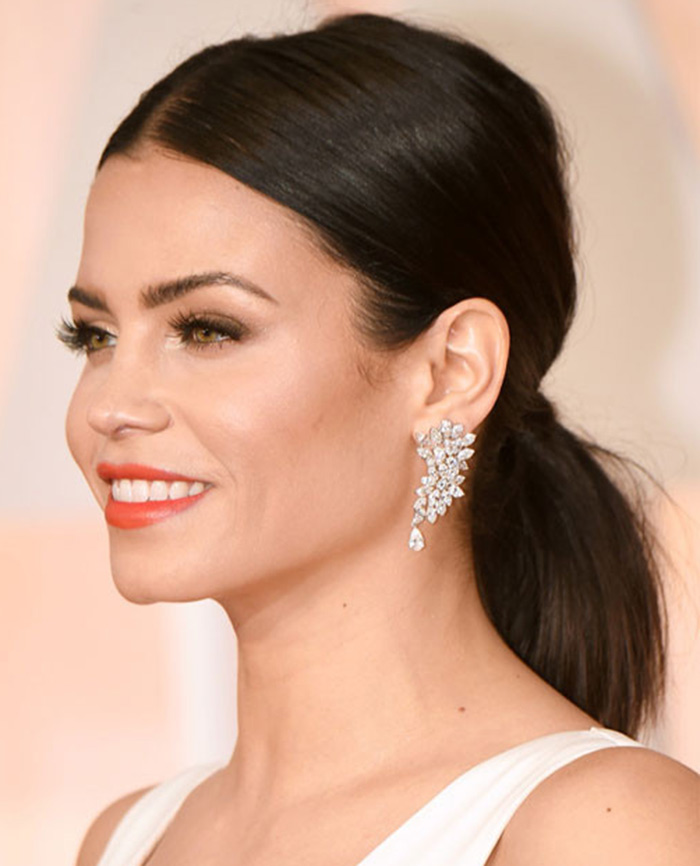 Jenna Dewan Tatum's earrings are a combination cluster and drop by Lorraine Schwartz. They would make great climbers, don't you think?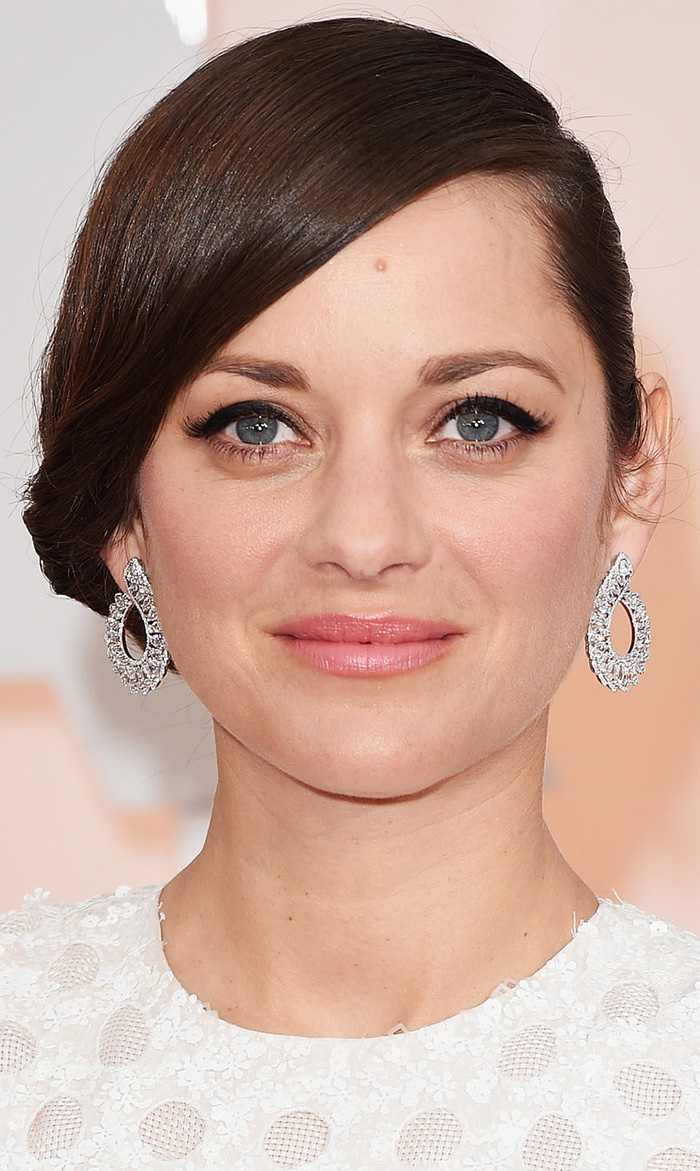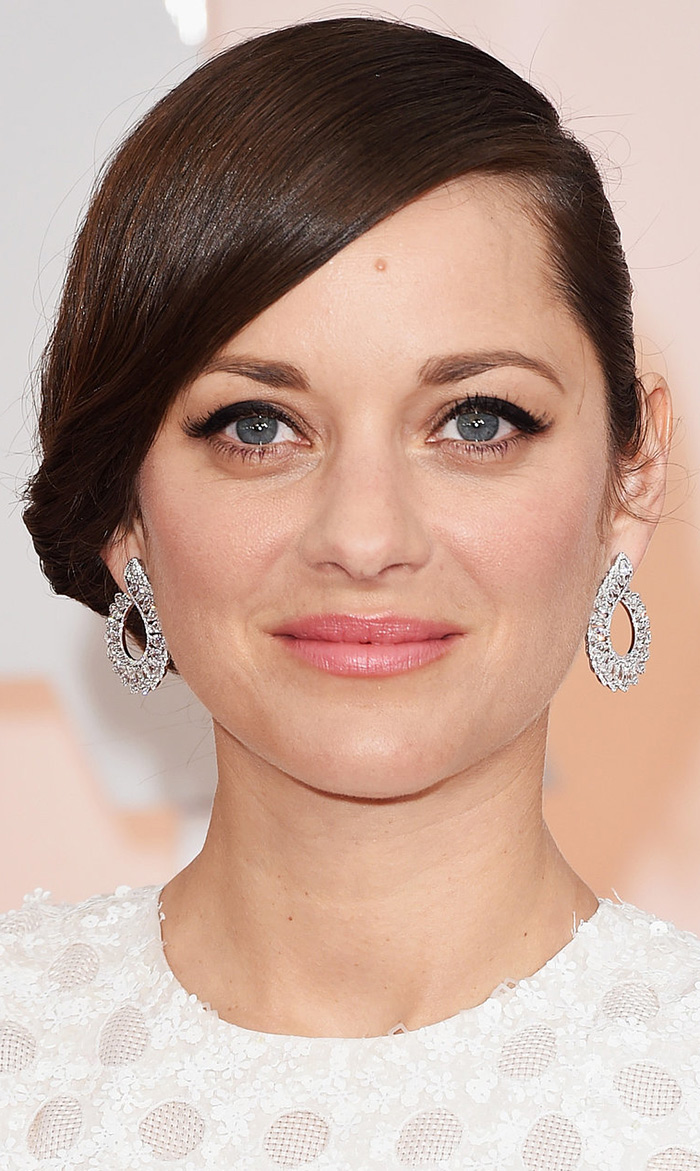 Marion Cotillard is wearing lovely classic diamond loops by Chopard.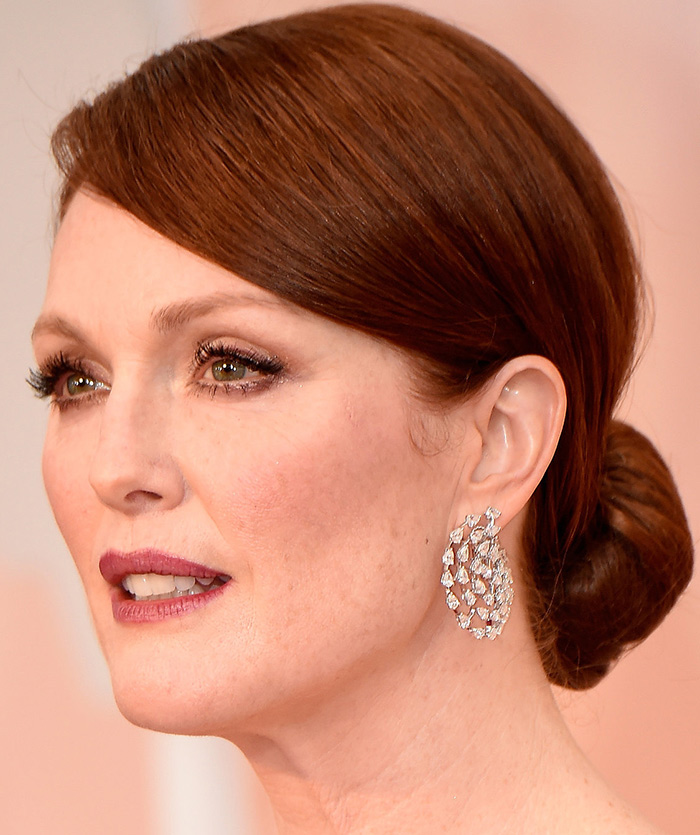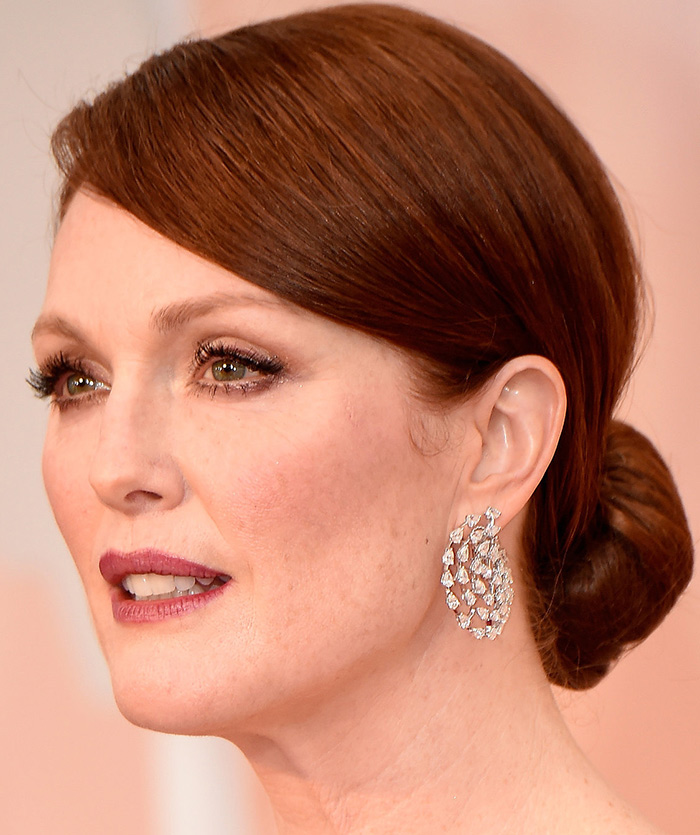 Oscar winner Julianne Moore also wears classic diamond loops by Chopard.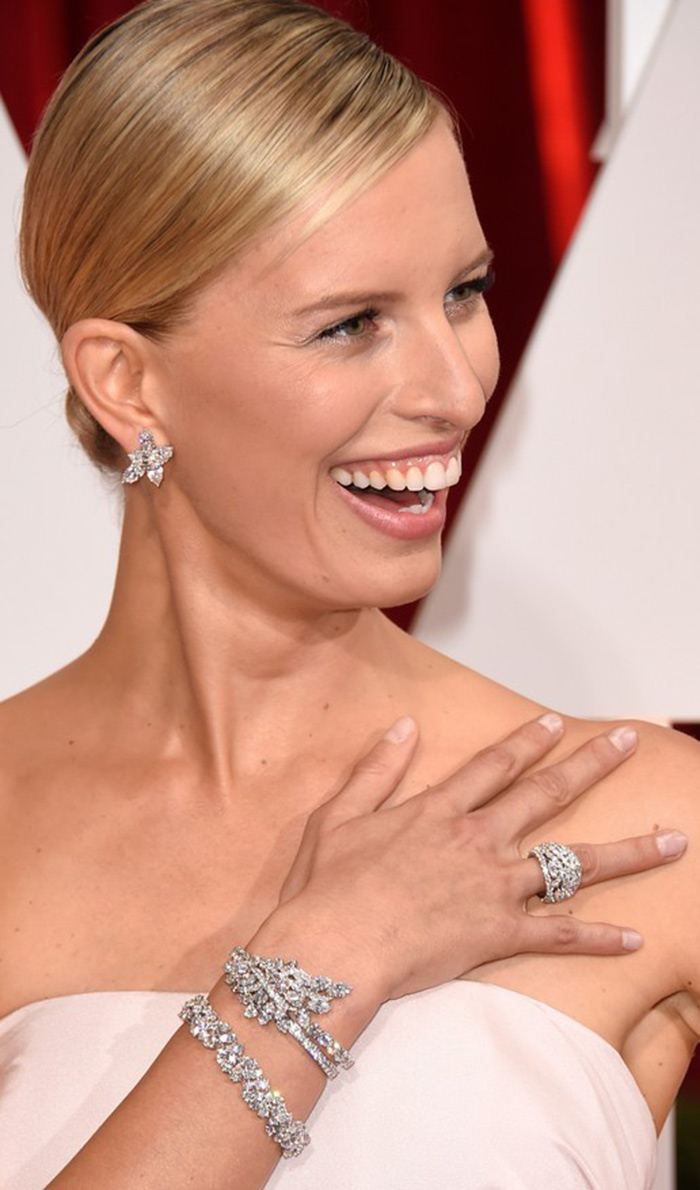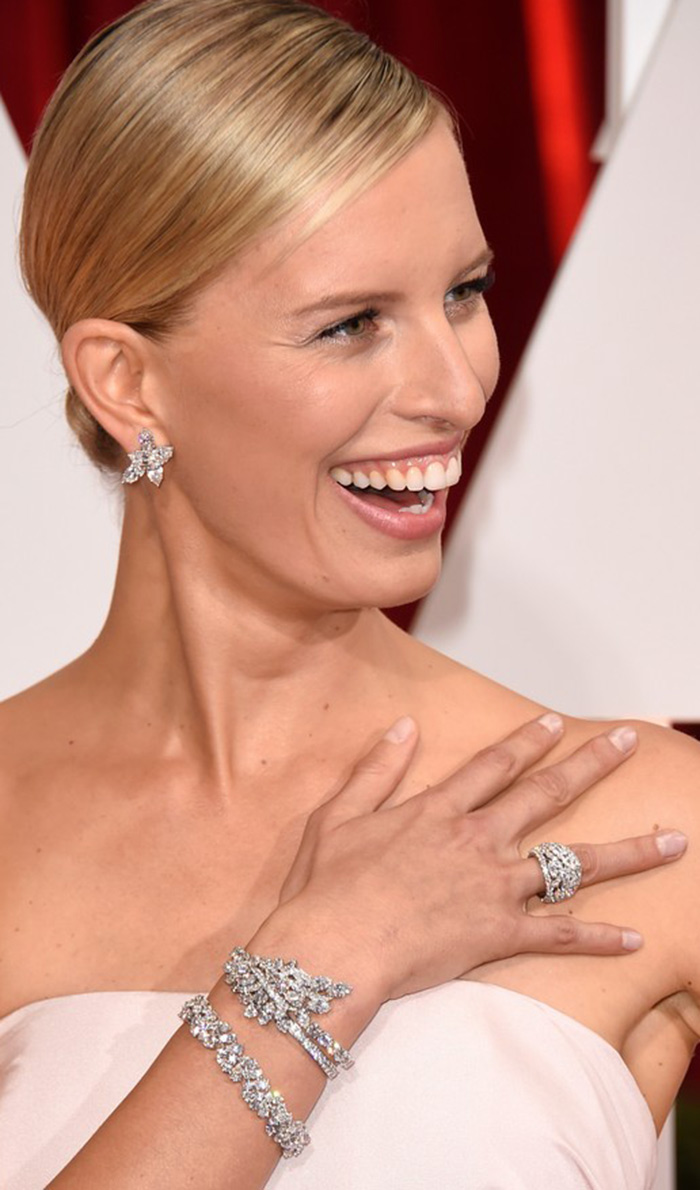 Karolina Kurkova is clearly enjoying all her Harry Winston diamonds. Someone please cast this girl in a remake of Gentlemen Prefer Blondes: Talk to me Harry Winston.  It's especially nice that the classic jewelry house most associated with the classic diamond cluster look has its red carpet moment in the spotlight too.
 Best of the Rest
Of course there were many great jewelry looks that didn't fit into the top four trends. Here are my favorites.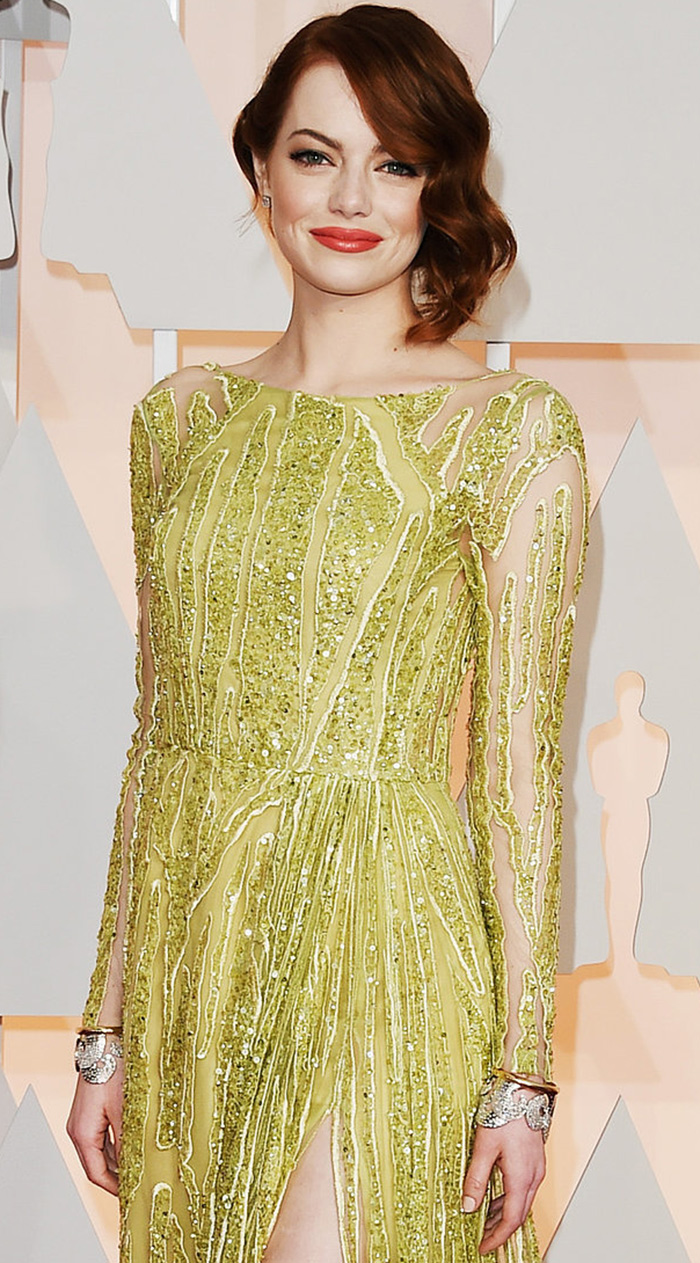 At first glance, Emma Stone didn't seem to be wearing any jewelry.  A closer look reveals two seriously stunning cuff bracelets by Tiffany & Co. It was't really a bracelet year but these stand out too much to leave them out.  Just take a closer look: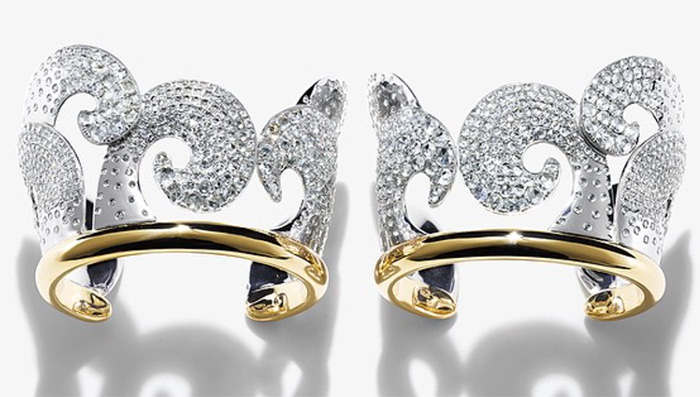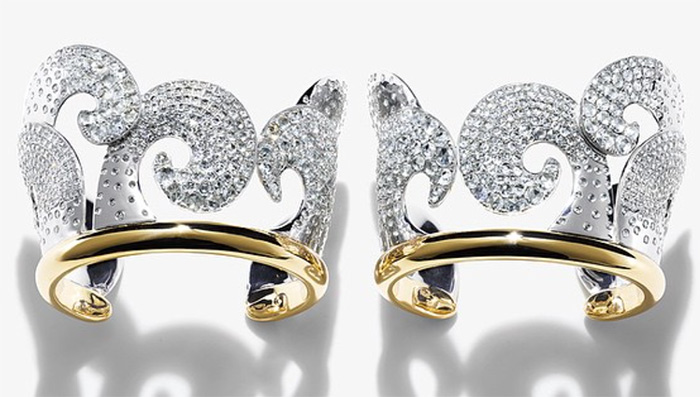 Incredible, aren't they? If only she had won the Oscar, we could have admired them while she held the golden man. (Jewels du Jour points out that they closely resemble an iconic set of cuffs by Suzanne Belperron.)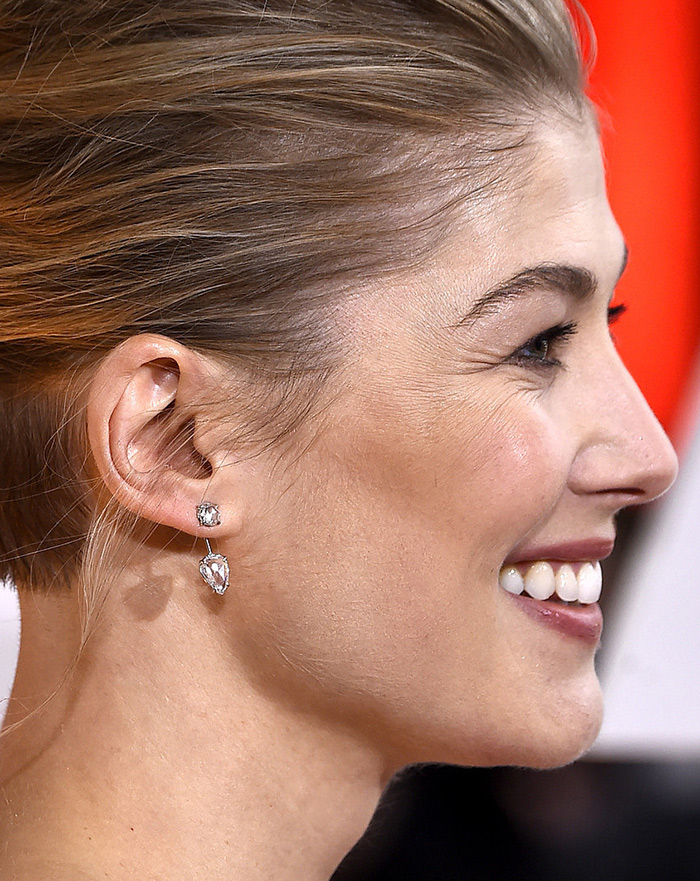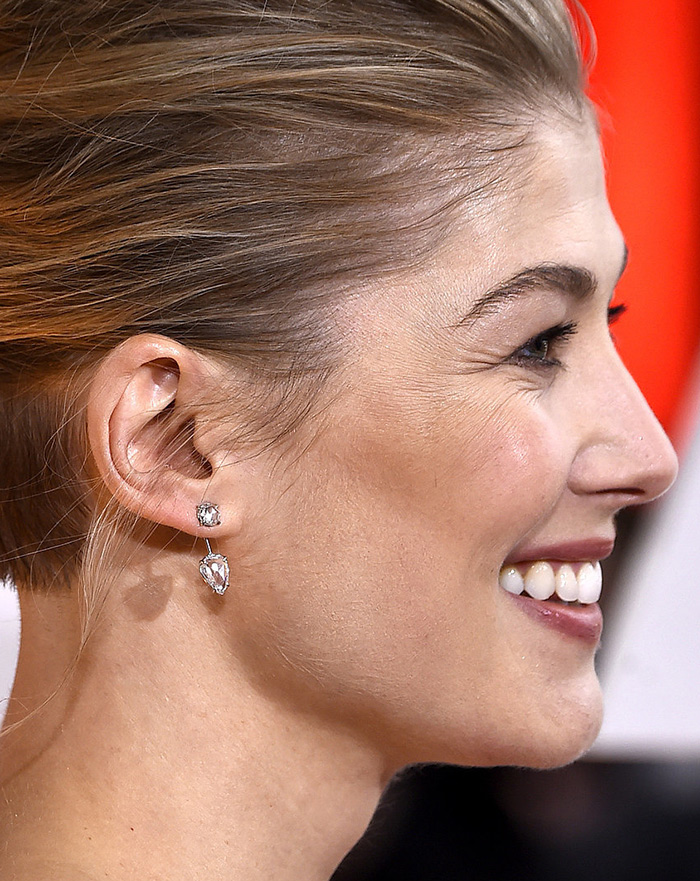 Rosamund Pike had one of the most gorgeous dresses of the night. These earrings are a bit subtle for the red carpet maybe but I really love them, don't you? This is a great example of how jackets can transform a stud into something much more stylish.  That rose cut drop is perfection.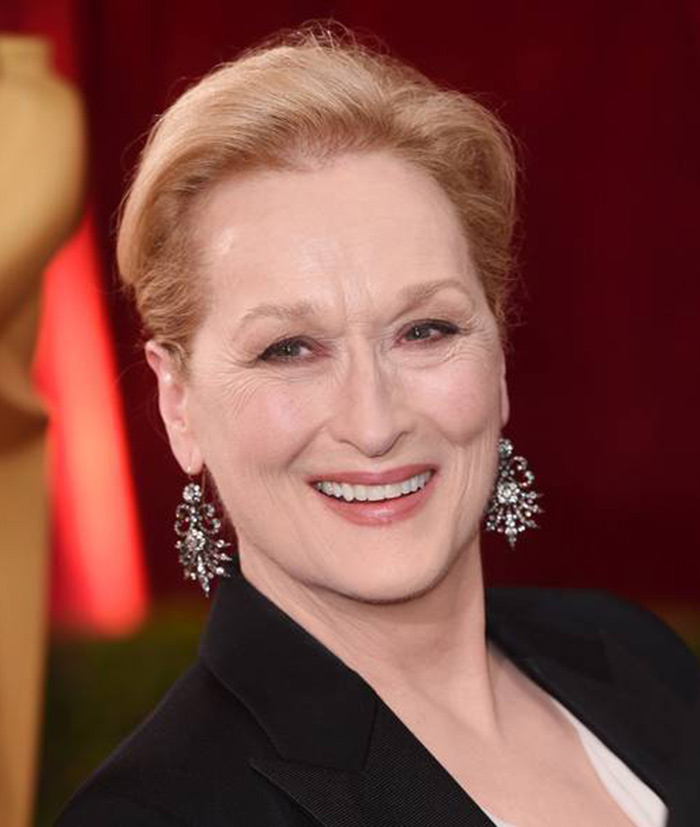 Does Meryl Streep need to follow trends? Of course not.  She looks amazing in these earring by Fred Leighton. The perfect choice.
Those are my top 28 looks.  See what I mean about it being a good year? And I didn't even include the man brooches: another of the evening's top jewelry trends. Which of the Oscar 2015 jewelry looks is your favorite? Did I miss anything?