Best Jewelry of the Grammy Awards
As far as red carpet style is concerned, the Grammys have come a long way. Let's review, shall we?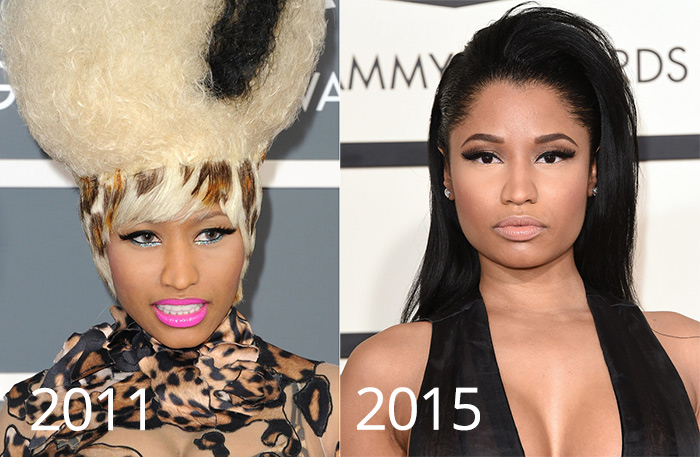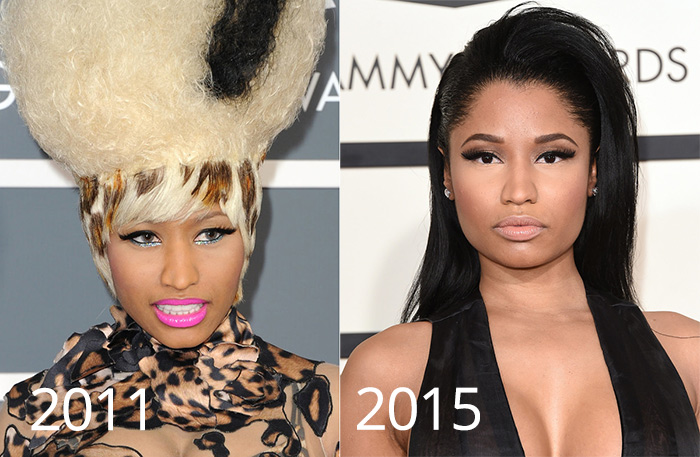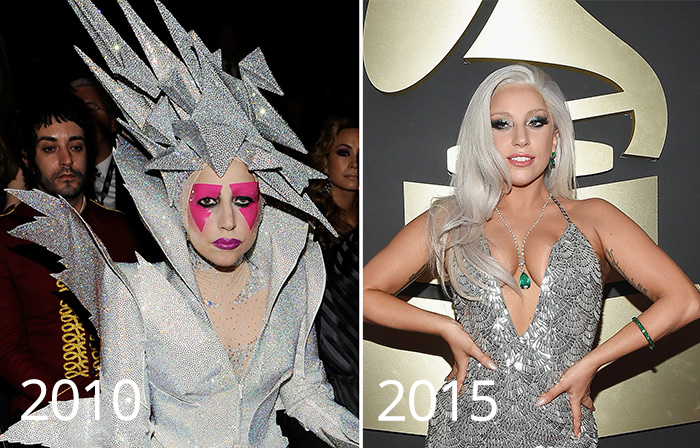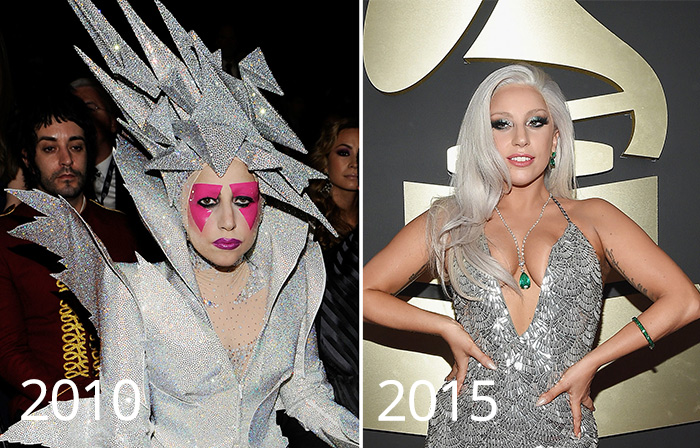 Definitely there's a lot less creativity than there used to be. Thanks to new "decency" guidelines from CBS, there's also a lot less skin.  But can we all agree that the new Hollywood Glam Grammys are better for jewelry?
That's thanks to jewelry designer Lorraine Schwartz, for the most part.  She dominated the Grammy red carpet and stage this year, with many of the best jewelry looks of the night.  Seriously, millions of dollars in spectacular jewels on Lady Gaga and Beyonce alone.  Let's just hope she has something still in the vault for the Oscars.
Without further ado, the best jewelry of the 2015 Grammy Awards.
BEYONCE
Beyonce has long been the muse of Lorraine Schwartz: her most important customer, friend and red carpet faithful.  But Lorraine has also been good to Beyonce.  Let's look at the rings on Beyonce's hands and do the math.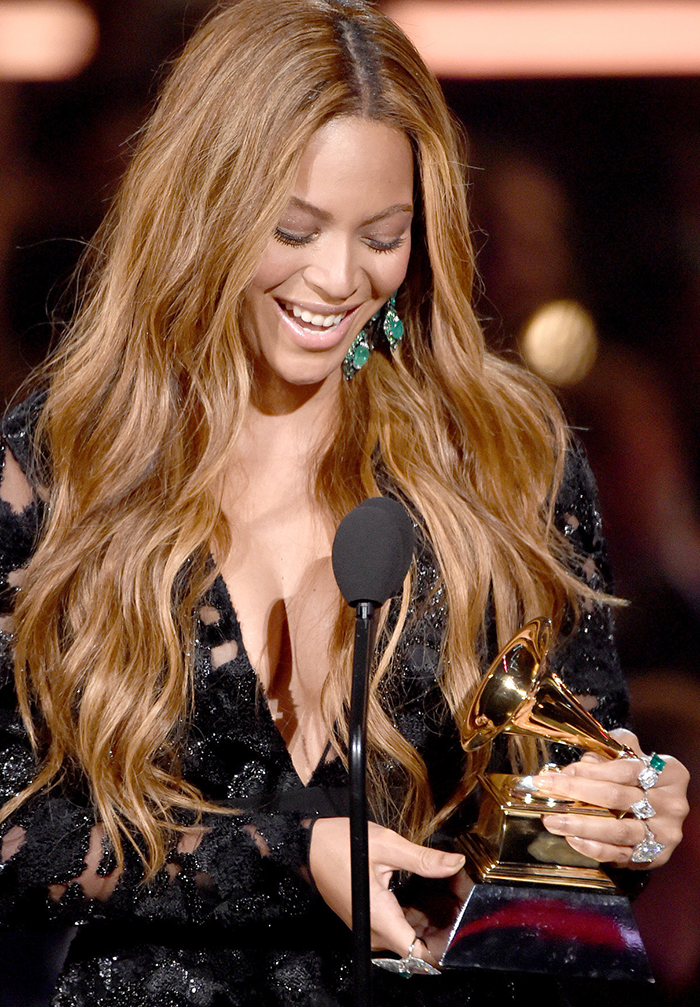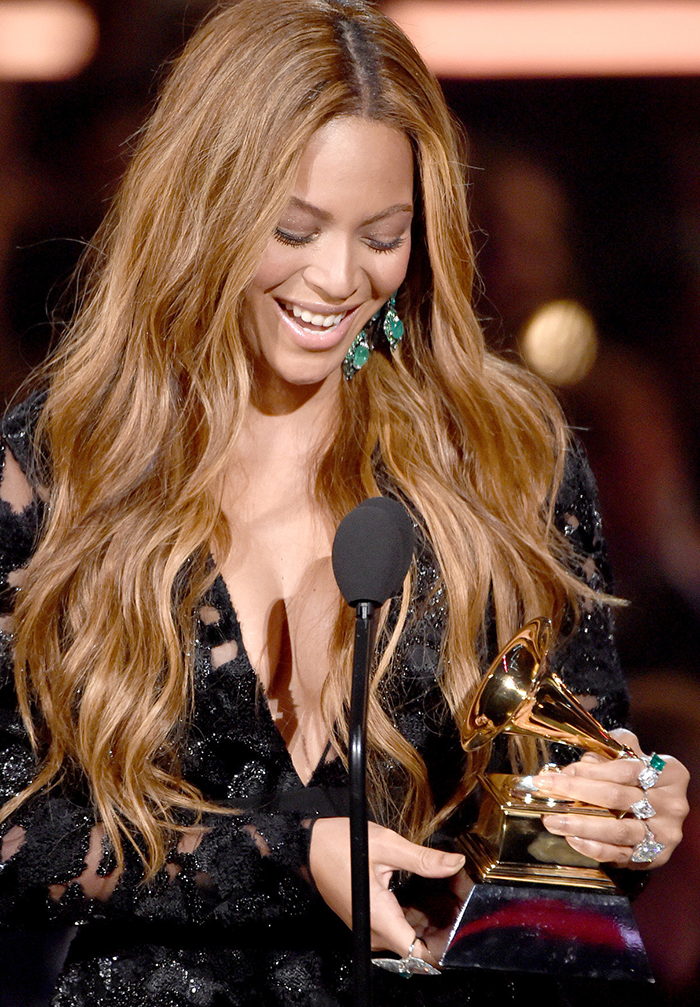 What do you think? $10 million?  More? There are 100 carats of diamonds and 50 carats of emeralds on her hands.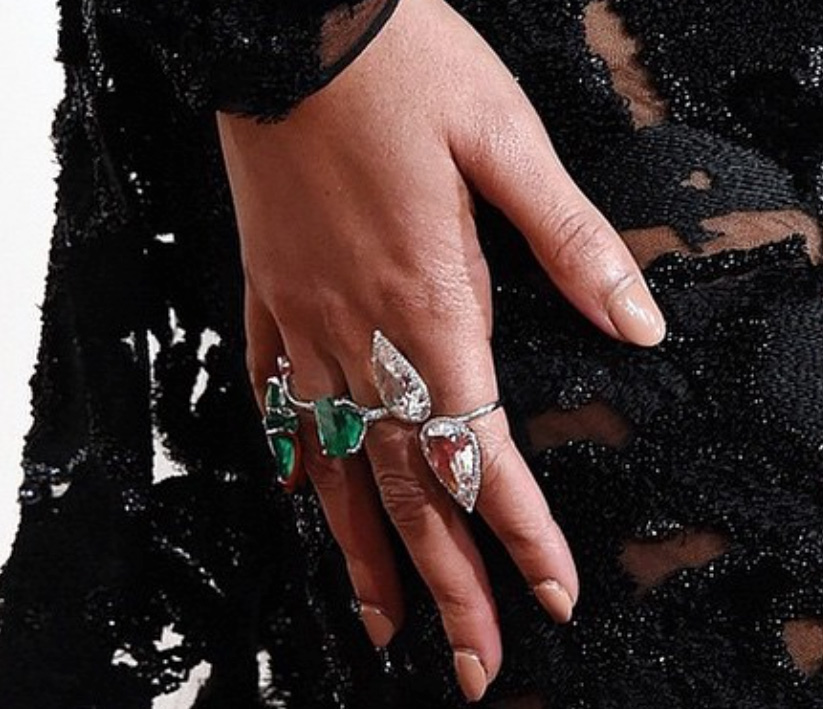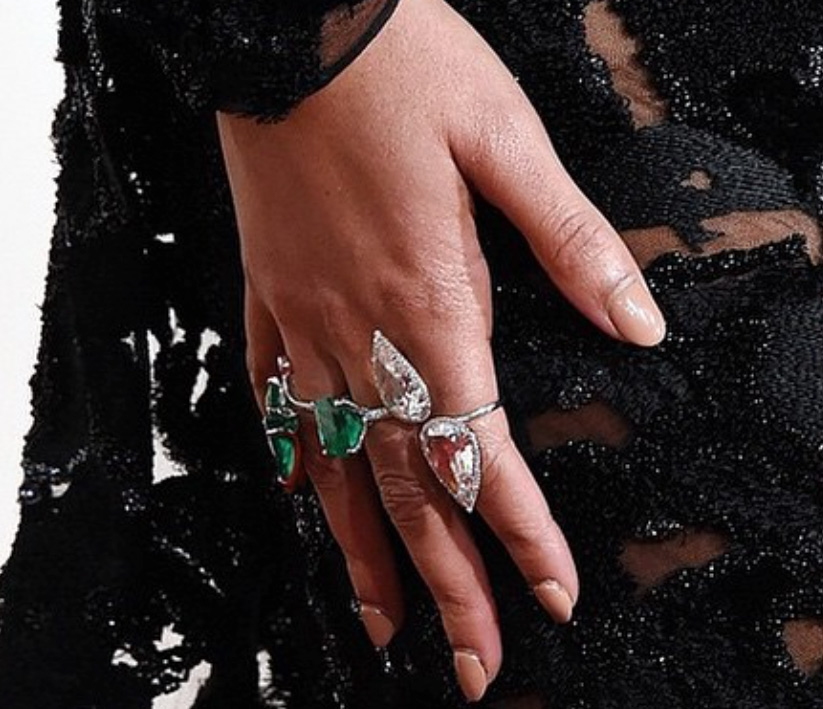 My main quibble with this look from a jewelry perspective is that I only caught glimpses of the earrings and I am sure they are beyond gorgeous, with 80 carats of emeralds and diamonds. But it's all theoretical because no one saw them. Here's a glimpse.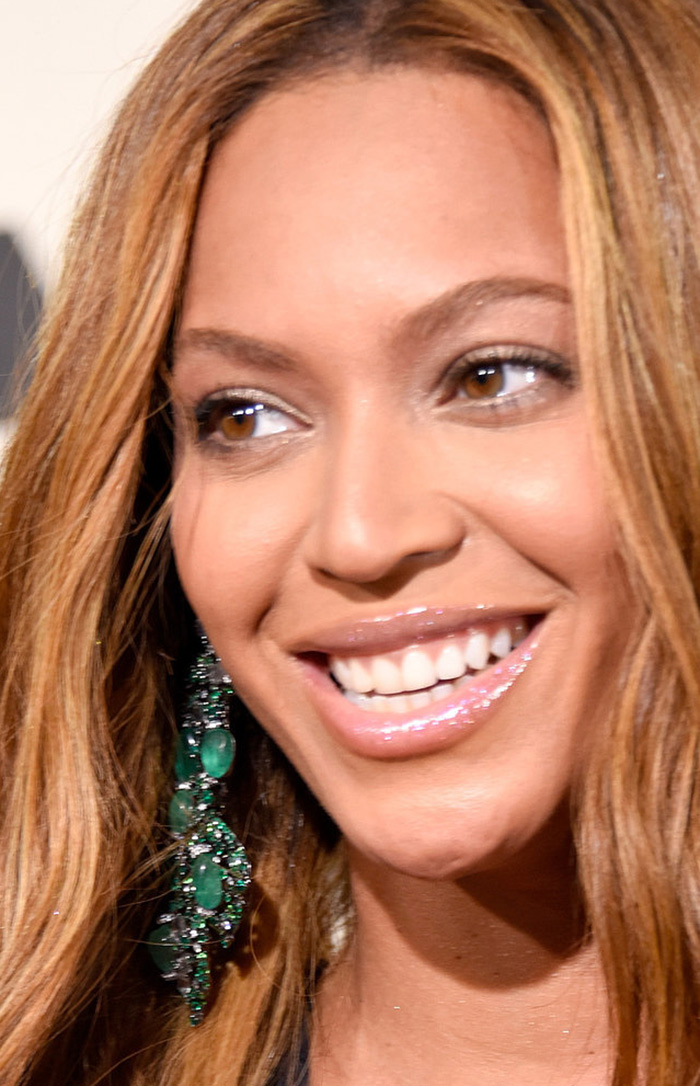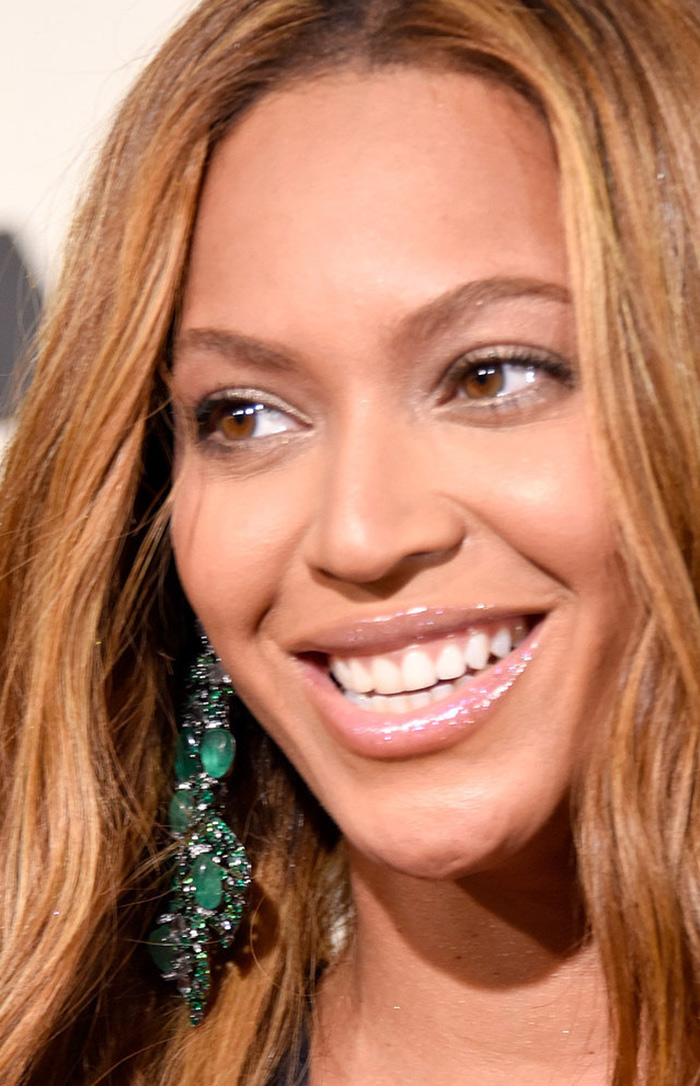 I also really liked the way Beyonce layered two diamond necklaces during her performance: an open collar by Monique Pean, which is available at Christies, and a diamond tie necklace by Messika. The Jewellery Editor has a great image of it. I kind of wish she had worn this look on the red carpet so we could have gotten better images.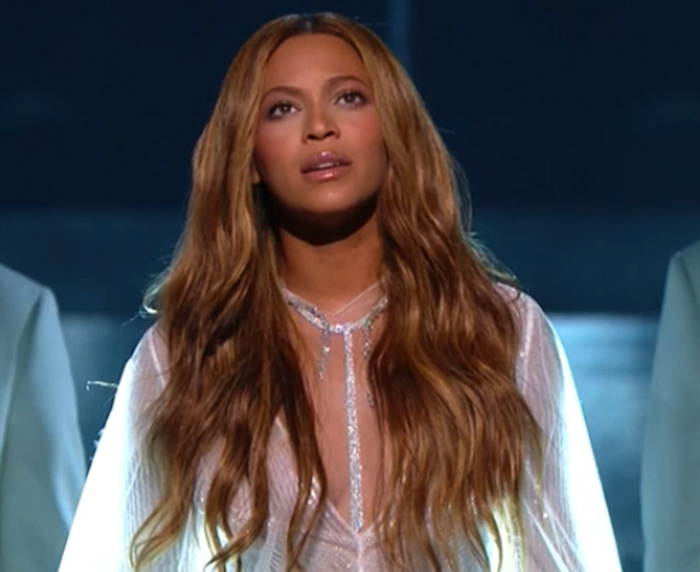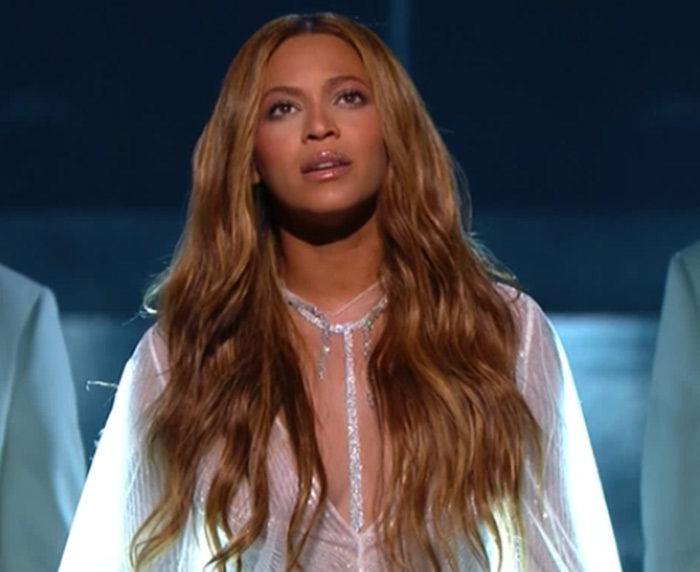 LADY GAGA
The emerald suite Gaga wore on the red carpet was a combination of the emerald earrings Angelina Jolie wore to the Oscars in 2009 and the long diamond cleavage-adorning necklace Amy Adams wore to the Golden Globes in 2014. In a good way. The emerald necklace, in particular, is gorgeous, don't you agree?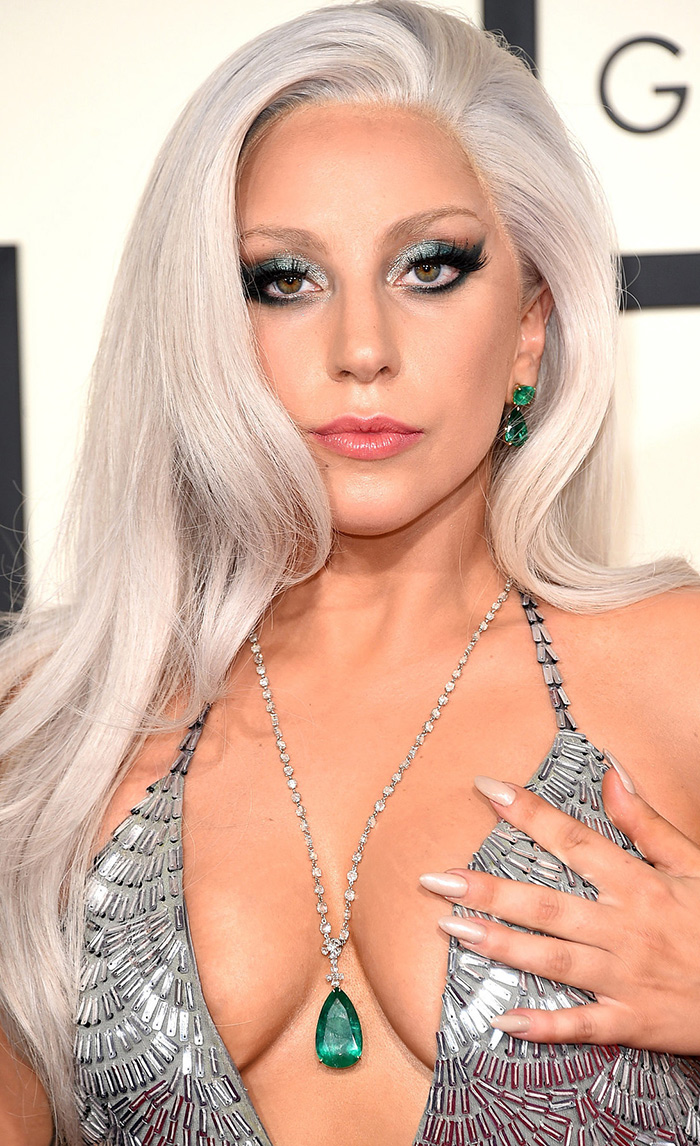 But even better was the Art-Deco inspired necklace that Gaga wore on stage during her performance. I assume it is also Lorraine Schwartz (and let's not forget the accompanying wide diamond bracelets.) Seriously awesome, even in this blurry screen shot.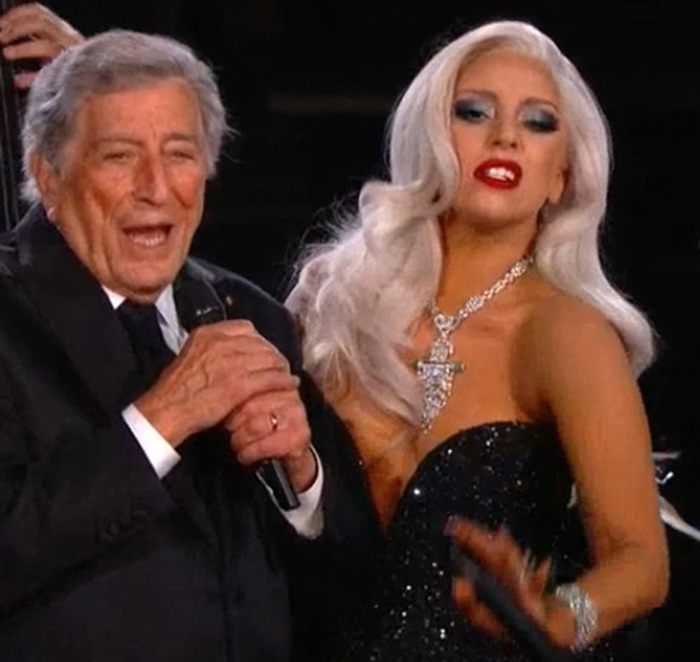 TAYLOR SWIFT
I won't be joining any Vegas T-Swift sing-a-longs, that's for sure.  But I thought Taylor Swift looked great at the Grammys.  The color, which she's worn before, was flattering.  The cut-outs at the shoulders were cute and she looked comfortable too.  But the main thing I liked? Her Lorraine Schwartz opal earrings and ring.  The earrings are the perfect match (not that they wouldn't look great with white, silver, yellow, etc.)  I mean just look at the awesome opals surrounded by Paraiba and diamond pave.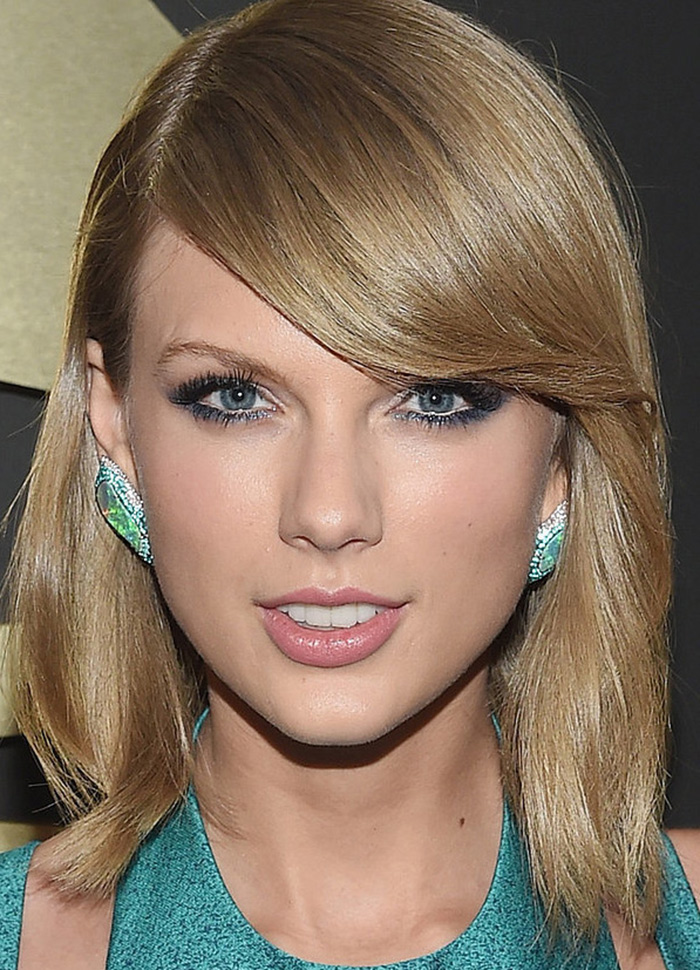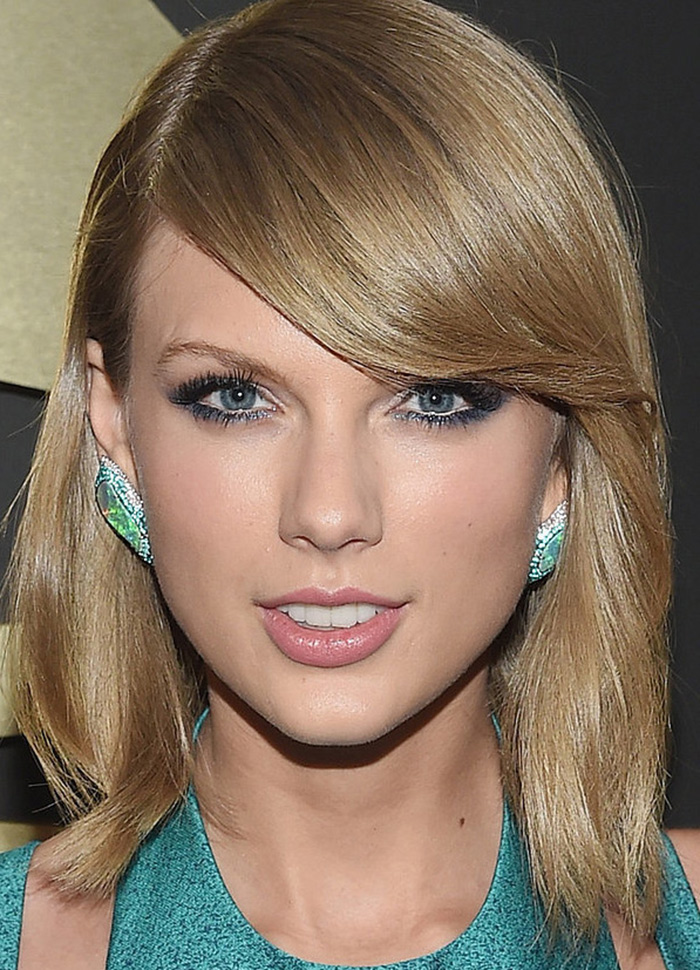 I recognized the earrings immediately because I drooled over the drop version at Bergdorf's a few weeks ago. And even predicted we'd see them on the red carpet. (Pats self on back.)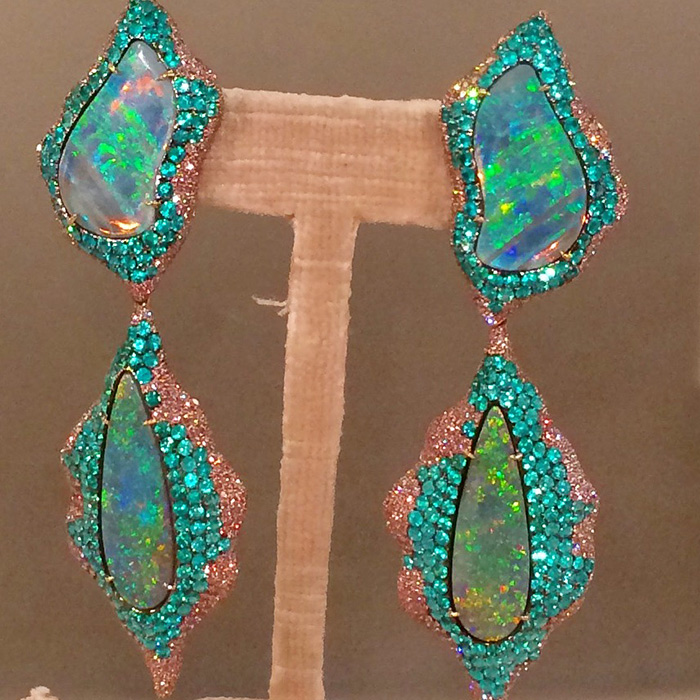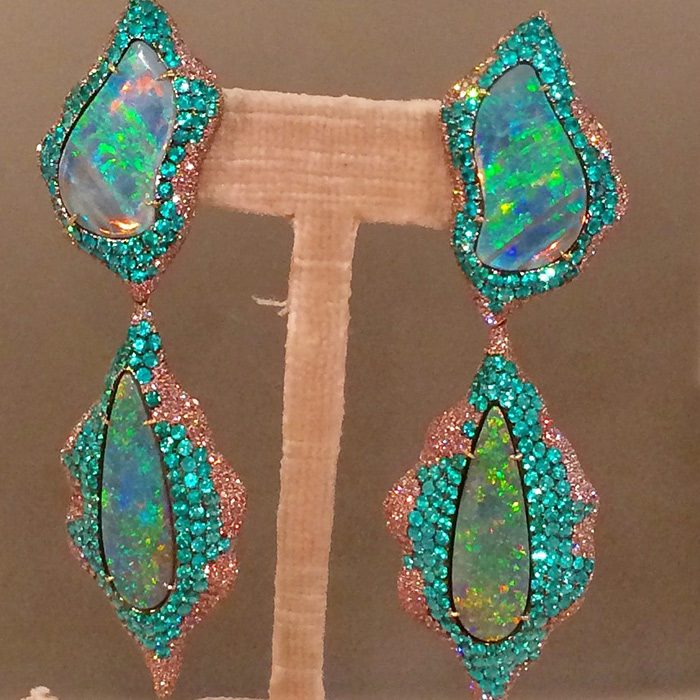 JENNIFER HUDSON
Proof that you don't need a million dollars of Lorraine Schwartz jewels to look fabulous: Jennifer Hudson.  Her lovely choker by Marli was simple, gorgeous, and something you could picture yourself owning and wearing in your future glamorous life. Really fresh and modern and the perfect accent to her white strapless column.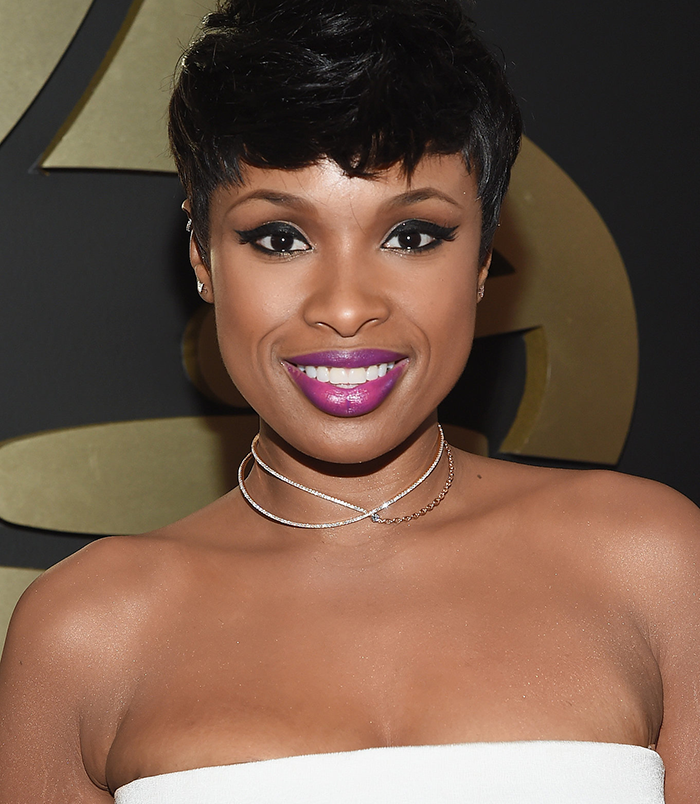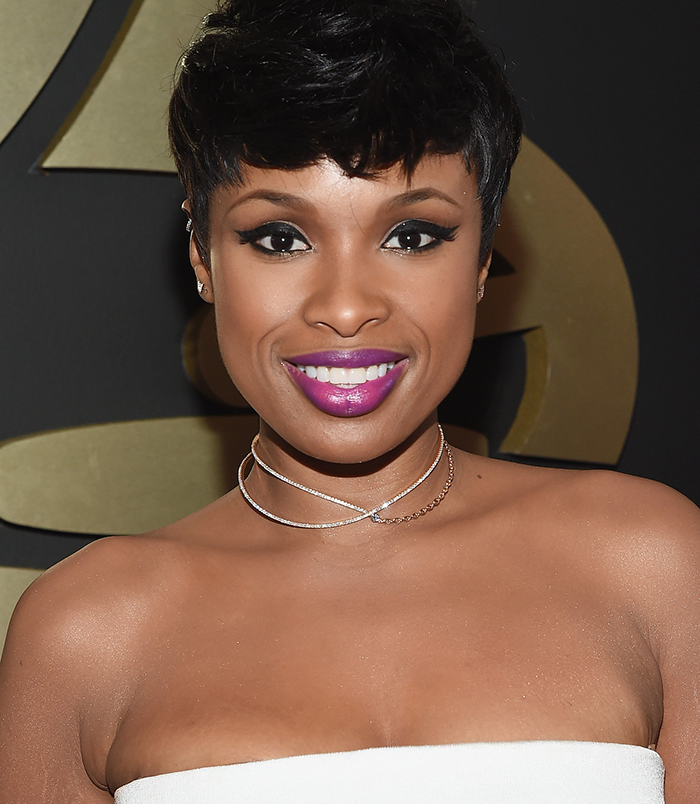 KATY PERRY
Too much with her beaded fringe cocktail dress and purple hair?  OK, maybe.  But Katy Perry's on-trend diamond fringe earrings by Lorraine Schwartz are fresh and fun. Perfect!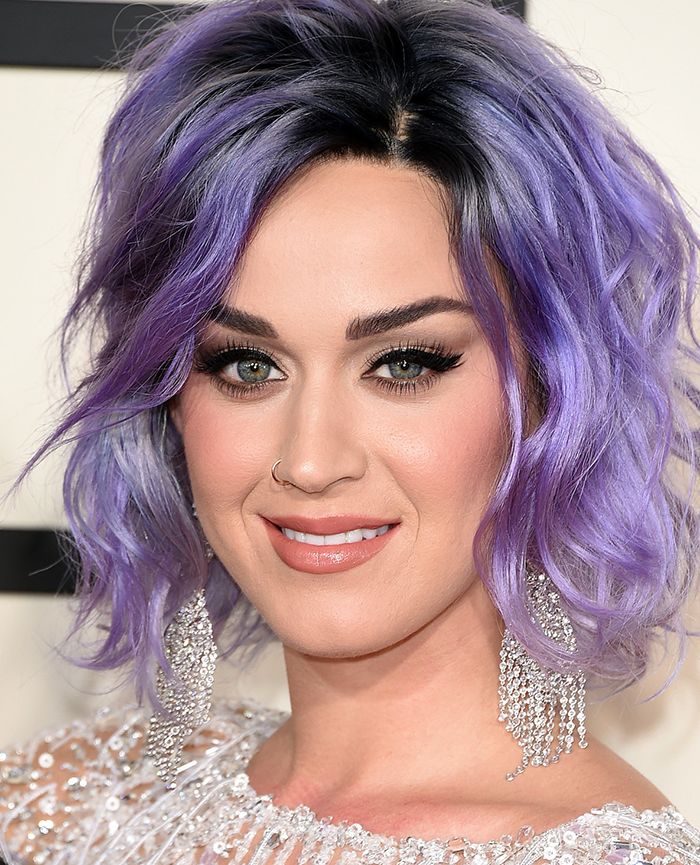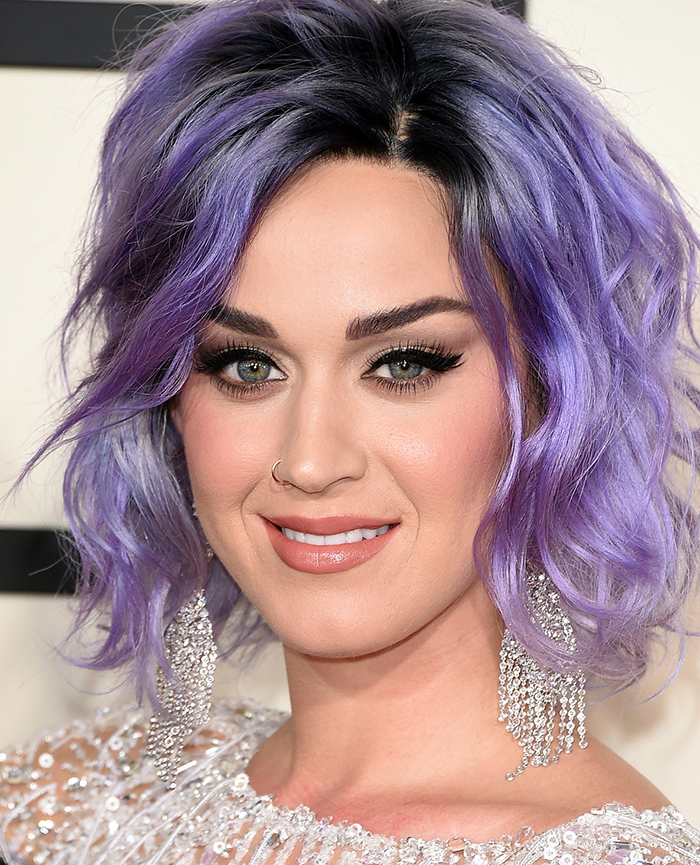 Not bad for the Grammys, don't you agree? Really some nice jewelry, especially when you factor in the extra on-stage looks. I think Beyonce was my favorite, even though I have to take the earrings on faith. Which Grammy jewelry look did you like best?